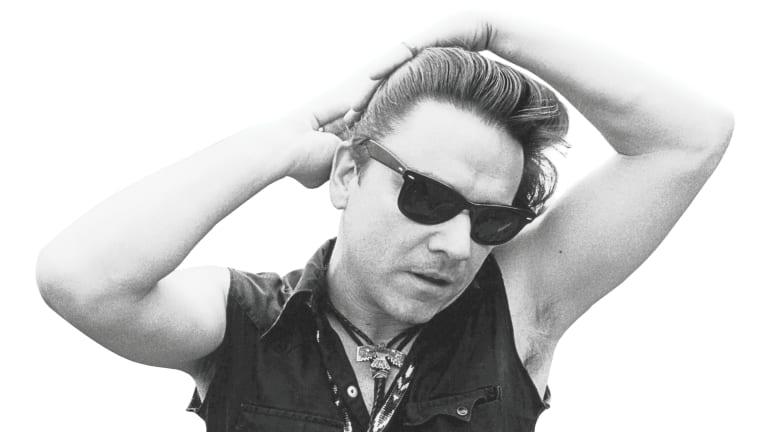 Bluesology: Jimmie Vaughan, Tito Jackson, Southern Bred R'n'B Rockers, Cajun Classics, Brandon Isaak and a Hound Dog Taylor Tribute
The Blues box of the year from Jimmie Vaughan! Michael Jackson's older brother Tito is a blues-busting delight! Time-Travel Back to the Bayou & Beyond, Brandon Isaak is a "Modern Primitive." GA-20 Rocks The House in tribute to Hound Dog Taylor!
 The shock surprise of the year has to be the new blues album by none other than Tito Jackson—yes, he of The Jackson 5—whose Under Your Spell (Gulf Coast Records/Hillside Global) is an absolute delight. Who knew Tito could shred like this on lead guitar? He also, at 67, is a pretty damn good singer, songwriter, producer and arranger. Hall of Fame composers Gamble & Huff came out of retirement to write "All In The Family Blues" which features Eddie Levert of The O'Jays. Tito covers BB King's 1964 "Rock Me Baby" with BB's daughter, Claudette King. This star-studded affair also features Joe Bonamassa, George Benson, Bobby Rush, Stevie Wonder and fellow Jackson 5 bandmate Marlon Jackson.
     Southern Bred Louisiana & New Orleans R&B Rockers: You Can Fly High is yet another in this great series from Koko Mojo Records. This time everyone from Dave Bartholomew, Earl King, Fats Domino and Little Walter to Paul Gayten, Smiley Lewis, Slim Harpo, Chris Kenner and Lloyd Price strut their consider stuff to highlight 28 pre-'63 gems dusted off, revitalized and sequenced perfectly for modern ears. How can you lose with the stuff they use?
     The new Jimmy Vaughan boxed set is, in a word, gorgeous, with impeccable packaging, the perfect testament to a lifetime of searing the blues on electric guitar with 5 CDs, vinyl, essays, rare photographs of him and his tragic brother, Stevie Ray. The Jimmy Vaughan Story (Last Music Co.) covers 50+ years from his humble Dallas beginnings and his Austin rebirth to The Fabulous Thunderbirds and jams with his brother, his first band Storm, the Fab T-Birds, Bonnie Raitt, Robert Cray, BB King, Buddy Guy, Dr. John, Art Neville, Delbert McClinton, James Cotton, Susan Tedeschi, Charlie Musselwhite, Lazy Lester, Billy F Gibbons, Little Milton and Soul Man Sam. If you buy but one boxed set this year, this one's epic and deserves to be lived with for years.
     GA-20 Does Hound Dog Taylor: Try It…You Might Like it! (Colemine/Alligator) by GA-20 is a rocking little record you'll want your DJ to play. These 10 blisters come pulsating in a raw primal way out of the speakers. It's raw, unvarnished blues-rock just like the original Hound Dog Taylor & The Houserockers used to play it 50 years ago when they were the first band signed to Chicago's Alligator Records. Two guitars and drums. Period. Guitarist/Vocalist Pat Faherty, guitarist Matt Stubbs and drummer Tim Carman sure do make one holy hell of a racket, enough to drive you up out of your mind and onto the floor doing an uncontrollable Saint Vitus dance.
     Hillbilly Ramblers and Sugar Bees (Bear Family Records), by Cleveland Crochet featuring Shorty Leblanc and Jay Stutes, is the real deal. Crochet [1919-2011] is the Lake Charles, Louisiana fiddler whose input between 1954 and 1963 is the stuff of legend. Add Shorty LeBlanc [1903-1985] on accordion. Add Jay Stutes [1933-2000] on vocals, steel guitar, bass and drums. This amazing 2-CD set, filled with a rollicking post-rock'n'roll energy, wisecracking double-entendres, blues-to-the-max swing, shuffles, zydeco, party anthems and Deep South acoustic folk music, is an important chapter in the history of bluesy Swamp Rock.
     Brandon Isaak is a Modern Primitive on his terrific self-released self-written 11-track stunner. He plays guitar, harmonica, piano, drums, banjo and lap steel while singing in a soulful, funky kind of old-school 19th Century blues-man way. The thing is, though, it's not an affectation, it's really him. Born and raised in the outback of Yukon somewhere between Alaska and Canada, he grew up in his father's roadhouse with the blues all around him. So he goes and takes bassist Keith Picot and producer Conrad Hillis with him to this haunted hotel in Vancouver and lays down these scintillating tracks like no one else ever. He's in a league with the late Leon Redbone or Tom Waits minus the phlegm. The dude's an original.