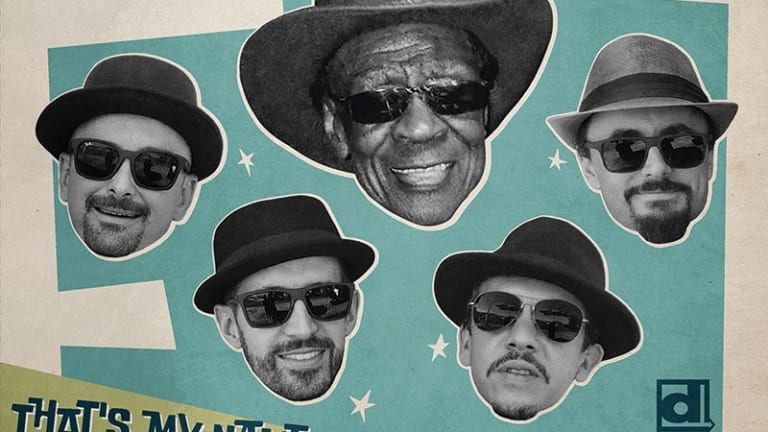 Bluesology: John Johnson Tribute, Koko Mojo's Jive, Bob Stroger, Sam Moss, Bob Corritore
Grant Dermody & Frank Fotusky's "Piedmont" style of blues. "Go Away and Hit That Jive" is a fab pre-1963 comp. Bob Stroger, 92, is alive with a young band of Brazilians. North Carolina Legend Sam Moss is dead but his tapes have finally been found! Bob Corritore jams with Honeyboy Edwards.
     The "John" in the title of the self-released Digging In John's Backyard, by Grant Dermody and Frank Fotusky, is John Jackson [1924-2002], a Virginia bluesman who played in the "Piedmont" style of Southeastern finger-picking that some have said is akin to stride piano. Grant blows a mean blues harp. Frank can fingerpick like Jorma Kaukonen (another Piedmont proponent). They both sing. It is said that Johnson gave up playing way back in 1949 only to be discovered at the height of the '60s college campus folk craze. These two gentlemen do it right: from Sonny Boy Williamson, Blind Black and Charlie Patton to the Reverend Gary Davis, Leroy Carr and a few traditional numbers dating back to the 1800s.
     The 28 songs on Go Away And Hit That Jive (Koko Mojo Record Stack) need no introduction. It's a harmonica-fest of gargantuan proportions. Sonny Terry gulps and wheezes while blowing his patented brand of blues harp about his "Uncle Bud." Tracks by Sonny Boy Williamson, T-Bone Walker, Junior Wells, Jimmy Reed, John Lee Hooker, Little Walter, Lightnin' Slim, Slim Harpo and some outrageous unknowns all rule (no clinkers!) and it all ends with "Dirty Britches " by The Leap Frogs. This one's a keeper. All killer no filler, as they say. Plus, the sound has been considerably cleaned up.
     That's My Name (Delmark Records) by Bob Stroger & The Headcutters featuring Luciano Leaes is a 13-track blues manifesto wherein four Brazilians back up 92-year old Chicago bluesman Stroger on his originals plus covers of Big Bill Broonzy, Ma Rainey and Jay McShann. Stroger's been a Delmark mainstay to the tune of appearances on 30 albums but this is his debut as a leader. He was in the band of Otis Rush for years as his bassist. The Headcutters can play, really play and, when augmented with keyboards and sax, provide sterling back-up for a living legend.
     Folks in North Carolina still talk about Sam Moss in reverent tones. He was something of a local legend who never even had an album out and who died in 2007 at the age of 54. Sure, he recorded some stuff that was said to be pure magic as the cat could sing up a storm, write some great songs and play guitar like a hero. Those tapes have been collecting dust somewhere until now. (Sam wound up opening up a vintage guitar store.)
     The scattered sessions with R.E.M.'s original producer Mitch Easter have finally been discovered by Chris Stamey (Alex Chilton/The dB's) who dusted them off and released them as Blues Approved (Schoolkids Records). The rumors were right. It's positively captivating. Cat could play anything and does—Marvin Gaye, Buck Owens, The Monkees, Stones, Michael Bloomfield, Andy Williams—but it's his originals that stand out. Yeah, he was special. Thank you, Chris Stamey. This thing rocks.
     God bless Bob Corritore. This one amazing cat has been consistently responsible for SO much great blues, the latest of which is Down Home Blues Revue (VizzTone/SWMAF) by Bob Corritore & Friends. He's a mean harmonica man and producer who moved to Phoenix from Chicago in '81 when he was 25. There, he gigged with Louisiana Red, did a weekly blues radio show and, in '91, opened The Rhythm Room, a Southwestern blues mecca. Smart enough to book only the best and also make sure to record them, he built up a considerable wealth of tapes, now known as his "From The Vaults" series. This one features Honeyboy Edwards, T-Model Ford, Big Jack Johnson, Bilbo Walker, Tomcat Courtney and Pecan Porter.