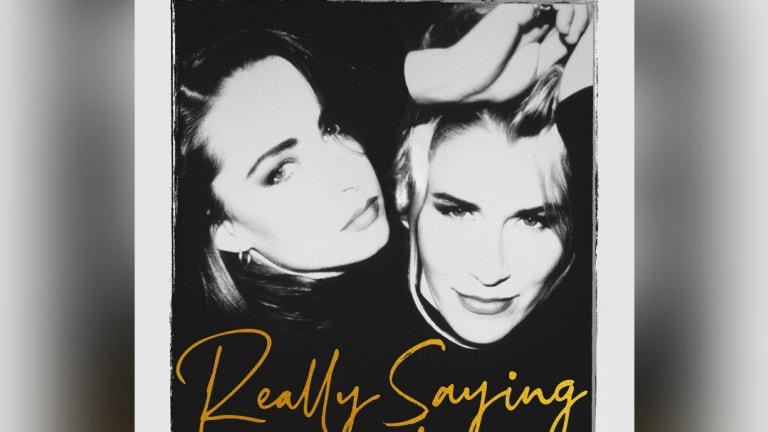 Book Reviews: Bananarama, Iggy & the Stooges, Alice Cooper, Syd Barrett, Steve Hackett, Focus
by Dave Thompson
Really Saying Something
By Sara Dallin and Keren Woodward
(Cornerstone Books)
Between 1981 and 1984, 85, Bananarama were the greatest pop group of their age. Not just because of their records, not just because of their sound or image or record sleeves or whatever. Bananarama were the greatest because they had attitude.
In an age when the hydra headed grotesqueries of slick and silky production and performance were becoming more and more a part of the landscape, Bananarama rolled onto TV like they'd just rolled out of bed. Choreography, it seemed, involved sketching out some dance moves and then laughing as they got it wrong. And their records were perfection personified.
While their peers embraced flamboyant drums and glossy guitars, Bananarama records still sounded happily homemade. And while those others shot their videos in exotic locations and glitzy nightclubs, Bananarama pastiched The Sound of Music.
Think punk rock if it had been pioneered by the Shangri-Las. That was Bananarama.
It didn't last. Successive records did grow slicker, the madcap fun felt increasingly calculated and when "Venus" gave them their biggest hit ever, they were scarcely recognizable from the gang that sang its first single in Swahili. Which was ironic because, when Bananarama first emerged on the London club scene, popping up to stage guerrilla gigs during the intervals between bands at sundry clubs, "Venus" was one of the songs they performed.
They're still going today and they're still great. But they're not the greatest anymore, and the story as told by the two remaining founder members kind of… glosses over everything.
Some bands make great records. Some bands have great stories. And some bands have both. Unfortunately, too much of Really Saying Something isn't really saying anything.
It's not a bad book, and maybe it depends upon what the reader wants. With the narrative split between the two authors' voices, and not much dissent between them, the story follows Bananarama's career trajectory with gloriously upbeat rhythm.
The early years in London and elsewhere are seen through eyes that are rarely dazzled by the glitter around them, and what other authors might have parlayed into a tabloid-titillating tale of hanging out with the Rich and Famous, Bananarama paint as a couple of hours down the pub. It's refreshingly sober, down to earth and honest.
But "Venus" changed everything and that includes the book.
Of course, if you're hoping for a list of places they went and people they met, then the story will sweep you along like the best super-glam travelogue. As an examination of the maddening whirl that is superstardom, the sense of waking up wondering which timezone you're in, it hits the nail bang on the head.
But incidents that might have played into valuable stories (including, but not limited to, the departures of fellow-founder Siobhan Fahey and, later, her replacement Jacqui O'Sullivan) are politely glossed over; while the band's determined refusal to follow anyone's rules but their own - an unheard of stance for an all-female group in the early 1980s - is effectively reduced to a few glib references to their being "strong women." (As opposed to the music industry's preferred adjective of "difficult".).
More examination of those things would certainly have given the book more weight, because that is what Bananarama deserve. They certainly weren't the first "all girl" group to so stubbornly defy the expectations of the music industry… but, thanks to the success that was born of that defiance, they were one of the last that needed to.
Really Saying Something is the story of the group. Now we need a book that tells the story of its instincts.
Iggy & The Stooges On Stage 1967-1974
By Per Nilsen
(Sonic Bond Publishing)
As live legends go, Iggy and the Stooges took a lot of beating - ask anyone who had to follow them in concert. Or anyone who had to write about them at the time. The tales are as manifold as they are manic - the night Iggy did this and Iggy did that, the day someone gave him a jar of peanut butter, the night he smeared himself with hot candle wax… and the writing is all we have to go on today.
Even in the realm of badly-taped bootlegs, there exists so little sonic evidence of the Stooges' live show that you could listen to everything in one all-night sitting, and still emerge with little more understanding of the phenomena than you gleaned the first time you listened to side two of Metallic KO.
Past biographers have, of course, teased further detail out of sundry witnesses, and Iggy himself has been reasonably forthcoming on the subject. But still the full story of the Stooges in Concert has always hung like a story waiting to be told… and here it is.
Co-author of the first ever Iggy biography, The Wild One, way, way, back when, Per Nilsen takes the tale back to the first ever performance by what were then called the Psychedelic Stooges, at a Halloween party in 1967, and forward to the original band's last ever show, at the Michigan Palace in February 1974. Well, we say "the original band"; there were line-up changes and a year-plus break-up during this period. But the core of Iggy and the Asheton brothers remained intact, and that's good enough.
Nilsen's approach is basic; a chronological listing of every show the band played, with each date followed by a few paragraphs built around any and all published accounts that he was able to source. It's surprising how many live reviews the Stooges received over the years!
He mentions whether there's a circulating recording of the show, and pulls out some fabulous photos of the band in action. Quotes from the band members are well-utilized in the context of individual shows, and while set lists would have been nice from a train-spotting point of view, their absence is not a deal breaker.
But it's the fan accounts that give the book its true readability, the eye-witnesses who talk not only about the performances, but the venues and the audiences as well.
It's an approach that too few books of this nature really delve into - forget what the press or the performers had to say, let's hear it for the kids who actually paid to get in, sat through the show, and then went home thinking… whatever it was they thought. Their memories breathe fresh energy into even the most over-written sagas of Iggy excess, and a sense of continuity that brings not only individual shows, but entire tours to life.
Alice Cooper In The 1970s
By Chris Sutton
(SonicBond Publishing)
First things first…the title is not strictly accurate; the story actually starts in 1969 with the Cooper band's debut album. That aside, however, author Sutton has pulled together a genuinely fascinating account of Alice in their/his pomp, from the early rise to the slow decline, and built around that clutch of albums that everyone should be clutching to their hearts.
Which, of course, is basically everything between Pretties for You and Lace and Whiskey. Plus, Sutton adds From the Inside to the list, just to fill out the decade. Fair enough.
The book's format - for anybody coming afresh to the series - is simple: a chronological run through all of the albums, both in overview form and more forensically. Every song receives a brief review (sometimes too brief), there's room for out-takes and associated recordings, and for every review that leaves you glowering at the page asking "huh, what do you know?" (Sutton's description of "Ubangi Stomp" as filler), there's another that has you slapping his metaphorical back in agreement (The Alice Cooper Show live album really is this bad).
Interviews with past band members (both the Cooper crowd and thereafter) certainly add a lot to the song descriptions - Dennis Dunaway's memories of "Black Juju" are especially spellbinding, while the long gestation of "You Drive Me Nervous" makes one yearn for the out-takes. Can you even imagine the song not being played with "a straight beat"?
In truth, the excitement does begin to lessen once the band breaks up, Alice goes solo, and the first-hand recall becomes less of a factor; Welcome to my Nightmare and Goes to Hell are reduced basically to the song by song descriptions that are only of use if you've not heard the albums and have no idea what they're about,. But the first more-than-half of the book readily compensates for that, and if you're not reading it with a heap of old Alice records alongside you…. You should be.
The Lyrics of Syd Barrett
Syd Barrett (foreward by Peter Jenner, introduction by Rob Chapman)
Omnibus Press
Syd Barrett's omnipresence as both the guiding light of Pink Floyd and, in the eyes of many, British psychedelia in the first place, is rooted on very slim physical evidence - one album, three singles, a few TV performances. It's anecdote and legend that truly set his memory ablaze; that and the impossibly tragic romance of his so-called story.
Until the release of Floyd's Early Years box, Barrett's entire studio output could not even full two C90 cassettes; today, his full lyrical canon still comes in at less than 100 pages, and that includes illustrations and front matter.
Yet this slim hardback remains destined to become one of the key testaments to Barrett's genius, words and thoughts stripped from the sonic surroundings in which they have resided for fifty years and more, to float on the paper and…. What?
Barrett's so-distinctive and clear enunciation never really camouflaged the lyrics he was singing. There may be the odd word or two that repeated listenings didn't discern, but there are surely few long-time fans who can't sing along with every song he recorded, across both an album-and-a-bit with Floyd, two solo albums and a third of out-takes and odds.
Yet still, reading the lyrics with or without the records playing in the background adds fresh layers of vision and wonder to the experience. Marvel at the manner in which they flow, the sheer delight Barrett apparently took in word-association, alliteration and puns, the sense that what he's actually talking about is not always linked to what he's singing - and if you can further divorce the experience from all that has been written about his songs in the past, it becomes an even grander experience.
There is, after all, no shortage of theories, diagnoses, and explanations out there - so many that they cannot all be correct. Rob Chapman, who one might describe as the book's compiler, editor and (in some instances) transcriber offers up a few of his own observations in his foreward, and if you follow the compositions in chronological order, you might agree with his assertion that "in some of the later songs there's a lack of application, and he betrays an inability or unwillingness to tidy."
But that's different to some of the other ideas that are out there surround Barrett's songwriting, and does it matter, anyway? Barrett's status among British rock's all-time most gifted songwriters was set in stone decades ago, on the strength of listening alone. Reading simply reinforces the foundations.
Steve Hackett On Track - Every Album, Every Song
By Geoffrey Feakes
(SonicBond Publishing)
It's ironic that Geoffrey Feakes' contribution to the On Track series of books should arrive at much the same time as Hackett's own Genesis in My Bed memoir. Both, after all, are concerned with one of the most prolific and, taken overall, visionary artists of the age; but whereas one is frustratingly brief, oft-times vague and, in places, seems to have forgotten half the records he's made, the other leaps headlong into a core catalog of 27 studio albums, and doesn't stop until it's rounded up a further forty-three live albums, collaborations and compilations.
Which is a helluva lot of Hackett.
It's the studio albums that take center stage, of course, and it's a shame that Feakes' research doesn't extend much beyond listening to each song, noting key moments and then delivering a verdict. Hackett himself doesn't do much better in his own book, so maybe there really is nothing to say about a lot of his records. But it might have been fun to try.
Too many songs are allowed to pass by in the briefest of paragraphs and, while anybody might be hard-pressed to say much about… for instance… the instrumental acoustics of Bay of Kings, one nevertheless emerges from the chapter thinking "yeah? So?"
More sense of how the music makes the author feel might strike some readers as redundant, or even irrelevant. But it would add missing meat to his assertions, and who knows? Some readers might even agree with him. In a book that could (and, in places, does) send even casual readers rushing out to heary the individual records, entries like these feel rushed.
Why, for example, does he feel the seventeen minute "extended playout version" of the first album's "Shadow of the Hierophant" fails to "improve" on the original twelve minute version? There are Hackett fans out there who won't even listen to any other version… and who wish that it was even longer.
Why is "Why" described as "ultimately a touch dispensable," when its 47 second duration strikes others as forming an exquisitely sited bridge between two of Wild Orchirds' finest tracks?
And so on. The feeling that Feakes would have been happier had Hackett not been so busy over the years… had he restricted his output to maybe half as many albums… is hard to shake and, again, that's a shame.
Because at its best, the book conveys a very real love for, and understanding of Hackett's music. It'd just be nice if he felt the same way about the rest.
Focus in the 1970s - the Music of Jan Akkerman and Thijs van Leer
By Stephen Lambe
(SonicBond Publishing)
For most people… too many people, in fact, Focus are that band who do the yodelling song. For others, they stand among the crowning achievements of the entire classically-inspired prog scene of the 1970s. And for others still, they were great across the first three albums, but then it all got a little tiresome.
Author Lambe falls into the second category, a Focus fan who didn't give up with (or midway through) Hamburger Concerto; who found moments to cherish across Mother Focus; who even seems to have enjoyed the solo records. And reading through Focus in the 1970s, his enthusiasm is contagious enough that vinyl that has languished unplayed for decades is dusted off for reappraisal.
Sensibly timed to follow the release, last year of Focus's superlative 50th anniversary box set (thus permitting reference to, and enthusiasm for, that package's smorgasbord of bonus features), Focus in the 1970s is nevertheless far from forgiving of the band's every excess.
True, Lambe is far too lenient towards the annoyance that is "Round Goes the Gossip," but he is spot on with his rejection of the so-long-it-feels-endless "Anonymous II," and if one has any criticism of his coverage of the Ship of Memories out-takes collection, it's the need to go leafing back through the book in search of the chronological entries for the individual tracks. (Or at least give us an index!!!!). His thoughts on the tracks themselves are, again, spot on.
Tracking Focus throughout the 1970s does force the reader to pick up on both band and solo albums that even Lambe probably doesn't turn to whenever he fancies a spot of Focus. If reading the book convinces you to spring for the box set (which it should), be grateful that you'll run out of music on page 112.
By which time, though, you'll probably be online anyway, looking for those uncollected live shows that have popped up in various forums, and will tell you even more about the days when Focus truly flew.
Again, Focus in full may not be everybody's cup of tea. But if they're your's, Focus in the 1970s is the packet of biscuits you'll be dipping into for a long time.