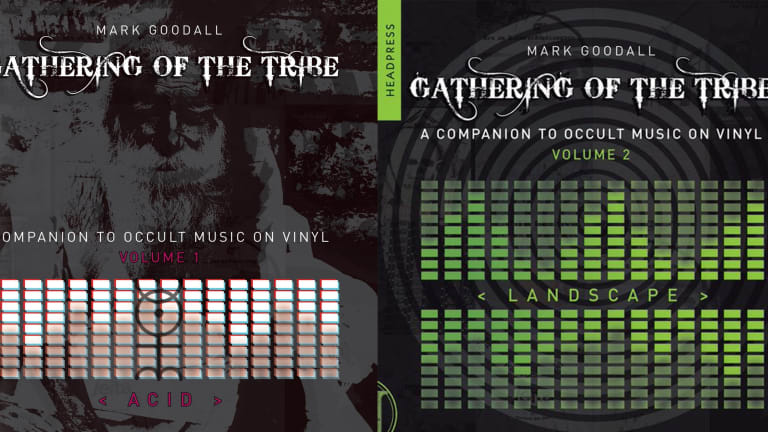 Books that express album art with a different vibe
Two volumes of Mark Goodall's Gathering of the Tribe coffee table books that are "A Companion to Occult Music on Vinyl."
Visit the Goldmine store — it is a music collector's one-stop shopping of vinyl, CDs, box sets, collectibles, supplies, music history books and Goldmine-only exclusives. Click HERE! 
Gathering of the Tribe Volume One (Acid)
Gathering of the Tribe Volume Two (Landscape)
By Mark Goodall
Headpress Books
The first two volumes of author Mark Goodall's "companion to occult music on vinyl" are with us at last, and if you like your coffee table draped in gloriously obscure, full color album covers, with exploratory notes and explanatory text, then these really are the books for you.
Notionally, you could say these releases are tied into the on-going folk horror boom that preoccupies so much of the British (and elsewhere) underground these days; to do so, however, would be to overlook the allure that albums of this nature have long held for vinyl hounds and crate diggers.
They are slim volumes — eighty pages in one, 100 in the other — but what they lack in weight, they make up with heft. And both serve not only as fascinating studies of their chosen themes, but will certainly give your vinyl wants list something to think about as well.
Volume one follows the absorption of LSD into the body politik of jazz, rock and beyond — sonically, if not physically. Indeed, the first album art we see, Christian Zÿsset's 1972 Acid, might well stand as the exemplar for all that followed, and preceded, too, a blurring of light and color and shapes (but do you see them?) that demands to be described as "trippy," and certainly matches the sounds within.
Each chapter treats of one album — Zÿsset is followed by LSD, a 1966 psuedo documentary album co-produced for Capitol Records by filmmaker Laurence Schiller, and allegedly featuring the pre-Grateful Dead Warlocks; thereafter come the anonymous Underground 12, featuring "music composed and played by LSD-influenced musicians" and claiming (perhaps questionably, even in 1966) to be "the only record of this type available"; Ken Kesey's Acid Test; Timothy Leary and Ash Ra Tempel's Seven Up; Hell Preachers Inc's Supreme Psychedelic Underground — a glorious budget label cash-in on the kids' latest craze; the similarly inclined Italian The Trip, Ray Barretto's Acid, Chiitra Neogy's The Perfumed Garden, Popera Cosmic's Les Eclaves, the soundtrack to the 1968 Italian movie Acid Delirio Dei Sensi, and Gelsen Gas and Jimmie Nicol's Anticlimax.
And even that brief summary confirms this is not your average book of record art or writing. Indeed, Goodall is so deeply immersed in his subject matter that one suspects these albums are as familiar to him as —well, just name the dozen or so LPs that you've listened to most over the years — are to you. Which we will all agree is fairly rare in treatments of this kind.
Volume two, Landscape, follows a similar format, albeit with a handful more albums falling under the microscope, and a couple that even strangers to the theme might recognize — Pink Floyd's Pompeii soundtrack, and Gavin Bryars' The Sinking of the Titanic.
It is in the space between those two releases that the concepts underlying the book's contents are found. "Psychogeography," as the field is perhaps more commonly known today, has a long history in recorded music, after all, and Goodall follows it with contagious enthusiasm. Indeed, his journey is only widened by the fact that action here takes place over decades, whereas Acid's focus is very narrowly confined to the late 1960s-early 1970s.
The earliest album here is Barney Wilen's Ballard-esque Auto Jazz, from 1968; the most recent, Ian Humberstone and David Chatton Barker's Theo Brown and the Folklore of Dartmoor, was released in 2014. In between times, John Cage and Harold Budd bring more name recognition to the table, while anyone who already knows Virginia Astley's stately From Gardens Where We Feel Secure and Richard Hill's Chantonbury Ring will doubtless accept Goodall's own recommendations even more willingly.
A third book in this series, Ritual, is on its way, and one can only dream (and, perhaps, inadvertently second guess) its contents. For now, all that can be said is, if it's of similar quality to the first two… and if there are even more in the pipeline thereafter… we have a lot to thank Goodall and his publisher for.