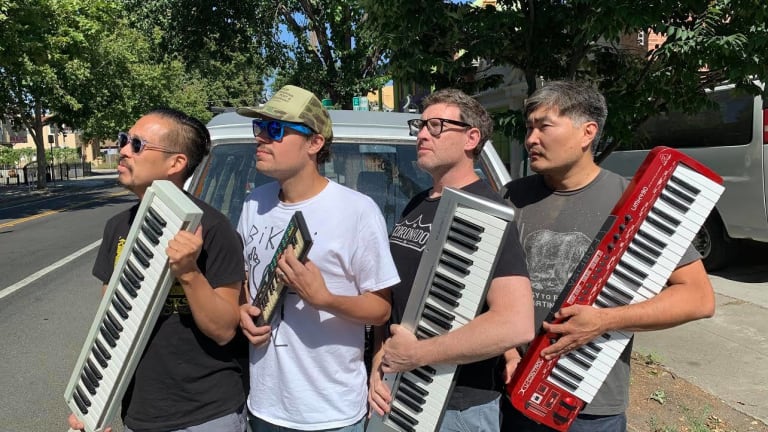 Bruce Lee Band talk Ska, Asian American visibility, confronting Trump's lies on new LP
For over 25 years, Mike Park has embodied the DIY punk ethos. Here, he unpacks his life's work: from running Asian Man Records to his band's latest album, 'One Step Forward. Two Steps Back.'
By Alan Brostoff
When you think of DIY music, how can Asian Man Records' Mike Park not be one of the first names that comes up? For 26 years, Park has been putting out music on the Asian Man Records label and doing it all by himself. 
Park's band The Bruce Lee Band has a new album out called One Step Forward. Two Steps Back, and he sat down with Goldmine to talk about the label, the new album and his own philosophy on the music industry.
GOLDMINE: Congratulations on how the new album, One Step Forward. Two Steps Back (shown above) is selling.
MIKE PARK: There's usually a 10% overage, so I'm hoping I can release some records at that time. It takes vinyl so long now, it's crazy.
Goldmine: How long ago did you submit the request for the vinyl?
Mike: I guess a little over 6 ½ months ago, not too bad. 
Goldmine: That's actually pretty good from what I've been hearing from other artists I've interviewed recently. This new album is phenomenal, btw. The video for "I Hate This" is so funny (see below).
Mike: That video was spur of the moment. The director was actually in town doing a video for another band. He had a day off and he thought it would be a challenge to try and make a video really quick, but I was up for it. We did it right then and the ideas were just coming. We just kept coming up with funny ideas on the spot. Let's try this, and we even had some that we didn't use.
Goldmine: The lyrics in the album are really strong and carry a message. I was inspired by "The Right Time." It fells like it's a call to arms for people to stop sitting on the sideline and get up and get active.
Mike: That is one of the songs on the album that I did not write, but I think Jeff (Rosenstock) and Dan (Potthast) would channeling what might be the overall frustration and anger. A lot of emotions that we've been feeling and continue to feel.
Goldmine: What about the song "Lie Big and Do It Often"?
Mike: Lie big and do it often, I think you know what that is about: our former commander in chief. I didn't want the song to ever be about "Trump bad" or this is bad. I wanted it to be clever but hopefully people could understand who I was talking about and where I was going with the story. I wanted them to be able to follow the story without it being so black and white.
Goldmine: Song number five is written in what I think is Korean ("사랑 키스 입니다"). Can you share with me a little about the song?
Mike: Going back to my early days of being skeptical, I grew up in a Korean-speaking home with my parents speaking exclusively Korean to each other. Surprisingly, I never picked up the language. I have been writing songs since the '90s and trying to use the limited amount of Korean I know. A lot of the times it's just jibberish that does not make any sense. On this one I tried to create a little more context to the song but it still a lot of jibberish.
Goldmine: The final song on the album "Bruce Lee vs. CHLLNGR," what a great way to close an album.
Mike: Yea, I really wanted to do a dub song with "CHLLNGR," without the vowels. He's an artist from Copenhagen. He used to live in the States, and he is a good friend of mine and he is just a great reggae dub artist. He loves doing remixes, so I gave him the track and told him to use it as his canvas. He added to it and it sounds great.
Goldmine: Will the band tour to support the record?
Mike: I have a hard time on the road. It really drains me, lots of stress and anxiety when I'm on tour. I would like to do a couple of shows next year, most likely on the West coast. Definitely San Francisco and I'd like to do Los Angeles because it's been over 20 years since the Bruce Lee Band has played there.
Goldmine: I have much respect for your record label. It really is a one-man show.
Mike: Yeah, it's just me and I'm so unorganized. I'm constantly writing notes and reminding me of all the things that I must do. 
Goldmine: Why the name Asian Man Records? 
Mike: I wanted people to know that a person of color is running the label and especially an Asian American because there are not (many) involved in rock-based music, I think. It is definitely more prevalent in Hip Hop. I wanted to have some kind of face to the label where people who didn't have many people to look up to in underground labels, think maybe I can do this too. Maybe the sole reason I wanted people to know that it was me, an Asian man running this label.
Goldmine: Do you ever read your Wikipedia entry? My favorite line is "He's partial to support any band as long as they are anti-racist, anti-sexist, and anti-prejudice." I'm just thinking to myself, shouldn't that be how everyone wants to work?
Mike: You would think so, but I have been surprised, especially in the last six years. Things have become a little glazing and people found they could find monetary and status success by being prejudice and tearing up the other side. The record is One Step Forward. Two Steps Back. It's very apparent to me that this is a really divided country, more so than I can remember in my 52 years. Maybe it's this bad because of the presence of social media.
Goldmine: When did you know that music was something you wanted to become completely immersed in?
Mike: In high school everything changed when I saw the band Fishbone. It was such a natural high going to their shows, just pure adrenaline. Coming from both ends, the audience and the performer, and being a high school kid, I can't believe my parents let me go to these shows even on school nights. I remember not being able to sleep because I was always so excited to go to a show. From watching Fishbone, it seemed like it would lots of fun. Every kid probably thought at least once in their lifetime that it would be nice to be a rock star performer in some capacity. I guess it was when I first started touring like the late '80s and early '90s. I saw this world through so many different lens. I thought it was kind of cool and I can do this.
Goldmine: What made you connect with Ska?
Mike: It was two bands, Madness and The Specials. Think back to the early '80s in the beginning of MTV, those bands were getting played and I did not know what Ska was. I just thought it was kind of all this, under the umbrella. I couldn't tell the difference between the Police and the English Beat. In 1986 I saw the movie Dance Craze, which is a documentary about English Ska. It was the first and only time I had experienced people dancing in the movie theatre and being a high school kid with a bunch of friends, you joined in, and it was so much fun. This is Ska and from that point one I would buy anything Ska-related, any band, any movie. When I went into a record store, I was looking for Ska. It just never stopped.
Goldmine: Do you have a record collection?
Mike: I used to have a massive collection, but I've sold off about 90% of them. I did keep the records that meant a lot to me, that 7 Seconds record Committed for Life was a game changer for me. I have probably sold over 2,000 records in the last 10 years and made a nice profit off of them.
Goldmine: Any that you wish you still had?
Mike: No, not really. I think I am at peace with what I sold. More and more, I'm just trying to get rid of stuff.
Goldmine: Any favorite record stores?
Mike: Yeah, my hometown store is Streetlight Records in San Jose. It's just such a great store with great memories. I used to love going to record stores and it's sad that I don't have that passion anymore. In my teen and young adult years I could spend all day at stores. I would go to L.A. and just spend the day shopping at every store on Melrose. Yeah, Streetlight Records is my jam. 
Shop more punk records and collectibles in the Goldmine store.