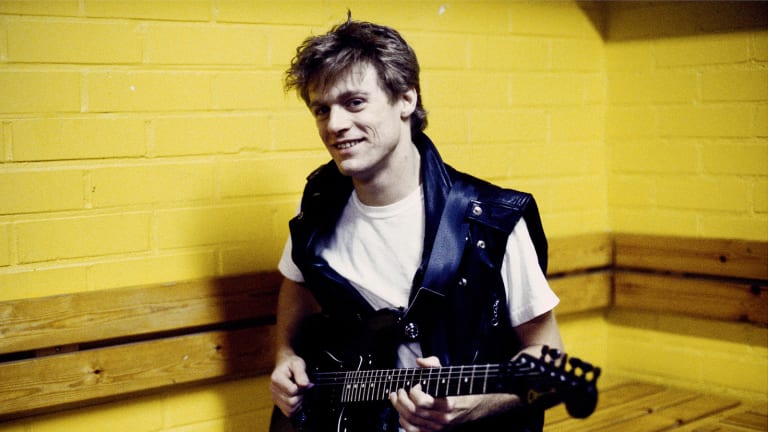 Bryan Adams 'You Want It, You Got It': Inside album that launched singer's career
Canadian hitmaker revisits the creation and lasting impact of his often-overlooked 1981 sophomore record.
By Joe Matera
For Canadian rocker Bryan Adams it took his third album Cuts Like a Knife to finally achieve his much needed breakthrough in the USA. The album peaked at No. 8 on the Billboard album chart in June 1983, and its lead single "Straight From the Heart" garnered Adams his first U.S. Top 40 hit by peaking at No. 10, in turn clearing the way for Adams to make his trajectory to global superstar via its follow-up album 1984's Reckless, itself reaching No.1 on the album charts and home to six Top 15 singles. But it was Adams' second album 1981's You Want It, You Got It that firmly laid the ground work for Adams in regards to solidifying his sound, voice and image.
Released in July of 1981, it came on the heels of Adams' self-titled debut the previous year. Adams had been steadily building a solid live following, touring heavily and by the time recording sessions commenced in March of 1981, the material had been pretty much road tested and knocked into place.
"I'd been in rehearsals and touring a lot of those songs for a year before hand" Adams explains to me today. "I had worked out my arrangements and sort of had a good vision of how I wanted it to be structurally. In fact, I even worked with Ric Parnell who was the drummer from Atomic Rooster in rehearsal one time, so when I brought these songs to the band, we worked them up pretty quickly and then Bob took us into the studio and we banged them out again really quickly because we didn't have much time."
Recording sessions ensued at the Power Station in New York during March of that year with the entire album recorded and mixed in just two weeks. "I remember being in that big room, Studio A at the Power Station" recalls keyboardist Tommy Mandel today. "It's my home town, and I'd worked there before, but this was special. It was just us in there, playing the tunes, with Bryan singing live. That's something that didn't change through the following albums: Cuts Like a Knife, Reckless, and for a while, Into the Fire. Just five kids in a room playing these cool songs, making up parts that seemed right, and having a surprising amount of fun. Then Bob Clearmountain would say either, "Do another one" or "Come on in and listen" and when we did, it sounded good. Bob had this way of pacing: Over to move the mic on an amp or a cymbal, with his trademark head-down concentration."
Bob Clearmountain who came onboard to man the recording console alongside Adams as co-producer, also mixed the album, and was integral in the equation that finally helped shape Adams' signature sound. "Bob had done a few records which I really liked," explains Adams, "and one of them was a song called 'City Drops into the Night' by this artist called Jim Carroll and I had heard that and thought what a great sound. And I called David Kershenbaum who was the A & R guy [A & M Records] in Los Angeles and asked him if he could hook me up with this guy, so he set up an appointment and to make a long story short, the next thing you know we're making this record. And he put together a couple of friends of his that he worked with on a couple of projects one was a drummer called Mickey Curry and a keyboard player Tommy Mandel and a bass player called Brian Stanley."
Drummer Mickey Curry also recalls the spontaneous spirit of the recording sessions. "The recording was really fun. I don't think we did more than a few takes of each song," he says today. "We kind of knew a take was right when while we recorded, Bob would stand up in the control room. We listened back to each take with Jim [Vallance] on the phone, and tweaked the parts as needed. Jim had played drums on the demos, so my job was fairly easy. I copied a lot of his fills and feel. He is a great drummer, and his parts were really, really good. I learned a lot from him through those sessions. My biggest fear was losing the click track!"
Adams' main guitar sound on You Want It, You Got It was primarily based around a 12-string Rickenbacker (those opening ringing arpeggios heard on "Lonely Nights" is an example), a Fender Stratocaster guitar and a Roland JC-120 Jazz Chorus amplifier. Aside from Adams, two other guitarists provided additional guitar support in the form of G. E Smith who was at the time guitarist for Hall & Oates and was also one of the mainstays in the house band of Saturday Night Live and Jamie Glaser who'd played for everyone from Jean-Luc Ponty and Chick Corea.
The majority of the material on You Want It, You Got It was written by the Bryan Adams/Jim Vallance songwriting team, who by this time had already written close to 40 songs for other artists such as Loverboy and KISS amongst others. Adams had a sole writing credit on the track "No One Makes It Right," and a co-write between himself and Lindsay Mitchell guitarist from Canadian rock outfit Prism on the track "Jealousy" — a track that previously had been recorded by Mitchell's band and which appeared on Prism's 1979 album Armageddon.
Side one opens with an onslaught of ringing guitar arpeggios and power chords that is "Lonely Nights," originally written for Pat Benatar, and which sets the tone for what follows. Straight off the bat, it showcases the strength in Adams/Vallance songwriting craft, along with its radio friendly melody and Adams raspy vocals. This is followed by "One Good Reason," a mid-tempo rocker with a groove to kill for, while the driving "Don't Look Now" highlights those signature guitar arpeggios once again before "Coming Home" slows the pace down with its heavenly vocal harmonies. Side one closes with the thunderous "Fits Ya Good" which finds Adams ramping up the energy levels, on this harder rocking bar room anthem.
Side two opens with the Springsteen-esque sounding "Jealousy" and its sing-a-long refrain. Next up, the moody "Tonight" kicks off with a slow burning chugging bass line and drum beat, before splashes of anthemic guitar chords drives this addictive grooving new wave meets arena rock outing into high gear. The title track "You Want It You Got" it is a high energy rocker that is sonically manic while "Last Chance" sees the clever inclusion of a saxophone in the bridge before "No One Makes It Right" a piano driven ballad that displays Adams faultless knack for writing the perfect ballad, closes the album proper.
Originally planned to be titled 'Bryan Adams Hasn't Heard of You Either,' due to the indifference Adams had encountered by the media on his debut release, the intended title was dropped at the behest of the record company whom pressured Adams to forgo the title for something more unassailable.
Listening to the playback once the album was done, Adams knew they had captured something special. "I remember one night walking after recording 'Lonely Nights'" Adams begins, "and I called Jim Vallance who I had written the record with and I said, 'Jim you've got to hear this' and in my little Walkman I sort of stuck the phone to it and played him the song and he agreed that we were onto something."
"Lonely Nights" was released as the lead single in June ahead of the album, and upon release was initially met with a lukewarm reception until several late-night DJ's began airing the track, which quickly became a popular choice request from listeners that other programmers took note, and started spinning the track, too. Eventually the single turned the fortunes around for Adams, bringing him his debut appearance on the U.S. Billboard Top 100 singles in March of 1982 where the single rose from its debut at No. 180 to peak at No. 84.
The doors to the U.S. and elsewhere had finally opened. It led to Adams undertaking his first ever U.S. tour and, on the road to solidifying his standing amongst rock's echelon, that within a few short years would see him launched into the stratosphere. "Lonely Nights" also proved a popular choice cut for British rockers Uriah Heep who recorded a cover of it soon after for their 1983 album, Head First as well as a cover was recorded by ex-Stories singer Ian Lloyd the following year.
Track Listing
SIDE A

1. Lonely Nights
2. One Good Reason
3. Don't Look Now
4. Coming Home
5. Fits Ya Good
SIDE B

6. Jealousy
7. Tonight
8. You Want It, You Got It
9. Last Chance
10. No One Makes It Right