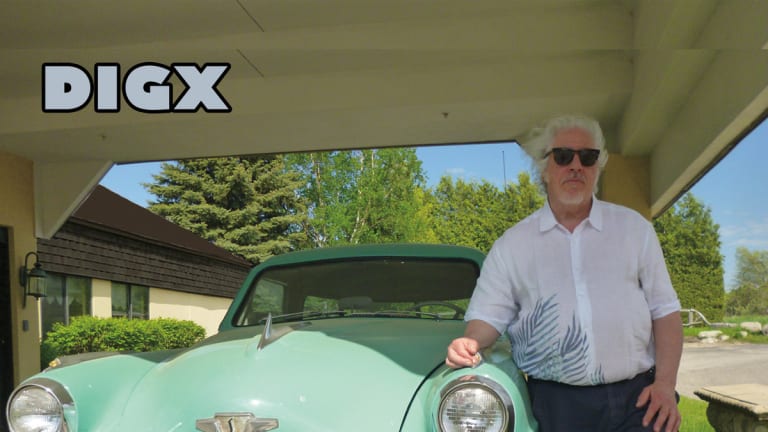 Danny Adler - Eleven out of Ten!
Former Roogalator frontman Danny Adler's 23rd album might be his best yet!
Danny Adler
Digx
(Roogalator Ltd/DCA - www.dannyadler.com)
Keeping up with Danny Adler albums really is one of the most entertaining hobbies of the 21st century. A note on the back cover of his latest album reminds us that the Cincinnati based bluesman has "over 64 albums" available on various streaming and download platforns.These are split between the basic catalog (Digx is his 23rd album) and an archive that reaches back into the mid-1960s, and includes such semi-legendary combos as Roogalator - pub rock heroes who the UK press once termed superstars in waiting; the Deluxe Blues Band (who did exactly what it said on the tin); and Otis "Elevator" Gilmore, a magnificently mysterious bluesman of whom an entire book should one day be written.
And the great thing is, all of it is worth owning.
Digx is a case in point. To describe it as one of Adler's finest albums ever is meaningful only if you're familiar with great swathes of what preceded it. Consider it merely in terms of tunes, choruses and, of course, performance, however, and it still raises its head high above the parapet.
Throughout, the songwriting is exquisite - the fact that the drabbest song on the album is a cover of "Hey Bulldog" tells you that, and thankfully we get it out of the way early on, sandwiched between the appropriately locomotive "Amtrak Joe" (Adler is a locomotive driver when he's not playing the blues) and the triumphant "London Rain," an almost psychedelically-tinged reflection on the city that he called home through the 1970s and 1980s.
There's more reflection in the closing "Rocktown" (as in "going back to"), a thoughtful romp through what could well have been this album's guiding principle - short, sharp shocks of classic pop; and more nostalgia when "1968" opens up by effectively revisiting "Amtrak Joe" before transforming itself into a Springsteen-esque paean to the titular year.
There's a complete change of pace with the supper club blues of "Laughing Gravity," a six minute mood instrumental, and that provides the perfect foil for "Industrial Strength Guitars," a twitchy clattering that feels almost Zappa-ish in both delivery and intent.
Adler, however, saves the best until (almost) last. "Last Session on Brewster" is the closest we come to the old Roogalator sound, and tells the - or, rather, a - story of the old King Studios in Cincinnati, where a host of name-checked heroes recorded their finest hours, and Adler himself recorded decades after the doors were sealed for the final time. The title, incidentally, rhymes with "we're gonna get down like we useta," and if you need reminding of precisely how great those old King singles used to sound, here you go.
It's not often these days that a new album so effortlessly takes you back to a specific time and place without allowing either hindsight or technology to occasionally cloud the view. But, if you grew up on that vein of blues rock that shifted from Bob Seger and Steve Gibbons, and multiple points between, it doesn't matter whether or not you know who Adler is. Digx is the answer to that particular prayer, and to paraphrase Nigel Tufnel, most 10 point rating systems go up to ten. Digx hits eleven.