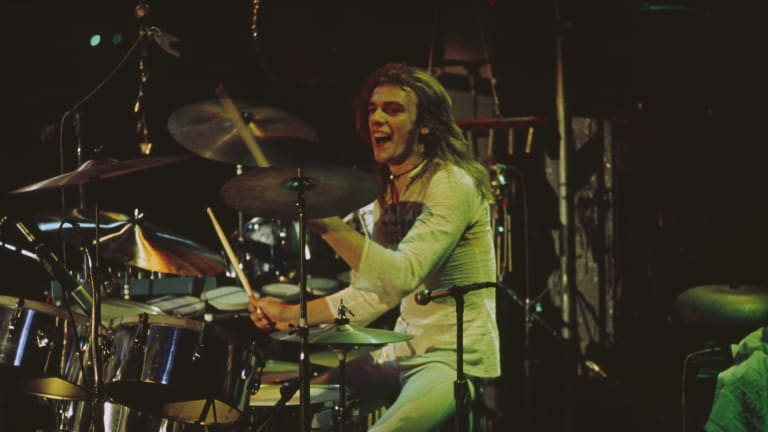 Drummer Alan White's 5 best Yes performances, ranked
Goldmine ranks the outstanding work from the late Yes drummer.
By Howard Whitman
Where does one begin when choosing Alan White's best drum performances? 
Perhaps the most daunting thing about choosing the best of the longtime drummer (who passed away at age 72 on May 26) is that his recorded catalog is so vast. Prior to joining Yes in 1972, he'd already (famously) played on post-Beatles recordings from John Lennon (that was him on "Imagine") and George Harrison, as well as Joe Cocker, Terry Reid, and many others.
Later in his career, while still with Yes, White contributed to a number of outside projects worthy of note, including albums from Yes bandmate Trevor Rabin, CIRCA (which also featured Billy Sherwood and Tony Kaye of Yes), Wetton/Manzanera (a collaboration between Asia's John Wetton and Roxy Music's Phil Manzanera), and a trio album with Jordan Rudess (of Dream Theater) and Tony Levin (of King Crimson).
White certainly got around, and he brought something special to every project he played on. But to me, Alan White reached his zenith as a drummer with Yes, where he served for over 50 years and was the longest continuing member in the band's history. So for the purposes of this column, I'm going to focus on the five best tracks from his studio recordings with Yes, the band that defined his career.
1. "Sound Chaser" (Relayer, 1974) White's second studio album with Yes, Relayer, found the band in its most jazzy phase. That's probably due to the presence of keyboardist Patrick Moraz, who, on his only album with the band, reportedly pushed the group in that direction. Following Tales From Topographic Oceans, the sprawling double-album that marked White's recording debut with Yes, Relayer continued the cosmic lyricism and extended track lengths of that project, combined with the unbridled fusion musicianship of the Moraz era. From a drumming perspective, "Sound Chaser" represented White at his most adventurous, especially the opening three minutes, in which he navigated some especially tricky time signatures with precision and great energy. Following a middle section that's basically a Steve Howe guitar solo, the off-time adventures begin again, only in this section, White speeds up, slows down, and speeds up again, keeping the whole thing anchored with his nimble playing.
2. "Release, Release" (Tormato, 1978) Tormato tends to get a bad rap among Yes fans (quite possibly for its less-than-stellar cover art, which someone felt would be improved with a splattered tomato), but it has some fine music. This track, which ends side one of the vinyl version, represents White's playing at its funkiest. The intro section shows just how effortlessly White could transition between different passages, from the tom-tom intro into the driving groove that dominates the song. And at the 2:40 mark, it offers a rare Alan White drum solo—and a good one, too!
3. "Tempus Fugit" (Drama, 1980) White was pivotal on Drama, the album on which he, Howe and late, great bassist Chris Squire reconstructed Yes with vocalist Trevor Horn and keyboardist Geoff Downes of The Buggles following the departures of Jon Anderson and Rick Wakeman, respectively. The first single from the album found White again in a sort-of funky mode. And the runaway train feel of the song makes it one that could have easily gone off the rails if someone besides White was in the driver's seat. Listen to his kick drum to hear how it anchors this speedy, rousing track.
4. "Changes" (90125, 1983) This track from 90125
5. "The Calling" (Talk, 1993) As on 90125 10 years prior, this final reunion of the lineup from that album, with Rabin back as producer as well as guitarist, featured White's drums prominently in the mix. (In fact, I'd say we never heard White's drums mixed as strongly as we did on the albums Yes did with Rabin.) Opening track "The Calling" is an out-and-out rocker that shows just how effectively White could drive this band. This is Yes at its most aggresive, although the band can't help getting up to its old tricks; at the 4:30 mark, just after Rabin's solo, the song veers briefly into a shuffle feel and varies the timing a bit before locking back into its hard rock feel. There's also a bit of a drum solo near the end. Talk was criminally overlooked when released due to record company troubles, poor promotion, grunge, etc. It's certainly worth revisiting if you're going down Yes memory lane in White's honor. And this track is a prime example of how good the album is, and how good he was.
Honorable mentions (more standout White performances with Yes):
Tales From Topographic Oceans (1973) It's hard to pick one actual "song" from White's debut studio album with the band, as Tales could be considered a single epic that runs over four sides. But however you slice it, White hit the ground running on his first recordings as a Yes member.
"Awaken" from Going For The One (1977) is considered by many to be the closer of the band's "Topographic" era, with its sprawling length, multiple sections, and cosmic lyrics. Whatever the case, the epic piece features strong percussion from White.
"Owner Of A Lonely Heart" from 90125 represents White's playing at its simplest, but it shows how much he could do with a minimal drum kit consisting of a snare, hi-hat, and kick drum.
The title track from Big Generator (1987) is another on which White shines with a funky, relatively basic backbeat that made it move.
"Lift Me Up" and "Miracle of Life" from Union (1991) The Union album, which combined new tracks from Anderson, Bruford, Wakeman and Howe with the Rabin-led official Yes lineup, is rightfully regarded as a mishmash of disparate pieces. But these two songs, both written by Rabin, feature some fine White drumming on the level of his Talk work.
"Endless Dream" is the closer of Talk and almost made my top five due to the powerful drumming on its opening section.
Finally, "Lightning Strikes" from The Ladder (1999) is a bouncy track that featured White playing with a Latin feel.
Closing thoughts: For this list, I tried to pick the songs that best showcased White's skills, rather than necessarily the five overall best Yes songs he was on (which would be even more challenging to do). Your opinions may differ, and that's totally understandable because there are so many wonderful songs he drummed on that could qualify. These were my choices, and whatever yours are, my hope is you will revisit them, and the rest of the wonderous music he left us with, which will live on forever.