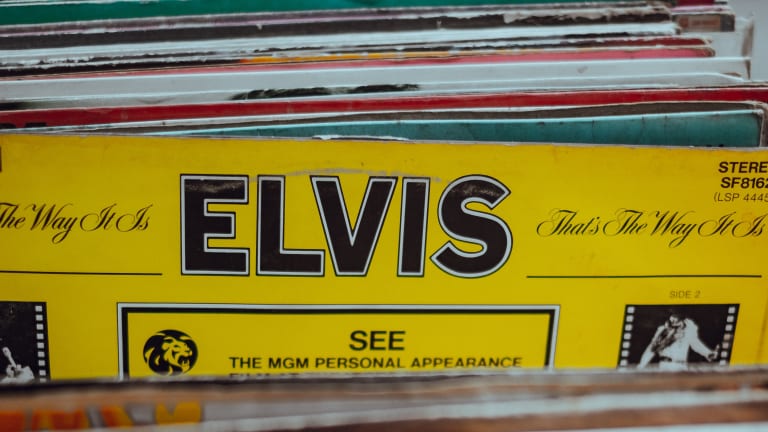 Elvis Presley Vinyl Guide: What you need to know about collecting The King
From Elvis' most valuable 10-inch to other vinyl rarities, Goldmine assesses the nearly infinite options when collecting Elvis records
Get Elvis vinyl and collectibles at the Goldmine shop
By Dave Thompson 
In terms of modern record collecting, Elvis Presley is Year One. People had collected records before he came along, and a lot of earlier records (and artists) are very collectible — Frank Sinatra, for example; Bing Crosby; Roy Rogers et al. But Elvis's records weren't simply collected; they were hoarded on an industrial scale, a phenomenon that began almost as soon as he scored his first hit.
Certainly his record label, RCA, saw the way the wind was blowing as soon as the first gusts hit America. The wholesale reissue of Elvis's first five singles, originally released by Sun Records, demonstrates that. So does the decision to release an album titled For LP Fans Only, at a time when singles (and extended play EPs) were the pocket-money purchase of choice. For a lot of people, that was the first LP they ever bought, but it would not be the last.
Bearing in mind the sheer number of Elvis Presley records has sold over the years — over 146 million in the U.S. alone, including 171 gold records, 94 platinum and 34 multi-platinum — collecting Elvis does not need to be an especially costly pursuit.
Of course he has more than his share of solid-gold rarities, with that first run of Sun label 45s close to the top of every fan's wants list. But when a CD box set featuring every one of the albums he released throughout his lifetime was released in 2016, more than one fan took that as a challenge, to forgo the easy option of purchasing the box, and instead hunt down those same LPs in their original vinyl state.
With a laissez-faire attitude towards condition, early pressings and the other minutiae of hard-core collecting, the dollar bins of America could yield up almost every disc on the wants list, at half the price of the compact discs.
Such an approach is satisfying from the point of view of simply crossing things off the wants list. But, of course, there is a great deal more to collecting than that, and the world of Elvis vinyl offers perhaps more opportunities for specialization than any artist outside of The Beatles.
Original mono, stereo, quad and electronically-processed pressings, early (and earliest) pressings, sleeve and label variations, inner bags, even the stickers affixed to the original record sleeves, have all been ruthlessly cataloged and compiled. Indeed, the aforementioned CD box set certainly won plaudits for its attention to detail via the inclusion of a sheet of stickers, replicating those found on original LP releases.
These avenues are naturally available within any significant artist's canon. But only Elvis (and Beatles) fans have taken the time to isolate and value every one.
For both the specialist and the general collector, Elvis's career is most easily broken down into four basic categories. His early years with Sun, and the first with RCA devour the bulk of his 1950s output, and it is here that we hear (and see him) at his most incendiary, churning out the hits that remain most people's first thought when considering his work — "Heartbreak Hotel," "Jailhouse Rock," "Love Me Tender," "Baby, Let's Play House" and so forth.
The 1960s were largely devoured by his movie soundtrack recordings, a corpus of 15 albums that it is very easy to mock, but which nevertheless includes some fabulous, and very successful, recordings; and then there is the sudden reappearance of Elvis the rootsy rocker, first broadcast on the 1968 NBC TV special, and extending through the last years of the '60s and across such subsequent albums as From Memphis to Vegas / From Vegas to Memphis and Elvis Country. And finally, there is Elvis the icon, the jumpsuit-and-rhinestones bedecked showman born onstage in Las Vegas and spread across the last years of his life.
These eras are not inclusive. Among the soundtracks can be found the late '50s showpieces Loving You and King Creole, both of which are essential to any appreciation of that period; throughout his career, there were the gospel and Christmas albums that did so much to broaden his appeal beyond the rock and pop audience he originally courted.
Live recordings, dating back to his formative days performing at the Louisiana Hayride, offer an entirely different view on Elvis's career — it seems incredible today to consider that his first official live album (the aforementioned From Memphis to Vegas / From Vegas to Memphis) did not appear until 1969, but the archives have opened many times since then, to offer us glimpses into any number of shows.
Indeed, we are fortunate that the tapes were rolling at any number of key concerts — the Hayride tapes represent many people's first exposure to the in concert Elvis; a recording made for the USS Arizona in 1961 (to help raise funds for a memorial to the sunken battleship).marked his last show for seven years (find it on the Elvis Aron Presley box set). 1968 saw him back in action for the benefit of the NBC cameras, and the epochal Elvis TV special; 1969 brought his Las Vegas debut; 1972 saw him headline Madison Square Garden; 1973 brought a worldwide satellite broadcast from Hawaii; and on June 27, 1977, he was recorded live at the Market Square Arena, Indianapolis, at the last concert he would ever play.
All of these, and many more besides, have now been released, some by RCA and its subsequent owners; some through less official channels; and some by Follow That Dream, established in 1999 as the Official Elvis Presley Collectors label, and responsible now for some of the most laudably curated compilations and collections that any artist's catalog can boast. That these are all largely confined to CD-only is a drawback that every vinyl collector must learn to live with. But Elvis collectors in general have never had it so good.
In as much as they were all released as limited editions, many of the Follow That Dream CDs are now very hard to find, and highly-priced too — some even vie with original vinyl in terms of value. Next time, however, we will take a look at the true rarities in the Elvis catalog, for it is there that vinyl that leads the way.
August 1956's TV Guide Presents Elvis Presley is one of the most sought-after of all Elvis rarities. That month saw Elvis interviewed by journalist Paul Wilder, backstage at the Polk Theatre, Lakeland FL, to coincide with a three part Elvis feature appearing in the magazine. Copies of the interview were pressed and mailed out to select radio stations; four excerpts which include Elvis musing on his Pelvis nickname ("it's one of the most childish expressions I ever heard coming from an adult"), and a brief interview with Colonel Tom Parker, which took place while Elvis was onstage, performing "Heartbreak Hotel."
"We are informed by RCA that this [record] represents the very first occasion on which the famous Presley voice has appeared on record... sans music," one of the two accompanying inserts remarked. "If this constitutes a collectors' item, make the most of it." The most recent Goldmine price guide values it at $1,500, although copies have sold for $2,000 and up in the years since that was published. That is some way short of making it the most valuable Elvis record in the world (as the liner notes to the compilation A Legendary Performer Volume 3 insisted), but it's still a worthy addition to the collection.
The most valuable of all Elvis records is, in fact, his very first recording. In January, 2015, Third Man Records founder Jack White paid $300,000 for the only existing copy of "My Happiness" and "That's When Your Heartaches Begin," a 10-inch acetate recorded by Elvis in July 1953, as a gift for his friend Ed Leek. (It was Leek's daughter who placed the disc on sale.)
Famously, this is the recording that first alerted Sun Records founder Sam Philips to Presley's talent (Philips owned the studio where the acetate was recorded); and, of course, for more than 60 years, it was one that would escape every collector's clutches. Just months after his purchase, however, White reissued the disc for Record Store Day, a limited edition "so close to the historic original as to almost be indistinguishable from one other." Prices for the reissue are themselves steadily rising (copies currently sell for around $125), but at least it is now attainable.
Other major Elvis rarities are equally eye-catching - in India, his singles were issued ion 78 until as late as 1966, discs that are highly prized both for their rarity and their anachronistic appeal (the last Elvis 78 issued in the US was "I Got Stung," some six years previous.)
The aforementioned Sun singles are always in demand — in 2015, a set of five in NM condition sold for $3,3250), with their 78 equivalents even more so. And, for the collector who must have everything, there is the International Hotel, Las Vegas Nevada, Presents Elvis, 1969 box set, featuring stock copies of a couple of LPs, together with three photos, sundry ephemra and a thank-you note from Elvis and the Colonel. And who could ever pass up on of the promotional triple EPs, rounding up Elvis's entire debut album across three 7-inch discs, that were purchasers of an RCA Victor Victrola record player in 1956?
There are other treasures, however, that are considerably less instantly recognizable — copies of 1973's Aloha from Hawaii by Satellite bearing a sticker advertising sponsor Van Camp's Chicken of the Sea tuna, for example; or, staying with the same album, it's 7-inch "jukebox album" counterpart. A copy of the "That's All Right"/"Blue Moon Of Kentucky" single on RCA Gold Standard label, with the artist's name misspelled Preseley — one copy sold on eBay for $6,000 in 2011; a copy of the Speedway album with the original bonus color photograph still inside.
And so many more. Indeed, with more than 60 years worth of recordings and releases to pursue, the fact that so many millions of records were sold is, perhaps, the last consideration that a collector needs to consider. The music is immortal. And its possibilities are infinite.
10 Top Elvis Rarities
Good Luck Charm (33 rpm 7-inch with picture sleeve - 1962) $20,000.00
Elvis Christmas Album (LP red vinyl - 1957) $18,000.00
Can't Help Falling in Love (33 rpm 7-inch with picture sleeve - 1971) $16,000.00
That's All Right (Sun Records misprint 45 - 1954) $15,000.00
Most Talked about New Personality (2xEP - 1956) $6,000.00
Moody Blue (LP splash purple vinyl - 1977) $5,000.00
Speedway (mono LP - 1968) $5,000.00
Aloha from Hawaii (LP w/Chicken of Sea sticker on cover - 1973) $3,500.00
Elvis Gold Records Vol. 4 (mono LP - 1968) $2,500.00
TV Guide presents Elvis (7-inch, 1956) $2,000.00