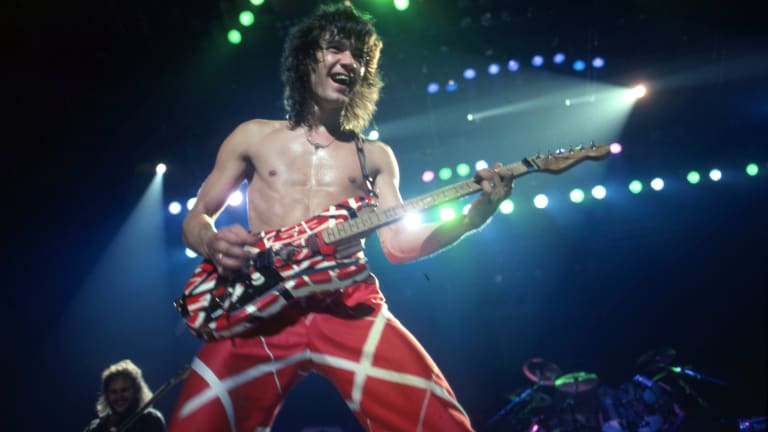 Fabulous Flip Sides In Memoriam – Eddie Van Halen
Iconic rock guitarist Eddie Van Halen is memorialized with a Van Halen flip side and remembered by fellow guitarist Jim Peterik.
On October 6, at the age of 65, we lost guitarist, keyboardist and composer Eddie Van Halen after a long battle with cancer. In the early 1980s, the quartet Van Halen achieved their sole No. 1 gold single with "Jump" in the same era when Survivor reached No. 1 with "Eye of the Tiger," co-written by guitarist Jim Peterik of The Ides of March and formerly with Survivor and .38 Special fame. Jim told Goldmine, "Eddie wrote the book on melodic lead guitar. Not content to be just a shredding, tapping machine, he wove in memorable melodic leads into every solo. He was always a musician first, a technician second, and he influenced countless students along the way. May you rock in peace!"
In 1978, Warner Bros. featured two of its 1970s acts on a tour. The headliner was a quartet who had been with the label the entire decade, Black Sabbath, which would be Ozzy Osbourne's final tour with the band that century. Opening for them was a new act supporting their self-titled debut album, Van Halen. The young quartet arrived on the stage and provided electrifying performances. Lead singer David Lee Roth bent in half and jumped in the air. In addition to his solid bass lines, Michael Anthony provided high harmony vocals, an element key to their sound. Alex Van Halen was in the back, powerfully pounding on his drums, while his younger brother Edward caught everyone's eyes and ears as a new rock guitar virtuoso. Eddie, as he became known to his fans, looked so happy on the stage. Their debut Top 40 single was a cover of The Kinks' "You Really Got Me," filled with power. In addition to their original composition "Dance the Night Away" the following year, two more covers entered the Top 40 early the following decade, "(Oh) Pretty Woman" followed by "Dancing in the Street." Eddie also had a prominent guest guitarist spot on Michael Jackson's "Beat It," which reached No. 1 in 1983.
After the success of Van Halen's album 1984, which included the Top 40 hits "Jump," "I'll Wait" and "Panama," David Lee Roth departed for a solo career and the remaining band members searched for a new lead singer. When rumors surfaced of Sammy Hagar being considered for Van Halen, it seemed like a merge and when confirmed, headlines read "Van Hagar." In their first five hour session, the first song that Eddie, Sammy, Michael and Alex co-wrote was "Summer Nights" about "summer nights and my radio," lyrics which popped into Sammy's head when he heard Eddie's guitar part. This initial recording reminded Sammy of his all-time favorite group Cream. He was thrilled and decided he would officially join the group.
When the new lineup's 5150 album was released in 1986, it became Van Halen's first No. 1 album. Its first single, "Why Can't This Be Love," with Eddie's edgy lead guitar and Sammy's vocals, sounded exactly like what one would expect.
The next two singles were a bit more mellow, both peaking at No. 22. First there was "Dreams," with an inspirational sound, followed by "Love Walks In," with Eddie's keyboards similar to what he introduced on "Jump," and the recording sounded a bit like Survivor. While Top 40 radio was playing "Love Walks In" during the summer of 1986, album rock radio was playing its rocking flip side "Summer Nights."
Van Halen
Flip side: Summer Nights
A side: Love Walks In
Top 100 debut: August 9, 1986
Peak position: 22
Warner Bros. 7-28626
In total, Van Halen achieved Top 100 singles 22 times, with David Lee Roth singing on the first eleven followed by Sammy Hagar on the next eleven, all on Warner Bros., and all led by the exciting guitar, and sometimes keyboards, of Eddie Van Halen.