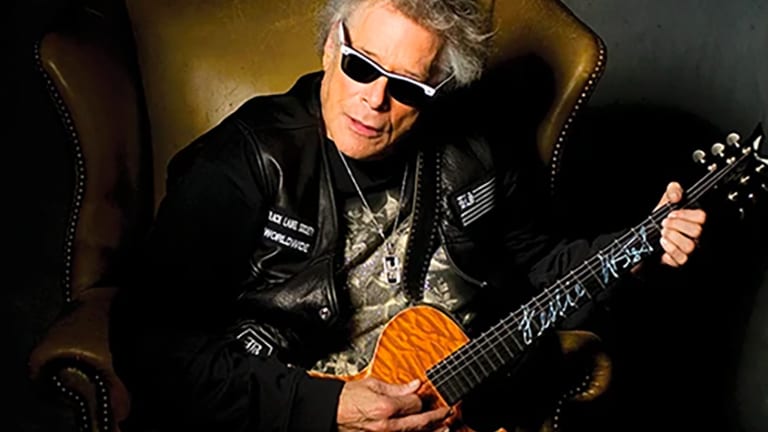 Fabulous Flip Sides In Memoriam – Mountain's Leslie West
Remembering guitarist Leslie West of Mountain and West, Bruce and Laing
When other cities near Woodstock, New York tried to shut down the possibility of a "hippie festival" in 1969, dairy farmers Max and Miriam Yasgur leased their land and went to the city council to defend the "kids" as Max Yasgur called them. The festival went on, and in Joni Mitchell's composition "Woodstock," Top 40 listeners the following year heard Stephen Stills sing "I'm going down to Yasgur's farm," on the Crosby, Still, Nash & Young recording, one of over thirty acts to perform at the three day festival, which concluded with Jimi Hendrix.
One of the new acts to debut to the large Woodstock audience was Mountain, and they wrote a song for the event called "For Yasgur's Farm." This gentle song would later begin the second side of their 1970 album Climbing! which led off with their hard rock single "Mississippi Queen," with Leslie West powerfully delivering both electrifying guitar and vocals. The single reached No. 21, making it their sole Top 40 entry. That year also saw the sole Top 40 hit from The Ides of March with "Vehicle," written and sung by the group's guitarist Jim Peterik, who told Goldmine, "Nobody could squeeze more tone and soul out of a Les Paul Jr. guitar than Leslie West. As a guitar player he made me realize that less is more in the right hands. Rock in peace my guitar hero."
In early 1971, Mountain's album Nantucket Sleighride was released. The opening number, "Don't Look Around," kicked off the album with Leslie's soaring guitar and Corky Laing's pounding drums. The single from the album was "The Animal Trainer and the Toad," where Leslie proudly reminded everyone "I'm in a band, a rock and roll band." The flip side was "Tired Angels," dedicated to "J.M.H," James Marshall Hendrix, who had passed away since their prior album. Leslie's harder edged guitar parts were offset by Felix Pappalardi's tender vocals and Steve Knight's piano and organ parts.
Mountain
Flip side: Tired Angels
A side: The Animal Trainer and the Toad
Top 100 debut: March 27, 1971
Peak position: 76
Windfall 532
Later in 1971, Mountain's album, Flowers of Evil was released. In early 1972, the group disbanded, and Leslie West and Corky Laing joined forces with former Cream bassist Jack Bruce. West, Bruce and Laing released a pair of studio albums and a live album. In 1973, Mountain re-formed and released the live album Twin Peaks, followed by the studio album Avalanche in the following year.
Leslie West passed away on December 23, at the age of 75, at his home in Daytona Beach, Florida. Corky Laing shared, "Rest in peace Leslie. There was nobody else who played and sang quite like you and I don't think there will ever be. Your blue notes were bluer than blue, and they touch everyone who hears them. I feel blessed having had the luck to spend all that time with you in the studio and on the road. Your musicality was just sublime. My deepest condolences to your nearest and dearest. I will always miss you!"
Related links:
Goldmine 2009 Woodstock 40th Anniversary Memories with Leslie West and others