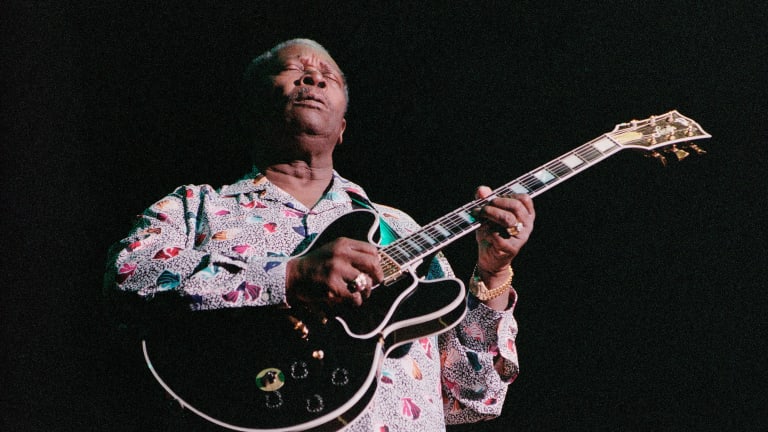 Fabulous Flip Sides of B.B. King with his daughter Shirley King
Shirley King's new album "Blues for a King" on the Cleopatra Blues label features guests Martin Barre, Pat Travers, Elvin Bishop, Steve Cropper and many more.
GOLDMINE: It has been five years since your father's passing and we continue to write about him at Goldmine.
SHIRLEY KING: He lived a very good life and had a great business sense, too. Now it has been five years of legal battles with family and people fighting with each other, which really got me down. I stopped volunteering at the school in order to deal with this but plan to do more educational activities when I go back out. I want to talk about the CD and some of the artists that I didn't know who some of the kids may know. I have a Blues in the School program, mostly concentrating on my daddy and Bukka White. I am from Chicago and people worldwide respect the Chicago blues roots.
GM: Like B.B. King's Blues Club, his restaurant where my daughter Brianna has eaten at in Memphis on a marching band trip, my father also owned a restaurant with his name on the sign. I remember watching him struggling with kitchen staffing in 1968 at the time when your dad's "Paying the Cost to be the Boss" was on the radio and I thought that title was perfect. That song was my introduction to the blues. Its flip side, "Having My Say," is also another powerful favorite of mine.
SK: When people are famous, they play their hit songs and I hadn't really listened to that flip side from my dad's Blues on Top of Blues album until you asked me to in preparation for today's session, and wow, I like it! It sounds really good. It has such a strong arrangement for that particular period. He really didn't have big arrangements until after "The Thrill is Gone" became a hit following year.
B.B. King
Flip side: Having My Say
A side: Paying the Cost to Be the Boss
Top 100 debut: April 20, 1968
Peak position: 39
BluesWay/ABC 45-61015
GM: Speaking about "The Thrill is Gone," you have sung some of your dad's songs, including that one and "Why I Sing the Blues" from 1969, "Every Day I Have the Blues" from 1955, and more on your prior Daughter of the Blues album.
SK: People may not recognize his songs when I sing them, like "Ghetto Woman" from the 1970s, because he performed it as a slow blues ballad, and I do it faster because that is the kind of performer that I am. I also did his "Woke Up This Morning" from the 1950s on the Daughter of the Blues CD. After this estate chaos ends, I hope to record more of my father's songs because the people running the estate are trying to make money for themselves and not trying to improve the value of the estate. There has been so much ripping off and family whining and crying since my dad left this earth and he worked so hard for everything. Nobody gave him anything and the same people coming in and misusing his legacy really bothers me and I hope to do something to show that B.B. King's daughter is still living, and nobody is going to disrespect my dad like that.
GM: You certainly are entertaining on your new album Blues for a King on the Cleopatra Blues label, also the home of Joe Louis Walker, who joins you on the first song, "All of My Lovin'," which reminds me of the soul sound of Betty Wright, who had the gold single "Clean Up Woman," and just passed away in May.
SK: Wow! Thank you. Betty Wright was one of my R&B sisters. I loved her. I got a chance to meet her and see her perform. It's so sad that she is gone. Like you said, it does sound like the R&B stuff that was going on the 1960s and 1970s and has a bit of the early Motown sound too.
GM: Another track that captures that sound is "Give It All Up" with a beach music/northern soul sound, including brass.
SK: Like "All of My Lovin'," that one is among the first songs that we recorded for the album. We also did "Johnny Porter" early in the process, which The Temptations had originally recorded, and they called it northern soul, too. I hadn't heard of that term.
GM: Northern soul is from a UK point of view and in the Virginia and Carolinas region they call it beach music, with songs that kids in the 1960s and early 1970s used to listen to at beach clubs and do a shuffle dance called the shag.
SK: With northern soul, I have learned also that it is more from the R&B genre versus the blues, so with that interest, I may be able to crossover and do some London dates when things reopen.
GM: Then let's talk about a pair of British songs on the new album, starting with "Can't Find My Way Back Home."
SK: I was intimidated by some of these songs at first because I wasn't familiar with them, thinking that I would be given only blues songs. Then they gave me these non-blues songs and I freaked out a little bit. This was such a pretty ballad-type song versus a blues, blow out the house mama song, which is more of my style, like what Koko Taylor sings. I had to think about how I would chain myself down to deliver this song with the appreciation of how it had been done originally. I slowed myself down and then the song started growing on me and the lyrics had meaning to me about finding my way back to doing what I was doing when my father was here, because I really lost my way.
GM: The original guitarist on that Blind Faith song was Eric Clapton, who your dad played with on their Riding with the King duo album, which celebrated its 20th anniversary this year and we recently highlighted that in Goldmine. The guest guitarist on your recording, who also does a great job, is someone who I have interviewed, Martin Barre, who was with the band Jethro Tull.
SK: I did some research and saw the name Jethro Tull and I said, 'Oh boy!' I have a poster on my wall from the Atlanta International Pop Festival in 1970 and my dad's name and Jethro Tull are both on that poster.
GM: "Can't Find My Way Back Home" was written by Steve Winwood, who got his start with The Spencer Davis Group and was also in the band Traffic, in addition to Blind Faith. Traffic originally recorded "Feelin' Alright," although your arrangement is the piano driven arrangement that Joe Cocker did and Brianna and I love, so I am so pleased with the version that you recorded.
SK: The Spencer Davis Group performed here in Chicago as an opening act and I got a chance to go on stage and sing their hit song "Gimme Some Lovin'" with them. Then I got a chance to sit in with Jim Peterik and sing with him on the legacy of his music. I love Jim. He is such a performer.
GM: Yes, and he told me that you are a gem. I interviewed him recently about his work with The Ides of March, .38 Special, Survivor, and Dennis DeYoung. What a great guy he is, in addition to being a great singer, songwriter and guitarist. Your album is filled with guest guitarists. Pat Travers helps to bring a fun bounce to "That's All Right Mama."
SK: There is a guy who owns the Arcadia Theater in St. Charles where they bring in rock bands in the Chicago area, like Jim's Ides of March, and he was planning on interviewing Pat Travers online and I told him that I would be watching the interview. He and Pat talked about the album and then Pat told a B.B. King story, so I felt so honored to be sitting there listening to this man just mention my name, just like Steve Cropper did at my dad's club in Memphis, which led to him being on the final song on the album, "At Last." It is a small world and to be part of it makes me feel so good.
GM: "I Did You Wrong" with Elvin Bishop on guitar is another strong song.
SK: Elvin did some work with my father back in the day and it makes me feel good that people like him took a chance to be part of my CD. Now I feel like a rock star.
GM: The album has a great variety of music, including what I would call a standard, "Feeling Good" with Robben Ford, which might be my favorite on the album. My wife Donna has watched an episode of the new NBC television show called Zoey's Extraordinary Playlist, over and over, where Bernadette Peters performs this song.
SK: That was another challenging song because it is so show business, Broadway and cabaret in style. There is a Nina Simone version of it that I tried to draw from. I had one month to do all of these eleven songs in the studio and I prayed and I talked to my daddy in the spirit as I wanted it to sound right, because if it didn't, people would be talking about me because I am B.B. King's daughter. I was scared of what the critics would say. I heard it one week before it was released, and I was pleasantly thrilled and relieved. I could not believe what I was hearing. There is really only one blues song on the CD which is "Hoodoo Man Blues" with Junior Wells and Joe Louis Walker. I jumped for joy when that one was suggested and knew I could have done that with my eyes closed. The producer, Jurgen Engler, added Junior Wells, who passed years ago, using an old recording and mixed it into the track, and I was honored. That was awesome. I got a chance to see him here in Chicago, but I never got a chance to perform with him until now with this recording. When I first came on the scene, Junior Wells and Buddy Guy were the blues brothers way before The Blues Brothers that people think of, ha ha ha. Thank you for allowing me to have this platform to talk about my music. What a wonderful birthday present this is, having this interview article published in October, my birth month. What a way to celebrate. I have signed up for the Goldmine weekly newsletter, too. You know, my dad did a lot of interviews and I never thought that I would get this honor and grace. Thank you so much.