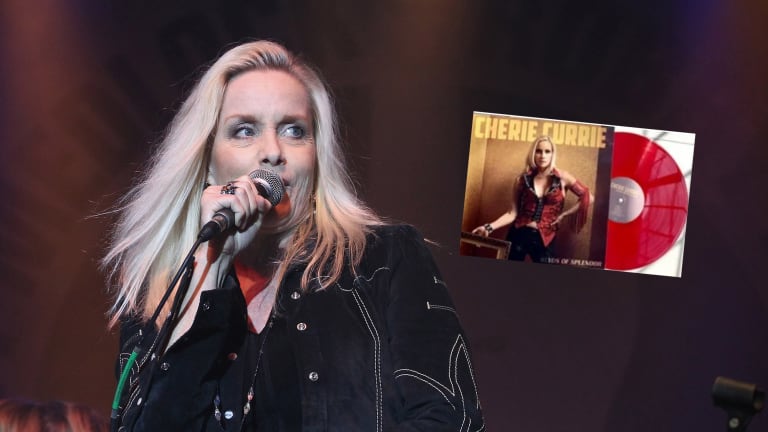 Fabulous Flip Sides of The Hollies with Cherie Currie and a red vinyl giveaway from Blackheart Records
Enter to win vinyl and then read Cherie Currie discuss her new album "Blvds of Splendor," which includes a mix of outstanding new compositions and covers with a variety of top notch guest musicians. She and Brie Darling also have a new version of Soundgarden's "Black Hole Sun" coming out in August.
GOLDMINE: Your Blvds of Splendor is one of my favorite albums of 2020. As we discussed last year with The Motivator, this new album is also exciting and fun, from Slash's opening guitar to another Hollies cover. This makes two recent albums back to back for you.
CHERIE CURRIE: It is a miracle, isn't it? Thank you so much. I am so glad that it is finally out.
GM: Let's start with "The Hollies." The flip side of "The Air That I Breathe" was "No More Riders," written by Terry Sylvester, who my wife Donna and I saw a few years ago at an oldies show here in Daytona Beach, where he performed his song "He Ain't Heavy, He's My Brother," which you and Brie Darling creatively covered on your prior album.
CC: With "No More Riders," I think if Gordon Lightfoot and The Mamas and The Papas came together, that this would be the song. It is extremely deep, all about battles from the wild west to how an eagle manages to survive, with a bit of the Native American plight. I am a firm believer that they were here first. My heart still bleeds and breaks for every single one of them. His lyrics are masterful.
GM: It certainly fits that era of "Indian Reservation" and Bury My Heart at Wounded Knee. The A side of that single was "The Air That I Breathe," which you cover here. Oh my goodness! I was rooting for you when I put it on for my first listen, as Allan Clarke is one of my all-time favorite singers, and there are some key vocal lines in the song. You got the vocal opening exactly as I hoped and then the vocal blend of "no books to read" flowing to "making love with you" you captured the original version, and I was just thrilled.
CC: Oh, thanks so much. It was one of my favorite songs growing up. When Matt Sorum, who produced most of the songs on the new record, asked if there was a song that I would like to do from my childhood, that was No. 1. It is still one of my favorite songs to listen to. Matt stayed very close to the original arrangement and brought in the horns and the strings. There was no way that we would have attempted to do this song without going all out, which is what it needed, and I thought it was masterfully done.
The Hollies
Flip side: No More Riders
A side: The Air That I Breathe
Top 100 debut: April 20, 1974
Peak position: 6
Epic 5-11100
GM: Speaking about songs we listened to when we were growing up in the 1970s, you and I thought that "Roxy Roller" was a pretty big hit and now that I have learned that nationally, Sweeney Todd's original version, which Nick Gilder sang and co-wrote, barely made The Top 100.
CC: Really, that's so funny, because I just listened to Nick Gilder's version, because we had a fun time with a new "Roxy Roller" quarantine video with Nick, me, Suzi Quatro and others from their individual locations. I love "Roxy Roller" and that is a song I have always wanted to do. We grabbed that song really quick when we only had three weeks to prepare to open for Joan Jett at The Pacific Amphitheater and that song just felt like mine, even though it's Nick's. The vocal that you hear on the album is just a scratch first take vocal and I liked it and didn't think it needed to be redone.
GM: I love your fun new video. It blends so well. Speaking about Nick, the year after "Roxy Roller," I bought a 45 in Canada, with a title that you would like, "Runaways in the Night," by Nick, and then the year after that, when I was working at a record store in Cleveland, "Hot Child in the City" was a huge seller for months.
CC: That was a big one. Let me tell you something. Nick Gilder could sing then and now he still can sing! That guy hasn't lost it one bit. He is a pro. What a great voice and a great guy. I am so glad that he had the hits that he had. He so deserves it.
GM: Absolutely. "Hot Child in the City" ended up becoming a No. 1 platinum single around Thanksgiving 1978. When I first got your album, the first song I played based on the title was "Shades," because there is a Dean Martin flip side by that name. I immediately realized that your song isn't that one, but it is one of my top two favorite songs on your album, which you co-wrote with your son Jake Hays.
CC: Jake and I recorded a duet of it on my 2015 Reverie album, which Kim Fowley help produce, which contains Jake's original lyrics. That version is called "Shades of Me." Now we have two versions of one great song.
GM: The other song in my top two is "Rock & Roll Oblivion." The strings are incredible.
CC: Lanny Cordola, who is just a blessing of a human being, is the co-writer and key musician on the song. That was another one that was just a scratch vocal. We went about a month over the schedule to make this record. I used that song in my sets when I decided to go on my own and do a few tours back in 2014 and 2015.
GM: Donna and I, along with our daughter Brianna, lived in Chicago from 1989 through 1993 when The Smashing Pumpkins were becoming popular locally. It is great hearing you and Billy Corgan singing together on his composition "Blvds of Splendor," the album's title tune.
CC: Thank god for Matt and his friends. I'm a huge Smashing Pumpkins and Billy Corgan fan. Billy met me at the studio with this song he wrote. What an incredible talent and what a kind individual. For someone who became as huge as he is in his life, what a really nice guy, and truly giving of his time. It was an honor to do this song with him. I just love Billy. He's been nothing but generous to me.
GM: Another person who I would like to talk about is Nick Maybury. On "Black Magic" and "Bad and Broken," his guitarwork is outstanding.
CC: Nick and I have toured together. I cannot tell you how much I love him and his musicianship. He is one of the nicest people to work with and is an incredible person on stage. Every time that I step on a stage with that guy, I am blown away. Matt brought him in, along with Grant Fitzpatrick on bass, to open for Joan, and Nick and I have worked together ever since. I am so blessed. Look at the songwriting talent that he has. When I discovered that our version of "What Do All the People Know" didn't have a lead guitar on it, I called Nick around 6:30 p.m. and by 10:00 p.m. he had created two leads, and then it was sent to Blackheart so that they could master the song. That is Nick at his finest, and what a team player he is. Kenny Laguna brought that song to the album along with "Draggin' the Line" and produced those two songs.
GM: "Force to Be Reckoned With" is a fun song with the "na na na" lines.
CC: That's Matt Sorum, who came up with the "na na na" part. Holly Knight and I got together with my son Jake to write it, along with Holly's boyfriend at the time Danny Murphy.
GM: Holly also co-wrote "Breakout."
CC: Holly is so talented. It was fun to work with her and watch her and my son write some great songs together.
GM: You had done a recent piece with our Goldmine editor Pat Prince for our 10 Albums That Changed My Life series and I was just thrilled to see that Seals & Crofts' Unborn Child album was included.
CC: At the time when I listened to that album, I was so young, fourteen, and that album really moved me. Seals & Crofts were standing for causes early on, making their voices heard. When I listen to their music now, it takes me back to days of open windows, breezes blowing, people gathering to have a meal, loose fitting clothes, and enjoying a beautiful summer day. Those were simpler times that we don't get much of these days.
GM: "Windflowers" is one where you can really hear Dash Crofts' mandolin and one that Donna loves from the album is "King of Nothing."
CC: We were so lucky to grow up in a time with such profoundly talented musicians and music in the 1970s. I wouldn't pick any other time.
GM: Last year we talked about an upcoming Suzi Quatro movie that you were working on. How is that coming along?
CC: Right when the pandemic hit, it was to be released at a film festival in San Francisco and I was to back her up on stage as a singer. That movie is the best bio-pic and it is a masterful piece of filmmaking. I love Suzi Quatro. I love her for what she did for me and for Joan and The Runaways as a whole, kicking that door open for us girls. She was the only one out there that we could identify with. I just want her in The Rock and Roll Hall of Fame. She deserves it.
GM: You and Suzi did "Roxy Roller" virtually. Was your Mother's Day in person or virtual?
CC: My son Jake is living with me now. He and my ex-husband Bob lost their home in the Woolsey fire. It was the first home that burned on Malibu Lake and Jake had just finished his brand new recording studio. He was in Texas shooting his first film when the fire hit. Bob was scared and he ran out with just the shirt on his back seven hours before the fire actually engulfed the house. There was nothing taken so they lost everything. Jake said in December, when I was on tour with Brie, "You know what Mom? I want to come home." Boy was I thrilled. He has now taken over the back end of the house. He put in a beautiful studio for himself, a beautiful bedroom, and has his own bathroom, too. It is great to have him here. I am doing my audio book now and we built a little sound room for me in the living room. I am so happy. He and his girlfriend Olivia gave me a beautiful cake for Mother's Day with a picture of my album cover on it, celebrating it hitting the Top 10 on Amazon. It was a wonderful Mother's Day. The best!
GM: Wonderful. Please tell us more about your audio book.
CC: I am not sure when it will come out. I am right now on chapter eleven. When I am done with this book, I am done. It is one thing to write it, it is another thing to relive it and to actually have the words come out of my mouth. The ride that I have taken is on this book which is over 300 pages. I told my neighbor that if he hears screaming and crying to not call the police, that I am just doing my audio book, ha ha ha. When I am done, it will be another mountain that I have climbed, and when I am done, I can stand on top of it, like Everest, and scream, "Woo hoo!" It is so great to talk with you. It always is. Thank you for you taking the time. I cannot tell you how much it means to me. Thank you for all you and Goldmine have done and all your support. You stay safe and I'll see you soon.
Enter to win Cherie Currie's Blvds of Splendor, shown above on red vinyl, courtesy of Blackheart Records for the Goldmine Giveaway at the link below by August 13, 2020. There will be one (1) lucky winner of the new album, notified after August 13, 2020, by email. Thank you for participating in our Goldmine Giveaway.
In addition to Blvds. of Splendor, out now, on August 19, Cherie Currie and Brie Darling have a special song coming out. Brie told Goldmine, "Cherie and I were asked to cover one of Chris Cornell's songs on a special Blue Elan recording to benefit The Chris and Vicky Cornell Foundation. It was such an honor. I immediately knew the song I would like us to do, my favorite, 'Black Hole Sun.' I felt our voices would work well on his beautiful and haunting melody. I love Cherie's and my different sounds and styles that work so well together. I didn't realize at the time what a difficult melody this would be to sing, at least for me. Chris' talent was truly special. With the staggering numbers of people struggling with so many issues that this world faces now, how better to contribute to something good, than being a part of this project, which benefits children in need. For me, the lyrics, along with the melody and music, evoke a feeling and an emotion, rather than any definition. I could never explain what 'Black Hole Sun' lyrics mean, so I cried, pled and screamed out the emotional impact that they had on me, in my vocal performance."
Related links:
Goldmine 2019 Cherrie Currie Interview
Goldmine 2019 Cherie Currie 2019 Podcast