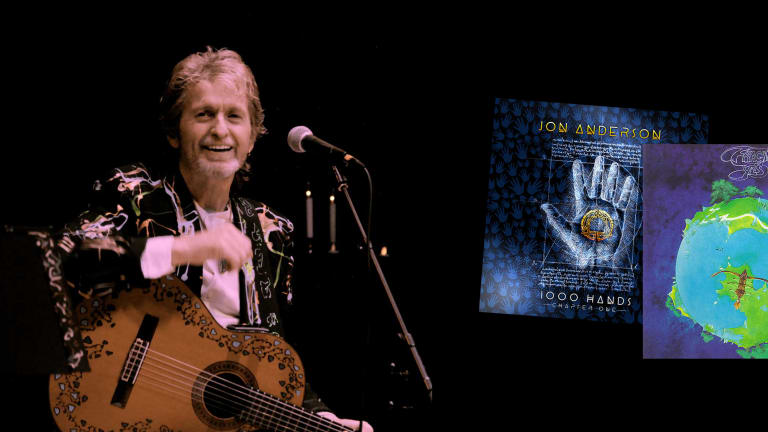 Fabulous Flip Sides of Yes with Jon Anderson
Jon Anderson's new Blue Elan album "1000 Hands" has finally arrived after its beginning thirty years ago and includes guests Ian Anderson, Robbie Steinhart, the Tower of Power horns, Billy Cobham, Chick Corea, Jerry Goodman, and members of Yes
GOLDMINE: 1000 Hands is definitely worth the wait. Like your work with Yes, your new album includes songs with considerable length, allowing the tracks to build up and offer great musical variety. In addition to playing the new album in our car's CD player, this past weekend, on our car radio here in Daytona Beach, Florida, we heard you sing the eight minute version of "Roundabout" from Fragile as we were approaching the only traffic circle that I know of in our area. Was "Roundabout" inspired by a roundabout traffic circle?
JON ANDERSON: Yes. We were doing a show in Aberdeen in the north of Scotland and then we drove the van down to Glasgow for the next show and in 24 hours we would be back home. Coming down that two lane road, there were probably fifteen to twenty roundabouts. Steve Howe, in the back of the car, was writing about the roundabouts and it just came up naturally. The road was very narrow and it looked like the mountains were coming out of the sky as you couldn't see the top of the mountains. You would just see clouds which were very low. So that inspired my lyrics. By the time we arrived in Glasgow, we had written "Roundabout."
GM: The flip side of the "Roundabout" single is "Long Distance Runaround." Are the lyrics about religious disillusionment?
JA: Probably. At the time, Vietnam was very bad and the religious people were saying that Jesus is the only way and the rest of the people in the world were going to Hell. I thought it was sad because we are all connected in different ways. I had this long distance runaround of confusion in my head when I was writing the song. That was a very special time with our string of successful albums, The Yes Album, Fragile and Close to the Edge.
Yes
Flip side: Long Distance Runaround
A side: Roundabout
Top 100 debut: February 12, 1972
Peak position: 13
Atlantic 45-2854
GM: Between the releases of Yes' Fragile and Close to the Edge albums in 1972, the group released a version of Simon & Garfunkel's "America."
JA: I had seen a band in Wales, who were our opening act, and they did a version of "America" and I thought it was such a great song, and they did it acoustically. When we were in the studio rehearsing, I suggested that we try "America" like a powerhouse band, and then drop down to the song, because the song is so beautiful. Paul Simon is a brilliant writer.
GM: Also beautiful from that era is the artwork from Roger Dean on your albums.
JA: Roger was a great find. We saw an album cover that he had done and Steve got in touch with him. He came to the studio and sat with us while we were doing Fragile and suggested creating something for us. He came back with this beautiful world with a creative design. He stayed with the band for five or six years creating our album covers and even doing visual stage sets with his brother. We are good friends with Roger.
GM: On your new album you have a blend of musicians from Jethro Tull, Kansas and Yes on "Activate," my favorite song on your new album. I was drawn in immediately by Ian Anderson's flute. My wife Donna likes how the tempo builds at the end.
JA: It is pretty cool, isn't it? I wrote that thirty years ago in 1990. Basically, Chris Squire and I were in Los Angeles at that time with the tape asking people to play on the tracks. Years later, my producer Michael Franklin was familiar with some of these tracks from thirty years prior and told me, "Let's get this album finished." He knew people like Ian Anderson, Robbie Steinhart, Billy Cobham, Chick Corea, and a procession of wonderful musicians to add to the recording in his Solar Studios near you in Orlando. I rang up Steve Howe, so he played guitar on the album, and I just wanted to sing with him again.
GM: "Make Me Happy" is certainly bouncy. Tim Franklin's ukulele is fun and the Tower of Power horns give it a bit of a punch.
JA: It was just one of the songs that just popped up when we were making the album. The idea of the ukulele came to me because I use one in my solo shows. It just needed that simple sort of sound and then there is that incredible brass section on this lively, happy song.
GM: "I Found Myself" is such a beautiful song with you and your wife Jane along with Jerry Goodman from The Flock and The Mahavishnu Orchestra.
JA: Jerry came along at the end of the recording process with his violin, so we put him on the track and it is amazing how he just naturally played perfectly and beautifully. Jane is my one and only forever wife and is just a wonderful person to live with and we actually like each other's company, so we have enjoyed being home this year. We have many animals that we feed every day. There are about a half dozen baby rabbits that come around. In our bedroom, we have French doors so we can go out there and give seeds to the birds. About a half dozen kind of birds arrive in the morning. Now the rabbits are coming around and are enjoying the food as well. We would love to have rescue dogs but we are always traveling. Jane was just video taping me for her production work. She is a very talented lady and very beautiful. We've been married a thousand years, making this a very special love song as we sing, "I found myself when I found you."
GM: I enjoy Darius Grabowski's accordion on "Twice in a Lifetime." Charlie Bisharat's violin playing is pretty and I think there is a keyboard which sounds like a mandolin, too.
JA: I think it was. I wrote this song up in Big Bear, California with a friend of mine Brian Chatton who used to be who used to be in my first band in the 1960s. We were called The Warriors. Brad joined the group on keyboards when he was sixteen years old and he has been playing ever since.
GM: On "1000 Hands (Come Up)" you can hear Chris Squire play the bass wonderfully at the beginning, then Chick Corea on piano, Jean-Luc Ponty on violin, Billy Cobham on drums, and more people, what a group!
JA: That was another track from Big Bear that sounded really good as it was from thirty years ago. Well, I love Billy Cobham, and Michael suggested that we add him to the new layer of the recording. When I was with Yes, on our first American tour, we opened for The Kinks, and we were the middle band on the roster. The Mahavishnu Orchestra opened for us and that was the first time I saw Billy Cobham in New York state and it was their first gig and I have never gotten over that very first live gig of Mahavishnu. I became friends with Billy and met him in Paris about ten years ago. Now, all of a sudden he is playing on "Come Up." I told Michael, "Turn the drums up, please." The quality of the mix is beautiful. Chick Corea came on along with Jean-Luc Ponty, who I toured with three years ago and became best friends. My great-great- grandparents are from Brittany and he is from Brittany, in the northwest region of France. So when we met, he felt like my long lost brother. We get on great and he was happy to play on the record. When I was in Big Bear, I drove down to Los Angeles to see the Japanese musician Kitaro perform. The people producing the show came over the microphone and asked, "Are you ready for the opening act? Here is the opening act from Belgium called Zap Mama. Be ready to be mystified and electrified." These five women came on stage chanting, with an African sound, and their voices were amazing. When we were recording the album, Michael got in touch with them when they were touring in Florida and they came to the studio, near Universal, and sang on two songs.
GM: On "WDMCF (Where Does Music Come From)," it is just you on vocals and Michael on keyboards, but all the layers make the sound so full.
JA: I think that one may have the strongest radio sound, so we hope that stations will play this record. I don't make albums to make hit records because I don't know how to do that. The recording of this song is just me doing all my vocalization and then Michael did all of his music on the way from Orlando to China on a computer on the plane, which is fantastic.
GM: During a Christmas season in the 1980s, I heard "Easier Said Than Done" on the radio and bought your 3 Ships album for that beautiful song shortly afterward.
JA: What is funny is that the Christmas album was released in January. The record company got it wrong. I enjoyed making that album so much. Interestingly, when we got done making the album, I had to bring it to New York to get it pressed. They put it in an old box with EMI written on it which was from London and was the same box which was used for Sgt. Pepper years before.
GM: In addition to "Easier Said That Done" which Vangelis wrote, "How It Hits You," which you wrote, is another one of my favorites, along with your version of "Oh Holy Night."
JA: We were in Los Angeles and there were people in adjacent recording studios who would share their talent with us for the project. Gospel singer Sandra Crouch and her brother Andrae joined us and we did "Oh Holy Night." It was beautiful.
GM: I grew up in Cleveland, listening to Yes in the 1970s, moved away, and then returned in the 1980s a few years after "Owner of a Lonely Heart" reached No. 1 for you and the band. Across Lake Erie I could hear music playing on Canadian AM radio stations. When we moved back, one of the first new Canadian songs that I heard was "Moonlight Desires" by Gowan with you joining him. Hearing your voices together on my way to work in the morning, near where The Rock and Roll Hall of Fame is now, was a great way to start my day.
JA: I was in Studio B in L.A. and Larry Gowan was next door and we met and had good fun together.
GM: Now you are with Blue Elan Records, who have been so wonderful for classic artists.
JA: Yes. Most record companies just want to have three or four hit makers but Blue Elan embraces me as an artist and I am very inspired. When I tour again, I will be playing songs from this new Blue Elan album. I just did a tour last year with The 1000 Hands Band and they are great and are all from around the Orlando area. So I will be going out with them again next year playing songs from the 1000 Hands album and classic Yes songs, like we did last year, which was a really good tour. Then we want to tour around the world with the band, so we are hoping for a wonderful 2021. I appreciate your coverage of my music. Thank you. I wish you, your family, and your readers to stay safe and be well.
Related links: