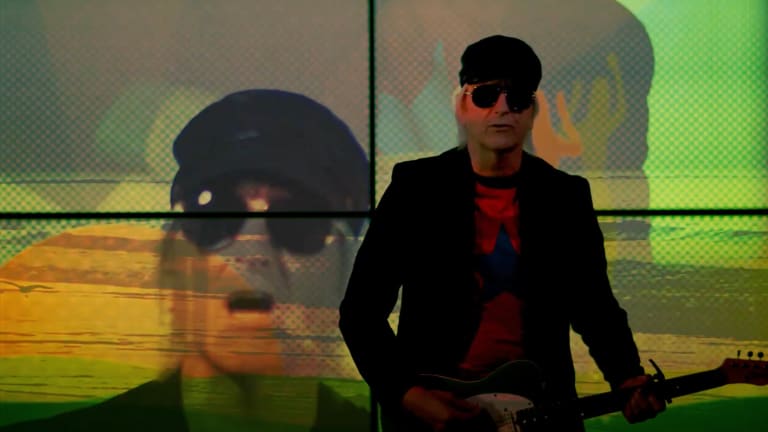 5 Minutes with Texas pop music auteur Lannie Flowers
Flowers' latest release, 'Flavor of the Month,' is an early contender for album of the year.
Lannie Flowers is a true Texas treasure. As a member of the late '70s power pop/rock act the Pengwins all the way through his musically fruitful solo career, Flowers' songs have always packed an appropriately rockin' punch while being liberally peppered with wonderfully pop-leaning melodies and innovative arrangements. His 2019 LP, Home, was lauded by critics worldwide as one of the indie-pop highlights of the year and his latest full-length release, Flavor of the Month (see review below), has a very interesting genesis: it collects a series of one-off downloads, but with a bit of a twist. Goldmine sat down for a chat with the affable Lannie Flowers and asked him to explain it all.
Goldmine: Tell us the backstory behind the original March to Home singles project that morphed into Flavor of the Month. How did it all come to fruition?
Lannie Flowers: In 2019, while I was trying to finish up Home, my record label asked me to put out a monthly free download until the record came out. I was too busy to do them myself and the guys [in my band] here in town are always working, so I can only use them when they aren't busy. Victor Erwin at the label got in touch with a couple of our friends in Nashville [multi-instrumentalist Pat Buchanan and drummer Scott Trammell] and arranged for me to send them demos [to flesh out]. Sometimes I would provide direction and sometimes I would leave it up to them to decide where to take the song, and they always did a great job. Since the project began in March, Alan Petsche (the owner of SpyderPop Records) suggested calling the original project March to Home.
GM: Do you see this release as an extension of Home, or is it a completely different animal?
LF: In my mind, it's a whole different thing. I don't think these songs would've fit on Home, although some were considered at different points in time before the total concept of Home was realized.
GM: It's important to note that the 14 songs on Flavor of the Month are different mixes than the ones found on the download-only versions. What was behind the decision to remix everything?
LF: I had to get in there and screw it all up, like I always seem to do. [laughter] No, I was way too busy with Home to pay a lot of attention to every little detail on the MTH songs. There were just a couple of things I wanted to mess with, so I just ended up messing 'em all up. [more laughter]
GM: Another twist: you use Pat Buchanan and Scott Trammell as musicians on all but one of the songs on the new collection. I don't believe you were ever in the same room because the recording was all done remotely. Did that present a challenge, and how did it differ from working with the musicians you usually record with?
LF: We were never even in the same state, so it was totally different than anything I'd done before. I've worked with a few different people on a song here and there, but never a whole project like this. As far as working with Pat and Scott, though, it was great. They pretty much knew right away what I was looking for and they came up with some really good arrangements on the things I had no idea what to do with.
GM: Your live band is an amazing group of talented musicians. In concert you guys can rock pretty good, but the song they play on here ("Let it Go") is more mellow and nuanced. Tell me about the band and what they bring to the table.
LF: Those guys always bring it! I'm really lucky that they want to hang with me sometimes [chuckles]. "Let it Go" was recorded a few years ago with Bill Lloyd. We'd written that song and he came into town to play, sing on, and produce it. The band, as usual, did a really good job on it.
GM: In the booklet accompanying the CD, you write a brief paragraph explaining the story behind each of the tunes. Most of them seem to be about relationships—the good, the bad and the ugly. Do you ever write your lyrics based on personal experience, or are they generally fictional situations?
LF: Some are about personal situations, and some are fiction. I also use a lot of other people's situations as ideas for songs. Most of the time, it's a combination of all three.
GM: What's next for Lannie Flowers?
LF: I've been spending a lot of my extra time mixing the old Pengwins catalog. I keep trying to remix and fix my past, but it never seems to work. [laughs] I've also been working on songs for my next album, and I'm going to be working with [SpyderPop labelmate] Danny Wilkerson on some songs for his next one. Hopefully I'll be playing some live shows promoting Flavor of the Month. Things seem to be coming back around to some sort of normalcy, so who knows?
ALBUM REVIEW:
Lannie Flowers - Flavor of the Month (SpyderPop)
Conceived as a way to collect a passel of download-only singles, Lannie Flowers' Flavor of the Month is a generous 14-song disc that stands proudly on its own as an album proper. As a matter of fact, it plays a lot like a greatest hits record, with each song delivering the goods in a big way. It's powerful and it's poppy but calling it power pop doesn't really do it justice—the songs dig a bit deeper and are more meaningful than the average disposable pop fluff.
High points are plentiful, but one easy favorite is "Where Did All the Fun Go?" which melds Byrdsy/Beatley guitar jangle with some six-string muscle on the choruses and adds a melody that's sure to please and an outro that's impossible to shake. (Fun fact: the main guitar riff is somewhat reminiscent of George Harrison's "Fish on the Sand.") More snappy choruses can be found on the glorious "Don't Make Me Wait," "Day Glow All Night" (with its appropriately '60s sounding keyboard touches), and the harder rocking title track, which ups the volume without sacrificing one whit of melody.
"Lost in a Daydream" is a distinct aural pastiche to 1967, with Scott Trammell's drum fills coming straight out of the "I Am the Walrus"/"Baby You're a Rich Man" school, while "Summer Blue" is a summery—naturally—tune that's impossibly catchy and nothing less than a perfect pop song. Speaking of perfect—or damn near—"What Did I Know" comes off like a wonderfully seamless nod to late '70s pop-rock: there seems to be a few subtle nods to Lindsey Buckingham and Tom Petty here. Also worth noting is the use of dynamics in many of the songs, which provides added depth to numbers such as "About You" and "The One."
Tying everything together are Lannie Flowers' expressive lead vocals, which are equal parts Texas twang and a little bit o'soul. Flavor of the Month is a fantastic collection, and one that finds the artist at the top of his game. It's difficult to fathom that these songs were not originally scheduled to be part of an album, but fans of impeccably crafted guitar-pop should collectively rejoice that they have found a home on this disc (and soon, on vinyl). Grade: A