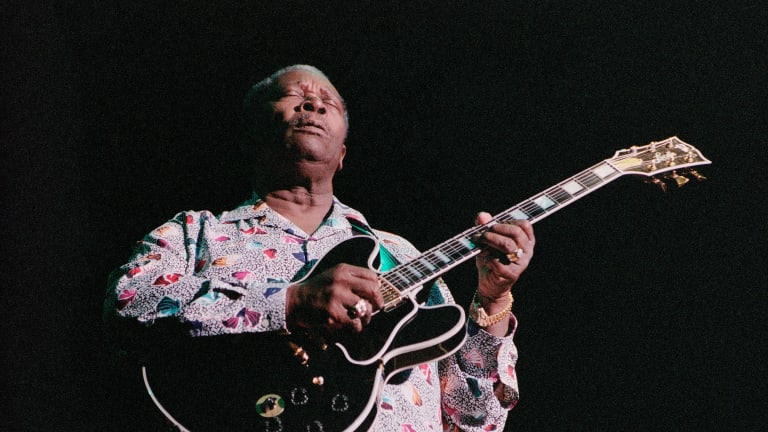 5 songs you should know by B.B. King
The most successful blues artist of all-time, Blues Boy King came roaring out of Mississippi to Memphis where he found fame first as a DJ and then as a powerhouse guitar slinger. He's a household name, but here are five of his songs that should be required listening.
The Goldmine store is a music collector's one-stop shopping of vinyl, CDs, box sets, collectibles and Goldmine-only exclusives. Click HERE to visit!
By Mike Greenblatt
Everybody already knows "The Thrill Is Gone," but the following five songs should be required listening for all blues fans. 
Born Riley B. King in 1925 Mississippi, this Rock'n'Roll Hall of Famer was inducted in 1987. Schooled in the blues by the legendary Bukka White, he was also tutored by Sonny Boy Williamson II (Rice Miller] who let him host his own radio show in Memphis where he became a popular DJ know as Blues Boy King. Then he met T-Bone Walker who showed him a few guitar tricks. Ike Turner was also instrumental in helping the Blues Boy. In 1956 alone, he performed 342 concerts.
     The advent of blues-loving British rock bands elevated his record sales and when he opened for the Rolling Stones in 1969, his career took off like a rocket. In 1985, he performed at Willie Nelson's Farm-Aid. In 1988, he recorded "When Love Comes To Town" with U2. In 1991, he opened his own club with sites in Memphis, Los Angeles and New York City. In 1997, he performed at The Vatican for Pope John Paul II, personally presenting the Pope with his trademark guitar, Lucille. (There's been dozens of Lucilles.) In 1998, he performed in The Blues Brothers movie. His first "Farewell Tour" was with Irish guitar hero Gary Moore in 2006. He played Clapton's "Crossroads Guitar Festival" in '07, Bonnaroo in '08, recorded with Cyndi Lauper in 2010, played England's Glastonbury Music Festival and the Royal Albert Hall in 2011 and The White House for President Obama in 2012.
     In 2014, after a gig at Chicago's House Of Blues, he was diagnosed with dehydration and exhaustion. The rest of his tour had to be cancelled. It was never rescheduled and it proved to be his final performance. BB King died peacefully in his sleep months later May 14, 2015 from vascular dementia caused by a series of strokes.
"Three O'Clock Blues"
     His first hit, written and recorded by Lowell Fulson in 1948, became an R'n'B No. 1 for BB in 1951 and continued to be one of the best-selling R'n'B singles in 1952, making BB a star. He re-recorded it with Eric Clapton in 2000 for their Riding With the King duet album.
"How Blue Can You Get"
     First recorded by Johnny Moore's Three Blazers in 1949, it was written by esteemed jazz critic Leonard Feather. In 1964, BB King made it a hit single and it became a staple of his live show for the duration of his career. "I gave you a brand new Ford, you said 'I want a Cadillac'/I bought you a $10 dinner, you said 'Thanks for the snack'/I let you live in my penthouse, you said it was just a shack. I gave you seven children, and now you want to give them back!"
"Nobody Loves Me But My Mother"
     The lead-off track on BB's 1970 Indianola Mississippi Seeds, he wrote this song with the line "nobody loves me but my mother and she could be jiving too," setting the scene for arguably his greatest studio album.
"Sweet Little Angel"
     First recorded by Lucille Bogan in 1930 as "Black Angel Blues," then in 1934 by Tampa Red and in 1949 by Robert Nighthawk, BB always said he modeled his 1956 version after Nighthawk's, but deleted the word "Black" for fear of criticism as the term was not a popular one for African-Americans in the 1950s. He obviously had no qualms about criticism over the line "I love the way she spreads her wings"
"Every Day I Have The Blues"
     Pinetop Sparks wrote and recorded this in 1935 before versions by Memphis Slim (1949) and Joe Williams (1952 and 1955 with the Count Basie Orchestra). BB took it to No. 8 on the R,n,B charts in in '55.