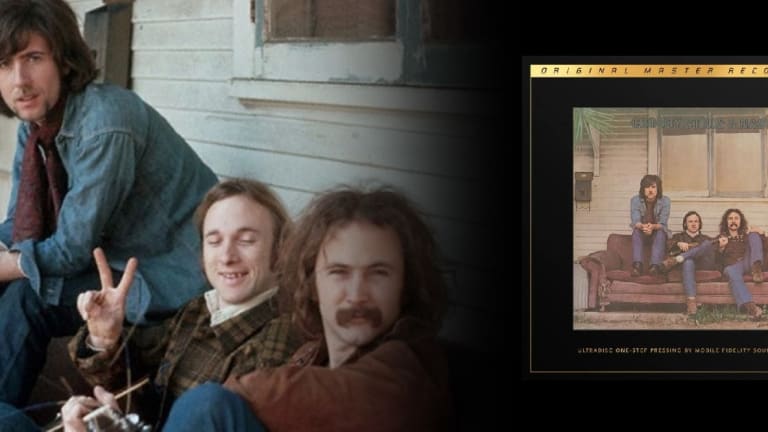 Full Analysis of the latest Mobile Fidelity 'One Step' and 'UHR' remasters of the iconic Crosby, Stills & Nash debut
Taking another deep dive into Mobile Fidelity Sound Lab and their 'One Step' vinyl and 'UHR' SACD series remasters of one of the most prolific folk rock albums of all time.
Foreword
On behalf of myself and Goldmine Music Magazine, this article and this review of Mobile Fidelity's "re-enactment" of this historical album, is dedicated to the memory of David Crosby (Aug 14, 1941-Jan 19, 2023), who gave us over half a century of some of the most memorable and ground breaking music that the history of recorded music has ever, and will ever, know.  Thank you, Mr. Crosby — wholeheartedly.
(Getty Images) David Crosby [Aug 14, 1941 - Jan 19, 2023]
~~~~
Roots
Folk, is a genre of music that is representative in being recognized as music of "a culture"; it is music of "a movement," it is music of "the people," with a primary agenda of expressing a 'belief' by making a musical statement. Within the era of recorded music, American Folk has taken on many forms, and has evolved to reflect our society's school-of-thought, that can be understood about 'us' by rest of the world with regards to pop-culture, lifestyles, social and even racially charged issues. In the 20th century, as music became more and more of an "industry," musical genres became more and more distinctive. Folk Music – music generally recognized as minimalistic in production and acoustic sound signatures – began to really identify as a 'notable' genre of music (as we know it today) by the 1950s. In the dispensation of recorded music history, recording artists such as Pete Seeger, Woody Guthrie, Phil Ochs, The Kingston Trio and Peter, Paul & Mary; then Arlo Guthrie, Bob Dylan, Simon & Garfunkel, Gordon Lightfoot and Joan Baez; to Joni Mitchell, Cat Stevens, Don McClean, Fairport Convention, The 5th Dimension, Jim Croce and so many more, are some of the recognizable names who have succeeded in building up the popularity of the genre of Folk Music (in one style or another). The earliest, most die-hard fans of Folk Music, self-proclaimed as "purists," who by the mid-1960s, began to frown upon many of Folk Music's greats (such as Bob Dylan) who opted for adhering to Rock and Popular music's use of electronic instrumentation, and adopting electronics and rhythm sections into what was originally a minimalist, solo acoustic world. To many of those "purists," this was a move that was 'sacrilege,' at the very least. However, with many traditional Folk recording artists beginning to explore some slight variation of traditional arrangements and orchestrations, it resulted in garnering the attention of music fans who may have never seriously (or fully) given over to the Folk genre.Rock and Folk music inevitably began to "coexist," and soon, many Rock and Folk recording acts began to blur the lines and bridge the gap in one way or another. 
As a result of three established and well-seasoned musicians coming together — David Crosby [The Byrds], Stephen Stills [Buffalo Springfield] and Graham Nash [The Hollies] — greatly based on personal disappointments stemming from previous professional musical endeavors; and out of the result of this magical union, many would argue and acknowledge that the "Folk Rock genre" came to full-fruition on May 29, 1969. And it became so with the release of 'this' debut studio album by this trio of unadulterated master musicians, on a quest to bring forth their own unmatched signature sound, their own way. Bringing together the pure essence of traditional Folk music by way of acoustical rhythms and quintessential Folk harmonies, then infusing much of that with just enough Psychedelia to a state of slight ethereality, intermittently underlying much of that with solid bass & drum Rock rhythm sections, and then 'icing the cake' with absolute lyrical magic; this debut album by Crosby, Stills & Nash would become the genesis of true, bona fide, genius Folk Rock. 
David Crosby, Stephen Stills and Graham Nash (Michael Ochs Archives / Getty Images)
.
Mobile Fidelity Sound Lab and CS&N
What does the very first audiophile record label in the world have in common with the musical group that successfully and predominantly fused Folk and Rock music together into its most iconic form? Just as Crosby, Stills and Nash brought the genres of Folk and Rock to its pinnacle with their debut studio album, while in the midst of seeking to be the best of who they were as individual musicians and recording artists — such was a similar quest with Mobile Fidelity.
In 1977, a fledgling record label, by the moniker — Mobile Fidelity Sound Lab, Inc. — sought out to take the great sound of original vinyl recordings to a place where it might translate to a 'handprint' signature sound. They started by taking the best of the best "original master recordings," by the original record labels, and putting these master tapes through a "master class" of their very own. Almost 50 years down the road and Mobile Fidelity has conceived, created and inducted many unique processes and techniques into the cannon of recorded music technologies. From their flagship OMR vinyl remasters, then to the original 24kt Gold Ultradisc & Ultradisc II compact disc and SACD series. Then today; current to their advanced technological line-up, came MoFi's GAIN HD system Ultradisc UHR Hybrid-SACD remasters, and GAIN 2 system Ultradisc 'One Step' Super Vinyl remasters – the zenith of modern day music media mastering and manufacturing. And these are the very pinnacle processes where MoFi, just over one month ago on December 20, 2022, chose to meet the pinnacle of Folk Rock recordings, and release to us the Crosby, Stills & Nash (self-titled debut) Mobile Fidelity One-Step Super Vinyl Limited Edition and Ultradisc UHR Hybrid-SACD Special Edition remasters. 
~~~~
MFSL's "Crosby, Stills & Nash" Two-Disc 45rpm 'One-Step' Limited Edition vinyl remaster:
Sourced from the original 1/4" / 15 analog tape master. Limited to 12,000 stamped numbered copies world-wide
If you've experienced any of my previous 'full analysis' review articles, you'll be aware that I have developed a protocol for full analyzation of an album without having to dissect every song from front to back. For both formats [vinyl and SACD], I choose three songs to review for each, which are representative of the general sonic 'attitude' of the album.  I choose one song that possesses the most complicated composition, orchestration and arrangement, one song that is as minimalistic as can be found within the total body of work, and one song that is representative of being "right in between;" and again, I do this for both formats, each getting a different string of songs from the track-listing. First I address the sonic presentation of the album, and lastly discuss the packaging and presentation.
Sonic Presentation
"Wooden Ships" – Out of all of the tracks on this album, this particular song's sonic fingerprint [it's production, original EQ, and mix] simply 'requires' that you immerse yourself in experiencing the amazing richness of this song, in pure analog – it cries out for it (in jest, it should be a law). Needless to say, I could not wait to listen to MoFi's rendition. The natural organic tonality of this song, is like the lushest beanbag that you just want to crawl into, and soak. I have always felt this way about this song. However, because that feeling had been engrained, for years, into my own mental-musical-archive, my first thought was – "oh no, I hope they [MoFi] didn't over separate, over clarify, over polish this track" – any track, but this track. Then, I listened; and lo and behold, f**king MoFi does it again! This song is the brilliance of remastering. I'll just leave it like this: I have been a Recording Industry professional my entire career; I have attended and produced countless recording sessions. I say that to say, this version of "Wooden Ships" made me feel like I was in the control room, at the helm, listening to CS&N record this song live. 
"Lady of the Island" – When analyzing a song such as this, there is not a lot of dynamics regarding 'sounds-in-motion' to base a lot of comparisons on. There are only bits and pieces that can be isolated in order to point out the greatness of a remastered version of something, juxtaposed to the original. But that is not why I chose this song for the review of the vinyl version of this remaster. If you know this album, you'd know that this is 'one quiet song,' – it is so damn quiet.  Its tranquility (regarding the song itself) is amazing, but it is sparse in regards to movement, composition and production; there is a lot of space. That is why I made the choice for this song. I felt it would give me more than enough ammunition to put Mobile Fidelity and Super Vinyl to the test. And so, I say this with the utmost pleasure, as well as surprise, I have never, and I mean "ever" heard this song playback so quietly and so tranquil in the background of the production; not EVER. Not on the original pressing, and not on any of the other fantastic audiophile pressings that I own. Beyond impressive!
"Suite: Judy Blue Eyes" – The immediate thing that I noticed was that the opening vocal harmonies (which is the trademark of the entire album and the group as a whole) did not fight for dominance, whatsoever, with the massively deep, thick bass-line (in which I have always kind of felt it did). They really feel like they are both a dominant part of the recording, but yet perfectly giving each other their due space, where on the original, they compete a bit. Moreover, as purposely and purposefully "muddied" as the original Bass-line EQ was originally assigned, it now has a bit more sharpness to it, which allows me to recognize all of the individual note progressions. One last cool thing – the percussive taps on Crosby's acoustic guitar body (just before the "Doo-doo-doo-doo-doot" vocal vamp) are so beautifully echoing and resonant; much more than the original. 
Visual Presentation and Packaging
If you are already familiar with the gorgeous packaging and presentation of the original Mobile Fidelity 'One-Step' Two-Disc 45rpm Box Set's (as they are different from the 'One-Step' 33⅓rpm Single-Disc packaging), then you know what you're getting with this release. But, if you are new to the amazing world of MoFi's 'One-Step' 45rpm series, then I will layout for you a general break-down of the packaging and the contents.  With this CS&N Mobile Fidelity Two-Disc 45rpm 'One-Step' remaster, you will receive:
12 x 12 x 1 Inch heavy-gauge cardboard cover box – designed in beautiful all gold-foil accents with a unique satin finish, internally padded with two dense foam sheets (top and bottom). Number stamped in gold-leaf as a limited edition release. 
Uniquely designed LP jackets – a very sturdy and cleanly designed matching LP jacket ("Disc One" and "Disc Two") with gold-leaf printing for all logos and insignias, and a printed image of the album cover, finished in the same satin-feel as the box.
High quality insert replicas – always a cool thing with 'One-Step's' to see a cardstock replica of original album covers (especially when the original album was a gatefold), and as well, a cardstock gatefold containing the original LP insert with lyrics and production credits, all with clear top-notch printing.
MoFi 'Original Master Sleeve' audiophile-grade poly inner sleeves – As I have stated before, that I do not personally utilize the MoFi OMS's (unless they come within their packaging) I think MoFi inner sleeves are top-notch and worthy of their stand-alone price point. However, when you purchase modern Mobile Fidelity releases, they are an automatic inclusion. That's always a great touch.
One Step process insert – new to MoFi's One Step series? Read this!
2 x 180 gram heavy weight vinyl records pressed on Super Vinyl – Pressed at the most prestigious record pressing plant in the world (Record Technology, Inc.), this 'One-Step' remastered version of the CS&N debut on vinyl comes on two 45rpm 180-gram audiophile-weight pressings, manufactured with MoFi's Super Vinyl formula by Neotech. No defects or hindrances whatsoever found with my copy. Much kudos to Mobile Fidelity and RTI. I wouldn't expect any less.
~~~~
MFSL's "Crosby, Stills & Nash" Ultradisc UHR Hybrid-SACD Special Edition remaster:
Sourced from the original 1/4" / 15 analog tape master.  Special Edition / stamped & numbered 
In process of analysis, just as I'd mentioned before, and just as with the vinyl variation of this release, "I choose three songs to review for each [format], which are representative of the general sonic 'attitude' of the album".  We will first address the sonic presentation of these three particular chosen songs (different than chosen for the vinyl, but similar in characteristics), and then similarly, we will review the visual presentation and packaging.
Sonic Presentation
"Marrakesh Express" – Immediately I was locked into trying to pinpoint some drastic evidence of sonic separation and spatiality, that has become inherently signature (for me) regarding Mobile Fidelity's Ultradisc UHR SACD series. However, I will admit that at this point, I'd only heard a small handful of MoFi's UHR SACD's since my first experience with the Michael Jackson 40th Anniversary Thriller release, almost two months earlier. And I was expecting to encounter this type of MoFi-signature-spaciousness applied to this track, because originally "Marrakesh Express" is exactly what it says – it a compressed freight train of a wall of sound, and in the most awesome way, and in my mind there was much room for 'noticeable' remastering. However, that drastic, expected sonic separation is not what I found in totality, and I couldn't figure out if I was feeling disappointment, or if maybe I just wasn't listening correctly. Then I decided to pause my MoFi review, and remove from my CD shelves a decade-and-a-half earlier HDCD Atlantic remaster of the same album. And when I listened to this HDCD version (which I actually revere very much), I realized that it ultimately presented slightly too much separation than this song requires to keep its amazing original production characteristics intact. Then, listening again to the Mobile Fidelity UHR remaster, I was able to better detect exactly what MoFi was doing. They applied just enough "MoFi-medicine" to bring out detail and clarity, without killing-off and murdering the original production signature of this classic song. My appreciation at that point, went through the roof. 
"Guinnavere" – As I've mentioned previously [Lady of the Island], it's with songs like this, that brilliant mastering jobs seem to really impress me – when there's not much going on. It is easier to assess the quality of a remaster when there is "a lot going on".  When there's not a lot going on, and not a lot of movement and color to juxtapose in order to discern 'change' from an original of something, it makes it harder to assess. Though not as sparse as "Lady of the Island;" "Guinnavere" represents a bare minimum of composition and production. Even though this is the case, the first thing that caught my fancy was how much bolder and 'risen-above' the lead vocals & harmonies dynamically floated separately above the minimal bass and guitar note-progressions.  So, I was very impressed at this first discovery. Then in the vamp of the song, as the vocals were arranged to fall back while the instrumentation continues, the instruments seamlessly take absolute full sound and center-stage without feeling like someone just got up and turned up the volume knob – something that is not as fluid in the original mastering. 
"Long Time Gone" – Regarding this UHR SACD attempt at a 'noteworthy' remaster of this classically iconic album, this is the song out of all three tracks that I'd chosen for this analysis, in which I noticed the most dynamic evidence of separation, individuality, and spatiality between all vocals and instrumentation, combined. The amazing fantastical lead vocals in this song project so life-like, as if they were being sung live, right in the room with you. That was extremely noticeable. The song in totality, is warm and highly realistic, but it captures just the right amount of 'digital clarity' and pin-pointedness that true fans of high resolution digital are going to greatly appreciate. It's an excellent rendition. 
Visual Presentation and Packaging
If you were privy to have read my full analysis on Mobile Fidelity's 40th Anniversary Remasters of Michael Jackson's Thriller (December, 12, 2022), you would have read how I was, at first, taken aback and confused by MoFi's choice at package design for their Ultradisc UHR SACD series. Having been a longtime fan of Mobile Fidelity's earlier 24kt Ultradisc and Ultradisc II CD and SACD remasters, which came presented in the MoFi's classic layout CD artwork design with a 'lift-lock' jewel case; it was a bit of a put-off in the beginning (though I did express how well made and detailed this new packaging was executed). However, now having time to live with this new identity in packaging for MoFi's UHR SACD series (and having personally acquired more releases in the series), I actually have come to really appreciate and understand why MoFi chose this route with this visual presentation and packaging. They are all produced as "mini-LP sleeves," mimicking the original album covers. They have grown on me, extremely positively.  Moreover, I have always been a fan of Japanese-style mini-LP sleeves.   Let's take a look at what MoFi gives us:
Heavy gauge gatefold card-sleeve CD case – Absolute top-notch high grade, thick gauge card stock gatefold cover in 'mini-LP sleeve" style.
12-page cover booklet – This booklet insert contains printing of the original artwork (credits and lyrics) and inside image of original gatefold.
Mobile Fidelity advertisement/ cardstock one-sheet of the MoFi GAIN system and UHR process – If you are curious about Mobile Fidelity's GAIN HD mastering system and Ultradisc UHR process, this will help quench your mind a bit.
Mesh material non-scratch inner sleeve – As I've mentioned before, this is an elegant and functional touch. It's one thing I really love about the small details.
Ultradisc UHR Hybrid gold foil SACD – The disc itself is a Hybrid SACD (playable on standard Red Book and SACD players). It comes manufactured with a gold foil reflective layer for better longevity of the disc's life.
~~~~
The May of 1969 release of Crosby, Stills & Nash's debut studio album has always held itself in high standard with me. It has been a favorite album of mine, so much so that I own several variations on multiple formats (vinyl, cassette tape, CD, and various high-definition/resolution CD variants). I never get drained from taking any given variation that I own out of my music library, and giving the album a listen in full on a more than occasional basis. I have to admit that even though, as I am writing this, I have long past accomplished the audio listening-session for this review, yet, the 'One-Step' vinyl, as well as my UHR SACD copy, have not as of yet found their way back onto the shelves in my music library. I think I'll have some more fun and pull out other versions of this album that I own, and put these MoFi's to the test a bit more. Though, I have a 100 percent feeling that the other versions won't get far.  As for you who are reading, if you are a fan of the CS&N debut album, and have not experienced these MoFi masterpieces, I don't think I need to tell you what your next move should be. 
Jim Davis, Krieg "KW" Wunderlich, Shawn R. Britton (the Robot Monster), John Wood and all of the MoFi team, as well as Don MacInnis, Rick Hashimoto and the super team at Record Technology, Inc., have once again "grand-slammed" right out of the park.  And as I always say, "I give this to you in truth and with integrity - always truth and integrity". 
.
⌘
.
❑ Vinyl - Cat# Mobile Fidelity Sound Lab – UD1S 2-021 /  Atlantic – UD1S 2-021
❑ SACD - Cat# Mobile Fidelity Sound Lab – UDSACD 2228 / Atlantic – UDSACD 2228
❑ Barcodes - (vinyl) 8 21797 20212 1  (SACD) 8 21797 22286 0
.
Contact TONE Scott at GoldmineMagazine@GoldmineMag.com. Please put Adventures of a Music Collector in the subject line.