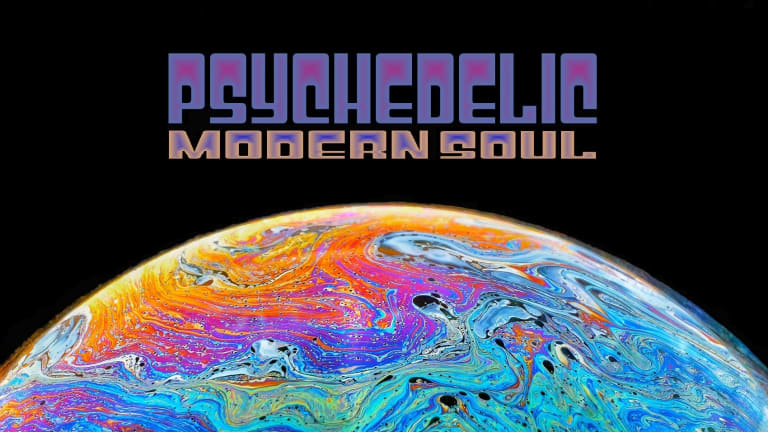 A guide on becoming under the influence of Psychedelic Modern Soul
A sub-genre of Modern Soul music that pulls from the back of your mind and the depths of your musical subconscious, and makes a deposit... into your soul
Get Soul/R&B vinyl and more in the Goldmine shop!
By TONE Scott.
Since the mid 1990's we've been blessed with a resurgence of Soul music that reflects classic Soul of the 70's, and recently the rebirth of a style that draws from Northern Soul of the mid to late 60's.  Skipping genres – there has also been a revisited desire in Rock that has rebreathed life into the psychedelic sounds reminiscent of some of the most infamous Classic Rock bands of their era.  Somewhere along the lines of the past 15 years of Soul music renewal, there have been a small handful of artists that have taken from the mainstream of the Modern Soul explosion, as well as the Psychedelic rebirth, and manifested it into a musical-expression that reflects all of that in an eclectic, avant-garde, almost "underground" kind-of-way.  My goal is to enlighten and expose all who are interested in anything 'Soul,' to a sub-genre that is musically mind-expanding, challenging, lush, creatively rich and artistically deep. 
All of the artists that I will be highlighting started with independent record labels that focused on uniqueness, eclectic creativity, and an organic flowing of the music they release and the talent who creates it.  Most of the music by the artists that I'm about to introduce you to (that is, if you're not already familiar) reflect an ethereal, and sometimes even a Lo-Fi sensibility that seemingly pulls you into a contemplative and emotion-provoking, mentally stimulating place, while still encompassing a richness and sensuality that is exemplified in all of Soul music.  
SAULT
Quite a newcomer to the genre, SAULT is a collective project by award winning British producer, songwriter and multi-instrumentalist Dean Josiah Cover (a.k.a. Inflo).  He is most known internationally for his production and writing work with Adele, U.K.-based Soul musician Michael Kiwanuka and Cleo Sol.  Aside from Inflo, the collective has contributions from Michael Kiwanuka, London-based singer Little Sims and the rising U.K. soul songstress Cleo Sol.  SAULT's debut album titled "5" (five) released in 2019, and the current project titled "Air" released in 2022, serve as book-ends for a discography that accumulates a total of six full-length releases – that's six LP's in span of only 4 years.  While each album definitely has its own personality, they all have a quintessential sound that reminds you whose music it is (except for Air).  While all of Sault's albums, with the exception of Air, fall into the style category we're exploring in this article, I would still recommend Air if you are interested in eclectic and avant-garde soundtrack recordings, because it differs heavily from all of the preceding albums.  My recommendation is to start with the fifth studio album 9, and then rewind all the way back to the debut 5, then continue forward from there.  All albums are released under the Forever Living Originals record label owned and operated by Inflo.
~~~~   
Coultrain
My first experience with this artist was hearing his music on Morning Becomes Eclectic; the internationally renowned independent radio show on the world-famous KCRW here in Los Angeles.  One listen to the song Kiss of Death at 1:00 o'clock in the morning, and I was already scrounging for more.  Coultrain (a.k.a. Aaron Frison); a multi-instrumentalist, singer, songwriter and producer hailing from St. Louis, Missouri, began featuring as a vocalist on several independent projects by underground mid-west artists with regional notoriety.  Shortly after, he wrote, recorded and released his now classic debut LP, The Adventures of Seymour Liberty (2008, JuJu Dust Music), and has released three more subsequent studio albums since, including his latest 2021 full-length Phantasmagoria. With lush and layered vocals and ethereal sounds that intertwine so soulfully and cohesively, and thought provoking lyrical content to match, Coultrain is easily one of my favorite artists in the genre.  I recommend beginning with his 2014 release – Side Effex Of Make-Believe; Divided For Love's Sake (Fresh Selects Records) – the album that pulled me into an entire sub-genre of Soul that I can't seem to get full off of.
~~~~
Thundercat
Stephen Bruner is not a complete unknown, in fact he has a healthy level of world-wide notoriety as the recording artist and multi-genre bass player, Thundercat.  Just as well, he has a high level of respect from his peers, many who are very well established and notable names in music, as he worked with and produced music for very well respected Hip Hop artists, modern Jazz players, to even iconic punk bands.  While Thundercat was first recognized as a cutting-edge bassist, his 5 studio albums, since 2011, have accrued into making him a bona fide recording artist whose music is everything from adventurous and ethereal to downright eclectic and even funky-quirky.  Nevertheless, all of his albums expose one major thing in common – that he can take the most psychedelic of thoughts from left-field and turn them into palatable and extremely enjoyable soulful music.  While I am a huge fan of the entirety of his work and personally own every one of his projects, my go-to record is his 2017 release – "Drunk".  His collective discography to date has been put out by Brainfeeder Records, owned by the iconic Flying Lotus.
~~~~
Khruangbin
Out of the depths of where humidity reins supreme (Houston, TX) has come one of the coolest bands to grace modern music over the past 20 years. Khruangbin (pronounced crew-ong-bin), officially forming in 2010, took their name from a Thai word that translates to "airplane". The bands unique blend of eastern and middle-eastern sound influences, mixed with psychedelic-drenched modern soul and a sporadic slight rock undertone, has set their sound apart and inspired quite a handful of bands since their inception.  While their material is mostly instrumental, they will occasionally use vocal harmonies and arrangements to fill choruses, etc.  They have released 4 full-length studio albums to date, along-side two official live albums, one full-length remix album of their 2020 LP Mordechai, and two collaboration recordings – a full length LP with Vieux Farka Touré (definitely look him up) titled Ali, and a limited edition EP with the prince of 'New Northern Soul' – Leon Bridges – titled Texas Sun.  If you dive in, dive deep, but be warned… you won't want to come up for air.
~~~~
Monophonics
This San Francisco bay area ensemble quietly exploded onto the scene with their 2007 self-released debut offering, Playin' and Simple. Being rooted in the culture and sounds of Northern California's "Bay Area", it was inevitable that Monophonics' initial sound would be a slight but evident throwback to the horn-driven Funk/Soul sounds of bands like Tower Of Power, even slightly grasping on to the early Afrobeat sounds of bands like Osibisa.  Pushing through their sophomore release which had a fantastic but similar sound, we would then be introduced to their 2012 third studio release – In Your Brain – which would be an obvious transitional album for the band and would be their only release on the iconic Ubiquity record label.  It became sonically evident that the band, while still staying somewhat rooted in their foundational sound, began to embrace a more eclectic, even psychedelic sound that would perpetuate into their subsequent albums to date.  From 2015's The Sound of Sinning, to their current 2022 release, Sage Motel, the Monophonics have injected psychedelia and tinges of New Northern Soul into the sounds of Modern Soul music in the most reverent way. Enjoy!
~~~~
Nick Hakim
Talk about an artist who is in touch with his musical-ethereal-self… Nick Hakim. Another artist that I was made privy to by the graces of the internationally-infamous KCRW independent radio out of Los Angeles.  It was at a time that his debut album Green Twins (2017, ATO Records) had just been released and YouTube was ablaze with his content.  He was definitely an acquired taste, but it seemed to be very pleasing to acquire.  His music reminded me of Coultrain, but on an entirely different level. The borderline Lo-Fi recordings were inundating and seemed to fit exactly what he was trying to portray to the listener.  When searching online for more about the artist, it was evident that he already had an impressive underground following.  His music; chalked full of soulful, super-ethereal psychedelic goodness, captivated me enough to want to share this new found artist with everyone I could.  Since that time, we have been blessed with 2020's sophomore release, Will This Make Me Good (also on ATO), 2021's collaboration LP with Jazz player Roy Nathanson; Small Things, and 2022's highly anticipated upcoming third LP release, Cometa.  A full-length compilation album consisting of his first two EP's, titled Where Will We Go Part 1 & 2 (2015, Earseed Records), is highly recommended as well.
~~~~
Gallant
With 'mind of a genius' wordsmithing... the melodic skill of the most prevalent songbird... and the knack to arrange those things into spiritual, ethereal, emotion-provoking songs, comes Gallant.  Gallant (a.k.a. Christopher Gallant) is proof that a major record label affiliation for a truly brilliant artist can be a blessing... and a curse.  When his host record label Mind of a Genius joint-ventured with Warner Bros. Records in 2016, it was just that – a blessing and a curse.  Warner Bros. Records (known for not having a clue how to navigate 'urban music'), when got handed over Gallant's debut LP Ology, truly had a musical treasure trove in the palm of their hands.  The hype around the artist and his debut record caught ablaze so quickly, and it was another prime but rare example of how the underground and the deeply eclectic can push into the mainstream and catch the attention of the masses.  On Ology, it is evident that the artist had to succumb to slight areas of compromise with the major label, regarding some material on the album riding the fence of commerciality.  However, this amazing body of work still represents beautifully, the deeply eclectic mindset of the artist in his lyrics and the tastefully psych-tinged and ethereal soulful compositions and production.  No two songs are alike and the progression of the record is absolutely perfect.  Isn't it just amazing [sarcasm] how easy it is to drop the ball on an artist and a brilliant musical product when you're a successful major record company?  The artist has since released two more studio albums.  Just as amazing as the debut, his sophomore LP titled Sweet Insomnia (2019) was also released under the WB conglomerate, and as far as physical media it was strangely only released on official CDr (recordable compact disc).  If you can find it, grab it, and quick.  His last and current release, an EP album titled Neptune (2021, Empire), took a slightly more commercial and mainstream turn, however, there are still offerings of the ethereal and eclectic if you are willing to explore a little.
⌘
Contact TONE Scott at GoldmineMagazine@GoldmineMag.com.                           Please put The TONE of Soul in the subject line.