Guitarist Scott Metzger really shines with his side trio act, WOLF!
Metzger delivers music that's a 1960s surf sound married to a sense of adventure and daring with the EP "Adult Entertainment."
Get Jam Band vinyl and more at the Goldmine shop!
By Ray Chelstowski
Years ago I saw guitar great Mike Stern put on a clinic at The Iridium with my son and my wife's cousin Joe. It was a front row seat into understanding not only the mastery of the player, but to grasping the range and power of the instrument in his hands. The Fender Telecaster has since become a musical marvel for me; something that is as effectively applied in rock as it is to jazz. The real masters of the tool understand how to make it move within those realms. Scott Metzger is one who does it with individual style and market making movement. You may know him best as a member of Joe Russo's Almost Dead. There he has helped the outfit establish a singular credibility. That's prompted his appearance with such well known acts/artists as John Mayer, John Scofield, Warren Haynes, Nels Cline, Anders Osborne, Phil Lesh, Shooter Jennings, and many others.
But where he really shines is with his side trio act, WOLF! There within a musical construct that is one part early Jimmy Vaughan in mood and another in 88 Elmira Street Danny Gatton in technique, Metzger delivers music that is approachable and addictive. It has a 1960s surf sound that's married to a sense of adventure and daring. My wife and I caught their act a few weeks back at StageOne in Fairfield, CT where Metzger and team put on a clinic. It was a front row seat to a legitimate musical liturgy where rock, soul, and jazz coalesce to make something that is transformative and lasting. This trio is now releasing the EP Adult Entertainment. Metzger, backed by bassist Jon Shaw and drummer Taylor Floreth mixes up surf rock, boogaloo and rockabilly in ways that further expand what shape a "jam" can take. 
Goldmine jam band column Natural Funk Projekt caught up with Metzger to talk about his inspirations, his music, and his hope for the electric guitar.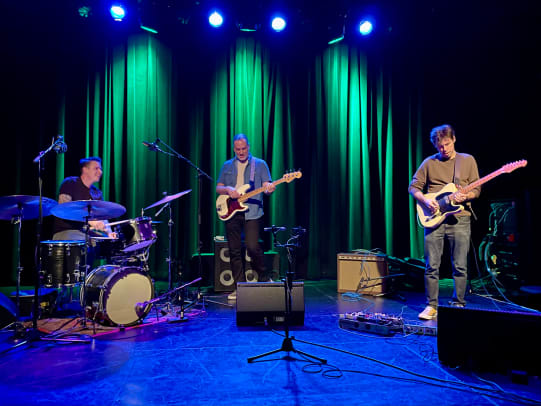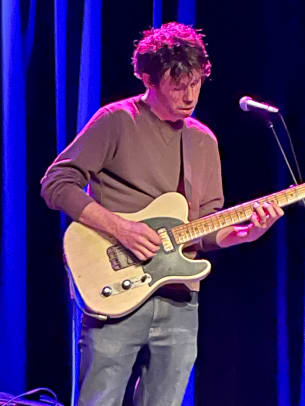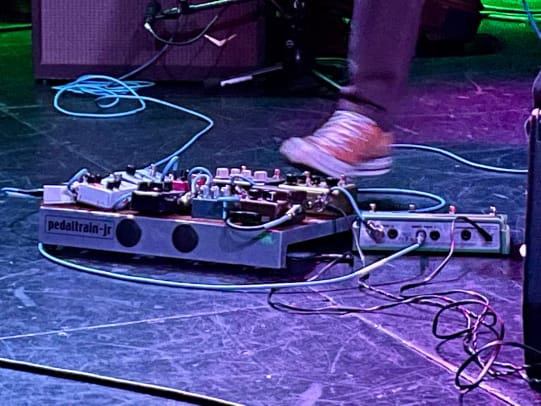 GOLDMINE: You grew up in Lambertville, NJ, directly across from the art community New Hope, PA. Did that influence your decision to become a professional musician?
Scott Metzger: I think what being next to New Hope did was it make being an artist a realistic and viable way to go about life. The entire "artistic thing" was just so celebrated there that being an artist was just another job that you could have, another road in life that you could take. It wasn't like a super risky pursuit like it might be in other communities where it might seem very foreign.
Lambertville and New Hope are both very small towns. But there is John & Peters in New Hope and to this day it's the oldest music venue in continuous operation in Pennsylvania. It's never closed its doors even with the number of times that it's flooded, because the backyard basically is the river. I did all of my first gigs there. Maybe the first 100 shows I played when I was still underage were all at John & Peters.
Then there was the Now & Then Shop. At first it was just a head shop. Years later they opened the record store right door which had a lot of Japanese imports and really hard to find things. I'd probably walk over there like three days a week.
GM: The audience at the StageOne show was largely guitar enthusiasts. Have you ever considered offering tighter visuals to your guitar hand work?
SM: I've never once thought about doing a "guitar-heavy" gig where I was effectively hosting a master class. I think that I would just choke up. It's just too much pressure. I tend to go in the opposite direction. The best compliments I get are from people who say "I've never been able to enjoy so much instrumental music before like I did tonight, where it's not all pyrotechnics." That's super important to me because I never want to be a musician who falls into the thing of showing off just for the sake of showing off.
GM: Did that thinking inform your decision to pursue a sound that was more "surf-driven"?
SM: I don't think that we ever consciously decided on that. Instead, we all got together and played and realized that we had this sort of interest. We loved a very specific era of music, like JR Walker All Stars and Booker T. & the M.G.'s thing. These days there aren't a ton of people our age who are really schooled in that. The three of us are. What made all of that stuff so special is that it's subtle. It's not about flash; it's about nuance and patience.
GM: I personally see your style sitting between the mood of Jimmy Vaughan's first solo records and Danny Gatton's 88 Elmira Street.
SM: Thank you. I'm a very big fan of both and that's high praise. When it comes to Danny Gatton I always felt that if he dialed it back about 30 percent then it would be right in the sweet spot for me. It's just so much and after like 20 minutes it's hard to take more because it's overwhelmingly technical.
GM: On the new track "Hawaiian Shirt," your Joe Russo bandmate Marco Benevento makes an appearance. Do you ever think about the balance keys could bring to WOLF!?
SM: Musically, it's a lot of work to play without it. I have to constantly be checking myself to ensure that I'm not using the same sound as I did on the last song. I'm always switching up the sound so that people get a slightly different flavor over the course of the night.
It's also another voice and that can fill out a whole other texture. But sometimes when you add another voice through another person you add a whole new set of ideas. With the right person it pushes the music into a direction they wouldn't have even thought of. For me that's the whole name of the game if you're going to be improvising.
GM: You've become synonymous with the Fender Telecaster. How did that come about?
SM: Without getting too heavy about it I got sober 16 years ago. I had always played Les Paul's and getting sober was such a hard reset for me that I needed to make a change in every aspect of my life, including the kind of guitar I played. Around the same time I discovered Richard Thompson whose heroes were largely Telecaster guys. I started checking out people he would mention in interviews and I hit a sweet spot.
GM: Are there other players out there that you feel are keeping rock guitar relevant?
DS: I think of Nels Cline, who I believe is the most important guitar player of the last 20 years. The way he earned that title in my mind is that he presented the guitar in a new way to a lot of people. Now it's not that people weren't playing guitar with his kind of avant-garde element. Guys like Derek Bailey and Sonny Sharrock been doing it for 30 years. But no one was able to take that and package it in a way that was listenable and presentable to a normal people. And he had the right platform with Wilco to spring it on people and lots said they'd never heard guitar like that before. I actually think that he has inspired the whole guitar effect explosion that's happened over the last 10 years. It's about finding a new way to present something that makes the guitar cool. Nels, in my opinion, is the last guy to do that in a really important and legit way.
GM: You are again part of Warren Haynes Christmas extravaganza. What can fans expect?
SM: I'm forever appreciative of that invite and I've done the show a few times now. It's still being decided on what we will do but it's probably going to be a 20-minute acoustic set and a chance to see all of the other acts there.