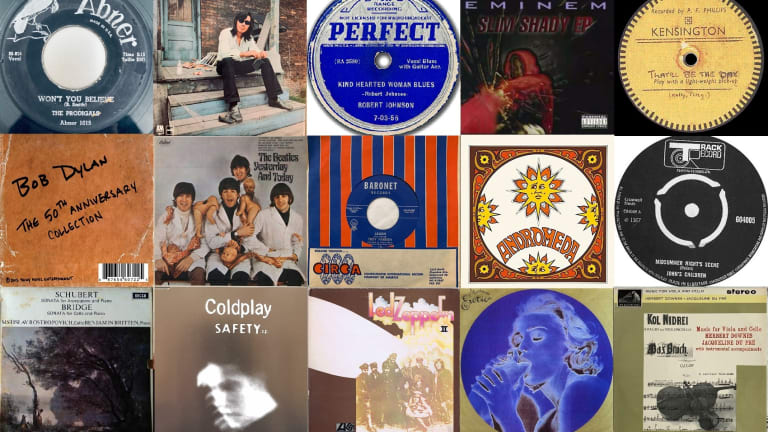 Holy Grail! What is a 'Grail' and what does it mean to a music collector?
Let's take a look at what qualifies as your most prized possession... musically speaking, of course
Get vinyl, CDs, box sets, collectibles and Goldmine-only exclusives in the Goldmine shop! 
Before we dive head in and explore this phenomenon that ever-so-lovely plagues the life of a music aficionado whose passion is the collecting and curating of physical music media, let's take a look at the term and where it actually originates from.  The term or name, "Holy Grail" is, in actuality, medieval terminology (from about the 13th century), used to describe either the goblet [cup] or dish that Jesus Christ used in the company of his disciples during the Last Supper. It is also of which, by myth and tradition, the same "cup" that Joseph of Arimathea (who was awarded the burial of Christ) was given Christ's blood in, at the Cross. The latter of course (with the exception of Joseph of Arimathea) having no Biblical, scriptural or canonical basis of truth. It is simply understood as legend created by medieval knights more than likely during the Crusades, who wreaked havoc throughout the Holy Land looking for religious artifacts — 'this' being the pinnacle and most elusive of them all… the Holy Grail.
Now since then, the term Holy Grail — or simply "Grail" — as it is applied in this sense, pertains to the seeking-out and/or the acquisition of something elusive, overtly special, and in some sense unobtanium, while collecting any type of item(s) in a hobby or such. Since we are music collectors, to us this means visiting every record store possible, countless hours of digging through bins, garage sales and thrift shops; and/or diligently searching every possible online dealer or retail music venue. And, this "activity" [Grail seeking] will perpetuate, even if it's intermitently, until you can locate a copy of whatever you're in search of, and only then if it fits your qualifications regarding which pressing it is, your grading standard, and if it can be acquired without your bank account screaming bloody murder!… or maybe at least negotiate a price down to the point where your wallet is only giving you 'dirty looks.'
What qualifies as a Holy Grail? In a general sense, there are a few qualifiers that stipulate whether any piece of music media can be assigned the accolade of Holy Grail. Now, some might say that the qualifications for calling something a "Grail" are 100% subjective and respective to the individual [collector]; however, that is not entirely true, but we will discuss that further along in the article. One of the most (if not thee most) commonly assigned qualifications for acknowledging something as a Grail, is Rarity. Now the rarity of an album can come in the form of how many (or how little) copies were pressed of the original issue in totality (private pressings are a good example of this). Or it can be something even more specific as a pressing with a 'misprint' (e.g., side label text, album cover text, album cover art, etc.), and how many copies were pressed [and released] before manufacturing was ceased in order to correct the misprint and continue manufacturing. Another qualifier where something might be called a Grail can fall under the guise of Special Editions or Limited Releases. While this example has something slightly to do with rarity, it is more based on producing and marketing a re-release — reissues that are more than often remastered to the tune of "audiophile," packaged in gorgeous box sets with exclusive additional material, and numbered, with low count pressing runs, set at exuberantly high prices in order to entice the feeling of "exclusivity" for the consumer [collector]. One last example that I will give is Monetary Value. Who sets the prices? ...who the hell knows, but regardless, high dollar pressings can and often do drive a collector to seek ownership just to be able to win the bragging rights that $3000.00 was paid for a particular record. As I continued to dissect the idea of a Holy Grail in regards to music collecting, and gave it deeper consideration, I realized that there are really only two categories that host this phenomenon — and for the sake of titles we'll call one of them the Personal Grail, and the other, a Universal Grail.
Personal Grail – we can probably assign that 'Rarity' will almost always apply in some level, even in the slightest, regarding either type of Grail. Monetary value can also be considered even with deeming something a Personal Grail. But yet, there is one very strong and powerful characteristic that distinguishes a Personal Grail from a Universal Grail, and it is the nine letter word – Nostalgia. "Nostalgia" really is a beautiful word with interesting root meaning: It derives from the Greek words nostos meaning "to return", and algos meaning "pain." In short, it means the pain of longing to return to the origin of something personal. I can't tell you how many times I have earnestly and painstakingly sought out a record that held very little monetary value, and wasn't typically considered to be overtly rare, but yet was attached to something so personal and endearing to me, such as some memory of a person or a place or life event. And, to top it off, no matter how many record stores I'd visited or how many eBay sellers I searched, it eluded me so fervently, that when I finally found this inexpensive and not-so-rare record, it immediately was awarded Grail Status and will remain that until it or I return to dust. And sometimes, even a Personal Grail can be characterized by all the qualifiers mentioned, and yet none of them — rarity, special or limited releases, or dollar signs — can trump the value of nostalgia.
Universal Grail – What we are defining as a Universal Grail in this article is a bit simpler in a sense that there is, most of the time, no deep nostalgic personal attachment, but instead, a general consensus in the music collecting community world-wide, of the 'prestige' of any particular piece of music media. These are vinyl album releases, or 7-inch singles, 78 rpm shellacs, compact disc or cassette release, etc., that appeal to the masses as "something to be obtained," or something elusive, or something monetarily out-of-reach of the majority. More often than not, Universal Grails are much more common, but are often much more of a mountain to climb, financially. Universal Grails quickly gain notoriety (especially with the advent of the internet) amongst those serious enough to keep their collectors-antennae up and looking for the most elusive or expensive or rare piece of music.
The following are some examples of Universal Grails held in high regard by most of the music collecting community around the world, and sought after by a countless amount of dedicated music collectors: 
Beatles – Yesterday and Today – 1966 Capitol Records, LP (a.k.a. Butcher Cover)
Led Zeppelin – Led Zeppelin II – 1969 Atlantic Records, LP ("RL" Robert Ludwig master)
Rodriguez (Sixto Rodriguez) – Coming from Reality – 1971 Sussex/A&M, LP (South African pressing)
The Who – The Who Sell Out – 1967 Decca/Track Record, LP (UK 1st pressing run with poster, 1000ct. - 500 Mono, 500 Stereo)
Madonna – Erotica – 1992 Maverick/WB/Sire, 12" picture disc LP (erotic image recall)
John's Children – Midsummer Night's Scene – 1967 Track Record, 7" 45rpm single (UK 3-prong push-out center, approx. 50 copies in existence)
Queen – Bohemian Rhapsody – 1975 EMI Records, 7" 45rpm single (blue vinyl with match book, pen, event ticket, menu, etc.) given to attendees of special release event
Robert Johnson – Terraplane Blues /Kindhearted Woman Blues – 1937 Perfect Records, Shellac 10" 78rpm single
The Quaary Men (pre-Beatles) – That'll Be The Day – 1958 Kensington Records, 10" 78rpm mono acetate single
Wu Tang Clan – Once Upon a Time in Shaolin – 2015 artist-released, 2xCD album box set (one copy in existence... find Mr. Shkreli, and offer your price)
Eminem – Slim Shady EP – 1997 Web Entertainment, compact disc (approx.. only 500 pressed)
Coldplay – Saftey EP – 1998 artist-released, compact disc (only 500 pressed, only 50 made it to retail)
Bob Dylan – 50th Anniversary Collection – 2013 Sony Music Ent., compact disc (only 100 copies ever released) 
Although I've given some solid parameters to what constitutes a Holy Grail in regards to the aims and desires in the realm of the modern day collector, these categories and qualifications are not the 'end all be all'. Anyone [collector/music fan] who is seeking something that is to them, elusive, carries great personal worth and desire, etc., or any other parameters that want to be applied, can deem almost anything that they set their sights on, "a Grail"; it really comes down to being about what enters into the cross-hairs of your own personal music collecting scope. And moreover, seeking out music that, to you, falls into the category of Holy Grail, is one of the greatest and most adrenaline-fueling activities in which we can participate, in our lives as music collectors. What constitutes a Grail for you? Have you had the opportunity to lure anyone of those elusive treasures into your personal collection? Whatever the case, keep searching, keep digging, keeping collecting, but most importantly — keep listening.
Collectors Resources
Below is a queue of content creators' videos — members of the YouTube Vinyl Community (including one from myself) — in which examples of seeking-out and/or obtaining a "Holy Grail" are shared and discussed.
↓↓↓↓
YouTube channel - The VC Ambassador / 1933 78rpm Jazz Rarity!
YoutTube channel - Norman Maslov / Too Many Grail Status Records To Mention!
YouTube channel - Seeking A Thread / Psychedelic Rock and Jazz Grails!
YouTube channel - Rob Paneeks (Boston)  / Finally! A UK Original Pressing of Pet Sounds, Mint!! (time @ 17:09)
YouTube channel - Comic Rhema Records / Rare Rich Mullins Christian Record, Obtained! (time @ 3:00)
YouTube channel - Nico Malcolm / Year Long Search Unvails Rare UK 1st Pressing!!
YouTube channel - Aaron Mutha Alamare / Hard Rock and Heavy Metal Grails!
YouTube channel - TONE Scott / Latin Soul & Psych Folk, A Personal & Universal Grail!
YouTube channel - Blues Guy Vinyl / Robert Johnson Grail! (time @ 8:50)
Thank you to the host of great and experienced music collectors and content creators who contributed imagery and collectors resources by way of video content, which assisted me in completing this article - Norman "Mazzy" Maslov, Stephen Alexander, Chris Friend, David Gibson, Dom Gagliano, Nico Malcolmsen, Junior Sandoval, Aaron Katsilometes, and Rob "The Mayor" Panico. 
⌘
Contact TONE Scott at GoldmineMagazine@GoldmineMag.com. Please put Adventures in Music Collecting in the subject line.