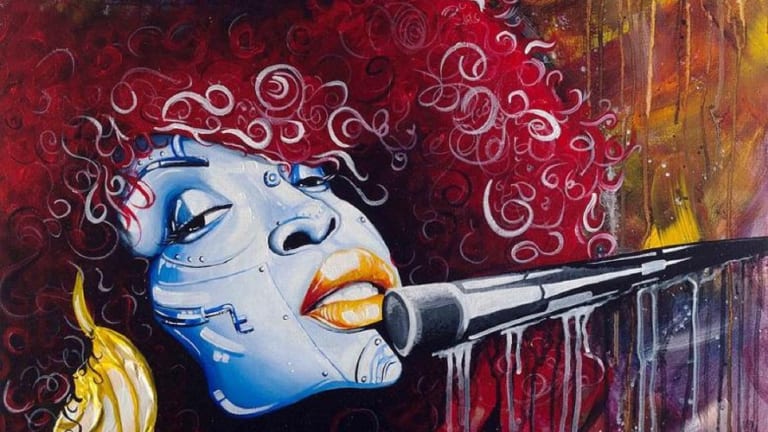 Is Neo-Classic Soul dead? Or still the 'classic new' of 'classic past'?
With the inundation of the New Northern Soul movement, let's see if Neo-Classic Soul is still the epitome of Classic Soul in Neo-times.
The Goldmine store is a music collector's one-stop shopping of vinyl, CDs, box sets, collectibles and Goldmine-only exclusives. Click HERE to visit! 
By TONE Scott
What has prompted me to pose this question? Well, I'm actually just echoing what's already been asked.  If you search "Neo-Classic Soul" on the internet, you can find examples by fans of the genre; in recent years, asking "Is Neo-Classic Soul dead?" We would first have to answer that question with a question, and ask - "what prompted you to ask this?" Before we continue with that, let us take moment to enlighten, regarding the term "Neo-Classic Soul", and where it all began.
Ironically, I have a semi-personal connection to where it all started. In the very earliest stages of my tenure as an American Music Industry professional (I was only 19 going on 20), I worked on and off, around a gentleman by the name of Kedar Massenberg. Mr. Massenberg was, at the time, President of Motown Records, and founder of Kedar Entertainment. He was also responsible for cultivating the careers of such recording artist's as D'Angelo and Erykah Badu. I have always been extremely interested in 'coining terms' from the time I began to know Kedar, and I was always envious that he was the one responsible for coining and trademarking the term Neo-Classic Soul. 
Neo-Classic Soul is a style classified as a Modern Soul sound, which while using slight HipHop essences, more so mirrors and mimics the Afrocentricity of 70's Classic Soul. Now, I won't get much more expository than this, because I am in the works to present this magazine with a feature article for print, which deeply explores all sub-genres of Modern Soul (1995-present), including this one, and I don't want to nullify that by going too deep before that time. Let me also just say, that my envy of Kedar was somewhat 'soothed' some weeks ago when, after an article I wrote for my column The TONE of Soul, I self-acknowledged my own coining of the term New Northern Soul. I have not gone as far as to vie for a trademark yet, but my research since has verified no other source for that term ever being used before me. I can now say I feel somewhat equal to Kedar Massenberg in the arena of coining musical terms (I'm chuckling). Why is this term – New Northern Soul – so important to the topic at hand? Let us go a little further and find out. 
So, to recap – the initial question which we are seeking an answer, is - "is Neo-Classic Soul dead?" Then, the second question that we have posed in response to that was, "what prompted you to ask this?" As we venture closer to concluding an answer for the first question, my response [answer] to the second question would more-than-confidently be – because of New Northern Soul. 
.
What is New Northern Soul?  Again, I will reiterate, that in lieu of compromising a future feature article for the magazine's newsstand version, I won't get overtly deep into an exposé, but I will establish the 'culprit' [New Northern Soul] as this:  over the past decade, in tribute and reverence to the British Northern Soul movement of the mid through late 1960s, there has been an explosion of modern-period Soul music and recording acts that move to pay homage to that namesake '60s sub-genre of Classic Soul. Regarding the New Northern Soul explosion, we can first give credit to whom most fans reverence as the queen of the movement. Amy Winehouse (r.i.p.) exemplified a deep dive into the rebirth and mimicry of 60s Northern Soul, way before anybody could put a label on it. In the past recent years with the popularity of artists like Sharon Jones and the Dap Kings, Durand Jones and the Indications, and Leon Bridges (to name a few), New Northern Soul has seemingly taken the driver's seat and placed Neo-Classic Soul as the passenger. So much so, that it has caused many die-hard fans of modern Soul music to ask the question – "is Neo Classic Soul dead?" My final answer to this dilemma: "Absolutely not."
Since the number of great Neo-Classic Soul albums released within the past 2-3 years exceeds the golden number "10", and because "7" is the 'number of completion.' I will make a humble presentation of seven (7) recently released, successful and impactful Neo-Classic Soul albums; randomly chosen, to prove the fact that Neo-Classic Soul is very much ALIVE. (Note: I am excluding 2022 releases based on a near future article I will be composing that may make that upcoming article redundant). 
~~~~
 Alicia Keys 'Keys' (2021, RCA Records/AKW) – Ms. Keys is still active and reigning. Alicia Keys' 2021 release is a prime example that Neo-Classic Soul is flourishing, and flourishing on the highest levels. Yes, over the years, some of her music has slightly associated itself with underlying Pop appeal, and even meshing itself with Rock (her collaborations with Linda Perry on 2007's – As I Am), but this bona fide Modern Soul artist has proven herself once more, with the full length studio album – Keys.
❑ LP Catalog# 19439-95664-1     ❑ CD Catalog# 19658-74367-2  U.S. releases
~~~~
.
Angie Stone 'Full Circle' (2019, Cleopatra / Conjunction Entertainment) – from one of the more prominent originators of the Neo-Classic Soul style (as well as being a Hip Hop icon), comes quintessential Angie Stone, with her 2019 lush and soulful full length recording – Full Circle.  There are many songs that I could define the album by, but the song "Perfect", describes the entirety of this album to a 'T'.
❑ LP Catalog# CLO 1326     ❑ CD Digipak Catalog# CLO 1326  U.S. releases
~~~~
.
Ledisi 'The Wild Card' (2020, Listen Back Entertainment) – Almost every track on this full-length double LP album / single CD, from one of the most under-celebrated Neo-Classic Soul singers to date, is a beautiful throwback to 1975. With her amazing vocal tone, well-written lyrics and melodies, and her bands musicianship to boot, Ledisi's – The Wild Card – is a must listen and a definite must have.
❑ 2xLP Catalog# 538640211     ❑ CD Catalog# 538627572  U.S. releases
~~~~
.
Leela James 'See Me' (2021, BMG) – what I love about this album, is how each track is so distinct from the others, and very noticeably. The entire body of work on See Me, stays within its Neo-Classic Soul nature, but the individuality of each song is prominent. Not sure what the budget was for this project, but it sounds like a million bucks. Moreover, Leela's absolutely unmistakable, smokey, lush, throaty vocals just get better and better with each passing album. If you are a fan of the Neo-Soul perfection of Anthony Hamilton, 'she' is unadulteratedly, vocally, the female 'him'. The only disappointment is BMG's decision to only release on Compact Disc media. I am a huge fan of the CD format, but this warm and sonically rich album would have hit even harder on an analog vinyl LP.
❑ CD Catalog# 538688652 / 4050538688658  U.S. release
~~~~
.
Mayer Hawthorne 'Rare Changes' (2021, Big Bucks) – Look, I'm just going come right out and say it – this 'white boy' has got the spirit of Neo-Classic Soul in the crosshairs of his musical scope, and he hits the bullseye. Coincidentally, he is more than likely thee most underrated recording artist on this list. Rare Changes is the 5th full length studio release from the artist since his 2009 debut. It carries the torch of his crazy-amazing vocals! The quality of the vocals alone are enough that you should rush out and get a copy of the album… like, now.
❑ LP Catalog# BB1201     ❑ CD Catalog# BBCD1201  U.S. releases
~~~~
.
Raphael Saadiq 'Jimmy Lee' (2019, Columbia Records) – Now, I love an eclectic album, especially when that eclecticism is added to what would be considered a popular genre and a mainstream artist. From one of the founders of the iconic band Tony! Toni! Toné!, comes Raphael Saadiq, with his 5th solo studio project – Jimmy Lee. I'm not going say which album off of this list is my favorite, but this one is definitely in my humble top 3. This Modern Soul masterpiece really is on "another level".
❑ 2xLP Catalog# 19075965501     ❑ CD Catalog# 19075965492  U.S. releases
~~~~
.
Syleena Johnson 'Woman' (2020, eOne) – This recording artist just continues to strive and strive and strive. It is evident when listening to Syleena Johnson's music, that she's barred no holds; she puts everything that she has into her gift, and what a gift. The daughter of Classic Soul icon, Syl Johnson, Syleena has made her own name since the inception of her professional place in music. Woman is a very 'matured' album, and honestly my absolute favorite out of all 10 solo studio albums... and yes, I own them all. However, this is another one on the list only available on CD, and as incredible as it sounds on digital media, I would have loved to put this record on my turntable.
 ❑ CD Catalog# EOM-ED-46219  U.S. release
⌘
Contact TONE Scott at GoldmineMagazine@GoldmineMag.com. Please put The TONE of Soul in the subject line.