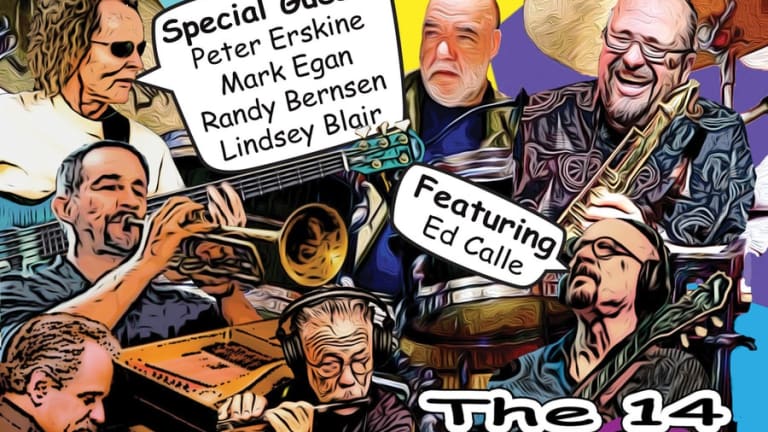 Jazzology: Cartoon Bebop, Vinnie Riccitelli, Tunetown, The Dave Weckl Band
Post-Bop, Jazz-Rock Fusion, Swing and Canada's Finest!
Jazzology May
     Sometimes a pandemic can inspire tremendous creativity. Consider Cartoon Bebop (self-released) by The 14 Jazz Orchestra, arranged by saxophonist/composer/educator Dan Bonsanti, who has played with the biggest and the best including Kenton, Jaco, Brecker, Streisand, BeeGees and Dolly. Recorded remotely with players from Wisconsin, Arizona, Maine, California, Tennessee, New Jersey and Florida on four woodwinds, two trombones, three trumpets, guitar, bass, keyboard and drums, all stitched together magnificently by engineer Mike Levine, playing the music of Stanley Clarke, Chick Corea, Herbie Hancock, Wayne Shorter and Bonsanti himself (dig his pairing of Beatles and blues on "A Day Tripper's Blues Buffet"), this is one for the ages. Bravo!
     For The Record, the self-released/self-produced octet follow-up to his 1956 Unique Jazz debut, is a showcase for the music of alto sax man Vinnie Riccitelli, 94. Why 65 years between albums? Vinnie's been busy. Born and raised in New York City, he was an entertainer in the Catskill Mountain resorts at 15, enlisted in the Navy at 18, went to Juilliard on the G.I. Bill, and blew that alto at four presidential inaugural balls, every year at the Jerry Lewis Telethon and as a side man for Sinatra, Liberace, Streisand and Humperdinck. His run lasted 77 years from 1941 to 2018, when he retired. Consider this his legacy. He's not heard but he showed up for the sessions and had a hand in picking the material: originals, Mancini, Herbie, Monk and more. It's a gorgeous, sumptuous smorgasbord of scintillating chops by eight major-league instrumentalists. (We were able to dig up some video of Riccitelli himself blowing soft'n'sweet at his 90th birthday party!)
     Entering Utopia (Three Pines Records), by Canada's swinging post-bop avant-funk Tunetown, builds upon their impressive 2019 There From Here debut. It's a classic format, one that Sonny Rollins and Lee Konitz pioneered in the 1950s, that of the chordless trio. The tenor and soprano saxophones of Kelly Jefferson, the acoustic bass of Artie Roth and the drums, extra percussive toys and bass clarinet of the multi-talented Ernesto Cervini meander through 12 tracks of pure adventure, stopping along the way to get righteous with melodic invention before rampaging on with diametric constructions—complex and oftentimes baffling—on originals and Charlie Parker ("Cheryl"). Taken from the same session that resulted in the debut, highlights include "Billyish" for one of Cervini's influences, drummer Bill Stewart, and "Sycamore," a welcome perversion of Ahmad Jamal's 1963 "Poinciana" done in 7/4 time.
     The Dave Weckl Band is Live In St. Louis At The Chesterfield Jazz Festival 2019 (Autumn Hill Records) with drummer Weckl, sax man Gary Meek, keyboardist Jay Oliver, bassist Tom Kennedy and guitarist Buzz Feiten on music they wrote 30 years ago. It's a glorious jazz-rock fusion reunion and the spirit is high, the mix is pristine and adventurism runs rampant. It's action a'plenty on these 11 tracks. And when the band sits for an extended drum'n'bass vamp on Monk's "Rhythm-a-Ning," a hushed reverence and awe ensues. Weckl, the longtime Chick Corea bandmate, is a monster. He can stretch out to the outer limits of the groove yet somehow, miraculously, is always back just in the nick of time, like the cavalry to the rescue in those old western movies.