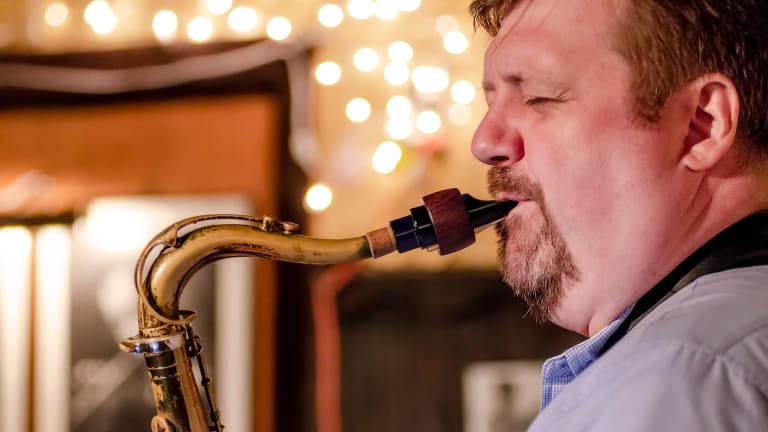 Jazzology:  Out To Dinner, Joel Frahm, Alex Martin and Keshav Batish
Jazzology July goes Out To Dinner, Uncovers Joel Frahm's no-chords trio, Traverses Centuries with Alex Martin and Introduces Keshav Batish
     Joel Frahm is on The Bright Side (Anzic) with his chordless sax trio. Like sax men Ornette, 'Trane, Rollins or Konitz, he carries the weight of not having the connective tissue of a guitar or piano. It's a high-wire act with no net. Such an endeavor needs a superb bassist (Dan Loomis) and an exquisite timekeeper (drummer Ernesto Cervini). This is the trio's debut. They came from the University of Toronto filled with ideas.
The 10 originals by all three cats—produced by Frahm—are quizotic inventions that somehow make perfect sense. Loomis reimagines John Klenner's 1931 "Just Friends" as "X Friends." Frahm borrows the opening riff of Lou Reed's 1972 "Walk On The Wild Side" for the title track. He also writes a new melody from the chord changes of Harold Arlen's 1942 "My Shining Hour." Point is, these boys know how to recycle and we all know recycling is good for the environment.
     Worldbeat-Jazz? Folk Songs, Jazz Journeys (Pajarito Verde), guitarist/composer Alex Martin's third, congeals his nomadic experience into tasty morsels of vignettes from France, North Carolina, Latin America, Maryland and Texas into a frothy bubbling stew of delicious melodic and rhythmic invention. Of course, he has help. Using some of Washington DC's finest, he has made beautiful jazz out of ancient folk melodies like "Wayfaring Stranger" (1858) and "I Once Loved A Lass" (1680). With music emanating from West Africa, Appalachia, Brazil and Europe, Martin makes it into one simmering gumbo of exotica.
     Out To Dinner Play On (Posi-Tone), on the follow-up to its 2018 Different Flavors debut, has producer Marc Free assembling a new crew around Mingus-inspired bassist Boris Kozlov and vibraphonist Behn Gillece. It's Blue Note all over again, but instead of a two-horn front line with pianistic connecting tissue, it's vibes, man. And oh, how sweet it is! What a quintet! Covers of Stevie Wonder ("Visions") and Lee Morgan ("Short Count") abut 11 scintillating originals. Saxophonist/Educator Nicole Glover comes out of Esperanza Spaulding's band. Nassau-born trumpeter Giveton Gelin is a monster. Schooled by the late Roy Hargrove, he comes out of the Bahamas fully formed. Louisiana drummer/composer Donald Edwards wrote three and blows bigtime beauty throughout. Alto sax man Patrick Cornelius is the frothy icing on this delicious cake. Kudos to Marc Free for finding these cats and putting them together. I dare say Play On will make some 2021 Top 10 lists.
     Brilliant! Outrageous! Adventurous! Wild! Words cannot describe the absolute joy of Binaries In Cycle (Woven Strands Productions) by drummer-composer Keshav Batish with saxophonist Shay Salhov, pianist Lucas Hahn and bassist Aron Caceres. Batish, from Santa Cruz, Cali, wrote five gems, enough to give his mates a free-wheeling environment to flex their considerable musical muscle. And the two covers! Ornette Coleman's "Police People," from Pat Metheny's 2016 The Unity Sessions and Monk's 1954 "We See" are stand-outs! Batish fuses his post-bop fusion with strands of his native Hindustani folk-music. I can only salivate in anticipation of what this dude is going to do next!