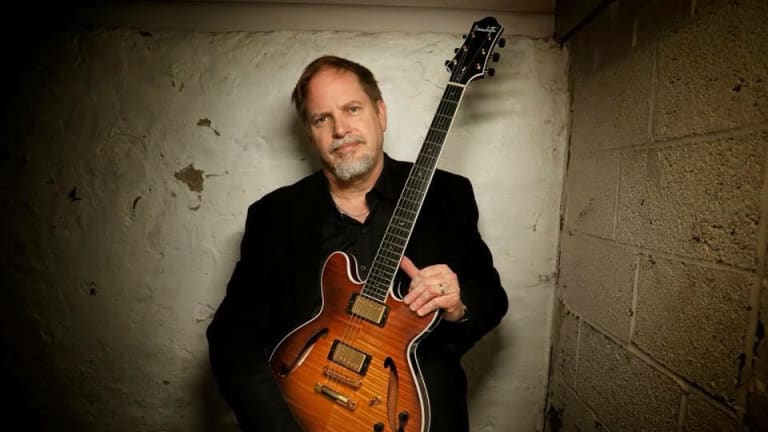 Jazzology: Julieta Eugenio, Fred Hersch, Dave Stryker, Yaron Gershovsky. Armen Donelian
Julieta Eugenio blows a mean sax. Meditating with Fred Hersch. Dave Stryker resurrects Nick Drake. Yaron Gershovsky interprets Paul Simon. Armen Donelian transcends Nat King Cole.
     Tenor Saxophonist/Composer Julieta Eugenio emigrated to the States from her native Argentina in 2013 where she received her Masters Degree three years later from the Aaron Copeland School of Music at Queens College. Her Jump debut on Greenleaf Music is a mesmerizing, hypnotizing 10-track manifesto of trio brilliance with bassist Matt Downey and drummer Jonathan Barber (both from Connecticut). It's a high-wire no-chord act of delicate proportions as she dips her toe into some 1940 Ellingtonia ("Flamingo"), negotiates through the changes of the 1949 Billie Holiday hit "Crazy He Calls Me" (as a sweet sax/bass duo) and writes the kind of originals that stick to your brain like a tattoo. Highlights include her intense "La Jungla," her swinging "Snowbirds," her funky "Raccoon Tune" and her gorgeous ballad "For You."
     Breath By Breath (Palmetto Records) is how pianist/composer Fred Hersch meditates. It's also the title of his gorgeous new trio album, only this time with the Crosby Street String Quartet. It could've been entitled The Sati Suite as the first eight tracks, indeed, make up one swelling effervescent suite. ("Sati" means awareness in Pali, a Middle Indo-Euro liturgical language.) It all ends with "Pastorale," a homage to fellow pianist/composer Robert Schumann [1810-1856]. Fifteen-time Grammy nominee Hersch is an extraordinary improviser and he does so mightily here. The string quartet adds color, flavor and a rather heavenly vibe.
     Over 40 years in on a stellar career, guitarist/composer Dave Stryker has recorded his "dream project." As We Are (Strikezone Records) has a hell of a cast. A-Listers John Patitucci on bass and Brian Blade on drums make a joyful noise while a string quartet saws away and uber-talented pianist Julian Shore shines like he has 15 fingers. It's Stryker's 34th release as a leader! The two violins, viola and cello of the string quartet are fully integrated, not just window dressing. The seven new Stryker compositions, one Shore original and an oddball cover of the tragic British 1960s singer-songwriter Nick Drake's "River Man" (that winds up being the highlight) all add up to a deeply satisfying listen.
     Transitions (Dorron Music), by keyboardist/arranger/composer/producer Yaron Gershovsky, runs the gamut from fusion to samba in settings of solo piano, trio and quartet on original material and transcendent interpretations of Paul Simon, Antonio Carlos Jobim, Sinatra and Gershwin. He's got a boat-load of talent to flesh out his vision including Will Lee of The Fab Faux and Boris Kozlov (who has his own terrific album out). Transitions satisfies in all the right ways.
     Pianist-Composer Armen Donelian, 71, after playing in the bands of Sonny Rollins, Chet Baker and Mongo Santamaria, is off to a Fresh Start (Sunnyside Records) with his new trio featuring bassist Jay Anderson and drummer Dennis Mackrel. It's a 12-track tour-de-force for the inventive bandleader with five originals and seven covers, including two from former students of his, two from mentors of his—fellow pianist Richie Beirach and saxophonist Makanda Ken Mcintyre [1931-2001]—and a transcendent interpretation of the 1956 Nat King Cole hit "Never Let Me Go." His playing is exemplary and he even dares to sing for the first time on record.
Check out our selection of Jazz records in the Goldmine store!