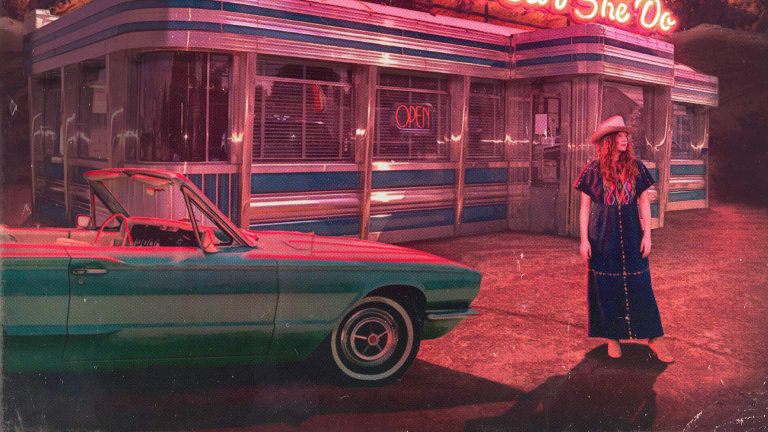 Kaitlin Butts looks back on a popular flip side from The Chicks
Emerging artist Kaitlin Butts discusses her debut album and inspiration from The Chicks and a range of influences from Johnny Cash to Nirvana.
Go to the Goldmine shop for more Americana releases
Kaitlin Butts has released her debut album What Else Can She Do and will be at Americanafest in Nashville in mid-September along with other artists we have featured in Goldmine: Gretchen Peters, Asleep at the Wheel, Allison Moorer, Taj Mahal, The McCrary Sisters and The Accidentals.
GOLDMINE: Welcome to Goldmine. I hear a bit of The Chicks' Natalie Maines in your voice, and I know you have performed songs from The Chicks in your shows including their first No. 1 hit "There's Your Trouble" and a family favorite, "Goodbye Earl." 
KAITLIN BUTTS: I can't think of a single person who doesn't get excited when they hear "Goodbye Earl" and if you are hanging around people who don't get excited when they hear that song, then you are hanging around the wrong people.
GM: It was always fun to watch the "Goodbye Earl" video on television, too. At that time there was also a TV commercial for a soothing and pampering bath product named Calgon where a stressed woman would escape to a relaxing bathtub as her oasis, after shouting the slogan, "Calgon take me away." As soon as I saw The Chicks' song title "Cowboy Take Me Away" I thought it was clever, offering a country escape.
KB: The Chicks have such wonderful songs. Martie wrote this with Marcus Hummon, who I have also written with. It is such a freeing song that I think every girl wants to sing and scream in their cars. "Cowboy Take Me Away" has been influential to me. I was playing in Oklahoma City at a songwriters festival and Marcus and his son Levi Hummon were also part of the event. I had the chance to write with the two of them for an afternoon. They were super sweet. To be able to write with someone who has co-written one of my favorite songs was a pretty cool experience.
The Chicks
Fabulous Flip Side: Cowboy Take Me Away
A side: Goodbye Earl
Billboard Hot Country Singles debut: September 11, 1999
Peak position: No. 1
Monument 31 79352
GM: The Chicks formed in Dallas, Texas in the 1980s, a few years after my wife Donna and our daughter Brianna, who was born there, moved from the state. Now, for a touch of Texas here in Daytona Beach, Florida, we go down the street to Texas Roadhouse, and that is where I heard your music. We were waiting for a table at the Texas themed restaurant and your opening couplet caught my ear, "Take me out west. Take me on a quest." I continued to listen on the way to our table and wrote down lyrics to research online, which I did, and was able to learn about your music, that song "Marfa Lights" and its reference. I have been close to the area you sing about when I have visited El Paso. What a wonderful job on the song and teaching me about that wonder.
KB: Thank you so much. I was an artist of the month at Texas Roadhouse, so I am happy that you heard my music. They asked me to be a part their series and of course I said yes. I have gotten so much traffic from that song being played at Texas Roadhouse. I know when I go to restaurants, I hear music in the background and now I have had so many people reaching out to me hearing that song for the first time from that restaurant. It has been so helpful. When I wrote that song, someone told me that it was too regional and that only people in Texas would know about the city Marfa and wouldn't take the trouble to look it up. You are living proof that people will look it up and learn new things, Texas culture and things that make this planet really cool like the Marfa Lights.
GM: Your new album opens with "It Won't Always Be This Way," which has an echoing guitar. I learned that you enjoy Nancy Sinatra's cover of Cher's "Bang Bang (My Baby Shot Me Down)" which opens with that haunting guitar sound. I learned that version from the film Kill Bill.
KB: That recording is a big favorite of mine with that eerie sound. I wanted to kick off this album to signal to the people who know me that there is a change to the tone of my writing and the subject matter that was going to be on this project. I think starting with a tremolo guitar would show that shift and what better way than to have my Nancy Sinatra influence bleed through there. Like you, I learned it from Kill Bill. I love that soundtrack and movies. I like to listen to the music he chooses. 
GM: I heard Brandy Clark's "Girl Next Door" on the radio in 2016. Then she came to Daytona Beach for a festival at the speedway called Country 500. Her album Big Day in a Small Town was coming out the following week, which I had ordered online. I preprinted the cover of the album onto glossy paper, cut it to CD size, brought it to the concert, met Brandy and showed her how her new album cover had turned out. She was thrilled and signed it for me, so I have the first autograph of Brandy Clark's Big Day in a Small Town, which is in my CD case. Your new song "Bored If I Don't" reminds me of Brandy Clark.
KB: What a cool story. I listen to her music so much. She does a really great job of painting a picture and writing songs that aren't necessarily about her, just like "Bored If I Don't" is not necessarily about me. Brandy has a unique ability to write from someone else's perspective. Challenging yourself to write from someone else's point of view is something I really like to work on. I am honored that you think of her in listening to that song.
GM: We mentioned a movie. I also go to musicals. The only musical I have actually seen on Broadway was 40 years ago. Brianna and I saw Waitress here in Florida. I think about both of those musicals with your waitress themed title song from your album "What Else Can She Do."
KB: I grew up in Oklahoma performing in musicals as a kid from when I was five until I was 13 or 14. I think every little girl like me was in Annie. I was also in Joseph and the Amazing Technicolor Dreamcoat, and Oliver! Growing up, I enjoyed the musical Oklahoma. We used to see it every summer in Tulsa. I love Chicago and The King and I. I adored performing and singing on stages and I am thrilled that I still get to do that. I love how musicals tell stories through song, the dramatics of it and how humor pulls through sometimes. "What Else Can She Do" is such a country song and I wanted to tell a story in the way that musicals do, which is really painting a picture.
GM: I grew up listening to pop music and some country music that would crossover to Top 40, but mainly pop and rock. Getting back to Nancy Sinatra, I knew "Jackson" as a Nancy Sinatra duet with Lee Hazelwood, a Top 40 hit in the summer of 1967. I didn't know that it was originally a hit country duo with Johnny Cash and June Carter a few months prior in 1967 until decades later. Like you, I love the film Walk the Line and enjoyed seeing Joaquin Phoenix and Reese Witherspoon perform that duet on stage in the film.
KB: I watched the movie to draw inspiration for my song "Jackson." I had the first verse and the chorus. I think I watched the movie four or five times during a week in Nashville trying to create that second verse. After that happened, I needed to get the pre-chorus going to lead into the big chorus. I came home to my mom in Ardmore, who is a school teacher with an incredible imagination and is a great songwriter herself. She helped me come up with the pre-chorus, "It takes a lot of pain and time to change a woman's mind, but I've reached the point of no return. You've crossed that line." She randomly wrote that down on a little notepad and I thought it was perfect. She gave me exactly what I needed. My mom helped the most on putting that missing piece together.
GM: Where did your inspiration for "She's Using" come from?
KB: I enjoy listening to the group American Aquarium with their songs "I Hope He Breaks Your Heart" and "Lonely Ain't Easy." They are a rocking band with an acoustic guitar and great stories. BJ Barnum is a great performer and writer and "Lonely Ain't Easy" gave me the sound inspiration that I was going for with "She's Using."
GM: Let me say wow about "Blood." It is so emotional, powerfully sung and has steel guitar warmth. Your phrase "counterfeit love" fits perfectly. You co-wrote this song with Angaleena Presley, who I know of as part of the Pistol Annies trio with Miranda Lambert and Ashley Monroe.
KB: There are so many female songwriters who I look up to. Getting the chance to write with Angaleena was intimidating and exciting. When we collaborated, she made me feel right at home. We started talking about our families and family issues and came to the conclusion that we sometimes dismiss certain behaviors from our family that we would not accept from our friends. It is a lot easier to say goodbye to a friend than a family member because you will see them at holiday gatherings. It makes it a lot harder when they are blood, and I don't think it should be like that. I think if someone is a toxic person and they are intentionally mean to you, I don't think you should have to be around them just because they are blood. That is some of the subject matter that we were trying to address with "Blood." It may seem drastic but moving may be the best solution to get as far away from them as you can.
GM: The finale is also powerful and one that your mom Dana introduced us both to, "In the Pines."
KB: My mom has an ongoing list of songs that she wants me to cover. Eventually I listen to the songs and take them in. For her 50th birthday, a few years back, I invited all of her friends to the house for a surprise party and played "In the Pines" for her. After I learned it, I would play it in my shows and my fans loved it so much and we had so much fun performing it that I wanted to put it on an album and show our live sound. I think it is a good representation of how rock and roll, country and folky we can get. My mom has really great taste. She showed me Nirvana's unplugged video of that song, which they called "Where Did You Sleep Last Night." I am a Kurt Cobain fan. He fought for underdogs and people who were discriminated against, and I admire that and the passion that he brought to his music. 
GM: In that Nirvana video, you can see his command which is very interesting. Then, in contrast, young Dave Grohl on drums is gently tapping away, not what you would expect from Dave Grohl musically. On your version, your drummer is unbelievably more in line with the pounding I would have expected.
KB: That is Fred Eltringham on drums, who is Sheryl Crow's drummer, and is among the best of the best. The song feels violent, and I wanted his drums to match. I had some great musicians playing on the record. Lex Price is on bass, Joshua Grange is on electric guitar, Justin Schiper is on steel guitar, with Oran Thornton producing and playing acoustic guitar. Before we started each song, we would get the structure of the song down. I would say a couple of key words of advice, and they would just excel from there. They were so incredible to work with. I am also honored to be part of your Goldmine series. This was a great interview and I appreciate it. Thank you.
Related Links:
Fabulous Flip Sides now in its eighth year