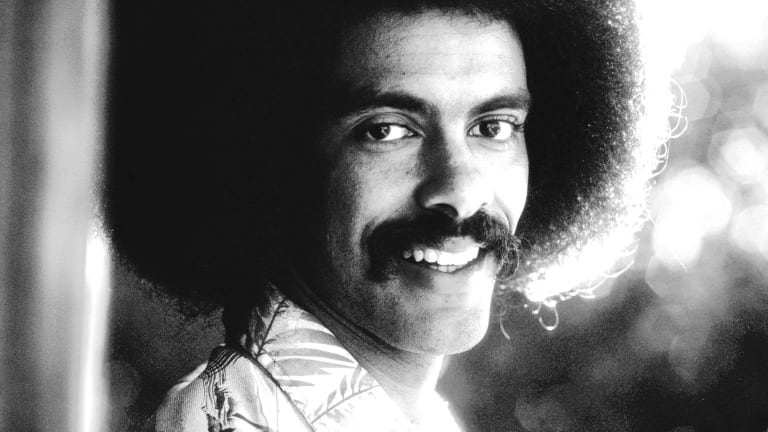 Legends of Soul: Portrait of Leon Sylvers III
As for Soul music icons, Leon Sylvers III is one for the annals of recorded music history.
Get vinyl, CDs, box sets, collectibles and Goldmine-only exclusives in the Goldmine shop! 
By TONE Scott 
Born with a Sylvers spoon – On March 7, 1953, out of Memphis, Tennessee, the world was gifted with one of the most influential recording artists, record producers, songwriters and composers (not to mention bass players) the world of Soul Music would ever come to know and experience, and that gift was Leon Frank Sylvers III. 
Before he even reached the age of three, the Sylvers family (Leon "Sonny" Sylvers, his wife Shirley Mae, and their two children, including the newly born Leon the III), picked up and moved west from the musically rich city of Memphis, across the country with their sights set on the entertainment capital of the world – Los Angeles, California.  They ultimately landed and settled in a south central portion of the greater Los Angeles  metropolitan area of Compton, where mom and dad Sylvers along with a very young Leon and older sister Olympia would settle. It wouldn't be long before two more additions to the Sylvers' brood (sister Charmaine and brother James) would make way for the earliest of their professional musical experiences to become reality.
Early musical and performing experience – In the very earliest part of the 1960s, the three oldest of the Sylvers children (Olympia, Leon and Charmaine) would begin their pre-Sylvers musical journey performing as a young vocal harmony trio – The Little Angels – and not too long after, the second male sibling, James, entered into the act and history was being written. At that time, the young vocal trio (and ultimately quartet) were mostly performing covers of Caribbean-based Soul music, but getting recognition and gaining notoriety by performing at community events, public venues, charitable events, variety shows, and eventually even the American game show, You Bet Your Life.  Professional recordings as The Little Angels were achieved as early as 1960 ("Santa Claus Is Coming To Town" on Riverdale Records) and through one-off-deals via Capitol Records in the mid-'60s (7-inch 45rpm single "Says You" b/w "Olympia"). As the mid-late '60s moved in, two more siblings (born after those currently in The Little Angels quartet), had reached the age that would allow them to be added to "the act." The addition of Edmund Theodore Sylvers (born January 1957), and Joseph Richard "Ricky" Sylvers (born October 1958) would prove to be a turn towards one of the most iconic monuments in Soul Music history… The Sylvers. 
Untarnished and polished come The Sylvers – Mid-Late '60s, regarding musical 'family groups' in the Soul genre – these types of family or sibling configured groups in Soul Music began becoming more and more prominent. Established acts such as the Five Stairsteps, and The Jackson 5 (though not famous at this time) were rising, and, the then six-person musical configuration known as The Sylvers (having changed their name from The Little Angels) were beginning to build a reputation as a musical force to be reckoned with. A recording deal in the very late 1960s with Pride Records (a subsidiary of MGM's music division) would be the catalyst that would lead the group – which grew in members as more and more siblings would join – into being one of the most influential sibling Soul Music acts of that time, rivaling the Jackson 5. They would burst into the '70s as part of the growing Afrocentric Soul explosion, and into an almost decade and a half-long streak of back to back hit records.
Leon: The Lion unleashed – Though the group, from the beginning, would be placed under the musical guidance of some of the most well established producers of the time (e.g., Jerry Butler, Keg Johnson, Freddie Perren, Dick Griffey, Giorgio Moroder), Leon was seemingly acknowledged as the leader of not only the group as a unit (being the oldest male sibling), but as recording projects perpetuated, he was also becoming recognized as an extremely well versed bass player and a world-class songwriter, having written the majority of the group's songs from the beginning. Even projects that were outside of the focus of the group would show the abilities of the artist as a writer and producer, proven by having written the 1973 charting single "Misdemeanor" for his youngest brother Foster Sylvers. As every new year would bring out a new studio album from the group, and with that much heavy recording experince under his belt, it wouldn't be long before we would start to see producer and arranger credits outside of The Sylvers group, billed to Leon Sylvers III.
By the mid-late '70s, Leon would be credited producing records alongside iconic and monolithic music-men like Giorgio Moroder, and being primed for what would be in store for the artist after the tenure of The Sylvers. Production and other recording credits with regards to the groups musical efforts became clearly evident by 1978's Forever Yours (Casablanca), which was also the last Sylvers project where Leon appeared as a performer; as well as the last two studio efforts from the group – 1981's Concept (SOLAR Records), and 1984's Bizzare (Geffen).
And by the beginning of the '80s, multiple production, arrangement, and writing credits would be earned and billed to the young but seasoned Leon Sylvers III for projects outside of The Sylvers. Then, just as quickly as it all manifested, and after almost a decade and a half of success, it was time to say goodbye to The Sylvers as the musical icons they were known, and hello to the multiude of musical scenarios and opportunities awaiting the artist over decades to come. From that first Sylvers studio album until the time that I am writing this article, Leon Sylvers III has been deservingly given the accolade as one of the most successful producers in black music with over 500 writing and arrangement credits, over 100 studio performance credits, surpassing 300 producer credits, and a multitude of various technical credits; not to mention a self-titled solo recording project from 1989 (Motown)... but it doesn't stop there.
This Sylvers still shining – In these times of modern Soul, R&B and Pop music (and by this I am referring to music after turn of the century) there have been many musical endeavors that have included the heart, soul and fingerprint of Leon Sylvers III. Since 2000 this iconic musical figure has given his creativity to the likes of artists such as Guy (Uptown/MCA), N'Dambi (Stax), and Dam-Funk (Stones Throw). But recently the artist has exploded back onto the scene in collaboration with one of the most 'growing-in-prominence' and amazing recording artists out today. 2022 has been a breakthrough comeback for Leon Sylvers III as a producer and writer for the album project Vulnerable (LA International Records) – the 4th studio album by world-renowned recording artist Nikkole Hall (p.k.a. Nikkole). With a more-than-solid track listing chalked with up-tempo respectable dance tracks, deep mid-tempo grooves, and amazing ballad offerings, Nikkole (weilding her best album yet) has been blessed with the true spirit of Soul by choosing and trusting this iconic name in music history, to collaborate with her to acheive absolute greatness!  
With two unbelievably good chart-topping singles ('All Mine' & 'We Can Make It If We Try' ft. Leon Sylvers IV), this 22-track, 180-gram double LP has risen to the top of my personal playlist and is on its way to being deemed my favorite Soul/R&B album of 2022, all thanks to these two brilliant artists – Nikkole and Leon Sylvers III. Now, don't let my accolades sway you, because this 2022 project featuring the illustrious Leon Sylvers III at the helm, is also in consideration for the RIAA 2023 Grammy Award for R&B Album of the Year (2022/23 season). I am betting that we will be hearing much, much more from this iconic and historical Soul music producer, writer, arranger, and musician in the very near future. Thank you, Leon Sylvers for all that you've given us, and all that you will continue to give.
The Sylvers selected discography and price guide
(All prices for Near Mint condition vinyl records)
CAPITOL
❑ ST-11868 Best of the Sylvers 1978 $12
❑ ST-11705 New Horizons 1977 $12
❑ ST-11465 Showcase 1976 $12
❑ ST-11580 Something Special 1976 $12
CASABLANCA
❑ NBLP7151 Disco Fever 1979 $12
❑ NBLP7103 Forever Yours 1978 $12
GEFFEN
❑ GHS24039 Bizarre 1984 $12
MGM
❑ SE-4930 The Sylvers III 1974 $12
PRIDE
❑ 0007 The Sylvers 1972 $15
❑ 0026 The Sylvers II 1973 $15
SOLAR
❑ 22 Concept 1981 $12
⌘
(Artist credits information taken from Discogs.com but may include more than stated)
Contact TONE Scott at GoldmineMagazine@GoldmineMag.com. Please put The TONE of Soul in the subject line.