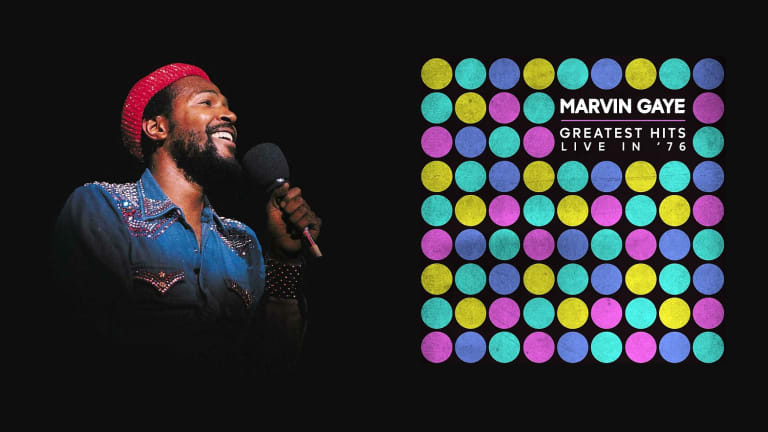 Marvin Gaye's alive! And he's "Live in '76" with a never before released live album
An in-depth review and commentary of Marvin Gaye's never before released live album  from his first ever European Tour in 1976.
Right about smack-dab in the middle of the 1970s, an iconic and prolific songwriter and musical performer by the name of Marvin Gaye was in the midst of life turmoil. He was still secretly battling recuperating from the loss of his close musical confidant — Tammi Terrell — 5 years earlier and was in the process of separation and divorce from his then wife — Anna Gordy. If that wasn't enough, he was also at risk of being arrested for failure to pay child support at that time. Gaye's musical affairs were being looked after by tour manager Joe Schaffner, and it was proposed to Gaye that a European Tour might be the answer to getting some of the "heat" surrounding him, to die down a bit. It is because of Marvin's dilemmas, and the quick intuition of Schaffner, that I am able to introduce to you, on stand-alone audio release (vinyl record and compact disc) for the very first time, Marvin Gaye – Greatest Hits Live in '76. 
Mercury Studios (not to be confused with Mercury Records), a record label formed in the UK in 2020 under the umbrella of the Universal Music Group conglomerate, who specializes in live album releases, has stepped up to give to us one of the best Marvin Gaye performances since Live at the London Palladium (released 1977), which in the 'time-line' of Marvin Gaye performances, coincidentally comes in around the same time as Greatest Hits Live in '76, as it was also part of the same tour. This new live album release has been made available to us on two formats: Vinyl record and Compact Disc, with very noticeable artwork to match.
The performance takes place on October 10, 1976 at the prestigious Edenhalle Concert Hall in Amsterdam, Holland [Netherlands], in front of a massive sold out audience. I realize that Live albums are, for some, either an acquired taste or few and far between, regarding the desire to put one on. However, rest assure that whether you are a finicky partaker of the live album format, or a die-hard Live album junkie (as with myself), this one will reel you in — let's see why. 
.
Sonic Presentation
Vinyl – by first glance at the track-listing, there are a lot of songs here crammed onto one vinyl record, or is that just an illusion? Let me explain why I pose that question and why that might be concerning at first. Traditionally, in layman's terms, too many songs shoved onto one 12" record usually equals "really bad playback sound."  If you remember the really cool "as seen on TV" type music compilations, such as records by K-Tel, or others, you'd remember one thing about them (aside from how fun they were), and that was that they mastered those compilations with a lot of songs (for marketing purposes) crammed onto one record, and although you had a massive collection of hits, the sound was a bit less than to be desired. When removing this record from the jacket, it looks very much (regarding the grooves on the vinyl) like those K-Tel records used to look, and if I'm being honest, it scared me a bit. But then I started my journey with this vinyl record and needless to say, I was very pleasantly surprised. And, as the album progressed, I soon found out why a lot of those grooves on the record looked like they were all crammed together, and believe me when I say it is for an absolutely fantastic reason. The vinyl media plays back with depth and brilliance, showing the dynamic between Gaye, his band, and the audience, very nicely. Not to mention, with most well-recorded live performances on vinyl format, there is a level of "sonic-forgiveness," because there are so many varying sounds coming from more than one direction (much different than studio recordings), that it lends to the "reality" of the Live album. 1977's Live at the London Palladium is one of my most listened to Live albums, and this new addition to Gaye's live recording repertoire, is now giving 'the former' a massive "run for its money."
Compact Disc – At the time this was recorded [1976] live performance recordings were captured strictly on anything from ½ inch to 2 inch magnetic analog tape. And even though the original audio has since been applied [mastered] to a digital playback format (previously released in 2014 with a DVD package — not a stand-alone audio release as this one), there is no indication what the source is for the mastering job for this 2023 release. Whether the original master tape recording was used and then transferred to digital [ADD] or whether the rights to the previous digital master was acquired, is not stated anywhere on the release. Nevertheless, the digital mastering job for this live performance does not fall short. It is brilliant, but not too transparent; there is digital clarity, but not to the point that the recording loses its "live experience." There is very minimal 'digital hiss' (only what can be slightly normal for standard Red Book [conventional] compact discs). For a non-audiophile mastering format, this compact disc sounds fantastic. And of course, what I loved about listening to this explosive concert on the Compact Disc counterpart, is that I didn't have to get up and flip sides.  Please note, that the compact disc release contains one extra song, than the vinyl record release (see Resources below).
.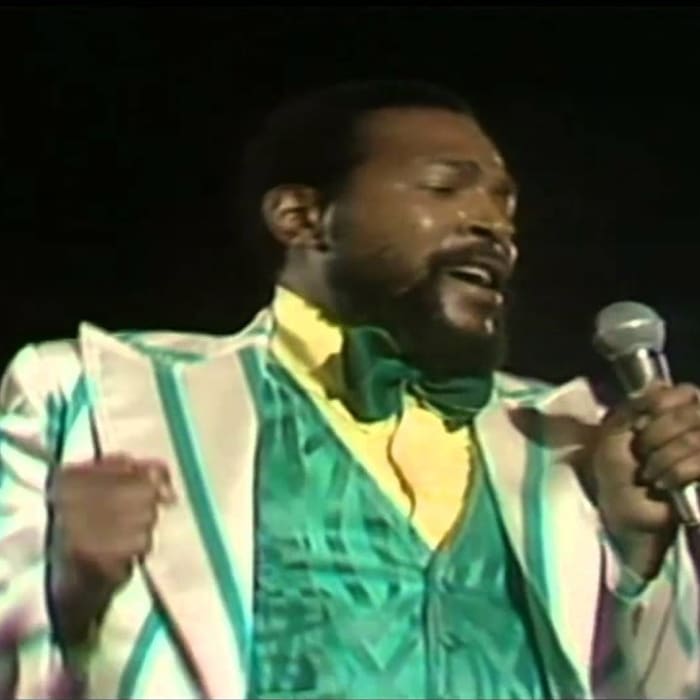 .
Live Production and Performance
I am a bona fide 'live album' enthusiast, and so I tend to rate the quality of a live recording on how well the sonic presentation was captured [recorded], and as well, the artists/ bands performance coupled with the audiences participation, more so than the quality of the post-production [mixing / mastering]. As I briefly mentioned earlier, there is a detailed dynamic between the position of the lead vocalist [Gaye], his band, and the audience, so that it gives the proper sense of 'depth' — the lead vocalist(s) being the center-point. Marvin Gaye's performance; vocally and otherwise, are top-notch, as would be expected. His vocal performance comes across as if the singer is very much enjoying himself without being unconscious or lackluster when it comes to his amazing vocal delivery. He is also very animated; and although, of course, you cannot see him, you can feel him moving around and reacting off of his band and the audience — quintessential of a great live album.

So, why did I earlier mention my initial concern for so many songs crammed onto one vinyl record, and then mention further along that there was a fantastic reason for it? Well, all of those crammed-in grooves — two groupings, on both the A Side and the B Side – are not representative of badly mastered individual songs, but instead contain two very special and amazingly performed "chronological medley's" of some of Gaye's all-time classics. He performs a super-impressive 10-song solo medley, beginning with "Ain't That Peculiar" and ending with "How Sweet it is to be Loved By You," on the A Side of the record. On the B Side, he performs a 5-song medley of "duets" with his female lead vocalist — Florence Lyles — beginning with "You're All That I Need to Get By" and vamping out with "Ain't No Mountain High Enough" (you can look at the track-listing below to see full medley contents). 
.
Beautiful but minimal packaging for both the vinyl and compact disc releases
.
Packaging and Presentation
How often do we get a 'new' Marvin Gaye release that is not 'just another' interpolation of someone's idea of an anthology or a greatest hits compilation, with the same studio recordings we've heard time and time again? Not often, to say the least. So, when we receive a live performance record that is now available in a 'stand-alone' audio release for the first time — both vinyl and compact disc — (and on vinyl for the first time, period), I would have hoped for a bit more, in regards to packaging and presentation. The vinyl record comes housed in a standard gauge cardboard LP jacket, with the record itself in a generic (non-poly-lined) inner-sleeve — and that is all. I would have hoped for at least a printed 'one-sheet' or a glossy printed inner-sleeve with a well-written preface about the show, and of what the album contains, and some photographs from the concert at the very least, to commemorate this first time release. In the same way, the compact disc contains nothing but a single [double sided] cover sheet, in a clear-tray jewel case and minimal standard artwork. I would have thought a 6 to 10 page commemorative cover booklet would have given this release just the right touch. Nevertheless, you get what you get, and it is what it is, but along with that, you receive a very well pressed 140 gram vinyl record (which is very good), or a very simple but beautifully and cleanly pressed compact disc. And even though you don't get any "extras" with either of these formats, the artwork and printing, on what you do get, is beautiful and very pleasurable to look at – they're done very well. 
~~~~
Overall, this release (on either format) is a very welcomed and exciting listen, and without a doubt, a permanent addition to my large stable of live albums. If you are an enthusiast of the live album format, or simply would like to explore why live albums can be a special addition to your collection, this one is a definite no-brainer. I won't be putting it back on my shelves anytime soon.
.
⌘
.
Resources
Official Release Date: January 27, 2023
Track-listing (vinyl) / medley's are italicized:
A1 All The Way Around
A2 Come Get To This
A3 Let's Get It On
A4 Ain't That Peculiar
A5 You're A Wonderful One
A6 Stubborn Kind of Fellow
A7 Pride And Joy
A8 Little Darling (I Need You)
A9 I Heard It Through The Grapevine
A10 Hitch Hike
A11 You
A12 Too Busy Thinking About My Baby
A13 How Sweet It Is (To Be Loved By You)
B1 Inner City Blues (Make Me Wanna Holler)
B2 What's Going On
B3 Save The Children
B4 You're All I Need To Get By
B5 Ain't Nothing Like The Real Thing
B6 Heaven Must Have Sent You
B7 It Takes Two
B8 Ain't No Mountain High Enough
B9 Distant Lover
NOTE: the compact disc track-listing contains 'one extra track' than the vinyl record, with the addition of the song "Since I Had You" in the #2 position.
❑LP Catalog# MSVL822795   Barcode - 6 02448 22795 9
❑CD Catalog# MSCD807929  Barcode - 6 02448 07929 9
.
Solo Medley performance / Edenhalle Concert Hall in Amsterdam, Holland [Netherlands] 1976
.
Contact TONE Scott at GoldmineMagazine@GoldmineMag.com. Please put The TONE of Soul in the subject line.