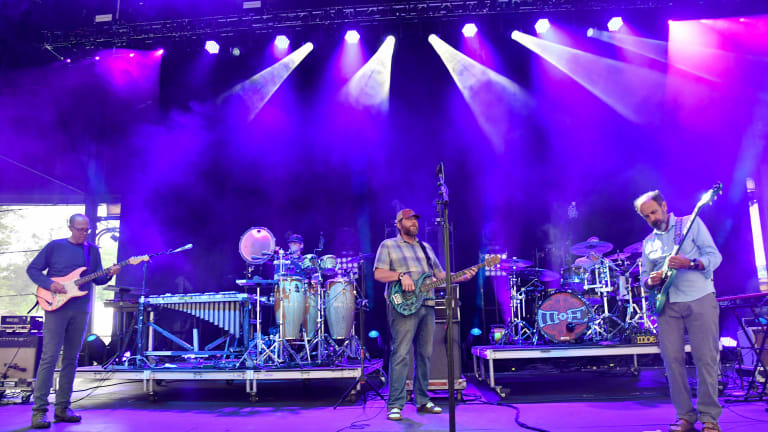 moe. fills their future with heartfelt optimism upon guitarist's return
Guitarist Al Schnier reveals that moe. hopes to be performing much more in the new year with guitarist Chuck Garvey, who suffered a stroke last November.
By Ray Chelstowski
Last week during a sold-out performance at The Fox Theatre in Boulder, moe.'s Al Schnier rocked the room with more than music. Just before the band's encore he shared the news that guitarist Chuck Garvey, who suffered a stroke last November, would sit-in as a "special guest" for a portion of the band's NYE performance at the Fillmore Philadelphia. The announcement came exactly one year to the day since Garvey suffered his stroke, and his return appearance is also especially significant, since the Fillmore Philadelphia was the last venue he performed at on Halloween 2022.
"Today marks the one-year anniversary of my worst day ever," wrote Chuck in a note to fans. "I scared my wife, my family, my friends, and many of you who heard of my stroke. Thank you for your well-wishes and your donations, without which my recovery would not have happened. This year has been a really long, difficult one for me, but a rewarding one, in that I learned what a person needs to do to achieve goals. Some are basic, everyday things like speech, and some are more about universal things that I noticed about family, friends, and community that keep us all afloat."
"So, thank you for your help and your community," Chuck continued. "I can't wait to see all of you where the water falls, and the music calls. I will be joining my brothers on stage in Philly, the city of brotherly love."
The NYE performance will include an opening set by the New Haven, CT based 4-piece Eggy, and also features The Horn Section, a brass trio that includes former members of Turkuaz, who will be performing with moe. throughout the night.
Earlier this year, Goldmine spoke with moe. bassist Rob Derhak about the impact Chuck's stroke had on the entire band (including Jim Loughlin on percussion, vibes and Vinnie Amico, drums) and their path forward. At that time it wasn't clear that this miraculous news could possibly be on the horizon. Other artists like jazz pianist Les McCann have battled back from strokes and continued to be remarkably prolific, touring extensively and recording great amounts of new material. It's everyone's hope that this return is the start of something similar for Chuck Garvey.
We caught with Schnier to understand how the decision came about, and what fans can expect to see and hear on that special night in Philadelphia.
Goldmine: How hard was it for you to get through reading Chuck's note onstage?
Al Schnier: Oh boy. You can imagine what it was like. The funny thing is that Rob gave me the note backstage and said something along the line of "I dare you not to cry!" I read it then and got choked up. I'm such a sap when it comes to that kind of stuff. I even have a hard time singing certain songs like "Brokedown Palace." The older I get the more sentimental I get and when it's someone that close to you it really hits home.
GM: How did you know when to share the news with the audience that night?
AS: Well I always make these announcements at the end of the show. Every night just before the encore I'll announce people's birthdays and anniversaries; anything noteworthy. It's something that I've been doing for years. I went to see Prairie Home Companion about 20 years ago and I noted that Garrison Keillor was doing something like that. I thought it was the coolest thing. What a way to bring the audience in and make things more engaging. So that was part of it. The fans call that part of the show "The Al Announcements." We'd already decided that we were going to announce it that weekend but we hadn't realized that it was the one year anniversary until a few days before the show. So announcing it when we did gave so much more significance to the entire message. We had discussed how to roll it out and then we realized that we just had to say the words: "Chuck's ready to come back." That's all it takes.
GM: You announced the New Year's show in September. How long was this news about Chuck in the works?
AS: In September we were still looking a few months down the road into 2023 when Chuck would be ready to make his return. The further along we got the more ambitious he was feeling and he didn't want to wait any longer. With something like this you just don't know until you know.
GM: Does having Chuck on stage make you rethink how you'll approach the Philly show?
AS: Yes, everything about the show will be different. We're going to have horns playing with us for some portion of the night. We're also going to have Chuck in addition to the other guys playing with us. So there are so many pieces and different sounds and variables we can work with. This is going to be so much different than a typical moe. show. It really allows us to get even more creative.
GM: Last year's New Year's Eve show was scheduled for Las Vegas. How did you decide on Philly this year?
AS: We've done a number of Halloween shows there. We love the Fillmore and it's a great place to put on these types of events. Finding the right place for New Years is a challenge. There's so much traffic and you don't want to be in anyone's way. If all of the jam bands end up in New York City or Atlanta, or Denver, it becomes a problem because you're all kind of drawing from the same well and you want to leave enough space for everyone. It just kind of worked out. The time was available. The space was available. All of the stars just aligned and we're so happy to get back to the Fillmore.
GM: Other musicians like Les McCann came back from strokes with a new approach to the instrument. Guitarist Mike Stern returned from injury gluing his pick to his fingers. How is Chuck approaching his return to the guitar?
AS: What's interesting with those examples is that their voice doesn't change even though the mechanics may. I noticed the same thing with Chuck. He was finding workarounds and doing more with his fingers and his hands and doing things differently. Every time I've played with him it sounds just like "Chuck." Everything that he is expressing sounds the same. He's just approaching it from a different angle.
GM: Is the plan for 2023 to be the year that Chuck returns to moe., and will you do that in stages?
AS: That's right. When we talked about this several months ago we talked about approaching this much like you would with a professional athlete. You're not gonna go from rehab to being a starter off the bench playing an entire game. That's just not how it works because it's a very physical thing. Or we might be able to build a schedule that's more accommodating to ramping up to something like this. We've talked about all kinds of different scenarios. Fingers crossed, if everything works, Chuck will be playing with us in 2023. That's our plan and ideally what we want to see happen.