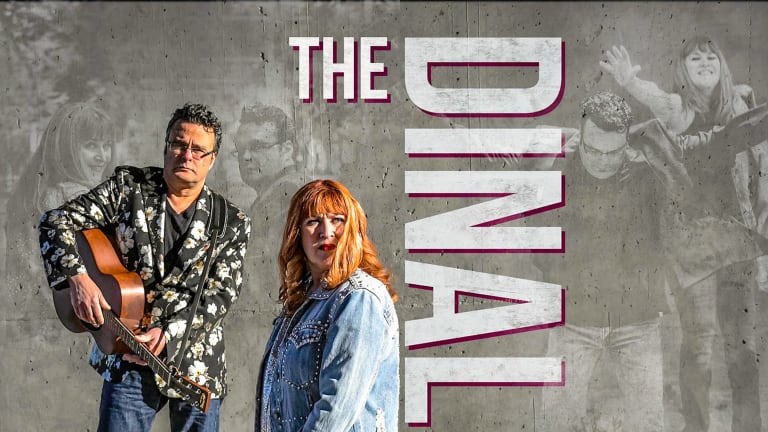 Names You Should Know: Joy Harjo, The Dinallos, Tautologic & The Ladles
Poetry, Americana, Alternative Rock & Folk-Pop
     America borrowed its tradition of having an appointed Poet Laureate (since 1936) from Great Britain. Native American Joy Harjo is one such individual. She's also a singer-songwriter-author and with the help of the supremely talented Barrett Martin, has written and produced one of the most unique albums of the year. Harjo's spoken-word entreaties are thought-provoking. On I Pray For My Enemies (Sunyata Records), she plays alto sax, percussion, flute and piano. Martin plays guitar, percussion, bass, keyboards and vibes. Mike McCready of Pearl Jam and Black Crow Rich Robinson take the bombastic electric guitar solos. Krist Novoselic of Nirvana strums acoustic. Providing esoteric buzz is Rahim Alhaj on oud and Dave Carter on trumpet. The 16 tracks are a sonic stew. Spoken-word albums have never sounded so good.
      Americana duo The Dinallos, on their self-titled Memphis International Records gem, spin gold out of 16 tracks that alternatively bristle with rock'n'roll indignation, chill with a laid-back country vibe, and get profound with singer-songwriter smarts. Michael Dinallo is a scientist of sound. His guitar does for The Dinallos what Pete Anderson used to do for Dwight Yoakam, and that is to provide a stinging commentary or the kind of rhythmic thrust that propels the narrative. He did it when he produced soul singer Eddie Floyd and he did it when he masterminded a spectacular Charlie Rich tribute album. Thus, anything he ever does is worth hearing. Here, he goes from lullabies and country-rock to the blues (almost) and radio-ready pop. The man can do no wrong. His wife, Juliet Dinallo, has the kind of voice that's like the welcoming back of an old friend every time you hear it. She also writes lyrics to remember. Between the two, they're Nashville royalty. Or should be. 
     Tautologic—singer/keyboardist/producer Ethan Sellers, drummer Patrick Buzby, bassist Nathan Britsch, saxophonist Chris Greene, violinist/vocalist Emily Albright and guitarist Jay Montana—come roaring out of Chicago with one of the more unique rock band sounds. Classic Alternative? Now add cello, trombone and trumpet. Mix carefully, simmer to a boil, no need to add flavoring, it's all there (they've been at it for over 20 years). Wheels Fall Off (Turtle Down Music) is engaging, fascinating even. It's the kind of album that grows exponentially in the heart and mind the more it's listened to. It's in the synthesis between male and female vocals, jam-band propensities, genre-morphing (I counted seven) and the kind of delicious studio trickery that can be categorized as ear candy. With songs like "Fat Dumb and Happy," "Rocket Surgery" and "Covered In Grit" leading the way, one can get lost in their space/time continuum enough to ponder the inequities of life while doing some hard grooving.
     One of the more unique folk-pop albums of the year has to be by The Ladles. (They got their name from a misspelling on a woman's bathroom.) Self-produced, self-released, Springville Sessions is named after the Upstate New York town which housed the historic 19th Century Baptist Church in which it was recorded. Violinist Lucia Purpura-Pontoniere, guitarist Katie Martucci and banjoist Caroline Kuhn have a special kind of chemistry woven by total vocal dexterity. With its stripped-down, intimate bare-bones production (no rhythm section), they're able to put forth alluring fem-centric profound parables that are as mystifying and hypnotic as they are entertaining and weighty. Elements of jazz, chorale and chamber music creep into the mix. The more you listen, the more is revealed. It can be a rather obsessive delight. The harmonies alone carry the day but the instrumentation is so delicious, and the lyrics convey such truth, that, when put together, results in magic.