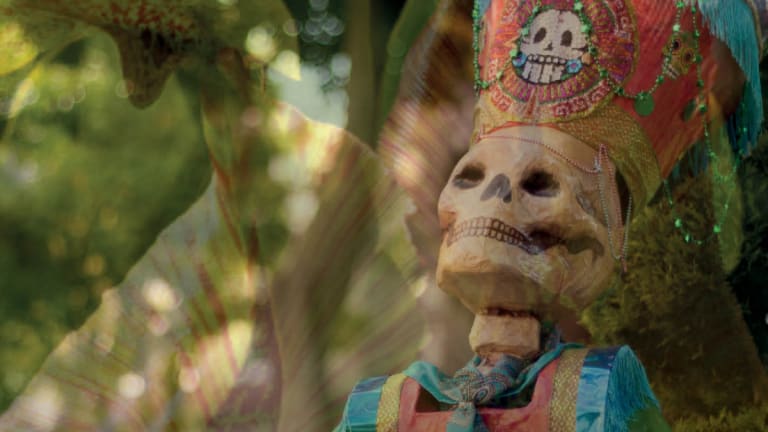 New releases that are a dizzying plunge down the rabbit hole of modern psychedelia, low-fi, folk and more
Spin Cycle reviews Norway's Sleepyard, Brian Bordello's solo album, supergroups  called Fishheads and The Hobbit House Collective, plus others
Norway's Sleepyard have long been ranked among the vanguard of European psych bands - formed back in 1994, Oliver and Svein Kersbergen are now eight albums old, and Head Values (Bandcamp) might well be their most remarkable yet.
It is the sound of nightfall across soaring scenery… scratching thin air in search of comparisons, think Max Richter paying tribute to Biosphere's Substrata, while Sigur Ros await their turn. Tracks are less songs than shifting moods, and the comparative brevity of some (the opening "Klinkelule" and closing "Holy Day" barely clock three minutes between them) scarcely even registers, so exquisitely do the eleven cuts blend into one another.
Besides, when Sleepyard do stretch out - six minutes of "Dream Solution" is the longest; four others top five - the impressions remain just as powerful; the ideas equally immediate.
Accompanied across the album by multi-instrumentalist Katje Janisch and guitarists Gaute Storsve (plus guest appearances from vocalist Sandy Dedrick and guitarists Mark Refoy, and Edvard Andreas Feed), Sleepyard walk that thin line between ambience and immersion, pierced only by moments that will make you turn and marvel at what's suddenly started happening.
The guitar that closes "Dream Solution"; the "Breath"-ey Pink Floydiness that intros "Falling In Love"; the so-aptly title piano-led requiem of "Theme from Slow Earth" and the penultimate "Rust and Starlight," all fuzz and keys and ethereal choir - these are the moments that lift this album the highest. But they are, by no means, alone.
For a complete change of scenery, The Bordellos' Brian Bordello's solo album, Cardboard Box Beatles (Metal Box), is highlighted by an elegy for "Eric and his dead child song," and if that doesn't raise your eyebrows, there's another song title that certainly will. "I Am The New Nick Drake" is not a claim you expect to hear every day.
His regular occupation leading the Bordellos long ago established Brian among the most listenable (and, at the same time, surprising) songwriters of the modern age, a pen that not only slays sacred cows, it then draws cartoons with their entrails.
The fact that he confines his accompaniment to acoustic guitar and a voice that hovers happily halfway between "you can't sing" and "I can't hear you" only amplifies the album's impact. If you've never sat around a bedraggled apartment while an unknown someone mumbles, strums and silently smirks at the sheer joy of it all, then you've never been in the presence of musical genius. By those lights, "The Cardboard Box Beatle Song" is either a staggering slice of self-analysis… or a vicious swipe at everyone who doesn't share Bordello's world view. Or something else entirely. Your choice.
And then there's the moments of domesticity that ooze through the walls… "Cat Food on the Floor," "On The Scrapheap Again," "Any Room In Your Life for a Song & Dance Man"… all adding up to an album that is as delicious as it is downbeat, and reaffirms what we've always known about Brian Bordello. If he had a major label record deal and a Sheeran-sized promotional budget, he'd be the most dangerous man on the planet.
It's always a happy day when Schizo Fun Addict reach out with a new release and, while we await their next full lengther, the Fate Chaser EP will fill the void - all the more so if you're fortunate enough to grab one of the 58 copies that are out there, transparent lathe-cuts with hand-painted jackets, released through Fruits de Mer's ever enterprising Friends of the Fish subsidiary.
Oh, what a glorious beast it is, a slice of chiming, sunny pop that will send you rushing to the beach circa 1968, only to discover that the Stone Roses got there before you. Flip it, and there's just as much fun on the b-side, the softly-morphing "Surrender Bee," with a mood that wouldn't say "no" to a night out with the Cure, circa Faith; and the equally mysterious "Following Your Heart," where fuzz guitar and angelic vocals duke it out for your soul.
If you already know Schizo Fun Addict, hopefully you were fast enough to get the EP. If you weren't… you can always go digital. And, while it's been a long time since we delved into the delicatessen that is the Fruits de Mer catalog, rest assured that Schizo aren't the only sign of life to be splashing around in there.
In fact, if we dig back into the distant past that was the end of 2021, there's another Friend of the Fish release that might well re-evaluate everything you thought you knew about Tangerine Dream. Namely, the students of Sweden's Eskilstuna Kulturskola replaying the Tangs' mighty "Poland" on acoustic instruments.
What really makes An Orchestral Dream stand out, though, is that it works. It's a school of thought, of course, that Zeitkratzer ignited with their acoustic takes on early Kraftwerk a few years back - both entertaining, but haunted, perhaps, by the sheer novelty of the exercise. Here, however, the goal is less to perform the piece as it is to reinvent it, to the point where Tangerine Dream might feel like the "cover," if you're approaching both discs with fresh ears.
No such confusion with The Fishheads' 45 rpm cover of "Pleasant Valley Sunday," although in terms of buoyancy and beauty, it's more or less a tie. Fruits de Mer were once famed for (among so many other things) sprawling tributes to the likes of Bowie, Floyd, the Hollies and the Pretties. Maybe the Monkees should be next. And who are these Fishheads, because of course you want to know? Only a Fruits de Mer supergroup of Marc Swordfish, Anton Barbeau, Crystal Jacqueline, Icarus Peel, John Chinn, Paul Chousner and Holly Bowler. Wooooo!
Talking of supergroups… The Hobbit House Collective is the latest guise of the west country posse that rounds up Crystal Jacqueline, Icarus Peel, the Honey Pot, Acid Rain and - the most recent addition - the Locker Room Cowboys. And what better way to introduce it than via a self titled 2 x 7-inch set comprising a song apiece by each of them?
Jacqueline sets the pace with a sparkling take on Zeppelin's "Battle of Evermore," an heroic choice for anyone to make, but one which she pulls off with room to spare. Duetting with herself was certainly a great idea, not only showcasing that so remarkable voice, but also building a whole new dynamic for the original. And, meanwhile, while there's a ragtag folky edge to the piece that makes the song wholly her own.
The Honey Pot also have an eye for Zep, with a similarly exotic take on "Ramble On" - again, Jacqueline takes the vocal lead across a dreamy landscape that only glancingly acknowledges its parent. Only as we near the end, and the random cries of "ramble on" ring out, do we truly recall who wrote this song.
There's a complete change of mood on the second single, as Icarus Peel's Acid Rain decide that what Fleetwood Mac's "The Chain" really needed was a wild guitar intro and even wilder backdrop, a thumping bass rhythm and no vocals whatsoever. You will recognize it, at least in places, but it doesn't matter if you don't because it's a fabulous piece of hard rock noise, and there's more where that came from when you flip the disc and the Cowboys unleash a similar howling blues jam, intriguingly titled "Wolfgang Does The Nurburgring." Great stuff!
Arnald Paul's Transparent Ideation is another Friend of the Fish release, a seven track album carved deep into the heart of English psych. The acoustic edges of Syd Barrett are certainly an influence, although songs like "Spiders" and "The Travelling Troupe of Simon Smart" have oodles of personal character too, and the closing, gently swaying "Annabel Lee" adds the inspiration of Edgar Allen Poe to the brew.
Finally from the fish tank, there's the latest from Sendelica, the wryly titled And Man Created God, and what can you say beyond the fact that - it's Sendelica, so strap yourself in. This won't be a gentle ride. Although, of course, in places it is, as the band's always-well honed grasp of esoteric textures and sounds builds one world after another across eighty minutes of half jam, half "risk it" exploration and riffery.
We're not going to play favorites with individual tracks - not even with "Tainted Goat," which is such a great title that there ought to be bands named after it. Suffice to say, as the last fully functioning satellite to still be beaming space rock into our headphones, Sendelica continue uncovering fresh universes, and every one is worth a visit.
The Brown Girl and Other Stories, the latest from Angeline Morrison (Angeline Morrison Music) was released earlier this year, straight into a tsunami of praise and applause.
Folk album of the month in one UK newspaper; and on course to take the same title for the year, it's a record of extraordinary freshness and intimacy - Morrrison's voice, already a thing of beauty, has never sounded so close,as if she's standing on the other side of the room, while whatever accompaniment she chooses for each of the songs fashions the starkest of frames around her.
The focus is on traditional numbers and traditional stylings, too. Morrison's a capella performances are especially impressive, but it's her take on the Child Ballad that titles the album that has attracted the most attention.
Talking to Spin Cycle recently, Morrison explained that the recording is the sound of her revealing her own "secret interpretation" of the song.
"Whether [the Brown Girl of the title] was a White girl with a sun tan, a White girl with a Black ancestor, a Romany girl, a girl with Asian ancestry, or whatever else, we can't ever know for certain. And as a fictional character in a song, she is open to as many interpretations or readings as there are people who like to think about these things... And so for me, I like to imagine her in my singing as a young woman of colour."
It is a spellbinding performance, drawing the listener into the story while building, too, on Morrison's personal mission to awaken awareness in the contributions made to British folklore by people of color. Indeed, imminent now is another album, the Eliza Carthy-produced The Sorrow Songs - a full exploration of what Morrison calls "the hidden histories of the UK's Black populations." Watch this space - and a lot of others, too.
It's a while since the Kitchen Cynics and Grey Malkin last collaborated with one another, but the pairing has just returned for a new single. "The Montrose Air Station Ghost" (The Hare and the Moon) concerns the haunting of the first operational military airfield ever built in Britain, back in 1913, and its wispy, skeletal acoustic-electronic base is alive with atmosphere and nostalgia. It is the ghost, after all, whose perspective they look through, and he has nothing to be scared of.
The b-side, "What Shall I Say," is folkier, threatening to remain an instrumental for the first minute or more, before again looking back on a lost past - and forward, chillingly, to an inevitable future.
There's further unease to be drawn from Rowan Amber Mill's latest, Through the Polished Glass (Rowan Amber Mill/Bandcamp). The Mill itself describes the album as "an album of songs about the English Civil Wars of the mid 1600's and / or these very hard times we are living through (all viewed through Dr John Dee's scrying glass!" - an intriguing premise that the album effortlessly lives up to.
As always with the Mill, there's a widescreen cinematic feel to the album, with the story unfolding through both image-laden lyric and a musical backdrop that is as much a product of its 17th century inspiration as it is modern tech - "A Common Treasury" is a brief, but effective flute piece; "The Digger's Song" was written during the Civil War itself, a rallying cry for the Protestant radical group of that same name. It's a tribute to Stannard's vision that it slips so readily into the album that it's not at all apparent that it's the album's only non-original.
Finally, Nathan Hall and the Sinister Locals arrive bearing The Golden Fleece (Nathan Hall/Bandcamp), a collection of 14 new songs that maybe take a couple of listens to sink in and sort out, but then demands repeated listens for the rest of the week. At least.
Though it cannot help but be redolent, in places, of Hall's Soft Hearted Scientists, The Golden Fleece is an album of cunningly wry low-key pop songs, laid back even when faced with titles like "Go Ape!" And "Green Goblin Blues."
Infectiously light-hearted, it's inflected, too, with at least a distant relative of the same Laurel Canyon moodiness that Hall dreams of in the opening "California Time Machine." Although you shouldn't take that too seriously. The chorus might invoke "Arthur Lee and Roger McGuinn and David Crosby / Jim Morrison and Peter Tork and Joni Mitchell." But all of them are over there, while Hall is stuck in Splott - a neighborhood of Cardiff that might be best remembered elsewhere for its role as a long-running joke in television's Torchwood.
There are moments of mighty rock - "House on the Hill" chimes on grand guitars; the title track is the next best thing to an acoustic boogie; and "New Eyes" feels a little like it's been hanging out with sundry sixties beat groups, as they transitioned towards the psych boom. And then there's "The Jellyfish," a sweet instrumental that Hall insists is inventing a new dance. Just don't forget your tentacles.