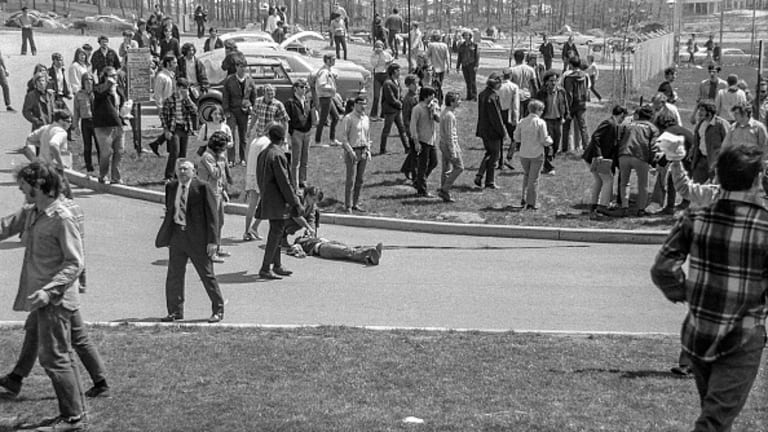 Remembering CSNY's "Ohio"/"Find the Cost of Freedom" for the 50th anniversary of the Kent State protest tragedy
David Crosby and Joe Vitale reflect on Crosby, Stills, Nash & Young's single and remember the four students killed on May 4, 1970 at Kent State University in Ohio.
In last year's documentary David Crosby: Remember My Name, David Crosby visited Kent State University with Cameron Crowe, the film's interviewer and co-producer. The Ohio Historical Marker: Kent State University May 4, 1970 is shown. David says that he was in a car with a friend of Neil Young, and Neil, when they heard the tragic story on the radio. Students at Kent State University in northeast Ohio were protesting the American invasion of Cambodia. This was a "last straw" in President Nixon's "secret plan to end the war in Vietnam," as troops left that country only to move to an adjacent nation. The National Guard was sent in to enforce the protest and shots were fired killing the students Allison Krause and Jeffrey Miller, who had been participating in the protest, and Sandra Scheuer and William Schroeder, who had been walking from one class to their next class.
David stated that he watched the news hit Neil as if he been punched. David bought a Life magazine with the story on the cover, which Neil credits as bringing it into focus for him. David shared that Neil picked up his guitar and wrote the song "Ohio" in front of him. David called Graham Nash to book a recording studio and the quartet, with Stephen Stills, recorded the song. Atlantic records' president Ahmet Ertegun said that the record had to "come out tomorrow," even though "Teach Your Children" had just been released as the group's latest single just three weeks prior. The assassination of the four students happened in May. The single "Ohio" entered the Top 100 in June and the Top 40 in July.
When David heard the song "Ohio," he said that it felt right and said what he was feeling. It made him feel good to stand up for what he believed and that "Ohio" was the best job as troubadours or town criers that Crosby, Stills, Nash & Young ever did. He stated that there were protests on every campus in America. In the movie, there is footage of students singing "Ohio" as an anti-war anthem.
Also in the film, David stands next to a photo of three young National Guard members, with their guns drawn and the segment ends with David placing a stone on the memorial, while also holding the most famous of the photos with the female student's expression of "why?" as she is kneeling by a fellow student who had been shot. In the background, the gentle and harmonic flip side, "Find the Cost of Freedom" is playing, written by Stephen Stills.
Crosby, Stills, Nash & Young
Flip side: Find the Cost of Freedom
A side: Ohio
Top 100 debut: July 11, 1970
Peak Position No. 14
Atlantic 45-2740
David Crosby and Joe Walsh & Barnstorm, with Joe Vitale on drums, were scheduled to headline a concert at Kent State University in the first weekend of May, which Joe Vitale told Goldmine will hopefully be rescheduled versus canceled.
In Joe Vitale's book, Backstage Pass, written with his wife Susie, he describes the events during the first four days of May 1970 in Kent over three pages. Six of Susie's color photos from the weekend fill two more pages. Joe recounts, "On Friday night my band and I were off, and I was over at Susie's. We heard all kinds of sirens and thought there must have been a fire or an accident somewhere. We drove through town the next day and it looked like a war zone. The Kent riots had started. The university invoked a curfew to stay on campus and away from town that Saturday night. My band got a call to play at one of the large dorms, so the students would have something to do. Susie and I pulled up to the dorm in my station wagon, which was filled with my drums. An angry crowd surrounded my car and threatened to trash my equipment, so we couldn't play and went to an off campus apartment. That night, students burned the ROTC building. Later when Susie and I went outside and looked toward the campus, the sky was glowing orange. On Sunday, Susie took her little Instamatic camera and walked around the campus taking pictures. There were several tanks on the campus and the National Guard and police were everywhere. The Guard guys were the same age we were. The Kent students weren't taking the situation seriously and the out-of-towners who had come to riot meant business. At that point, it was time to close the school and send the students home. They didn't. The National Guard helicopters were flying overhead all night. They shouted over their loudspeakers to get inside. I was yelled at. Joe Walsh was arrested just for sitting outside on his porch. The following day, Monday, May 4, the students were shot. It was finals week and although most of the students weren't involved in the riots, they still had to go and take their tests, so there were students all over the place. After the students were shot, the University finally closed the campus, but it was too late. Kent was never quite the same after that, but after a while, things settled down and I continued with my music mission."
In addition to sharing the stage and albums with Joe Walsh for decades, Joe Vitale has played and recorded with many other acts including Crosby, Stills, Nash & Young. Joe concluded with Goldmine, "I have played 'Ohio' live in concert with the boys many times, which is a pretty awesome feeling seeing that I was there fifty years ago on May 4, 1970."
Related links: