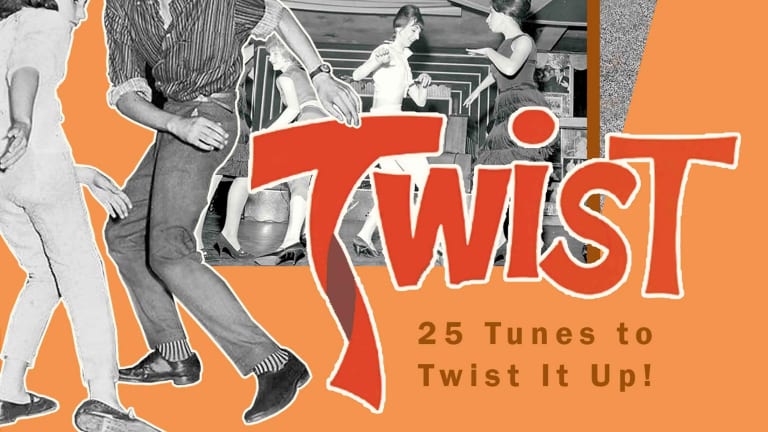 Reviews go Beyond Genre: George Michael, Rory Block, The Twist and more
Germany's Bear Family does The Twist! George Michael gets 'Older.' Rory Block does Mavis Staples, Glady Knight, Carole King, Bonnie Raitt and more. And Ireland's Atomicat Records turns R&B into Rock and Roll.
Visit the Goldmine store — it is a music collector's one-stop shopping of vinyl, CDs, box sets, collectibles and Goldmine-only exclusives. Click HERE!
Older, by George Michael, came out in 1996. Stunningly personal, he wrote and performed as if his life was on the line. And maybe it was, considering the trauma he was going through at the time. Audiences connected with it. Older proved to be a massive international hit spending 35 weeks in the Top 10 and going platinum in 23 countries. 
Older, the new box set—including Older Part #2:  Upper—contains three LPs and five CDs in Sony Music's beautiful new package which also houses a 12" x 12" 48-page book, never-before-seen photographs and three 12" x 12" art prints of George. It's stylish, handsome, and heavy to lug around, yet the rare mixes, b-sides, previously unreleased long disco jams and commercially unavailable mixes make this a heavenly bonanza for fans. Michael's stature has only grown since his 2016 death at 53. This sterling set—with hours of listening and reading—should cement that status for all-time. It's a doozy.
     Rory Block, in her "Power Women of the Blues" series of albums, brought old-time folk and blues masterpieces to vivid and stunning new life. Now, on Ain't Nobody Worried (Stony Plain Records), a title she got from a line in opening track "I'll Take You There" by The Staple Singers, she tackles Gladys Knight & The Pips' "Midnight Train To Georgia," Mary Wells' "My Guy," Tracy Chapman's "Fast Car," the Bonnie Raitt version of "Love Has No Pride," Martha & The Vandellas' "Dancing In The Street," Carole King's "You've Got A Friend" and more. She sings it sweet, co-produces, plays percussion, plus all the guitar parts including bass and some scintillating slide.
     Ireland's Atomicat Records is putting out these phenomenal compilations faster than I can listen to 'em! Volumes #2 and #3 of R&B Goes R&R are out and they're even better than the awesome first volume (which we covered last month). The premise is white artists covering black artists but the choices are pristine when you have such ofay talents as Marty Robbins, Buddy Holly, Ronnie Hawkins, Conway Twitty, Wanda Jackson and a whole lotta unknowns making white rock'n'roll out of black rhythm'n'blues on Volume #2. The third volume has Jerry Lee Lewis putting his inimitable spin on the 1960 Drifters hit "Save The Last Dance For Me," rockabilly ravers Gene Vincent and His Bluecaps updating the 1952 boogie-woogie of "Jump Back Baby Jump Back" by Hadda Brooks, The Everly Brothers in '58 hitting those pristine family harmonies on "Hey Baby Doll" by The Clovers two years earlier. Of course, though, it's the unknowns who merit highlight status like Al Ferrier and His Boppin' Billies or Lawrence Shaul and The Aristocrats (trying to keep up with Little Richard's "Tutti Frutti.")
     Germany's Bear Family Records has taken 25 tunes from the dance craze of the early '60s—The Twist—and put 'em On The Dancefloor With A Twist which opens with the man who wrote "The Twist," Hank Ballard, who squandered his opportunity for a hit when it was only put on the b-side of the infinitely inferior 1958 "Teardrops On Your Letter." Chubby Checker then took it to #1 two years later. The Twist was such a cultural phenomenon, First Lady Jackie Kennedy did the dance in The White House and artists here like Jerry Lee Lewis, Gary U.S. Bonds, The Marvelettes, Danny & The Juniors, The Ventures, The Isley Brothers and others all jumped on the bandwagon with their own twist records.