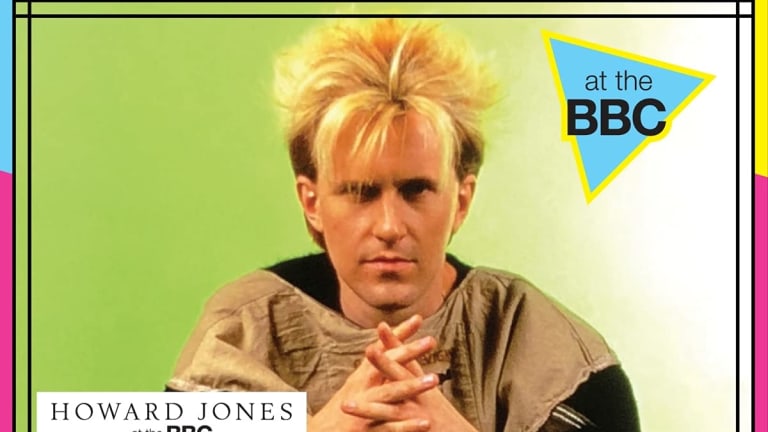 Reviews: Ian A Anderson, Mud, Phillip Goodhand-Tait, Howard Jones
by Dave Thompson
Howard Jones
At the BBC
(Cherry Red - 5 CDs)
Howard Jones is one of those names that have become eponymous with the British 1980s, if not for his music (which was damnably catchy, whatever your opinion of it), then for any number of visual tics. He was, after all, the "cockatoo-haired pop star" that the tabloids loved to namedrop, while his earliest TV appearances were hallmarked by Jed Hoile, a contrarily hair-less dancer decked in chains. If ever the Rock and Roll Hall of Fame should open an annex devoted to Inexplicable Additions to a Pop Star's Visual Arsenal, Jed will be the first inductee.
For obvious reasons, you're not going to see Jed here (although it's fun to close your eyes and imagine)… there's not even a picture in the booklet. But the cockatoo coif is in healthy evidence, and then there's the music.
Rounding up eight BBC broadcasts recorded between 1983 and 1987, studio sessions and live shows alike, At the BBC opens with "New Song," the hit that started it all, and playing through the rest, you might be astonished by how much of the music you remember: "What Is Love?", "Like to Get to Know You Well", and "Things Can Only Get Better" - nine top ten hits across the span of this box, and three more lesser successes.
The four studio sessions that devour disc one and the first half of disc two tell at least some of that story, although one must acknowledge Jones's bravery in not relying on the hits for these showases. Barely half his singles made it into the sessions with him, and one of those - 1987's "Little Bit of Snow" - was his lowest charting record yet (#70, facts fans).
It's the four live shows that really bring this package to life, however, beginning with an In Concert broadcast from 1983, with the audience in delirium and Jones positively triumphant before them. And like the song says, things can only get better. The May 1984 In Concert was recorded at the Royal Albert Hall), while an Oxford Road Show performance from March 1985 not only offers up an intoxicating take on the ultimate HJ best of, it reminds us that he'd only just released his second album. That's some mercurial rise.
Followed by a rather precipitous fall. The last top ten hit came in April 1985; the final top twenty in March '86. Jones's first two albums reached numbers one and two respectively, and hung around the chart for 18 months between them. His third tapped number ten and was gone a month later. Yet the final studio session here, from 1987, sounds as confident as the first from four years previous, and five discs of Howard Jones have rocketed past in record time. Maybe the eighties weren't so grisly, after all?
Ian A Anderson
Please Re-adjust Your Time: The Early Blues & Psych Folk Years 1967-1972
(Cherry Tree - 4 CDs)
Although Ian A Anderson (not to be confused with Ian S Anderson) is probably best regarded today as the figurehead of Folk Roots magazine and his career in broadcasting, he also boasts a remarkable discography, reaching back to the EPs he released in the mid-1960s, and forward to… well, his last "new" album with the False Beards, is nearly nine years old now, but this box takes us back to some (but not all) of his work at the dawn of his career.
It comprises four albums in their entirety - Stereo Death Breakdown (1969), Royal York Crescent (1970), A Vulture is Not a Bird You Can Trust (1971) and Singer Sleeps On as Blaze Rages (1972); other releases from the period, however.. those first two EPs, The Inverted World album that he split with Mike Cooper, and so on… are only excerpted, which means this isn't quite the treat that we might have hoped for. But it comes very close.
The albums themselves are supreme. Anderson, in the very thorough liner notes, remarks "It was a strange little period. I went from being a 65-year-old Mississippi bluesman to a psych-folk twerp in about six months." And that may be true. But he carried off both identities with rare aplomb, emerging a performer and a songwriter of rare agility, sharp humor and no mean talent, either.
Across each of the albums, but especially the latter pair, those attributes come howling out - visit Youtube for "Shirley Temple Meets Hawkwind," closing Singer Sleeps On, and you'll probably be hooked right away.
For the already converted, of course, it's the bonus material that will be most interest, some 21 tracks that include charming contributions to obscure compilation albums, forgotten festival appearances, demos and more. It's fun, too, to learn that the 65-year-old Mississippi bluesman never really went away - the package ends with a 1972 cover of "You Can't Judge a Book by the Cover."
Revisiting the artwork that accompanied these four albums on release, however, and which is still in place today, you might wonder just how seriously Anderson himself took that particular song title. Because you can certainly judge these albums by their sleeves. They're weird, their whimsical, they're faintly silly, and they are utterly fabulous.
Mud
The Albums 1975-79
(7 T's - 4 CDs)
Alas, poor Mud. Between 1973-1975, Mud were one of the biggest bands in Britain, hanging so high in the glam rock firmament that they weren't simply out-charting most of the era's other big names, they were outselling them as well. At least in terms of singles, anyway, but that's what they - and their backroom staff, writers/producers Nicky Chinn and Mike Chapman, label head Mickie Most - cared about.
Their audience followed that same instinct. Though two Mud albums did appear during this age of supreme pomp, they were little more than throwaways… a few hits, a few b-sides, a few rock'n'roll cover versions. After all, who really needed a full Mud album when you could just play "Tiger Feet" twelve tines in a row, and never get sick of it?
The band's decision to part company with their mentors, then, placed them in an interesting position. Thrown back upon their own resources for the first time since the clutch of singles that predated their discovery by Most, Mud's instinct was to "mature" - glam itself had clearly run its course; now it was adult acts like 10cc, Smokey and Pilot who seemed to be leading the way in pop terms. Neither were Mud the only band who felt this way - the Glitter Band, the Sweet and Slade, too, had "grown up," chasing the "respect" of the critics, and the love of serious music fans. Use Your Imagination was the title of Mud's first post-RAK Records album, and they hoped that listeners would.
It wasn't bad, either. "L'L'Lucy" was a hit that proved Mud still knew a commercial rocker when they wrote one; "Show Me You're A Woman" was a moody ballad that gave vocalist Les Gray's love of Elvis ample room to move. With guitarist Rob Davies and bassist Ray Stiles forming a writing partnership of their own, the need for antique cover versions fell away - a terrific take on the Everly's "Bird Dog," and a rambunctious "Under the Moon of Love" were the album's sole concessions to the past. A year later, Showaddywaddy took that latter title to #1 on the UK chart. Mud simply shrugged. That wasn't what was important any more.
It's Better Than Working, Mud's next album, landed in 1977, with a wonderful Lowry-styled jacket and another generally excellent selection of tracks… "Beating Around The Bush," "Nite on the Tiles" (a single the previous year), "Blagging Boogie Blues" and a terrific nod to Alex Harvey, in the shape of "Vambo Rools."
But the landscape around Mud was changing, as it became apparent that maturity wasn't at all what the music scene demanded; that punk and disco were now the sounds of the age, so when the band's next LP arrived, even the title - Mud Rock On - felt somewhat out of time. A notion that was only amplified by the cover illustration of an hourglass, with Mud's own name draining through it.
Les Gray quit the band, having already launched a middlingly successful solo career; Mud's final album, As You Like It appeared in 1979, and barely even registered. It's still the most insubstantial of all their releases, although it has to be said that the medieval cheesecake cover probably didn't win it too many friends.
So, a box of three halves… the good (the first two albums), the bad (Rock On) and the ugly… but it's great to see this period of the band's story finally get attended to, and twenty bonus tracks spread between the four discs include everything you could need - singles and b-sides, plus four cuts by the Mud spin-off Roly.
There was more Mud to come - a last gasp single with new vocalist Margo Buchanan; and one is tempted to say "disappointingly, that's not included here." But that only works if you've not heard it. If you have, you'l probably be overjoyed by its absence.
Phillip Goodhand-Tait
Gone are The Songs of Yesterday: Complete Recordings 1970-1973
(Cherry Red/Lemon - 4 CDs)
Although he never reached the heights that he deserved, Phillip Goodhand-Tait spent the 1970s, at least, among the finest singer-songwriters active in the UK.
Four albums for Dick James' DJM label and a couple more for Chrysalis stand aloft from so much of the contemporary pack that it's almost criminal that his best known songs are either ones that he had recorded by others ("Oceans Away," "No-one But You," "Lincoln County" etc), or were borrowed for a quite brutal mid-decade drink-driving infomercial ("Jewel"). None of which are included here, but frankly, that doesn't matter.
It's the DJM albums that come under the microscope here, 1970's Rehearsal, 1971's wonderfully-titled I Think I'll Write A Song, 1972's Songfall and finally, 1973's eponymous set, and you can hear the Goodhand-Tait style emerging and strengthening. ; Rehearsal, in many ways, is very aptly titled, as our hero adapts to life as a solo artist - he had not, he admits in the liners, yet mastered the art of playing piano and singing at the same time; was not yet performing live; and was, in fact, launched with a 1969 single that he originally wrote for the Love Affair (included here as bonus tracks), and which sounded like it, too.
"Love Affair's managers recorded my version exactly as Love Affair would have recorded it," he notes in the liners, while Rehearsal itself was taped in Dick James' demo studio. By the time of his second album, however, all the missing pieces had fallen into place and the album's sole drawback turned out to be its cover. The record company decided to decorate the otherwise super-minimalist sleeve with coffee stains, precipitating a tsunami of returns from stores and customers who thought they'd been sold a damaged edition.
Had they actually played the record (and we assume that some did), they'd have been hit first by the compulsive title track before the likes of "Cold Night," 'Drink to the Sunshine," the single "Medicine Man" and the dark "Parents Eyes" established the record among the year's best new releases. Half a dozen bonus tracks, including the single version of his next album's "Everyday" (the Buddy Holly number) close this disc.
Songfall and Phillip Goodhand Tait consolidate the brilliance of I Think I'll Write a Song, with the added advantage of a variety of guest musicians (Rick Wakeman, Chas Cronk and the Elton John band among them), producer Robin Geoffrey Cable and, on the latter, "Emile," an excellent - if utterly unexpected - stab at reggae, recorded with what Goodhand-Tait recalls as… wait for it… "a reggae band." Unfortunately, neither liner notes nor the original LP itself actually tell us which one.
Which brings us to the one caveat. It's a great collection, but the booklet lets the side down a little; no specific details as to where the majority of bonus tracks hail from and no full musician credits (see above) are petty problems, but they could easily have been resolved. One also wonders whether constant (and we mean constant) references to DJM's finances should be the focus of the liners. The music deserves better.