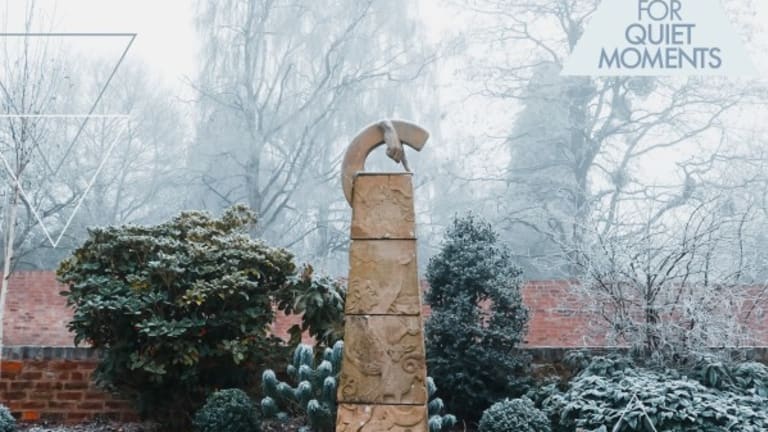 Robert Fripp - Music for Quiet Moments/King Crimson - Music is our Friend: Live in Washington and Albany, 2021
Two new, but utterly dissimilar releases from the Crimson camp.
King Crimson
Music is our Friend: Live in Washington and Albany, 2021
Robert Fripp
Music for Quiet Moments
(Discipline Global Media)
Well, that's it, isn't it. Probably the last "new" King Crimson live album we're ever going to get, and certainly the last to be recorded in the USA. The apparent finality of recent band statements suggests that, after 53 years, the Crimson story is over… but hey, not to worry. That means there's 53 years worth of unreleased material still aching to make its way out, and that's an industry that might never die.
Recorded, as the title suggests, on the road last year - Washington at the final American halt, Albany at a Friends and Family gig a few weeks earlier - Live in… really doesn't offer too many surprises if you've done even a halfway decent job of keeping up with 21st century Crimson live discs.
The set remains built around what we might describe as the greatest hits… "Epitaph," "Starless," "Schizoid Man" - interspersed by newer numbers notable more for the ingenuity of their titles (and the strength of their delivery) than your ability to sing, or even air guitar along with them. At the same time, however, you have to admire a band that will open the show with a pastoral seven minute soundscape, and then announce their presence with a drum solo.
No, the pleasure to be taken from the … what is it, seven?… live albums that have descended over the past seven years is the fact that they exist; and that each bears sufficient differences (even if they are but minor) to allow one to wake up in the morning and say "cor, I really want to hear something from the 2014 Elements tour today." And there it is on the shelf.
This set catches the ear from the moment the MC introduces the band with his tongue planted so deep in his cheek that it's amazing nobody had their eye poked out. The sound quality, despite the "official bootleg" tag is excellent and, as for that set list… it's almost like they knew it was end, isn't it? Indeed, we're barely one-third of the way through the show before "Court of the Crimson King" rolls out with a stately beauty that hindsight is going to adore.
Different throats will develop different lumps as the album rolls by, and while this is hardly the first time that we've thought the King has said goodbye, still there's an elegiac sense to this set that will demand you take a quiet moment when it's over.
In which case, haha, Robert Fripp has exactly the box set for you. Originally released online on a weekly basis through one year of the pandemic, the 53 tracks that comprise Music for Quiet Moments are precisely that - eight CDs of the dreaming, musing instrumental passages with which Fripp entertained live audiences across five years of Soundscape tours, between 2004-2009.
As such, it has been suggested this is a prelude to the upcoming release of Fripp's Exposure box set, which the smart money reckons will be likewise bolstered by his late 1970s Frippertronics tour recordings; if so, it's one helluva generous curtain raiser. The eight discs are presented across four digipacks; the booklet is full colour and includes a page-sized image for every track; the box is as sturdy as you could risk.
As for the music, of course the title tells you all you need to know. Fripp alone, with guitars and drones, soothing (most of the time), drifting (usually), haunting (always). It would probably take another year's worth of concentrated listening to actually pick out favourite tracks from the 53 pieces; and probably a lot of patience to listen to more than one disc in a sitting. But if ambience in general and Fripp in particular (or vice versa) have a place in your life, this is a genuinely beautiful, oft-times emotional and occasionally edge-of-the-seat worthy listen; and if Exposure really does contain all we hope for, then this year's soundtrack is already sorted.