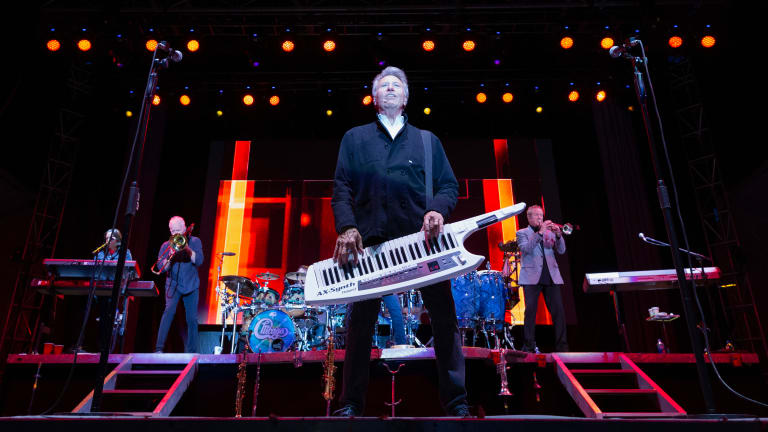 Robert Lamm on Chicago's first flip side and 38th album, along with Jim Peterik
Chicago's classic sound continues with founding member Robert Lamm writing the new album's title song and more, with Jim Peterik of The Ides of March (and formerly Survivor). Lamm also wrote many Chicago hits and the group's first flip side from 1969's debut Chicago Transit Authority.
Go to the Goldmine shop for more Chicago releases
By Warren Kurtz
In April 1970 a pair of Chicago bands debuted in the Top 40, The Ides of March with "Vehicle" followed by Chicago with "Make Me Smile," both reaching the Top 10. Now Jim Peterik of The Ides of March, formerly of Survivor and of .38 Special fame, has joined Chicago's Robert Lamm to write songs for Chicago's 38th album, including the title tune from Born for This Moment. 
GOLDMINE: Welcome to Goldmine. Going all the way back to Chicago Transit Authority, my daughter Brianna thanks you for "Does Anybody Really Know What Time it Is?" which she played the trumpet solo on during her marching band years. Let's talk about the first single from that album, "Questions 67 and 68." What does that title mean?
ROBERT LAMM: Thanks Brianna for playing our music. I was a very young man when I wrote these songs. "Questions 67 and 68" was one of the first songs that I ever composed, and it was a reference to the beginnings of falling in love but not being too sure about it. The title refers to the years when Terry Kath, Lee Loughnane and I were sharing an apartment. I began writing songs there and those were the years I was asking myself about relationships, "Is this love?" 
GM: If you flip over the 1969 single, you hear the next song from the album which is "Listen," which reaches out to the audience, "If it's good you can tell us or you can smile."
RL: Yes. That was written during a period when we were playing clubs in Southern California and other places. We weren't too sure about the reactions we were getting as we were pushing the envelope in terms of what rock bands were doing at the time. We were unsure about the reaction just as the audiences were unsure about what they were hearing. By and large the reaction was positive, but there was one gig in particular where there were several bands playing and I think we were the first band. We got on the stage and played an incredible song with great horns and Terry Kath's exciting guitar solo. We brought it to an end and there was absolutely no applause at the outdoor gig with a couple thousand people watching us. That was a period of our career where people were wondering about us.
Chicago
Fabulous Flip Side: Listen
A side: Questions 67 and 68
Billboard Hot 100 debut: August 9, 1969
Peak position: No. 71
Columbia 4-44909
GM: Just like your "Saturday in the Park" line, "I've been waiting such a long time," that is true here with me looking forward to talking with you and Jim. I remember two years ago at lunch time my wife Donna and I were in the car listening to SiriusXM and heard "Everything's Gonna Work Out Fine." She took a picture of our dashboard radio display of Robert Lamm and Jim Peterik & Friends (featuring Neil Donell) which we sent you, and that song made my Goldmine Fabulous Songs of 2020 list.
JIM PETERIK: Yes, we all remember that. Thank you and Donna. That is such a great song. Here is how Robert and I got together originally. The Ides of March opened for Chicago in New Lenox, Illinois. Mayor Baldermann, who I call the rock and roll mayor because he is actually a pretty good singer, came to my studio to sing some Survivor songs and we became fast friends. Then he hired The Ides of March to open for Chicago. We were thrilled. When we ended our set, we stuck around to see Chicago and they were incredible. Robert impressed me as the glue of the band. This was a few years ago before Neil joined, and Jason Scheff was still the tenor vocalist. Afterwards was the real payoff. I was backstage telling Robert how awesome Chicago was and he said that The Ides of March were awesome. I gave him the latest Ides of March CD at the time, Still 19, and he gave me two of his solo albums. Listening to those CDs I realized what a great quality singer he is in and out of Chicago. We vowed to write together. About two months after the New Lenox show I received a package from him with a song and there was no title for it yet. It had a really good groove. I took the raw track and added a melody and words. All of a sudden, the title "Born for This Moment" came to me because I was thinking that I have been a Chicago fan since their beginning and now after more than 30 of their albums, I am finally involved with one of my hero bands and thought I was born for this moment. I sent him a rough vocal and melody and he loved it. Over the next year we worked on that song, honed it and made the track better. Then we started writing other songs.
RL: Since the beginning of the pandemic, we would send files back and forth and Jim would say, "Send me some fresh meat," meaning, "Send me some music ideas." Jim was so fast and prolific on what I would send him. It was such fun, and we will continue to write together.
GM: "Born for This Moment" turned out so soulful. I love the bass, percussion and strings and it is such a contrast to "Crazy Idea" with the mix of funky versus and smooth bridges.
JP: Robert sent me a crazy track that was quirky and cool with a jazzy section that he didn't know what to do with. I found a way to navigate that and said, "I know this is a crazy idea." I said, "That is what we are going to call it, 'Crazy Idea.'" He said, "I love that!" This became the second song we wrote together.
GM: I think the fans who came to see Chicago and Earth, Wind & Fire in concert together will enjoy this new song.
JP: I am really proud of our work. In 1970, when "Vehicle" and "Make Me Smile" were in the Top 40, we were fighting each other to get to the Top 10. I was listening to the radio hoping to hear "Vehicle" and I heard a lot of "Make Me Smile" which is a great song and now we work together. When Robert didn't have a producer for this album I said, "I think I may just have the guy." I called up Joe Thomas. At that time Chicago was without a record deal. I told Joe, "You are not going to believe this. Would you like to sign Chicago?" He was wild about the possibility. Within 24 hours he was on the phone with Chicago's management to make an offer. It happened really quick and was a great match.
GM: Robert, you, Jim and Joe co-wrote "Our New York Time" including reprising the acoustic guitar from my all-time favorite Chicago song "Beginnings" at the start of this new recording.
RL: Joe said that he wanted to start that song with a signature guitar part. I wasn't too sure as I had a different introduction in mind, but it is a nod to our classic sound and the song is a nod to the city. My wife Joy and I met in New York, married over 30 years, and our relationship changed my life. Both of us enjoy every aspect of the culture and the melting pot of people that is New York. The access to the culture, whether it is the arts, dance, symphony, jazz and more is great. There is so much going on all the time. We miss New York when we aren't there. I don't think there is any other city like New York. Chicago has its own culture, its own history, has its own way of doing things and has its own accent when speaking English. It is its own beautiful thing.
GM: Speaking about beautiful, "For the Love" that you co-wrote with Bruce Gaitsch is so nice. I love Desislava Kondova's violin solo. She told me that she was grateful to Bruce for the opportunity, honored and glad to play on your new album and that she tried to add her soul, flavor and feelings to match the song's sentiment and style.
RL: Desi's solo is amazing. She is Bruce's friend who is based in Italy and is a wonderful violin player. Desi provided such a beautiful addition to the song, taking it to a higher level. Bruce played on Chicago's big band album and went on tour with us every once in a while. He was also in Peter Cetera's band for a long time. He and I have written together over the years, is a pleasure to be with and is a wonderful guy. I called him when I was beginning to write the songs for this album, and I learned that he had a debilitating condition where he couldn't play guitar anymore. I asked him if he had any songs that he was working on that he would like to finish. He sent me some freeform 12-string guitar playing recording and I took a piece of that, changed the key, modulated it and it became a song that made me feel like I was going back in time. I am very proud of "For the Love" and think it is among one of the best songs I have ever written. 
GM: Bruce's composition "La Isla Bonita" is one of my favorite Madonna songs, tropical in nature and speaking of that style, "The Mermaid (Sereia Do Mar)" that you co-wrote with Marco Valle takes me back to some of Herb Alpert's softer 1960s songs.
RL: Marco was one of the first bossa nova writers with "Summer Samba" being his most known work. At some point he moved to Los Angeles, trying to get his work going in America, and he and I wrote some songs together. He gave me a track and asked me to write some English lyrics. I told him that I would be happy to do it. We visited each other in Brazil and America over the years but never finished the song and I told him we needed to complete it. He told me to do whatever I wanted to with it. So, I added a bridge to it which references "Summer Samba," did a vocal and the horns did their part. It is quite an amazing song, a story about mermaids rescuing sailors who were in trouble. Marco still tours, playing regularly and has recorded dozens of albums. He is one of the original bossa nova guys who is still around and working and he is a very cool guy. 
GM: Another beautiful song is Neil's "Safer Harbours," with wonderful imagery and a theme of hopeful immigration.
RL: Yes, that is a beautiful song. We were lucky enough to have discovered Neil and have him join the band. You never know what you will get when you bring in someone new. He is a wonderful man, very well spoken and extremely talented. His vocal abilities are amazing. He has actually been helping me with my live vocals. He is a student of vocal work. He does one on one coaching with people who want to touch up their singing. We didn't know that we were also getting a songwriter who can convey such a good feeling and share an intimate style. His references are different from the rest of us, drawing on his Canadian upbringing. The way he delivers vocally is unlike any of the other tenors we have worked with over the years. He grew up in Eastern Canada. His father was a boat builder and Neil spent time learning how to build boats that went out into the Atlantic Ocean. He was part of that nautical culture, different from other band members' urban roots. 
GM: We both have mentioned our families today. James Pankow co-wrote "Make a Man Outta Me" with Keith Howland, beautifully sharing family life from a father's point of view to his son.
RL: That is a sweet song. There are a couple of songs that were started years ago when we were making Chicago's XXX album that didn't make that record and I think Jimmy and Keith are excited that this one has finally made it onto a Chicago album. They add a little feeling, music approach and taste that hasn't been around for a while.
GM: A sound that has been around throughout Chicago's releases is found on the catchy horn infused "If This Isn't Love."
RL: That is another song from a while back, maybe 10 years ago by Lee and his co-writer John Durill. Lee's work with John has always been shaped by the sound of Chicago, because Lee is such a big part of the group. I made a couple of suggestions for their demo in order to frame the song in a more modern way. I think they succeeded supremely. That song truly carries out the Chicago sound.
GM: We mentioned Chicago's XXX album earlier that Jay DeMarcus from Rascal Flatts produced when Jason was still in the band. Jay, Jason and Deen Castronovo from Journey are now part of a quintet called Generation Radio with a great debut album recently released.
RL: Jay and Jason are great writers and great musicians so I am not surprised that it would turn out well.
GM: It certainly did, and I interviewed Jay about it recently for Goldmine. Robert, in addition to Chicago's constant touring, fans will also enjoy the upcoming documentary The Last Band on Stage with a three city release this month and on demand viewing beginning September 30, about being the last band playing in the U.S. in March 2020 before the COVID lockdown began. Congratulations on the new album and documentary. Jim, your Cornerstones of Rock concert series is returning the following day in Waukegan with the groups I heard so much on oldies radio when Donna, Brianna and I lived in Chicago. There's The Ides of March, The Buckinghams, The New Colony Six and The Cryan' Shames.
JP: Plus, with The Shadows of Night's Jimy Sohns recently passing away, we are doing a tribute to him. We got the singer from The Boyzz, Dirty Dan Buck for that.
GM: Yes. Dan told me that he was honored two-fold, one to be asked to play in the Cornerstones show and moreover to pay tribute to his friend and mentor Jimy. Dan and I go back to 1978. After Meat Loaf's Bat Out of Hell album became a platinum success on his Cleveland International Records label, Steve Popovich was looking to sign more acts and Steve shared a pocketful of demo cassettes with me including The Boyzz's song "Too Wild to Tame." He had seen the band live and was so impressed with their energy that they became the first band he signed to his label. He held a Cleveland International Records showcase in Downtown Cleveland at The Agora and Dan, who was barefoot on stage, did a flip, kicked the low ceiling, and all this dirt poured down on him. He looked surprised, like the line from the Grease film that year, "That wasn't supposed to happen!" He truly became Dirty Dan Buck that night.
JP: Wow. That's so cool.
RL: It has been good speaking with you. Thank you and Goldmine.
JP: It is always great talking with you because you are so knowledgeable, such a passionate person about music and so wonderful. Thank you.
Get Chicago's latest album, Born For This Moment, in the Goldmine shop
Related Links:
Goldmine 2022 interview with Generation Radio
Fabulous Flip Sides now in its eighth year