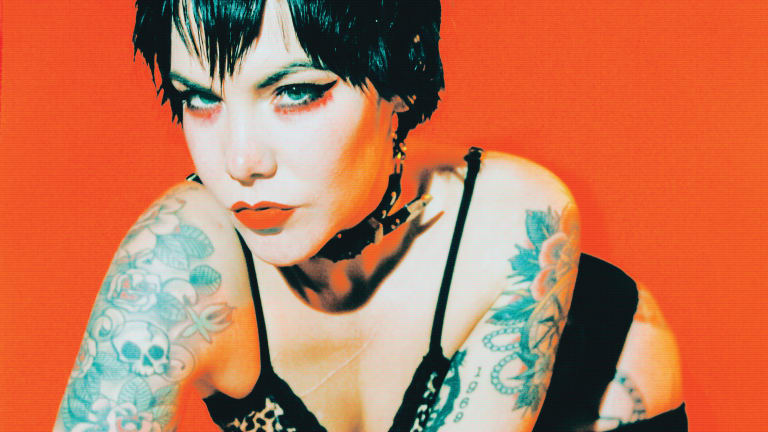 Suzi Moon shares her 'Luv' of music, new LP and hunting for ghosts
Moon sat down with Goldmine to talk about her new full-length album, what it's like to work with a great record label, the recent overseas tour, her general love of music and even ghosts.
Get punk vinyl and more in the Goldmine shop
By Alan Brostoff
Suzi Moon just might be the hardest working musician out there, and her band will release one of this year's best albums, Dumb & In Luv, on September 23, This will be the third release in less than 18 months as the band released two EPs in the past year. 
Moon sat down with Goldmine to talk about the new album, what it's like to work with a great record label, the recent tour, her love of music and even ghosts.
GOLDMINE: The first song on the new album is "Dumb & In Luv," and you named the album Dumb & In Luv, what made that name so special? 
SUZI MOON: You know, when I was putting the album together, that song, once it was written, just felt so strong to me and the title kind of encompassed everything that the record is about. It's a journey through love, whether it's the good stuff or the bad stuff. This record tells the story about me going from a dark place to a really great place in the span of about four years. You know that feeling? Love makes you so stupid, love makes you so dumb and it's not actually a negative thing. Its just about the roller coaster ride that you are on, so I really felt that just embody the spirit of the album so well. And it looked really nice written. It just felt like it was classic punk and then we spelled Love 'LUV' which is an homage to the New York Dolls because you got to say thanks and give credit where it's due.
GM: Where did the concept for the album artwork come from? 
Suzi: The visual side is such an important aspect of all this and its one of my favorite parts of being an artist. The Suzi Moon spirit lives and she can do anything; she's totally fearless. I've always been really into fashion, old Hollywood. Like with the Call the Shots EP, that was very much inspired by Bettie Page, but I was also kind of feeling like this Stiv Bators sort of energy. You know, maybe the love child of those two. The Animal EP clearly was a hat off to Michael Jackson and Thriller, just being that animal. I wanted to soften it up a little bit for this cover. I've changed a lot since the covers for the two EPs. I felt that with the first EP I had to come out very strong and almost a little bit dark. I was putting out the confidence that maybe wasn't all the way yet. I was kind of faking it till you make it. I wanted to give everybody something really striking to look at, but two years later I now feel more confident, and I like that I can sort of bear the softer side of me. A side that is just a bit more worldly. I have confidence with my fans in this relationship, so I wanted to show the sweeter side of Suzi. This concept came from an old 1940's Hollywood publicity photo for some actress. I know I can be sweet and pretty, but I'm also tough and raw. I can be a calm and loving person. There are so many sides and I wanted to show people that. Another publication told me that the new album reminded them of a bridal cover. That was not my intention, but funny now that I am engaged to our guitar player, so maybe that was subconscious.
GM: Two questions about your two EPs you've released. First, none of the songs from either of these appear on the new album, why? And second, why not release them as 7-inch. 45s? 
Suzi: That second part is a good point. I definitely thought about that. So, to answer the first part of that question, I just had a lot of songs, and it did not make any sense to me to rerelease something when it has already gotten the push from the videos and radio. Also, I had been working on the full-length before the two EPs were written and recorded. The full-length was always the vision, but there were some finishing touches to put on to get the complete package. The songs from the two EPs would not have fit into this full-length because the full-length is a collection of songs that really tell this story and the EPs kind of stand-alone. 
As far as releasing them on 45, the thing with Pirates Press Records is that the costs is the same for them to make a 12-inch as it does to make a 45, and when it comes to the art and the format and all that stuff, they suggested to go big because it's really striking. There are talks about possibly combining the two EPs and maybe throwing on one extra song and doing some sort of deluxe thing instead of just repressing them, but we're not there yet. Another reason that I wanted to release the EPs first is because I feel that a full-length record is a big commitment for new fans. There were so many people that hadn't heard my name. I thought it was better to just give them a little bite. Now they are hungry and ready to take on the 10 songs as a whole.
GM: What is it like working with Pirates Press? 
Suzi: Oh, Pirate Press Records is the best label ever. I cannot sing their praises any higher. They are such a great label and it's a small label. I get to talk to my chick at the label every day and we're texting or emailing. I really feel like a priority. With my old band, we were on Hellcat Records, which is a subsidiary of Epitaph, and while I really admire what Epitaph has done and what they have built, there are a lot of people, lots of bands and it's kind of easy to get lost in that. Pirates Press Records offers me everything that another label could offer me, and we are both building together. I work hard for them to make their job a little easier for them. I feel at home with them. They believed in me when no other labels were taking a second look. I really believe in standing by people who have been there for you so I want to make them proud and do good work that represents their label.
GM: For a lot of people this is their first introduction to you, but you have been doing this for a long time, since you were 15. 
Suzi: In punk years I think I'm 75. It's like dog years. I am really grateful for all of the experience that I got early on. It's been close to 18 years now that I've been doing live music professionally and as a career. I worked the side jobs and found a way to make a life and support myself while also doing music. I love it. But for anybody who has been like, "Wow, she is blowing up right now" — well, it's been 18 years of grinding really, really hard and non-stop. I love being part of the punk rock community. All the right elements are working right now. It's kind of like my whole life has been leading up to this. Everything is just f**king starting to click. I've got the best band I have every played with and I've got the best label I've ever been on. I'm reaching all these fans across the board, demographically. It just feels natural.
GM: The newest single on the album is "Family Memories." Tell me about your family and the support they had for you as a musician. 
Suzi: If it wasn't for my mom, I wouldn't be in music. She was right out of the gate a huge supporter of my sister, who's about five years older than me, when she started playing in a band. When I was 10, my sister had her first band; she was 15. My mom loved it. When I turned 15 my sister said, "You are ready to join the band?" My mom just loved it because my sister and I have always been close; we're a team. My mom comes to the shows. She just came to the show when we played in her city in April, and for me that's so special. She has been to hundreds of my shows. When she is in the audience, it just feels different. It's really special and I want to make her proud. I have a small family, but they are fully supportive. We are a growing group, as my sister has kids and a great husband; and I'm getting married, and we will build that side of the family. My brother, who is five years younger than me, loves that I'm in a band and we are very close. He shot the album cover for the new album. I do get teary eyed sometimes when I play that song. The first time I played it for my mom I was totally crying. I told her I wrote it for us. The felt so organic. It was time for me to put that down and really say thanks to them for being there.
GM: What did you listen to when you were growing up? 
Suzi: My music taste has been vary varied. There was a lot of Beatles playing in my house when I was a kid. I grew up in L.A., so The Beach Boys were a big part, and we had this one great classic rock and roll station that played all the oldies, and I loved that stuff. My mom gave me her record collection and she was a rock and roller in the '70s. She grew up in San Francisco and her and her friends would track down to Los Angeles to see shows. I have her Black Sabbath records, her Rolling Stones, her Eagles and her Bruce Springsteen. I love great songs, so for me it's not so much about the genre as it is about a fantastic, f**king song. When I hear "Hold the Line" by Toto, I feel it all over. That song is so f**king good. When I got a little older my sister started to introduce me to punk. I remember listening to The Cramps. In the 2000s, I was around 13, and pop punk was a big deal because of the whole Warp tour scene. That's what me and my friends were listening to. I loved the Donnas and the Hives. As I have gotten older, I don't just listen to one particular thing. Its whatever strikes me at the moment. Lately I have been going to the gym and I have been listening to Cher live 1986 in Monte Carlo. There are also newer artists I like such as Dua Lipa and there are some Lady Gaga records that I love because they are so well crafted.
GM: Do you remember where you were the first time you heard one of your songs on the radio? 
Suzi: Actually, I can remember it, but it was for Civet and our song "Son of a Bitch." It got played on KROC, which is a big alternative station in L.A. I lived in Silverlake, which is a little Bohemian sort of neighborhood and I remember coming back from rehearsal with the band and driving home and I was driving around Silverlake Reservoir. I was smoking a cigarette and driving around, it was around 11:30 pm and our song came on and I had to pull over and just sit there. This was serious because KROC was one of those stations that I listened to growing up. There were so many breaking artists and classic artists that got played on that station like Nirvana. So, it was a big moment. Now there is so much internet radio you sometimes don't get to catch these shows. I have to try and go back and listen later, but there's something different about the terrestrial radio and hearing it in real time is just really special.
GM: You are returning from your European tour. How is it different touring over in Europe from the U.S.? 
Suzi: I felt so safe over there. I have toured the U.S. so many times and I've also toured Europe a lot. You get a lot more exercise on tour in Europe because you get to the venue and then you walk around whatever little town, you're in. There are castles and cobblestone streets and little bakeries. In America you generally don't feel safe walking too far away from the venue and that's sad. So much of America is broken in that sense. You come back from Europe and wonder why everyone over here is so angry. I just came back from Europe, and everyone is just eating bread and everyone's happy. It's such a nice place. They welcome you with open arms and no one is trying to steal your shit. The fans there are really grateful because they know you traveled a long way to come there, and it's not lost on them. They're thankful that the bands make the sacrifice to get there. We played a show in the south of France and there was this fan who I had not met in person, but we connected on Instagram. He had been writing to me for a long time and telling me how he could not wait for the show. When the day came for the show, the kid brought his whole family and his cousins to the show, and he was shaking to meet us. It made my heart explode. This show was for him, and everyone was so WOW. Love and happiness and the shared energy of punk rock magic, it's so special to get to play for people who don't get to see you that often. You know, it's a lot easier for us to hop in a van and go to Ohio. To get to certain places in Europe takes a lot more planning and a lot more time, so I think those moments are just more special. It might not happen again for a long time.
GM: Were the new songs received well in Europe? 
Suzi: I think so. We played a lot of songs from the new album. The new album has not been released yet so a lot of these people are seeing us for the first time and might only know songs from our EPs. When you are playing at a festival show and you're playing to 1,500 people, maybe one quarter of them took the time to check out the band. A lot of them are just there because they're at the festival for the day. You have 45 minutes to get to know each other and win them over. At the end of every show we played, it felt like we had them. There is a difference with the audience, too. The people who know your songs are generally going to be up closer and singing along, but the ones in the back a lot of times they are kind of just watching and they don't leave. They are just kind of taking it all in. I'm perfectly OK with that because it's their first introduction to us. Many have never seen us before, but the fact that they are not on their phones and they're not leaving. If anything, the rooms get more crowded. Hopefully, next time they see us they are singing along.
GM: You are one of the most socially active musicians out there. One of the things you shared was about a paranormal experience you had in Europe. 
Suzi: It was so creepy. We were in Edinburgh, Scotland which is just a spooky place to begin with. I think it may be ghost central. I've played this club before, Bannermans and I love it. I always make a point to go back there and play there because I always have a good time. They have a band loft above the venue that they let touring bands stay. That is so helpful to bands so we asked them if we could stay an extra day so we could sightsee in Edinburgh. We decided to do a couple of ghost tours because it's such an interesting way to learn the history of a place, but also I love spooky stuff, so it caters to all of the things I like. I suggested to the guys that we take a nighttime one that takes you down below into these labyrinths. Edinburgh was built way down in the ground, and they built stuff on limestone and then ended up not being able to use it for storage because it got super damp and really nasty. So, they abandoned it and vagrants moved in. It became this type of black market where they sold drugs of all kinds, child slavery, prostitution, some really bad shit. When we started on the tour we started in one area of the city center and started walking. It appeared we were heading back toward Bannermans. We walked past the venue and went into a loft that was right next to our venue. We could not believe that the tour started right next to our loft, on the other side of the wall. They take us into this room full of medieval torture devices and the wall of that room shares the same wall where we have been staying. We had people tell us that our space is super f**king haunted. The promoter told us that bands have left in the middle of the night and waited until the morning to come back and get their gear. The tour guide confirmed with us that all of the torture devices had actually been used at some point and all I could think about is that we are sleeping on the other side. Ever since I was a kid, I've seen plenty of ghosts. With touring we go into a lot of old buildings, and I've always had this special feel for the paranormal, but I found out that our bass player, Patty, also got some energy that feels things. So, the guide takes us into these vaults and Patty is starting to not look good. He's very sullen and kind of crouched down and sweaty. I had this feeling that something was up, so I took out my camera and started to take pictures. The we went into this supper spooky vault and tour guide tells us that the room we are going into is full of banished bad spirits and that people have stepped into it and reported having years of bad luck. So, this one kid decided that he was going to go in and I decided that I would just start snapping pictures. Go into a final room and Patty is not looking good and he decides to leave, and I go with him. We go back to the room, and he's really shook, and I sit down with him and tells me that something was messing with him. There was a time when the tour guide told us about this one sprit that tries to take people's hands and lead them away, like a lonely ghost child who has lost their mother. I was walking around the room telling the spirits to stay away from us. The next day we left Edinburgh, and we had a three-and half-hour drive to Blackpool to get to Rebellion Festival and I start looking through my phone at the photos. I started to play with the brightness on them because they were really dark, and I did not use a flash. On one of the photos there was somebody that was very small standing there looking out of place in old clothing. I started showing it to all the guys and telling them I think I captured a ghost on camera. There was no one in our group tour that was dressed like that, and kids were not allowed on the tour. So, I had to put it up there on social media and share it with the world. Maybe I could start an Instagram series where we hunt for ghosts on tour.
GM: Maybe the title of your next album can be Ghost Stories? Your new album though is amazing, especially the song "Money." What's your favorite song on the album?
Suzi: It makes me so happy to hear that you like "Money." That's really a special one for me. I love playing that song live. It's one of my favorite songs and I'm really pleased with how the recording came out. It's really hard to say which one is my favorite because I worked so hard on those songs. "I Go Blind" is special because it one of the oldest tracks on the record. I wrote that song a good six years ago and had tried doing it with The Turbulent Hearts and it wasn't sounding right. The song needed to marinate a little longer for me. What a relief to finally have that song recorded and heard by people and it sounds the way I wanted it to sound.
GM: I know that there are three different variants on the vinyl release, a pink and black splatter (all sold out). Is it important to you to offer the different variants? 
Suzi: Yeah, well I definitely had something to do with the color variance. The original vision for the record was for the hot pink to be the limited variant. I got to call the shots on the first two EP's. Skippy, the owner of Pirates Press Records, it was his idea to do the pink and black splatter and I f**king hate splatter. It doesn't click in my brain as something that is beautiful. It's not something that I would have picked. Skippy knows what his customers like and it sold out and sold out fast. I'll be the first one to admit I was totally wrong. That's cool because it's not all about me. I am happy collectors like it. I'm more of a vintage vinyl kind of collector and I don't actually buy a lot of new vinyl unless it's from a band that I'm crazy about.
GM: Tell me about your record collection. 
Suzi: Back when I was playing in Los Angeles, I used to go by the name DJ Mom vinyl, because most of my collection came from my mom. It was all of the stuff that she gave me. Lately I have been trying to add more classic punk records to my collection. Drew got me Devo for my last birthday, but I need to get some Sex Pistols and Buzzcocks. Lots of stuff that I like on Spotify but I need vinyl versions of these things. I would like to get the first Ramones record. I have the Toto record and that gets played a lot. I also have Cheap Trick and Suzi Quatro. Against Me is my favorite modern punk band, so I like to collect their stuff, and of course the Eagles.
GM: Any record that you have been searching for that maybe one of our readers might find for you?
Suzi: I have every David Bowie record which is important. Shit, I mean what girl doesn't want that early pressing of Never Mind the Bullocks. I would love a copy of Aretha Franklin's I Never Loved a Man (The Way I Love You). That cover art, it's like a soft lavender kind of pink. You know, she just looks like a cereal box and I would listen to that record a lot.
GM: Any record stores you like to visit: 
Suzi: In D.C., it's Smash Records. I'm still kind of new to the East Coast. We moved out here during the pandemic and I have not been able to get to see the city much. Smash Records is so cool. They even carry my records. I've bought some cool T-shirts and stickers and seven inches from them.
Stay tuned for further adventures of Suzi Moon as we will be taking the whole band record shopping in the near future.