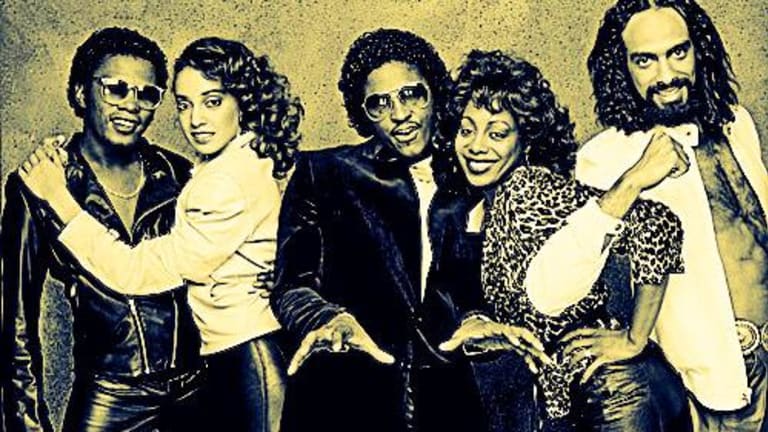 Ten '80s R&B albums worthy of rebirth into the vinyl revival
Soulful, funky, and fantastic – these circa 1980's R&B gems are more than deserving of a vinyl record reissue and more!
Every decade seems to have some musical-movement or musical sub-culture in which that decade can be best described or remembered by.  When I think about the '40s I immediately think about the earliest of Pop Vocal crooners who paved the way for the wave of Pop and Jazz vocalists ultimately giving coin to the term "Standards", as well as the inundation of Jazz in the form of the Big Band sound.  As the '50s moved in, it birthed the first incarnations of the sound and the term "Rock 'n Roll".  The '60s would monumentally give way to the first British Invasion; a musical movement that was most noted by the crossing-of-the-pond by The Beatles, and many other "Union Jack'ers" to follow.  As the '70s appeared, it would become the decade of "one hit wonders" and Disco.  The '80s gave us New Wave and the birth of Rap music into the mainstream, (and of course MTV).  The '90s was Grunge and New Jack Swing, and the 2000's would torture us with Auto-tuned vocals… everything became a bit muddled up after that.
But while New Wave & Post Punk (recognized as the Second British Invasion) and the mainstreaming of Rap music gave identity to the '80s, and was a great influence to me in my youth, there was one genre of music that was overtly prevalent (especially throughout the early and mid-decade) which really became a staple in my musical rotation and defined a great part of my curation as a 'kid collector'.  As a youth in the '80s, I tended to hang around a much older crowd within my neighborhood circle of friends.  Most of those guys were the older brothers of the friends I hung around who were my age, and some were just older neighborhood boys that everybody knew.  'DJing', at that time, was in its earlier-stages of popularity, and there was one guy in the neighborhood – Matthew Chance (who went by "DJ Chance") – who was known for finding, curating, and spinning records that no one was privy to at the time.  We were in North Los Angeles (Ventura, Co.), but he would venture deeper into metro L.A., to obscure independent record stores, and bring back records (LPs and 12-inch singles) that would always segue to us spending hours listening to these rare finds, at his home, in his bedroom. It is there that I fell deep into some of the best R&B/Dance [late Disco] & Electro-Funk music that; in my opinion, is some of the best music from the '80s ever recorded, and put onto a vinyl record or cassette tape.

Now, as an adult music collector and a career-long Music Industry professional, with years of experience, and with being a witness to the reissuing and remastering of everything imaginable, available at our beck & call, I'd begun to notice a void regarding this genre and style of music when it came to new [reissued] vinyl pressings.  It was evidently not much, if any, attention from the major recording companies or the independent 'reissue labels', and was flying under the radar in regards to being slotted for vinyl record reissuing, or even better – a full remaster.  And so, it is my goal and pleasure to bring to light, 10 R&B / Dance albums from the 1980's (mostly from the earlier part of the decade), which exemplify every musical characteristic, that would warrant the effort of re-releasing these albums on vinyl, as a modern-day reissue.  I will also include web-links to song samples from each album, and current pricing averages (at Very Good Plus to Near Mint range of condition) for each record on the list, just in case you'd be interested in seeking out an original pressing for yourself.  And if you are a record label whose focus it is to cultivate ideas for new reissue/remaster projects, believe me, your condieration of any of these, will not disappoint.
~~~~
Dynasty – Adventures in the Land of Music – (1980, SOLAR Records) While 1979 was the year Solar Records released Dynasty's debut recording project, it was this sophomore effort which was their first release of the new decade.  Why is this significant?  Because it makes it possible for me to include the most impressive album ever put out by the band, in this article.  Growing up listening to this album because my father had it on constant rotation, brings back more than fond memories.  The record was produced by the group's founder; none other than fellow band mate and former member of 'The Sylvers', the illustrious Leon Sylvers III (who I've recently featured in an article previous to this one).  It would go on, and prove to be their most notable and most revered album project out of their 6 studio LPs in roughly a ten year period.  Though the record label released several single tracks from this LP in various A-Side/B-Side configurations, including the album's first single – "Groove Control", the bright & shining stand out single was "I've Just Begun to Love You", which was released by the label as its own single, and as a B-Side offering for the single "Do Me Right".  I am almost positive that if Mr. Dick Griffey was still with us he'd have already reissued this gem. 
❑Catalog#: BXL1-3576 (U.S. release)       ❑ $20.00 - $50.00 USD
.
Central Line – Breaking Point – (1981, Mercury Records) This British R&B ensemble from the UK did very well to make their presence known here in The States.  Starting off with a bang early on, they would debut in 1981 with their album Breaking Point, and gain attention and accolades from American Soul radio and the club scene almost immediately. The group ended up releasing two studio albums within a 2 year period, and several single releases between the two LPs throughout the early '80s, but it was their most impactful single – "Walking Into Sunshine" – from this debut album, that really provided for them to soar as high as they did on this side of 'the pond'.  It was even used as a sample in the remix version of the song "Jingling Baby" by the rapper LL Cool J, about a decade later. As a bonus, production on this release was under the reins of Roy Carter from the band Heatwave, who was no stranger to making hit records. Their sophomore effort did very well with the UK-based hit "Nature Boy", but the album and single did not fare nearly as well as this iconic debut.
❑Catalog#: SRM-1-4033 (U.S. Release)          ❑ $30.00 - $50.00 USD
.
Change – Miracles – (1981, RFC Records /Atlantic) This album is so polished.  It is so cohesive, so sharp, so meticulous… so polished.  Its preciseness is reminiscent of the albums by the band CHIC a half of a decade before, yet you can hear the '80s having started to creep in.  Change, was essentially an Italian based Soul/R&B ensemble made up of mostly American musicians and vocalists (which at this point even included Luther Vandross. The band was conceived, founded, and produced by Jacques Fred Petrus – a French producer working in the in the Italian recording industry.  Miracles is the sophomore studio release from this group, who is still actively making records today (well, at least a variation of the group is still active).  This album resounds perfection. Sometimes it feels like it's almost too perfect, which is not a bad problem to have. The two singles that gave the album most of its impact is the beautifully written and performed ballad "Stop for Love", and the dance powerhouse "Paradise" which has a bass-line that will blow you away.  A reissue of this record would definitely suffice, because I can't see any attempts for a remastered version beating this original – it's so good. 
❑Catalog#: SD 19301 (U.S. release)          ❑ 20.00 - $40.00 USD
.
D Train – You're the One for Me – (1982, Prelude Records) This early '80s delicacy from the New York based Prelude Records label is as quintessentially '80s as Wham!'s "Wake Me Up Before You Go Go", just without the day-glow.  In fact, the single from this duo's debut studio effort – [the title track] "You're the One for Me" – is so iconic that one could say it almost defines the '80s R&B Electro Dance sub-genre. The second single "Trying to Get Over" was no slouch either (not to mention, also, an amazing cover version of "Walk On By").  Produced by one half of the duo – Hubert Eaves III – and mastered by the illustrious Herb Powers, Jr., the album in totality is just one funky R&B rollercoaster, period.  I pray for a near future remaster/reissue. 
❑Catalog#: PRL 14105 (U.S. release)          ❑ $30.00 - $40.00 USD
.
Howard Johnson – Keepin' Love New – (1982, A&M Records) Produced predominantly by legendary Soul–R&B producer, writer, arranger and multi-instrumentalist, Kashif; this debut studio release by the artist is easily one of my highest recommendations from this list. While virtually every track on 1982's Keepin' Love New is a trigger for my '80s R&B sweet tooth, it is the two absolutely unadulterated well-known singles – "Jam Song", and [even more so] "So Fine" – that gives this album absolute 'iconic' status. "So Fine" has become a staple with a multitude of music fans who've coined this era of music "Old School".  Howard's vocals and delivery are unique and unmistakable.  Somebody please put out a 180 gram remastered version of this record – it deserves it. (Side note: "Jam Song" was written by Freddie Jackson, who would go on to rerecord the song [as "Jam Tonight"] and perform it 4 years later.  In my honest assessment, Howard's version is more up beat, and better).
❑Catalog#: SP-4895 (U.S. release)          ❑ $20.00 - $40.00 USD
.
Stacye Branché – Flash – (1983, Bouvier Records) With mid-tempo funky R&B dance tracks and well executed ballads filled with lush string arrangements, this 7 track, early mid '80s R&B/Dance offering is 36 minutes of well-balanced listening. The album was produced by J. James Jarrett and mastered by Gene Thompson at Capitol Mastering. "Precious and Special" (released on 7-inch 45rpm & 12-inch 33 ⅓ rpm vinyl) was the only single release from the Flash LP, but it was perfectly constructed and executed.  Similarly, this was the only album project that the artist released on Bouvier, and throughout the '80s in total.  3 more studio releases came from the artist much later, with 2002's I Believe, 2004's For the Man I Love, and 2009's The Evolution to Living in Truth (with a deluxe edition re-release in 2012).  Today the artist is a Motion Picture Industry professional and a several-times-published author, having written books which focus on love & relationships. We're patiently awaiting another album from Ms. Branché, but until then, let's hope Flash gets to see a present day rebirth at the pressing plants.
❑Catalog#: BO-0303-2 (U.S. release)           ❑ $25.00 - $40.00 USD
.
High Fashion – Make Up Your Mind – (1983, Capitol Records) While the group's 1982 Capitol Records debut LP – Feelin' Lucky – has received a recent domestic (U.S.) vinyl reissue from the original host label itself, the sophomore studio effort – Make Up Your Mind – has not.  Ironically, the consensus between fans of the group and followers of the genre, is that the latter is the better album. The group originally contained Meli'sa Morgan, who left the trio in 1983 for a successful solo recording career, and did not end up appearing on this sophomore release. This LP contained the single "Break Up" – with iconic riffs and accompaniment that define the early '80s R&B genre to the tee. With Eric McClinton's smooth yet powerful lead vocals thrusting through every song, it was a no-brainer including this album on the list.
❑Catalog#: ST-12287 (U.S. release)          ❑ $60.00 - $75.00 USD
.
The Cool Notes – Have a Good Forever – (1985, Abstract Dance) Venturing back to the UK – The Cool Notes didn't start out with a style of sound that would have landed them onto this top-ten musical exposé.  In fact, their debut release; though well produced, was a bit more heavily Reggae & Pop infused.  However, their sophomore effort – Have a Good Forever – drastically changed direction after a record label shift and, this time, being self-produced by the band.  The difference in writing and production between the two are like night and day.  Though the album was never officially released in the U.S., it found its way over as an 'import' and was no stranger to American fans.  It is a crisp & clean, extremely great sounding record. There are virtually no mediocre songs on this album. The singles "You're Never Too Young" and "Spend the Night" are strong and deserving of single status without a doubt, but can easily be overshadowed by album tracks such as "Look What You've Done to Me" and "My Love is Hot"… that's how flippin' good this album is.
❑Catalog#: AD LP1 / ADLP1 (UK release)          ❑ $35.00 - $70.00 USD
.
René & Angela – Street Called Desire – (1985, Mercury Records) Even though there were three very well produced and successful LP releases previously (all put out through Capitol Records), which had accomplished finding the group a loyal and serious following, it was the duo's final album – 1985's Street Called Desire – that really raised the ears of current and new fans, and gave them their biggest hit.  With a new recording deal on a new label [Mercury], many of the 'heavier-hitters' that supported the group on their previous releases (e.g., Jeff Porcaro, Louis Johnson, Ian Underwood, Jeff Lorber) were not to be found playing on this final LP.  That didn't stop the group from creating their most memorable full length recording.  With René Moore's amazing production and keyboard work, as well as Angela Winbush's smooth-as-butter powerhouse vocals, the album would give way to "I'll Be Good" – their most memorable single in the group's discography, reaching No. 4 on the U.S. R&B charts.  It really surprises me that out of all their releases, this one still hasn't received 'new life' via a 'new millennium' reissue.
❑Catalog#: 422-824 607-1 M-1 / 824 607-1 M-1 (U.S. release)          ❑ 15.00 - $25.00 USD
.
The Family – The Family – (1985, Paisley Park / Warner Bros.) Being the group's only full-length recorded work [as 'The Family'], it's become iconic for many reasons. The band was put together by the very mysterious musical genius, Prince.  It was assembled by putting together three former members of The Time, as well as Eric Leeds (ex-member of Sheila E.'s band), and singer Susannah Melvoin (sister to Wendy Melvoin, from Prince's band – The Revolution).  The album is fingerprinted all over the place with quintessential 'Prince', mixed with slight sonic remnants of The Time, and clearly resonates the 'Minneapolis Sound'.  It is a very good album (especially if you are into anything "Prince" related).  And while it may not be my favorite on this list, it definitely ranks high.  What makes it iconic is that it contains the original released version of the song "Nothing Compares 2 U", which was initially written for Prince to record for his own performance.  And though it was recorded by Prince first, it was never released on an album until recorded and performed by The Family.  Ultimately, it was made even more popular some years later, when it was recorded and performed by Sinéad O'Connor, on her sophomore album, and released as a single (circa 1990).  Lastly, putting aside the band's great musical ability, and if just for the 'iconic status' of the album alone, I truly feel that this record is well deserving of being revived, and pressed onto a brand new piece of shiny black wax.  (Side note: members of The Family reformed in 2011 as fDeluxe, and have released some fantastic full length projects, since).
❑Catalog#: 9 25322-1 / 1-25322 (U.S. release)          ❑ 12.00 - $20.00 USD
⌘
*(All catalog & pricing information, and album imagery via Discogs.com) 
Contact TONE Scott at GoldmineMagazine@GoldmineMag.com. Please put The TONE of Soul in the subject line.