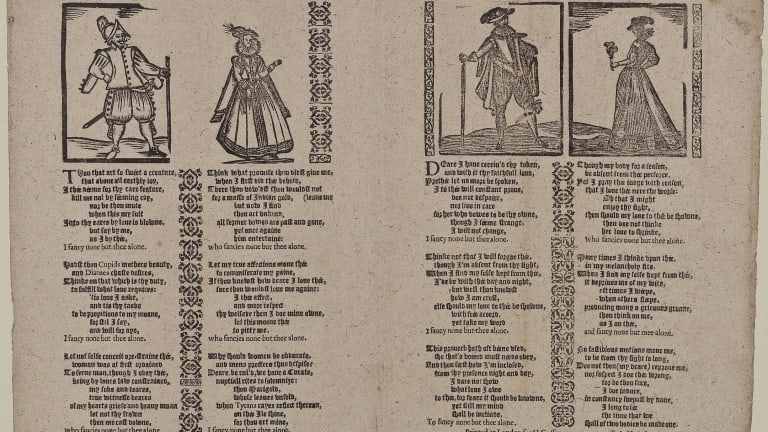 The Fate of Folk: Tradition in an Age of Turmoil - Reviews and Ruminations on Richard Thompson, Jay Tausig, Roller State Zero and more.
by Dave Thompson
It's never easy to determine whether or not there's a folk revival happening in modern music, simply because folk never really goes away. Rather, it's a constant background noise behind whatever else is going on, its volume occasionally rising as this performer or that recording takes a central stage for a while, and then sinking back down again, an ineffable hum that underpins most of what we listen to today.
Part of the problem, of course, lies in delineating exactly what folk music is. Back in the early days of the rock era, the mid-late 1950s, it was easy - folk singers sang folk songs.
By the time of the folk boom of the early sixties, that had shifted. Joan Baez was already a renowned interpreter of traditional songs when she introduced Bob Dylan to her world, but Dylan sang folk songs that he wrote himself, and only the hardcore objected to that. Everyone else rushed to his banner and, in his wake, an army of similarly self-sufficient bards, a litany that ran from Phil Ochs to Tom Rush to Paul Simon and beyond.
The Byrds invented folk rock by electrifying Dylan; Judy Collins helped introduce Leonard Cohen to the world; even the singer-songwriter fad of the early 1970, as spearheaded by James Taylor, Jackson Browne, Cat Stevens et al, never shook off the suspicion that it was simply a new wave of folkies singing songs about themselves.
The likes of Al Stewart, the Strawbs and Ralph McTell became British folk superstars without once sticking a finger in their ear and getting an Arran cardigan for Christmas. Billy Bragg emerged out of British punk, but he was a folkie at heart The Americana/roots movement of the eighties and nineties was effectively folk rock with attitude, and by the time we reach the 21st century, folk embraced everything from the Carolina Chocolate Drops to Current 93.
And then there's Richard Thompson who is, arguably, both the archetypal modern folk troubadour and, were you to listen to great swathes of his catalog without knowing who it was, one of the last people you would ever tar with that brush.
Thompson's autobiography Beeswing (Algonquin Books) has just been published, a retelling of his first twenty-six years on earth. And, if you overlook the fact that it seriously loses interest in itself about fifty pages from the end, it's one of the century's most entertaining music reads.
The sheer momentum of events plays a major role in that, but it's Thompson's natural modesty that acts as the propellant behind both the text and his career. It's the thing which happen that interest him, far more than the things he does; you could get the feeling, in places, that if he could have written a memoir with no "me" in it whatsoever, he'd have been just as happy. He might even have kept it going beyond the book's putative cut-off point of 1975.
He was, after all, a key force within one of the stand-out acts of the British psychedelic era. Fairport Convention, the band he co-formed as a teenager, shared both stages and audiences with all the heavy hitters of the age, from Pink Floyd to Jimi Hendrix, from the Crazy World of Arthur Brown to… whoever. Today, Fairport are routinely described as… of course….a folk band, and that is the mantel they, too, have chosen to wear.
But listen back to their first three albums - the self-titled debut, and the first two albums with incoming vocalist Sandy Denny (who was a giant in the folk clubs of the day), and they, like their late sixties contemporaries, are skipping all over the place. It was only with their fourth album, 1969's Liege and Lief, that they truly grasped the folk nettle - prior to that, even the extended electric work-out that they had given the traditional "A Sailor's Life" was no more than one more currant in their musical bun.
And in Thompson's own eyes, that's all it was. His own musical background was in early rock'n'roll, while his songwriting influences tend to waver more towards old-time music hall than older-times balladeering.
Yes, his "Meet on the Ledge" is now regarded as a folk rock classic. At the time he wrote it, though, it was no more folk than "Excerpt from a Teenage Opera" or :Strawberry Fields Forever." Yes, Fairport enjoyed covering Bob Dylan songs, but so did Manfred Mann and the Brian Auger Trinity. And yes, Denny's "Who Knows Where the Time Goes" is another folk classic, but it was only ever a hold over from her days on the folk circuit.
Let us also not forget that three of the watershed Liege and Lief's eight songs were either Thompson or Denny compositions that, at best, pastiched the original form; while their treatment of what are now the album's best-known numbers, the traditional "Matty Groves" and "Tam Lin," rocks far harder than it folks.
Thompson himself makes all this - and more - very clear, while painting Fairport itself as less a band of roving minstrels than weary road warriors playing the same venues, eating at the same cafes and hanging at the same clubs as the rest of the psych scene. Liege and Lief itself was widely viewed within the band as a one-off concept - which is why bandmate Ashley Hutchings departed in its wake, because he disagreed with the consensus. Denny, too, was out, but that - for reasons Thompson reveals for the first time - was for other reasons entirely.
Thompson's honesty and eye for detail throughout the book is remarkable. He admits there are areas within that he would rather not have revisited, most notably the road accident that took the lives of drummer Martin Lamble and Thompson's girlfriend Jeanie. But he takes us there regardless, and you can still see the scars in the songs that followed, first as Fairport regrouped without Denny and Hutchings (the Full House album); then in his restless drifting as a session man; and finally, across his solo career.
The lone Thompson debuted with this solo Henry the Human Fly LP, but it was its successor I Want to See the Bright Lights Tonight, recorded with and co-credited to wife Linda Thompson, that truly launched him.
 Unquestionably, the folk album of its age, it is home not only to the raucous title track and the epic "Calvary Cross," but also "The Great Valerio," single-mindedly evidence of Richard's status among the greatest songwriters of his age... and Linda's among the most exquisitely expressive and - as she hits the song's final verse - utterly heartbreaking vocalists of her century.
Thereafter, though… Bright Lights (1974) is effectively where Beeswing ends. His coverage of the following Hokey Pokey and Pour Down Like Silver is perfunctory at best; he really doesn't seem engaged with the pages that discuss his conversion to Islam; and despite the book's 1975 cut-off, he then continues on until 1982, scantily musing over this and that, before finally laying his pen down with the break-up of his marriage. A handful of song lyrics and, oddly, a bunch of retold dreams complete the book, and while the former are great if you don't already know the words to "Sloth" and "Meet on the Ledge," the dreams are as interesting as other people's dreams usually are.
Where the book shines brightest, then, is in outlining Thompson's own love of music for music's sake, and if he is at least partially responsible for the state of modern folk rock, it's an honor that he doesn't seem to take too seriously. Which is good news for anybody who picked up on his career in the 1980s, say, and wouldn't know Fairport from a hole in the wall… but bad news, perhaps, for the armies of folkies who have taken the stage armed only with their word-and-arrangement perfect renditions of the folk songs that Fairport popularized.
That, after all, is the big problem with modern folk… and now we are talking strictly about the survival of old ballads into the present day. For the first however many hundreds of years that these songs existed, they changed with every singing. No two performers performed them the same way; few even sang the same lyrics as another.
There's a fascinating chapter in Yale University Press's 1929 opus British Ballads from Maine (by Phillips Barry, Fannie Hardy Eckstorm and Mary Winslow Smyth), discussing traditional airs that almost certainly traveled to the new world with successive waves of British emigrants, but which had subsequently vanished from the repertoire - only to be discovered hiding in plain sight by merging into another, surviving, ballad altogether.
That is how folk songs worked; it's how they evolved and remained pertinent to listeners for so long. At least into the 1970s, song collectors were still marching out into the rural wilds of America and Britain in search of old timers who knew the old songs, effectively bridging a timespan that rolled back four, five hundred years.
It was these recordings, as much as any of the old printed collections of ballads (Professor FJ Child's so-called Child Ballads is the best known) that gave a new generation of singers their "in" to the words and melodies of the folk tradition, and for most of the century, the status quo held.
Songs still shifted, lyrics still changed, melodies still moved from ballad to ballad. There's a Wikipedia page that lists no less than thirty Bob Dylan lyrics that were applied to older tunes, including "A Hard Rain's A Gonna Fall" ("Lord Randall"), "Ballad of Hollis Brown" ("Pretty Polly") and "Girl from the North Country" ("The Elfin Knight"). Richard Thompson admits that he borrowed the melody to "Farewell Farewell" from that traditionally applied to "Willie O'Winsbury."
But then things started to change, and it would be unfair to lay the blame wholly at Fairport's door. Three years earlier, Simon & Garfunkel released their own take on "The Elfin Knight," in the guise of one of its variant versions, "Scarborough Fair." And suddenly, that was more or less the only version of that ballad you ever heard. The only lyrics that were ever sung. The only etcetera etcetera.
Fairport's singular interpretations of "Matty Groves" and "Tam Lin" met a similar fate. So, in the years that followed, did ballads brought to wider attention by Pentangle, Martin Carthy, Steeleye Span and others. Until, by the early 1990s, it waspossible to spend a night at a folk club and not hear a single traditional folk song that was not rendered in identical fashion to those you had at home.
This is not a bad thing. The latest album by San Francisco based prog veteran Jay Tausig, Ancient Roots, Modern Branches (Bandcamp) includes thirteen familiar folk standards, "Matty Groves" among them, and Tausig readily admits learning his versions from those that went before. "Matty Groves" itself, he says, "has been done many many times before, but the first version I ever heard was Fairport Convention's take on it," and he scarcely deviates from that band's lyric, even as he eschews the instrumental work-out that concludes their version.
Likewise his interest in "The House Carpenter," a song that both Baez and Dylan investigated, was drawn from his love of Pentangle: "I'm really into Pentangle. Really into them. All brilliant musicians and the combination of all their different styles meshed together formed a very unique and magical group. [Guitarists] Bert Jansch and John Renbourne were big influences to begin with, but with there being two of them on the Pentangle tunes it always seemed prohibitive to learn much [of their repertoire]."
It was an invitation to play a St Patrick's Day show about seven years ago that changed his mind. "I began to learn guitar parts that would make sense for me, [and] started recording some Pentangle songs with the intention to perform them for the gig. I guess that's where it all began for this album. But it certainly didn't stop at Pentangle. There was more digging to do if I was going to fill three hours!"
Again, Tausig's interpretations are rooted very much in what went before.Verdant Braes of Skreen" was taken from the only recorded version he could find, by John Renbourne (from the Ship Of Fools album - "which is amazing overall"); "From Sandwood Down to Kyle," too, was first encountered in the Renbourne canon.
"I would choose the tunes based on my ability to play and sing it live. But I'm very thorough, so I learned about forty songs very quickly and began 'rehearsing' and anything that felt ready, I would record it for reference to listen to later and decide if it's right for me."
It is from this cache that Ancient Roots, Modern Branches was drawn, and Tausig tantalizes with the revelation that the thirteen songs here are merely the top of the iceberg. Altogether, he says, "I recorded about thirty-seven songs, [among them] at least three or four that were new to me, that could have been included here. But they were slow, and too long (over ten minutes)."
As if that is a drawback!!!!!
Tausig's interpretations stick resolutely to what are probably the most familiar versions of the repertoire and there's a good reason for that. It's that is what his audience demanded, and that is a crucial point.
In an age before mass communication, traditional ballads certainly shifted according to a variety of causes - the performer's political beliefs and the big news stories of the day among them. They might take on a regional flavor, perhaps renaming characters in the song for local personages, or inserting the names of neighborhood landmarks. A rendering familiar to listeners in one town might be Double Dutch to listeners in the next one.
But that was then. It is quite likely that more people in more places heard Simon & Garfunkel's version of "Scarborough Fair" than had ever heard "The Elfin Knight" in all its previous variants and incarnations. Likewise certain numbers by Collins, Dylan and Baez, likewise Steeleye and Pentangle. It is not the act of recording a song that renders it "definitive," it is the number of people who hear it, and who thus become so familiar with one particular version of a song that they aren't especially interested in hearing another. A point proven in 2013, when Anaïs Mitchell and Jefferson Hamer released Child Ballads, a seven track album drawn from the books of the same nickname.
Included among them was a delicious take on "Tam Lin," radically shifting the focus of the ballad away from its well-known supernatural elements to the more likely-overlooked nature of the relationship between the song's human protagonists.
In historical terms, it was scarcely a revolutionary move. The Child Ballads themselves are littered with similar instances. But those books were published almost 150 years ago. In the modern world, Mitchell and Hamer were loudly criticized for having the temerity to mess with tradition. No matter that Professor Child himself would have thrown a party in their honor. The 21st century folk world was outraged. And thus does the process become ever more entrenched, with only the furthest extremes of what we regard as the folk scene truly permitted to mess with the masters.
David Tibet's Current 93, rising out of the experimental/industrial scene of the early 1980s to blueprint what is now referred to as "Wyrd Folk" have likewise tackled "Tam Lin," a 1994 single that rendered it scarcely recognisable to the average Fairport follower. He even changes the heroine's name!
More recently, familiar ballads have been taken to even similar extremes by the likes of the English Experimental Ensemble and the Hare & the Moon, even as the Unthanks, the Owl Service and Ellie Bryan have recorded relatively faithful, if breathtakingly rearranged, interpretations.
Folk music should not sit still, should not be nailed to the standards it upheld in some distant, and possibly mythic age - that, after all, was one of the fires that were lit beneath the folk boom of the early sixties, and has continued to blaze since then. Bob Dylan, Richard Thompson and Billy Bragg may not have devoted their careers to recording traditional folk, but they wrote in the folk tradition, and did so with seamless skill.
It would be as easy to "mistake" "Blowing in the Wind," "the New Saint George" and "Between the Wars" for ancient compositions, as it was to hear Led Zeppelin perform "The Maid Freed from the Gallows" and believe the sleeve's insistence that it was a fresh Zep original. Crediting a song "traditional," after all, is a convention, not an obligation, although one still smiles at the memory of a Zep-loving schoolfriend trying to explain how Bob Dylan recorded a Zeppelin cover seven years before the band members even met ("In My Time of Dying").
Contrarily, nobody is likely to mistake Roller State Zero's just-released "May Day (As Witches Weave their Maypoles Mix)" single for something conjured in the sixteenth century. An electronic side project of the long-running Rowan Amber Mill, it's an exhilarating dance number that falls somewhere between Cerrone's "Supernature" and a retro cop show soundtrack, and the sole lyric appears to be a whispered refrain of "witches."
But it falls into the wyrd folk milieu by virtue yes, of its title and its makers' reputation, and even on a mix tape alongside, say, wildly esoteric recent offerings from Ashoreth & Grey Malkin, Polly Paulusma and Widow's Weeds, it stands out not so much as a new direction, but an entire new frontier - a post-apocalyptic hedonism that dispenses even with lyric in favor of invocation, before throwing itself into a joyous, swirling throng.
All of which is a long way from Fairport Convention digging around in the vaults of Cecil Sharp House, in search of old manuscripts of traditional songs they might record on their upcoming fourth album. But it is a consequence nevertheless, and one that we should be swift to celebrate.
Because it means that folk music, however one wishes to swallow the pill, is still alive and well and pushing forward, still carving a path through the modern mainstream that is uniquely distinct from any other form. And reading Richard Thompson's book, while listening to Tausig's album, Roller State's single, and a wealth of other names in between, is an unimpeachable reminder of why that is important.
Dave Thompson is author of the forthcoming book An Evolving Tradition: The Child Ballads in Modern Folk and Rock.