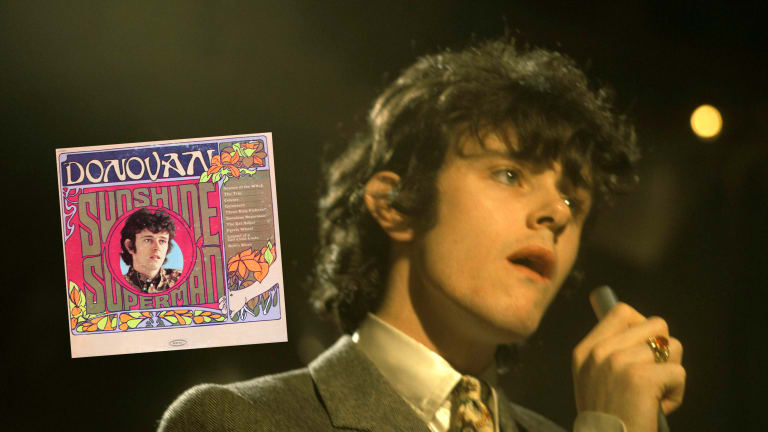 The Search For Vinyl Gold: A Donovan album that should not be overlooked
In this month's Search For Vinyl Gold column, we reappraise a classic album, Donovan's "Sunshine Superman" (1966).
By Joe Matera
By the time Scottish singer-songwriter Donovan Leitch had come to begin the sessions for what became his third album Sunshine Superman, the bohemian minstrel was already leaving behind his Dylan-esque acoustic folk for a more pop oriented and experimental approach that finally surfaced on Sunshine Superman. Adopting the blossoming flower power of the times and adding exotic instruments to the mix, Donovan inadvertently ushered in the psychedelic era. Set against a backdrop of the Vietnam War, civil unrest and a society that was meditating on a 'turn on, tune in, drop out' mantra, Sunshine Superman became the forerunner of what was to come, with Donovan unceremoniously positioned as its chief sonic architect.
Having worked with the production trio of Peter Eden, Geoff Stephens and Terry Kennedy whom produced his first two albums, for Sunshine Superman Donovan decided to team up with hit making English producer Mickie Most and arranger John Cameron. At the same time, Donovan also signed a new recording deal with Epic Records in the U.S. "I rated Mickie Most up there with George Martin and Phil Spector as the greatest producers of all time" Donovan told me in an interview I conducted with him in 2010 on his choice of Most as producer, "He brought a pop sensibility that was extraordinary and was one, who was always on the look-out for good songs."
Donovan also brought arranger Cameron into the fold whose background involved having played a lot of jazz and blues, written string quartets and satirical songs. Cameron was full of off-the-wall ideas, something Donovan was keen to tap into. "Don and I (and indeed producer Mickie Most) had a really good working method" recalls Cameron today. "Don would have unusual ideas that I would try to interpret and incorporate into the arrangement, be they sitars, harpsichords, or jazz brass sections, and I would come up with suggestions of my own. As this was pre-synthesiser time, we had to be ingenious to achieve this. Mickie would always try to insist (especially on anything that he thought had "single potential") that it was approachable and therefore commercial. I think the strength of this body of work owes a lot to this working dynamic".
"Some of the album was recorded with rock musicians, for example Jimmy Page on 'Season of the Witch' and those I was responsible for used a variety of line-ups" recalls Cameron today. "On the title track 'Sunshine Superman,' the first one we recorded, which I co-arranged with jazz bassist Spike Heatley, we came up with the idea of playing the intro in unison on bass and bass guitar (John Baldwin) with sliding electric guitar from Eric Ford and a solo added later by Jimmy Page, Bobby Orr on drums, Tony Carr on Percussion and me playing a magnificent double-manual Morley Harpsichord. After that, I arranged on my own, but with Spike and a whole bunch of jazz musicians, and string players in the studio". A number of other tracks were also recorded at the sessions but were not used though later would be rerecorded and surface on later albums such as "Museum" which appeared on the Mellow Yellow album.
When the U.S. pressing of the album appeared on August 26, 1966 it was mixed and released in mono, a practice that was typical of the times, and which led to a huge amount of quality loss in the process.
"In the early '60s, mono was the norm, as most pop records were recorded onto mono, with overdubs added one by one" explains Cameron. "Orchestral music was generally recorded straight to stereo. Sunshine Superman and the early recordings with Mickie Most were recorded on 4-track (Don, voice and guitar on 1, guitars, basses drums and percussion on 2, Harpsichord on 3, and the guitar solo on 4. This was much easier to mix to mono. It was only when we progressed to 8 and then 16 track recording later in the 1960s when a natural stereo mix was possible. Later technology meant that artificial stereo could be generated from these early recordings".
Meanwhile due to ongoing contractual issues, Sunshine Superman didn't appear in the U.K. until the following year via Pye Records in June of 1967 by which time Epic Records in the U.S. had already issued its follow-up, Mellow Yellow in February of that year. When the U.K. pressing of Sunshine Superman also featured an altered track listing, featuring a combination of material taken from both the U.S. pressings of Sunshine Superman and Mellow Yellow.
When it came to the album cover art, both the U.S. and U.K. pressings sported different LP covers. While the U.K. cover art adhered to Donovan's preferred design, with artwork that heavily featured hand-drawn superheroes and fairy tale characters, Epic Records vetoed Donovan's preferred choice for the US and went instead with a photo of Donovan positioned amongst illustrated foliage.
The album peaked at No. 11 on the U.S. charts while later in the U.K. it reached No. 25 on the British charts. The title track was released as a single and reached No. 1 on the U.S. charts and No. 2 on the U.K. chart. The album would be reissued by Epic Records on CD in 1990.
With both the soundscape of Sunshine Superman and its follow-up Mellow Yellow, Donovan was finally freed from the constant labelling of being nothing but a Dylan clone. He had finally achieved a unique sound and vision in his music, that immediately resonated with the U.S. and with a more global audience.
Sunshine Superman
U.S. pressing track listing:
Sunshine Superman
Legend of a Girl Child Linda
Three King Fishers
Ferris Wheel
Bert's Blues
Season of the Witch
The Trip
Guinevere
The Fat Angel
Celeste
RELATED CONTENT: Donovan: Psychedelia's Poet Laureate