The String Cheese Incident return with a Peter Gabriel cover
The Boulder-based band is back with a new EP of songs and a brilliant cover collaboration with the Infamous Stringdusters. Goldmine columnist, Ray Chelstowski spoke with founding member Michael Kang about the record, "Into The Blue," and their upcoming tour.
By: Ray Chelstowski
There used to be a killer toy store in town called Blinn's. It was independently owned and operated and was filled with the most unique collection of toys, games, and crafts. Every visit was guaranteed to present you with something unexpected and lasting. I had one of those moments just before they closed their doors for good. On that day I discovered the band The String Cheese Incident (SCI). The clerk on hand was spinning the record Outside Inside and the sound to me was infectious, new, and unknown. As he was about to tell me who we were listening to the song "Black and White" kicked in and I was hooked. I left the store that day with a great birthday gift for my son, and with an introduction to a group that forever expanded my understanding of how bands could forge their own future and along the way, change the world.
Over the past thirty years, SCI has been a "grassroots" outfit, shunning big label market-orientation for a more independent approach to connecting with fans. As one of the first bands to leverage the power of digital platforms, SCI pioneered file sharing, fan development, ticketing & merchandising, travel and more. Today the business model they developed is the reference point for what's considered "standard" for bands looking to go it alone.
Separately, their philanthropic efforts have often received as much attention as their music. Long committed to "green" initiatives, their support has helped give rise to not-for-profit organizations like Conscious Alliance and HeadCount. But it's their music that sits at the center of it all and finally after a four year wait a new collection of songs has arrived.  
Into The Blue is 4-track EP that opens with a daring interpretation of Peter Gabriel's "Solsbury Hill". It's a collaboration with Boulder neighbors The Infamous Stringdusters and their version brings the band back to its bluegrass roots with a sound that is bright, bouncy, and fun. That bluegrass throwback carries into the next two songs. But when the title track and album closer "Into The Blue" arrives the band throws the throttle up and delivers an explosive, soaring prog rock party that is mammoth in terms of its size, body, and musical weight. It's a comprehensive reflection of their collective talent and fantastic focus.
Natural Funk Projekt had the opportunity to speak with founding member Michael Kang, which was fitting since my introduction to the band was through a song that he had written. Our exchange revealed the pure joy that the band continues to find in their pursuit of music, and how pandemic aside, the journey they have all been through together is best defined by the relationship they continue to develop with one of the most loyal fan bases in the business.
Goldmine: It's been a while since you released a collection of new songs. Is there any reason that you chose to put out an EP versus a full length album?
Michael Kang: We've been slowly releasing stuff and have been moving away from the album model. When you do an album you put together a collection of songs and it takes a while for it to be released. In the past it could take months to get new music out there and we'd just be sitting on it, or antsy to start playing it. We decided that we wanted to release songs before we started playing them live so that when we did the audience wouldn't be looking at us like "What is this?"
GM: How does the road help shape the material you end up recording?
MK: It really depends on the song. But the cool thing about the studio is that it allows you to do anything that you want. You can layer in tracks and really produce it. When you perform live it always ends up being a different beat. I'm really happy with how "Into the Blue" came out. But performing it live is definitely a different animal. You try to bring out whatever you consider to be the highest version of the song.
GM: You guys bounced tracks back and forth to each other during the pandemic to get this EP done. Is there any part of that remote recording process that you'd like to use post-pandemic?
MK: That's become something that some people might continue to do. Studio musicians have definitely done it before. It's not something we've done together. We've always required everyone to be present. Our band has always been super collaborative and operates best in a live kind of environment. I just enjoy doing everything in person.
GM: Your take on Peter Gabriel's "Solsbury Hill" opens the record. Has the band had a long standing relationship with this song?
MK: The guys who live here get to play it all of the time because the Stringdusters are local. I only come out here about four or five times a year. Kyle came up with the idea of doing it for the EP. We may have played it in the late 1990's in another group we are part of called The Theory of Everything. But we've never played it before as SCI. Collectively we all really love Peter Gabriel's stuff. He's been one of our heroes
GM: You wrote the title track and it was apparently inspired by your mother's medical journey. How did that experience inform how you built the song?
MK: We did a songwriting retreat about four years ago at a place a friend owns up toward Aspen. It got us away from our families and all of our distractions and allowed us to commit to writing a bunch of songs together. We'd cook breakfast, go for a hike, then come back and play. This song came out of a few different jams. Then it got shelved because other songs from that session got released as singles. We were sitting one night listening to a bunch of Genesis and were really blown away by how epic some of the songs really are and by the bravery it took to introduce all of that off-time stuff. It was Peter Gabriel at his best and we kind of tried to follow that sound a little bit. So when we went back into the studio we started to mess around with it and got it into a form that we felt pretty good about. But there were no lyrics.
My mom had been diagnosed with pancreatic cancer in January and passed away by June. The entire ride was super crazy. But it was also incredible to watch her have this level of acceptance that allowed her to kind of melt into the ether. She very intentionally said "I'm good with my life". She felt complete and very bravely decided that she was OK with passing. That summer we went out to all of these festivals. I was having a lot of out of body moments because I was processing all of this while being on the road. So when we headed into the studio I felt that it would be really cool to talk about the experience. I just feel like when people who are close to you pass they enter into a different realm where they are just as present as they ever were, maybe more so in some ways. I feel that way about my mom; that her essence is there for me to access at any time and that's kind of where the lyrics are pointed.
GM: How important are the side projects that you all do in informing the creative process and keeping you engaged and together as a band?
MK: From 1992 till 2004 we did a 12 year full-on push. I don't think we ever did less than eighty to ninety shows a year. It was a different time. People would go on tour and remain on the road. This is before Bonnaroo or when the festival scene really took over. It was about what each individual band was doing. After 2004 we took a two-year hiatus. We sort of burned ourselves out. When we came back we did a really limited schedule. Over the course of time we started to build things like The Lab that began to bring more energy to our recordings. From time to time though we'd have to check in on where everyone's interest was because some of us have had solo projects. But now for the first time I don't feel like anyone has a separate music project. We are just really excited about our "Spring Incidents" dates and being back on the road.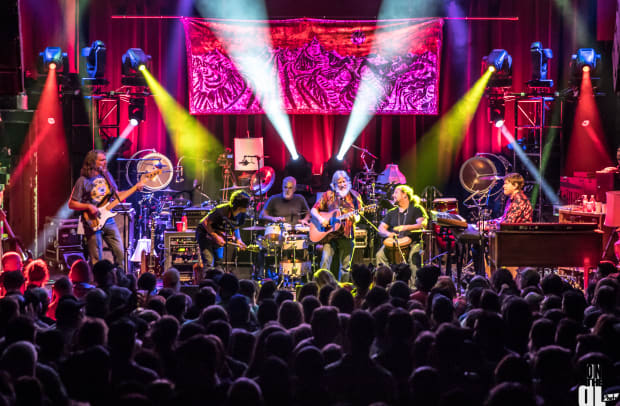 GM: It's definitely got to feel great getting back out in front of your fans!
MK: During our tour last August the Delta variant had just started to crank. Then all of this pressure began to mount from the music industry to make vaccination a requirement for those attending your shows, which is so strange. It's a divisive time. Just before we were to head back out on tour one of the guys tested positive. So we had to cancel like a week from a two and a half week tour. We scrambled to reschedule but the feedback we were getting was that it wasn't a good time for us to even be out on the road. We've had to get on a lot of calls over the last year and a half and unfortunately it hasn't been about the music. It's instead been about how to deal with the pandemic. We were trying to just stay afloat and keep the wheels on the road. But we're all here and everyone's excited to get back at it.
The String Cheese Incident On Tour
April 21 @ Ting Pavilion | Charlottesville, VA
April 22-24 @ Salvage Station | Asheville, NC
April 26-27 @ Greenfield Lake Amphitheater | Wilmington, NC
April 28-29 @ SweetWater 420 Festival | Atlanta, GA
May 3-4 @ Daze Between | New Orleans, LA
May 27-29 @ Revival Music Festival | Clarks Grove, MN
June 10-12 @ The Hog Farm Hideaway | Laytonville, CA
June 23-26 @ Electric Forest | Rothbury, MI
July 12-13 @ Dillon Amphitheater | Dillon, CO
July 15-17 @ Red Rocks Amphitheatre | Morrison, CO