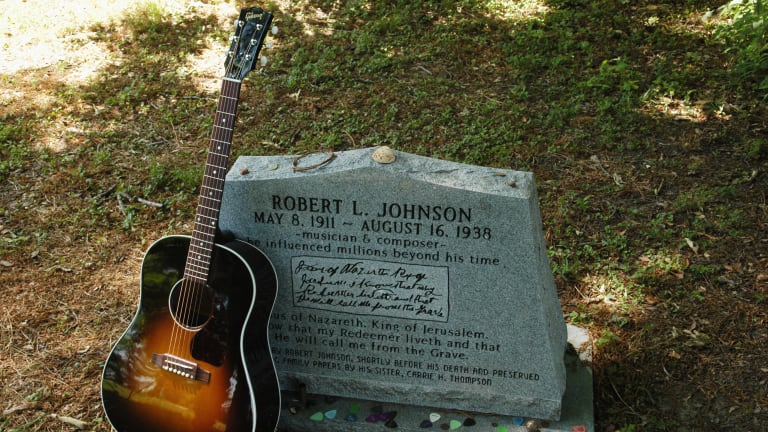 The Top 5 songs of Robert Johnson
They called Johnson "The King of the Delta Blues Singers," and here are his Top 5 songs that had the most impact and influenced many musicians in popular music.
Get your Blues vinyl and more in the Goldmine shop
By Mike Greenblatt
Born May 8 1911 in Hazlehurst Mississippi, Robert Johnson never found fame in the mere 27 years that he was alive, but he has been considered the greatest bluesman of them all since his death. He traveled around playing on the streets for chump change, playing private parties and hooking up with a traveling roadshow or two. He'd play the current popular songs of the day--ragtime, jazz, blues, folk and pop--and dazzled those lucky enough to witness his incredible fret-work on the guitar, a complex series of runs that went perpendicular to his melodies but it all worked.
He was also said to be a Lady's Man and bedded down numerous women--both married and single--who flocked to his good looks and laconic demeanor. His posthumous stardom came directly from the 29 songs he wrote and recorded in Texas in '36 and '37. His contemporary, famed blues musician Son House [1902-1988], swore up and down that he was a fair harmonica player and singer but a lousy guitarist. Then Johnson disappeared for a few weeks. Nobody knew where he was. When he returned to perform, his mastery of the six-string was shocking. Myth has it he took his guitar to where Highway #49 meets Highway #61, "the crossroads." It was there, it is said, that Johnson sold his soul to the devil in exchange for super-human guitar talent. You can hear it in all its glory on King Of The Delta Blues Singers (1961), King of the Delta Blues Singers Volume #2 (1970) or The Complete Recordings (1990).
The devil came to collect his due on August 16, 1938. The news of his death went unreported for 30 years. Fellow blues legend Sonny Boy Williamson II (1912-1965) always surmised that Johnson was murdered by a jealous husband whose wife was rather smitten with the entertainer. No one will ever know for sure. Artists who have gone on record to say how Robert Johnson was a major influence in their music includes Chuck Berry, Eric Clapton, Bob Dylan, Robert Plant, Keith Richards and Johnny Winter, among many others.
1. "Love In Vain"
Robert Johnson's estate successfully sued The Rolling Stones for originally putting "Public Domain" on their 1969 version of this song. A court decided it was not in the Public Domain but, indeed, written by Johnson.
2. "Crossroads"
Johnson wrote and recorded this haunted tale about his hook-up with the Devil. Cream made it into a rock standard in 1968. Johnson further elucidated on this theme by also writing "Hell Hound On My Trail" and "Me and the Devil."
3. "Dust My Broom"
In 1951, Elmore James recorded his version of this song and catapulted it into being the classic we all recognize today. Elmore's slide guitar riff is the stuff of legend, emulated and copied for decades by bands on both sides of the Atlantic.
4. "Sweet Home Chicago"
President Obama sang this song at The White House with B.B. King and Buddy Guy. The Blues Brothers brought it to the big screen. Junior Parker took it to the Top 10 in 1958.
5. "Stop Breakin' Down Blues"
This song was so far ahead of its time in 1937, it could've been a '50s rock and roll song. It took the Stones to fully realize its potential in 1969 and was part of the "Love In Vain" lawsuit.