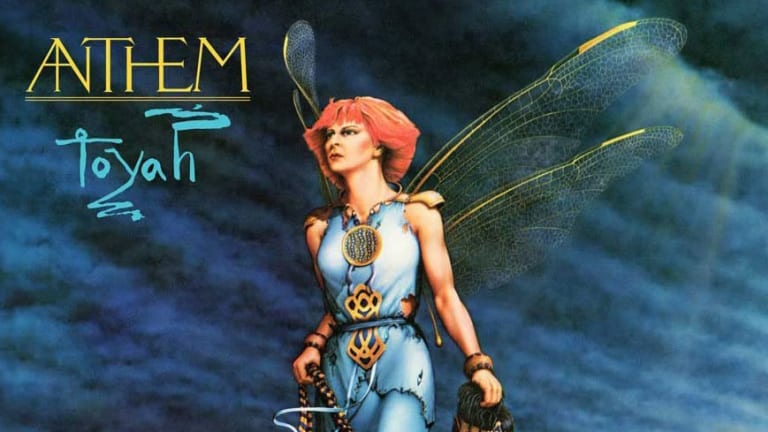 Toyah's 'Anthem' gets the super deluxe treatment, and never sounded so good!
It's a mystery why Toyah was never eternally enormous. But the thunder in the mountains has never sounded so good.
Get your Alternative and '80s era music in the Goldmine shop
Toyah
Anthem
Cherry Red (3-CD, 1 DVD, 2-LPs, 1-45rpm Box Set)
This is it — the big one, both in commercial terms and, compared to previous releases in Toyah's reissue series, packaging, too. Anthem was Ms Wilcox's fourth album, but it was home, too, to her greatest single hits yet — and if you only need one super deluxe early '80s album, this might well be it.
Disc one here is the original album; disc three is a DVD stuffed with promos and TV appearances; discs two and four add in the outtakes, demos, remixes, backing tracks and live cuts. Including the nine bonus tracks appended to the album itself, and four more on tucked away elsewhere, there's some 40 largely unreleased performances to get your teeth into. Plus the album on picture disc, a 12-inch mini album and a four track 7-inch EP. Which can, if you wish, be slimmed down to a simple 2CD + DVD package, or reduced even further to a gold colored LP of Anthem alone. In every guise, Anthem shines brightly.
The most confident sounding of Toyah's early albums, if not the most unexpected (that remains her debut), Anthem was the sound of Toyah finally finding her direction. The songs are generally stronger than before, the band is definitely tighter, and her voice feels more controlled, without losing an iota of its original idiosyncrasy.
Indeed, though her detractors might say that Toyah mauled as many eardrums as she melted, for a time she felt unstoppable. Her fans were certainly out there in droves, and she seemed forever to be on TV (from the BBC alone, seven different period performances are included on the DVD).
"I Want to be Free" reached No. 4 on the singles chart, "Thunder in the Mountain" made No. 8… she even pulled an old fashioned extended play EP into the Top 5, as Four From Toyah kicked off with the eternal earworm of "It's a Mystery." The album itself made No. 2, and still stands among the most courageously ambitious LPs of its day, its two sides (subtitled Once Upon a Time and Happy Ever After) offering contrasting visions of a self-contained art exhibition, viewed from the ruins of the post-punk dystopia.
Writing Toyah off as "quirky," as some journalists tried, was the coward's way out, and it's fascinating to discover, 40 years on, that Anthem still takes that same insoluble grip upon the imagination. In fact, the bonus material (especially six cuts taped for a BBC Radio concert) only tighten its grasp even further.