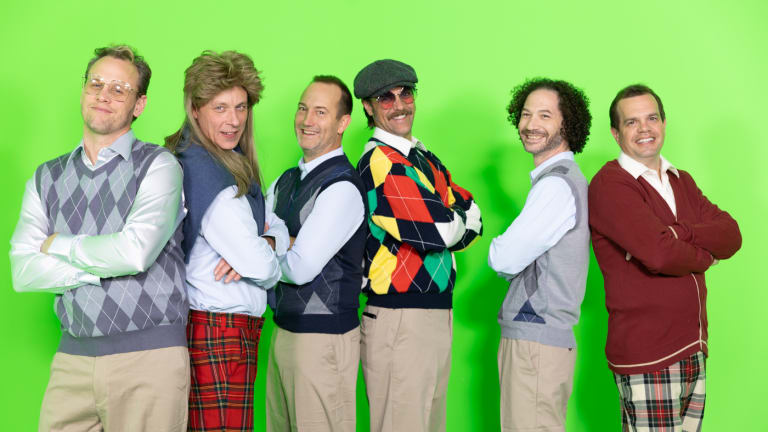 Umphrey's McGee reach beyond jam band territory
Umphrey's McGee return with a poignant new release, "Asking For a Friend." Goldmine columnist Ray Chelstowski caught up with bassist Ryan Stasik about how the album was made, what sets the band apart in the world of jam, and whether his kick ball talents might make a return to festivals this summer.
By: Ray Chelstowski
For over 20 years Umphrey's McGee (singer-guitarist Brendan Bayliss; keyboardist Joel Cummins; guitarist Jake Cinninger; bassist Ryan Stasik; drummer Kris Myers; and percussionist Andy Farag) have been defying conventional thinking about what belongs in the world of jam and pushing peoples' comfort zone with what we call "rock." Their sound is difficult to define and their latest release, Asking For a Friend, will continue to confuse those in the media who have tried for decades to neatly package what they are really all about. The new album expands upon the work they have done and leads the listener further through a journey that only the band could chart. It glistens, and presents (at times) pop sensibilities that seem appropriately poised against their expansive body of studio work. Absent are expanded solos and collective jams; those are being held back for their upcoming summer tour where this record will come to life in ways that the studio cuts couldn't possibly foresee.
Across 14 tracks, Umphrey's McGee revisit the conditions that the pandemic created and the collective experience that we are all still trying to move through. In a market flooded with covid-infused music, Asking For a Friend stands apart for its inherent undercurrent of hope.
Goldmine's Natural Funk Projekt had the opportunity to speak with bassist Ryan Stasik about the making of the record, why its themes are so important to the band at this moment in time, and whether his now infamous kick ball skills will make a return to festivals across the country this summer.
Goldmine: It sounds like the pandemic didn't slow you guys down. You got right into file sharing and putting this new record together.
Ryan Stasik: I wouldn't say that there was any time off really. It was more the shock of being hit in the face with the reality that you're actually going to be home longer than you think. That's when we decided to pursue a different kind of writing with a different kind of perspective.
GM: Some bands found that recording remotely is something they would prefer to never do again. Others think that it unlocked a lot of things musically for them that they couldn't have found in the studio. Where do you stand?
RS: Oh my God, I loved it. I actually wrote part of five records just because of Covid. It lit a fire under me and helped me be more productive from my own studio. Before Covid I was always tired when I came home. I knew that I'd have to head back out in a couple of days so I'd just relax and hang out with my family. With the lockdown I was like, "Here we go. Let's get a routine together go to work!" I did a metal record with Death Kings, I did a full length record and an EP with Doom Flamingo, and with Umphrey's we did the complete instrumental record, and then our new record, Asking for a Friend. It was everyone working from home. There's obviously something to be said about being together. But there's also something to be said about having things hit you at the right time when you're ready to work.
One huge thing for me is that I live on the beach in Charleston SC, so I would go surfing and it was a great way for ideas to come to my mind. I'd come home, shower off and head right into the studio and write. It was a whole new creative way of being productive. My brains doing something I love. It was huge.
GM: What's the title track of the record all about?
RS: I don't know if it's a bass player thing but the band told me that I had to stop naming things with Frank Zappa, or humorous joke references. I think that with the weight of the material and Brendan's lyrics it was time to step back and not make a joke but make something that would be familiar to everyone because of what they were going through in a lockdown. It's about being alone, isolated and asking for a friend. It was time to go with something more serious that was in step with the flow of the record.
GM: Do you ever wonder if songs about the pandemic will age well?
RS: It's a little different for me because I'm the bass player and the way that Umphrey's writes and records is different. The lyrics, the vocal recordings and even the guitars are always last. And our drummer is really efficient. Say we do 10 takes? I'll try to make sure I nail it in those ten takes, too. So my parts are done pretty early. Before the lyrics come in a lot of time has typically passed. I think thought that it's going to be really interesting in like 10 years to listen to every record that was made during this time and kind of piece together how bands and musicians were feeling and thinking.
GM: Joel has said that this isn't a "jam band record." How do you define jam band records?
RS: That's an interesting question. I'll say what I like about the term "jam band" and what it means to me. I think that the spectrum of this style of music, because it can be loose through improvisation, allows people to be very open to take chances and see where the journey leads them. And nothing against anyone who is touring in support of their record and has a lot of production that goes specifically to the songs but they tend to play 12 songs in a row. I think that's the difference with a jam band set. People know that when there's a song they first hear on a record, when they hear it live it will most likely be different each time. I think that that also works for our sanity. But I don't (think) that we're a jam band per se even though we improvise the majority of our show. Some of our material could be characterized as "singer-songwriter." There's also a lot of "roots music," too. That's something that I've been very proud of. We haven't tried to be defined. The biggest compliment would be to have people say, "Oh that sounds like Umphrey's." I think that Umphrey's a harder brand of rock and roll than some other jam bands. I'm not trying to knock anyone. I just don't think that we should be pigeon-holed to being just a jam band.
GM: The songs "New Wings" and "The Pure Salvation" have more of a pop feel than anything you've done before. But both seem to leave room for jams.
RS: Yes, I think we intended for this record to not be a jam band record. You're not going to get a nine minute improvisational song. Brendan has said that he loves "three chords and the truth" because that is the kind of music he listens to. There's something to be said about a good song. Sometimes you don't need to add as much. You can instead really feel the space and appreciate what's not there
GM: You guys always pack your records full of tracks. Is it because you can't decide on what to cut?
RS: There are 14 tracks on the record. That's a lot of information. People were asking "what are we going to cut?" I said "nothing! I hate when we cut things. It gets lost, and then it's a B-side somewhere and doesn't get the respect that it deserves. That's why I'm proud that we all voted to keep all of the songs on the record. Some will be people's favorites and some will be ones people hate. It will be different for everyone.
GM: You have always been very prolific. How do you know when it's time to heed into the studio and begin work on a new record?
RS: I think were a well-oiled machine so we're always ready. We haven't followed the normal path of a rock band. We don't tour like a regular rock band and we put all of our music out on our own label. We do a lot of weekend warrior work so we can come home and spend time with or families. We're not gone for eight weeks at a time. We'd love to put a record out every year but it usually takes a year to just birth a record. So every two years we want to put out a new story. It's about 10 months of work and we're always ready. We're really excited about this one and once it's out we'll be ready for the next one.
GM: What's next for your side project, Doom Flamingo?
RS: We're doing a "Queen Is Doomed" set. We just finished up a rehearsal and have 12 Queen songs and it's pretty intense. I've done some tribute work before but these compositions are phenomenal. I never really dove deep into Queens's basslines or work before. It's been awesome.
GM: Are you ready to kick ass in kickball at the Summer Camp Music Fest?
RS: You know that I've retired right? I was the GOAT. I was nine and one and I needed to start sleeping now that I'm doing like 19 sets at every Summer Camp (laughs!). I'm a little bit older and hopefully a little bit wiser. But there's always the possibility, weather permitting, that I get some gold cleats and a gold ball and make an appearance. Never say never because Tom Brady came back!