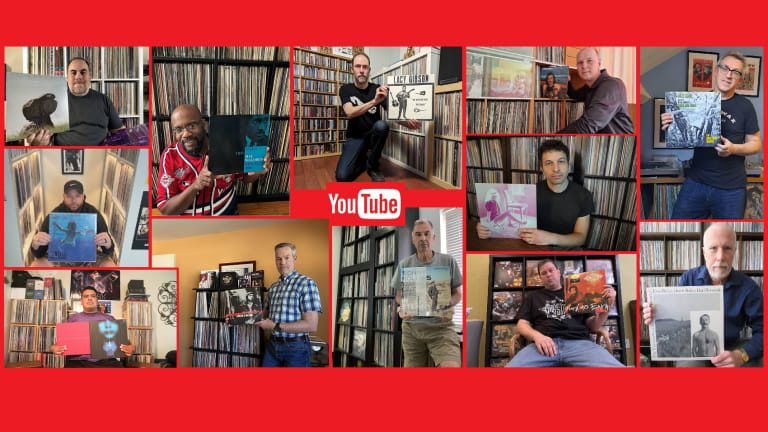 Why the YouTube vinyl community is music collecting's heartbeat
Where do you find some of the most experienced and renowned music collectors around the globe? .Right in front of your computer screen!
Get vinyl, CDs, box sets, music history books, collectibles and Goldmine-only exclusives in the Goldmine shop! 
By TONE Scott.
Somewhere around a decade and a half ago, a small group of passionate and avid music collectors from various parts of the world began speaking about, sharing, and documenting their enthusiasm for maintaining and curating their music collections; mostly in the way of vinyl records (hence the name "Vinyl Community"). It really began with a few dedicated record collecting aficionados creating YouTube videos, here and there, as an outlet to express their passion, and a way to find like-minded individuals on the internet — and YouTube was just the place to do it. As the magic of algorithms lead more and more people to discover these 'enthusiast-videos'; audiences grew.  Collectors and interested spectators alike would not only help to increase exposure for this type of content but would eventually open the way for more and more collectors and aficionados producing and launching videos of their own. Eventually, right around 2009 someone coined 'the term,' and the YouTube Vinyl Community was born.
A product of the times – The Vinyl Community came about at a time where the compact audio cassette tape had been all but forgotten, compact disc media was in the middle of being smothered by impersonal, non-tangible and invisible digital media files, and vinyl records as a format had been extinct from production since the mid-late 1990's, except for small private pressings and special releases for D.J. pools. That is not to say that the passion and desire for physical media was dead, because that was far from the case — it was actually that the wool which was pulled over our eyes by the major music conglomerates convinced us that analog music formats were far less valid than digital, and then, that physical media was no longer convenient, needed, or desirable to the consumer. That was a lie in the form of marketing, because let's face it, both sonic-signals (analog and digital) and the music they can produce are both valid and desirable, simply relative to the taste of the listener, and holding physical media in your hand, reading liner notes, and curating a collection will always win over invisible MP3 files; but that is a topic for another time.
Sustaining the love of media – Thank God for the great handful of independent record stores and their owners who kept their retail establishments alive, curating and stocking their shops with product through a time where vinyl records were 'supposedly' dead and never to return. Let's not forget to acknowledge major music publications; especially those who gave attention to, or focused on music media and the interests of the collector (like Goldmine Magazine), who were responsible for keeping the desire for and the spirit of physical media alive and kicking. Without the sacrifices and efforts of the independent record stores and the music publications, who knows if the Vinyl Community would have ever become a "thing." And just as importantly and as influential to this act of "life-support" for physical media, I would have to say, with unadulterated confidence, that the YouTube Vinyl Community has been responsible for greatly assisting not only in the resurgence of the popularity and production of vinyl records, but just as much in the noticeable resurfacing-interest in compact disc and cassette tape formats.
Joining the community – There is really no set protocol regarding how to go about being involved in the Vinyl Community. Personally, I was a spectator and involved as a commenter on other collectors' channels/videos for some years before I began producing "VC" (as it is affectionately nick-named) content on my own YouTube channel. And just as well, there is no set process, or level of YouTube notoriety, or level of experience as a collector for you to begin making videos and becoming recognized as part of VC family of content creators. The only prerequisites are a YouTube account, a passion for music, a music collection (however large or small), and the willingness to put aside fears and make that first video. And while the size of my personal collection may be substantial, and my music knowledge considered by some as "very noteworthy," and my ability to speak in front of a camera, eloquent — being extremely well-spoken, having a massive collection and a deep understanding of music and music media is not needed for people to jump right in and start making videos… trust me, (lol.)
Genres, categories and topics – So many different types of videos and created content that revolve around the hobby, passion and lifestyle of being a music collector can be found by simply typing "record collecting" or "vinyl community" into the YouTube search engine. Videos with so many topics from collectors all over the world can be had, as there is now, in 2022, an uncountable amount of YouTube channels that host this type of content by creators who more than often open up their segments by exclaiming "Hey Vinyl Community," or something of the sort. One of the most common subject matters that you will come across in the VC will be the ever so prevalent Vinyl Finds video, where we get to witness (as well as the ability discuss in the comments section) what new music the host of the video has just acquired, and is adding to their collection. You will also find videos about new releases, discographies, 'best of' videos, videos about specific genres of music, specific recording artists, album rankings, to even very intricately produced & edited expository videos about mastering engineers, dead-wax information and even independent record stores (such as my video series Record Store Spotlight). And shame on me if I were not to acknowledge the annual cherished/dreaded Vinyl Tag videos. These are viral participant-productions, normally initiated at the beginning of each New Year, that include a series of questions made up by someone or other, that are answered personally by each content creator in the form of their own 'response' video. In recent years, genre-based Vinyl Tag videos have surfaced and continue to reoccur throughout the community as well. It is definitely a great way to initiate camaraderie within the Vinyl Community, but that's not to say that it can also become a tad monotonous… respectfully speaking of course.
In conclusion, and nevertheless, there are really an unmentionable number of topics and subject matter being used to create content, and most, if not all of it entertaining, very informative and even extremely educational. With videos from hobbyists just starting out, to a plethora of extremely knowledgeable and experienced curators; there is something for every level of collector to experience in the YouTube Vinyl Community. Let's understand that if we are constantly collecting and curating, then we are constantly growing and learning, and more than likely we are, in large part, receiving a majority of that growth from fellow collectors & other music enthusiasts.  The YouTube Vinyl Community is a fruitful and productive way to go about that; it's an amazing thing to interact with, and a fantastic thing to be a part of.  If you have not experienced the VC yet, I welcome you and urge you to take your passion for music and music collecting, and explore the endless camaraderie of the Vinyl Community.
If you would like to subscribe and interact with me on my official channel – TONE Scott – about things regarding my career as a music industry professional, and even more my life as an experienced music collector, I really would love to see you and interact with you there. Please also consider following and subscribing to renowned collectors/content creators from all over the world, in the YouTube Vinyl Community universe, and especially those mentioned below who willingly contributed original imagery for this piece…
Brandon B. - channel: mrhoffame  (USA)
Hanna - channel: The Omaha Introvert  (USA)
Steve Carlson - channel: Steven Carlson  (USA)
Christian "Stunty" - channel: Stuntrock Confusion  (Sweden)
Eddie Perez - channel: Eddie's Physical Media Talk  (USA)
Jason Hacker - channel: Hackman377  (USA)
Pat D. - channel: Vinyl Richie  (USA)
Steve Alexander - channel: Psych in the Valleys  (Wales, U.K.)
Dom Gagliano - channel: Seeking a Thread  (USA)
Zach Coyner - channel: Zeek VG  (USA)
Paul Backer - channel: X junkie NL  (Netherlands)
George Smart - channel: scottspinner1  (Scotland, U.K.)
Lovell Carter - channel: Lovell Andrew  (USA)
Janne Sandsten - channel: Pops & Clicks  (Sweden) 
Keiran Gruber - channel: Needle Groove  (Canada)
Alex Martinez - channel: motorik247  (USA)
Michael P. Dawson - channel: Michael Dawson  (USA) 
Gil Reyes - channel: kingsdrummer  (USA) 
Eric Weinbender - channel: Eric Weinbender  (USA) 
Mark Williams & John Keiffer - channel: DrRhythm  (England, U.K.)
Jon Porth - channel: BipBopBoom  (USA) 
Andrew Carl - channel: Diamond Needles  (USA) 
James Griffiths - channel: James Griffiths  (England, U.K.) 
Randy Weaver - channel: Randall Weaver  (USA)
Bill Pompilii - channel: The Vinylverse  (USA) 
David Gibson - channel: The VC Ambassador  (USA)
"Buddie" - channel: Concert Buddie  (USA) 
Chris Propfe - channel: Chris Propfe Musically Obsessed  (USA) 
Zach O'Toole - channel: listen_to_records  (USA)
Brian Lozo - channel: Shamrock'n Records  (USA)
TONE Scott - channel: TONE Scott  (USA)
Members of the YouTube Vinyl Community and Goldmine Magazine would like to honor Bill Young ("Michigan Record Club") who sadly lost his battle with cancer and passed away last month (Sept. 2022).  He was a friend to many, and a well respected and well renowned record collector who currated some of the best Psych, Progressive and Hard Rock music shown in the Vinyl Community. He will be missed. 
⌘
Contact TONE Scott at GoldmineMagazine@GoldmineMag.com. Please put Adventures of a Music Collector in the subject line.