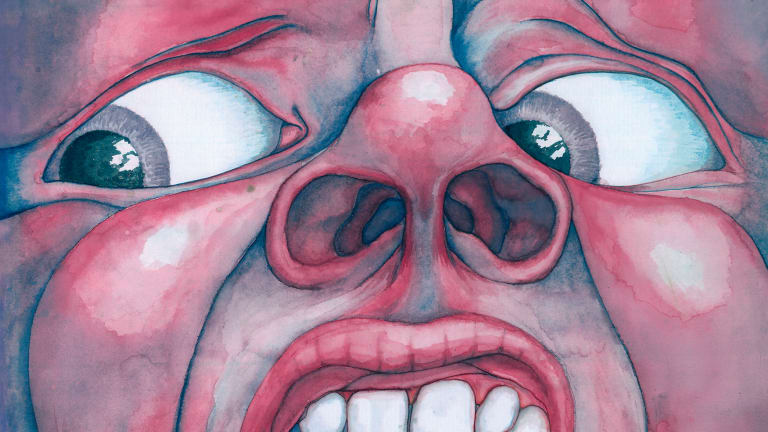 10 must-hear Prog albums for people who hate Prog
King Crimson, Yes, Hawkwind and more — music lovers need to listen to these classic progressive records before writing off the entire genre.
By Dave Thompson
Ready to add some Prog rock vinyl to your collection? Head over to Goldmine's store to snag classics by King Crimson, Jethro Tull, Genesis, Yes and more.
Offering prog rock to certain music lovers is like offering nothing but brussels sprouts and asparagus to a roomful of kids. So much progressive rock music gets a bad rap as being inaccessible, or at the very least, requiring an intricate knowledge of J.R.R. Tolkien novels to fully enjoy. Here are 10 albums that any music lover needs to hear — in order, in their entirety — before writing off the entire genre.
1. Emerson, Lake and Palmer – Brain Salad Surgery
An obvious pick, but a necessary one. Even without an appreciation for side-long, three-part conceptual romps through a world in which humanity has been subjugated by the machines, "Brain Salad Surgery" effectively takes you on a trip through prog in all of its manifold guises.
All superhuman life is here: A revised hymnal classic (William Blake's "Jerusalem"), repurposed modernity (Alberto Ginastera's First Piano Concerto, ruthlessly electrified as "Toccata"), winsome balladry ("Still You Turn Me On"), music hall novelty ("Benny the Bouncer"), and that's before you encounter "Karn Evil 9," the aforementioned sidelong drama that actually begins its journey with nine minutes still to spare on side one.
Oh, the frailties of vinyl in those dark days before CD came along – a single piece of music stretching to 30 minutes or so was way more than a single side of wax could withstand, and so it would be a decade-plus before we finally heard "Karn Evil 9" in its full-fledged glory. But oh, it was worth the wait.
And while you waited, you could play with the album sleeve, the multi-fold-out combo of mug shots and monsters, HR Giger's spectral feminine face apparently (opinions still differ on the subject) visualizing the album's so peculiar title. According to Emerson, "brain salad surgery" was a term he first heard from Dr. John, referring to oral sex. So that's another reason to place this album on a pedestal. Lou Reed snuck a similar reference into the Top 40 via "Walk on the Wild Side." But ELP planted it proudly at the top of the album charts.
2. Jethro Tull - Thick As a Brick
Tull slip and slide around so many genres that as many people who might applaud their inclusion here could easily sniff and accuse us of cheating. Blues rock, folk rock, Grammy-induced heavy metal – but there was a series of albums in the early-to-mid-'70s that were so purposefully structured around epic dimensions that you even forgot the best joke they ever told. "Life is a Long Song," they insisted on as a single in 1969. But "Thick as a Brick," the band's fifth album, was an even longer one. One very long song, split – for reasons we have already mentioned – across both sides of a vinyl platter, but indivisible all the same.
Yes, it's a daunting prospect, sitting down to listen to a single piece of music that will devour the next 43 minutes (and 46 seconds) of your life. But a sea of grippingly sequential passages never outstay their welcome, or vanish up their own backsides, with no less an authority than Rolling Stone proclaiming, in its review of the original release, "It is nice to know that someone in rock has ambitions beyond the four or five-minute conventional track, and has the intelligence to carry out his intentions, in all their intricacy, with considerable grace."
And how many other bands, from the Grateful Dead to Deep Purple, ELP, Yes and Led Zeppelin, would have read that and recoiled from the unspoken zinger?
Later, as they wandered through further stylistic convolutions, Tull frontman Ian Anderson suggested that the primal prog impressions of this chart-topping brontosaurus were largely intended as parody and fun. Maybe they were. But even they can be treated seriously sometimes, and "Thick as a Brick" is thunderous, too.
3. Genesis – Nursery Cryme
A lot of people would probably prefer "Foxtrot" to this. Or "Selling England by the Pound." Or "Lamb Lies Down on Broadway." Probably not "Abacab," though. No matter. All have their supporters; all have their virtues. But "Nursery Cryme," in many ways, eclipses the band's entire catalog because – and this really is an important point – it was Genesis discovering who and what they were, as opposed it already knowing and proceeding accordingly.
This was three English public schoolboys still coming to terms without the multi-instrumentalist genius fourth; still eyeing their bearded rock'n'roll monster drummer and wondering whether they couldn't have maybe found someone a little more coarse than the cocky cockney Phil Collins to play drums behind their swirling epics.
This was a band still torn between their early ambitions to be the world's next Bee Gees, in terms of their songwriting chops at least, and the need to pursue their own peculiar brand of very English, and very disturbed, fantasy to its limit. And so quaint Gibbsian vignettes like "For Absent Friends" and "Harlequin," and the vaudeville jokiness of "Harold the Barrel," duel with the likes of "Musical Box" – the supernatural story of an 8-year-old girl who beheads her croquet partner, only to be haunted by his somewhat older and hornier spirit; "The Fountain of Salmacis," setting to music the myth of Hermaphroditus; and "The Return of the Giant Hogweed," recapturing those terrifying weeks the previous summer, when all England was under siege, it seemed, from deadly, poisonous invasive plants. And don't laugh, because just last year, state of New York was suffering from the same fiendish intruders. Turn and run!
4. Van Der Graaf Generator – H to He, Who Am the Only One
Not "Pawn Hearts," with its sidelong "Plague of Lighthouse Keepers;" not "The Least We Can Do Is Wave To Each Other," with the heartbreaking pathos of "Refugees." "H to He is," in many ways, is the forgotten triumph of Van Der Graaf in their prime.
But bookended by "Killer" and "Pioneers Over C," the latter perhaps the most authentic approximation yet of what it's really like in outer space (airless, crushing, claustrophobic and filled with discordant saxophones), with "Lost" among the greatest of songwriter Peter Hammill's tortured love songs, and the "Emperor in his War Room" as black and bleak as an entire season spent watching Game of Thrones, "H to He" is not simply a staggering achievement by the band's own standards.
In terms of pushing the boundaries where progressive rock meets every other musical discipline, it actually restructures your understanding of every other genre, too.
5. Yes – Close to the Edge
So readily did Yes descend into what the cynics could refer to as cliché, and so willingly did they remain there even once the arrows began to pierce their flesh, it is very easy to regard this album as the beginning of the end for a band whose earlier LPs – four, from "Yes" to "Fragile" – sometimes aspired to standards of Beatlesque purity, but whose eye for the epic was constantly burgeoning.
"Survival," from their debut, is the foundation stone of the band's future mega-meanderings, but they peak on "Close to the Edge," its three tracks absorbing all the minor elements that pockmarked the previous "Fragile," but assimilating them, too, eschewing the band's earlier predilection for fragmentary interludes and binding all the band's talents and ambitions into one. "And You and I," still the band's most grandiose moment, nevertheless impresses with its sheer lack of pretension, while "Close to the Edge" effectively establishes the parameters within which the next two generations of prog would be bound.
6. Supertramp – Crisis? What Crisis?
Conceptually solid, musically audacious, "Crime of the Century" was the album that rescued Supertramp from the spiraling obscurity of their earlier incarnation, and pointed them toward a future that would only gradually drift into radio-friendly adult-oriented rock.
But it was its successor, "Crisis," that demonstrated the band's full strengths and abilities, zeroing in on the moments of "Crime" that worked best (which, in turn, does not include the plodding neo-boogie of "Bloody Well Right"), with "Sister Moonshine" graduating from the "Crime"-era live set to become one of their strongest songs yet; "Lady" out-dreaming the hit single "Dreamer"; and swathes of the remainder feeling as though they could have peeled off a harder-edged side two of "Abbey Road."
The band members themselves later complained that the album was rushed and disjointed, but in many ways, the pressures that surrounded its creation played to the music's advantage. It was only later, as they found themselves with more time to spend on their records, that Supertramp commenced their gradual decline.
7. Anthony Phillips – The Geese and the Ghost
A Genesis spin-off that was so easy to miss, "The Geese and the Ghost" broke the seven-year silence since Phillips quit the infant band – which means it essentially arrived so late (1977) that not even prog fans liked prog much anymore.
But an album that bears comparison to anything and everything between "Tubular Bells" and "Dark Side of the Moon" (two albums that are so ubiquitous, by the way, that we're not even going to mention them here) – which all but blueprinted a lot of the highlights that were subsumed by New Age music, while effortlessly avoiding all the pitfalls that implies, and which has just been reissued as a two-CD deluxe edition with an extra disc of demos, out-takes and more – "The Geese and the Ghost" is one of those albums that maybe not many people have heard or heard of. But everyone who does falls in love with at least some of it.
8. King Crimson – In the Court of the Crimson King
Ground zero in terms of Prog's chronology, history and development, "Crimson King" has a perfection that is only amplified by the fragility of the unit that recorded it. By the time the band returned to the studio, its voice would have departed, and other features, too – Crimson's slow metamorphosis into Robert Fripp's vision alone was underway.
In musical terms, it does have its weak spots: "I Talk to the Wind" was executed far more effectively by an earlier Giles Giles Fripp incarnation fronted by Judy Dyble, and "Moonchild" vanishes so far up its own hindquarters that, by the time you reach the freeform "The Illusion" subsection, you're ready to nudge the stylus onto any other record in the world.
But the putative title track, "Epitaph" and the metallic grind of "21st Century Schizoid Man" are simply beyond reproach and all but beyond mere description and so overpowering that the weak moments barely even register. Certainly no band, in any musical genre, has ever conjured a piece of such all-encompassing dark malice as "Schizoid Man," a song that could have reinvented Metal as an entirely jazz-based discipline had Crimson only been disposed to follow it up. "Epitaph" and "Crimson King," meanwhile, could almost be slabs of classic English lit, Dickensian Gothic with a sleeve to give you nightmares.
9. Hawkwind – The Space Ritual Alive
Every list of the top prog albums/bands/instrumentalists requires one entry the so-called experts will view with suspicion, surprise or even downright hostility. Hawkwind might be ours, the archetypal space rock band scything across the credentials of so many "worthier" inclusions (Floyd, Gentle Giant, Barclay James Harvest, the Moody Blues – go find them for yourselves) with a double album that routinely tops the "greatest live LP" ever polls in the U.S. as much as Europe.
Far-sighted enough to satisfy all demands for prog to venture across fresh landscapes, but sufficiently immediate to chase away any fears of horse faced prognostication taking over, "Space Ritual" was initially marketed as "88 minutes of brain damage," and it still retains all the qualities that demands. But lyrically, sonically and conceptually, it is so much more than that.
10. Caravan – In the Land of Grey and Pink
Prog is not a purely British phenomenon, nor is it one that is locked in the early 1970s. But really, why would you even want to step beyond those borders when albums this wonderful await your pleasure, and how could you claim to eschew the entire genre?
Widely proclaimed a classic of the "Canterbury" school of endeavor, which in turn permits visions of bucolic Englishness pocked with flawless diction, eccentric imagery and a pronounced leaning toward free jazz, "In the Land of Grey and Pink" is actually a gloriously pop-inflected concoction, littered with lyrical ear worms and themes that retell the history of post-Sgt. Pepper rock, on a collision course with an awful lot of the elements that other lands, and other eras, introduced to the genre later.
A magnificently far-sighted album, from a band whose entire early oeuvre withstands the deepest scrutiny (catch, also, "The Dog, The Dog, He's At It Again" from "For Girls Who Grow Plump in the Night"), "In the Land of Grey and Pink" is the album that refreshes even the tiredest ears – meaning you're ready to go back to the beginning again.