A book excerpt from "Disturbing the Peace: 415 Records and the rise of New Wave"
Goldmine presents an excerpt from "Disturbing the Peace: 415 Records and the rise of New Wave," a new book by author Bill Kopp on the San Francisco-based record label 415 Records.
San Francisco-based 415 Records was a groundbreaking independent record label founded by Howie Klein and Chris Knab. The label released punk and new wave singles, EPs and albums, and the label's creative success attracted the attention of the major labels. Published this month by HoZac Books, Bill Kopp's new book, Disturbing the Peace: 415 Records and the rise of New Wave, tells the story of that label's rise and fall, and chronicles the stories of the nearly 30 bands that released music on 415 Records. 
The following excerpt provides a look into the label's beginnings.
---
In the late '70s and early to mid 1980s, San Francisco was a creative incubator, bringing forth all manner of new music acts. Ground zero for the scene was the Mabuhay Gardens, home to huge barrels of popcorn, once-a-week spaghetti nights, colorful emcee Dirk Dirksen, and punk/new wave bands from all over the Bay Area. Concert booker and renegade radio deejay Howie Klein joined with Aquarius Records owner Chris Knab to launch a record label in support of that scene.
Howie and Chris had been hosting their own programs at Bay Area radio stations. And the new punk/new wave radio format at one of them, KUSF would come to bear heavily upon the development of a new record label, 415 Records. Because many of those bands had been sending demo tapes to Chris and Howie. As Knab recalls, a friend (and serious record collector) named Butch Bridges was along for the ride with him and Howie on one of those 50-mile drives from San Francisco to KSJO in San Jose. "We'd drive down there with a bag of music," Knab says. "Sometimes 45s, and mostly demo tapes."
As one version of the story goes, Bridges spoke to Chris and Howie. In his Southern drawl, he said, "You got all these demo tapes. Why don't you start a record label?" Knab thinks instead that it was he who first gave voice to the idea; Howie has no recollection of the conversation at all.
Regardless of who first had the idea, all three men thought it was a worthwhile one. Memories differ, too, regarding the source of the seed money for what would become 415 Records. Knab recalls that the plan was that each of them would kick in $300, but that Bridges – who drew upon a more reliable source of income than either Chris or Howie – put up the entire $1,000. "Howie and I didn't put a dime into it," Knab says. "Butch put up the money, and he never asked for it back."
The new label would bear the name 415 Records (spoken as four-one-five, not four fifteen). Taken from the title of a song by Jonathan Postal's group, The Readymades, the number 415 is a reference both to the telephone area code for San Francisco and the city's law enforcement code for "disturbing the peace."
At its start, 415 Records operated out of a small office above Aquarius Records. From the start, the roles of the three founders of 415 Records (plus an unofficial yet key critical fourth participant) were fairly well defined. Butch Bridges would be a silent partner.
"My job, early on, was to sell whatever we put out," says Knab with a laugh. And there was no instruction booklet for the operation of this new business. "Every single distributor I talked to said, 'If we're going to carry your record, we want to be the exclusive distributor of it,'" Knab says. Reluctant to make such exclusive deals, he told them all yes. "At the height of it," he laughs, "I was dealing with 20-odd local distributors across the country, and they all thought they were the sole distributors of 415!"
With his natural ability to talk to people, Howie was the promotions guy. "He spoke the language of the radio programmers," says writer Denise Sullivan, who would work for 415 in the label's later years. "He did whatever he needed to do to get somebody excited about records. His pure, gut-level enthusiasm was selling these records."
Howie's networking skills would quickly emerge as a key strength of the new 415 Records operation. And it was the dawn of something new. "In our little scene in San Francisco," Howie says, "we had the Mabuhay Gardens as a venue. We had local fanzines, we had radio specialty shows, and we had a label with bands."
415 Records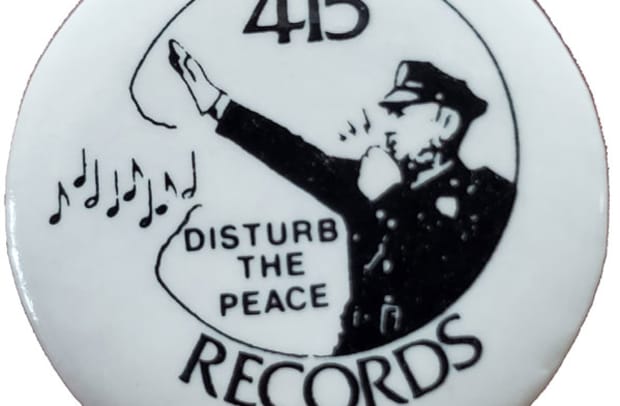 David Kahne had already experienced the inner workings of the music industry. "I was signed as an artist with Capitol, and I hated it," he says. "I didn't like performing, so I quit and got a job at a Wally Heider Studio in San Francisco, even though I was making $2.75 an hour and I had two kids and a wife." His job was answering the phone, but he was interested in more. "When I would lock up at night, I would go in the studio," he recalls. "I started learning how to run the gear because I wanted to know how to be an engineer."
One night at the Mabuhay Gardens, he struck up a conversation with popular Bay Area deejay Beverley Wilshire. "This guy was walking by," Kahne recalls, "and Beverley said, 'oh, you should meet Howie. I want to introduce you. This is Howie Klein; he has a label. David works at Wally Heider's, and he gets free time there for recording.'" That got Klein's attention. "Howie was immediately alert," laughs Kahne. "It was so hilarious!" The two started talking, and Howie told David about some new bands he was interested in. The conversation marked the start of a long and creatively fulfilling working relationship.
In its first three years of existence, 415 Records would release, distribute and promote a dozen singles, five EPs and five long-playing records. While in the earliest days, Howie would receive finished tapes from the artists and then handle manufacturing and distribution, by 1981 David Kahne had taken on the unofficial role of 415 Records' house producer. He would go on to work with nearly every group on the label, often steering them in a commercially successful direction. As one-third of the label's A&R team (along with Klein and Knab), he had a hand in deciding whether a given act was right for the label, and he oversaw production of many of their recordings.
415 Records' contractual agreements with artists were wholly unlike the book-length documents concocted by the major labels. "Our contract was about a paragraph or two long," Knab says. "It basically said, 'Band X, you have to deliver to us a master recording. From that point, we will manufacture it and put it out on the 415 label, and we'll split with you 50/50.' That was it. We were pretty naïve; we didn't know shit about the music business."
But they learned quickly. In its years of operation – 1978 to 1987 – San Francisco-based 415 Records would release records by Romeo Void, Red Rockers, Translator, Wire Train, Roky Erickson, Until December, The Nuns, The Mutants, Pearl Harbor and the Explosions and nearly two dozen other bands.
Based on nearly 100 interviews with the artists, industry execs, producers, friends, rivals, onlookers, journalists and hangers-on, Disturbing the Peace: 415 Records and the Rise of New Wave is published by HoZac Books. A GoldmineContributing Editor, Bill Kopp is also the author of Reinventing Pink Floyd: From Syd Barrett to The Dark Side of the Moon.
For more information: https://hozacrecords.com/product/disturbing-the-peace/