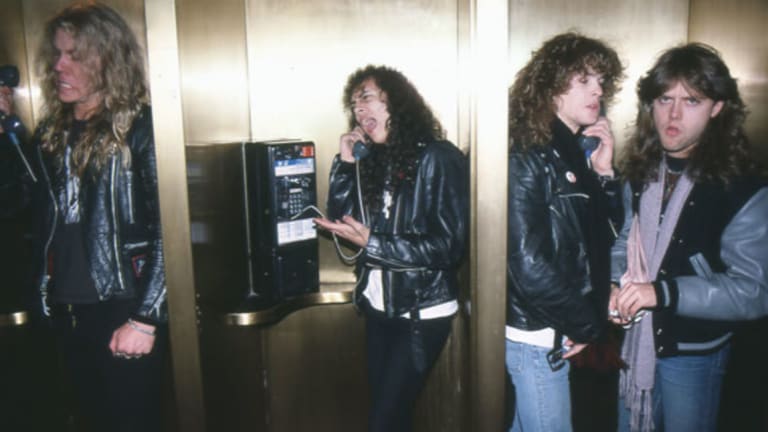 Metallica look back at best memories, refute Mustaine claim and embrace the mainstream
On the album anniversaries of both "Master of Puppets" and the The Black Album, Goldmine looks at one of the only metal bands that matters.
Go to the Goldmine shop for Metallica vinyl and collectibles
By Mick Wall
SUMMER 1985 found Metallica at home in San Francisco for its first extended break in two years. As they got ready to record the band's third album (as would become their habit), Lars Ulrich and James Hetfield retreated to their garage at El Cerrito, roughing out early demos before inviting Cliff Burton and Kirk Hammett down to jam along with some ideas of their own.
As a result, while the Hetfield and Ulrich monikers would adorn all eight of the tracks on the new album — already titled "Master Of Puppets," after the best of the new numbers James and Lars had written — only two would bear the names of all four members (the title track, and album closer, "Damage, Inc."); three the addition of Hammett ("The Thing That Should Not Be," "Welcome Home (Sanitarium)" and "Disposable Heroes"); just one the additional Burton imprimatur (the by now obligatory Cliff-instrumental, "Orion"); and two simply bearing the Hetfield-Ulrich stamp ("Battery" and "Leper Messiah").
Nevertheless, Hammett later told me, "Ninety-nine percent of it was conceived by the four of us — it was pretty much the definitive musical statement from that lineup, and it felt like it. Every song we came up with was just like the greatest thing."
All but two of the new songs — "Orion" and "The Thing That Should Not Be" — were fully completed at El Cerrito that summer. Hammett laughed off Megadeth leader and former Metallica guitarist Dave Mustaine's later suggestion that he should have received a co-credit for "Leper Messiah."
"Even though Dave might claim that he wrote 'Leper Messiah,' he didn't. There's maybe a chord progression that was in that song, like, maybe 10 seconds that came from him — that, ironically, is just before the guitar solo. But he did not write 'Leper Messiah' at all. In fact, I remember being in the room when Lars came up with the main musical motif."
Kirk still has tapes "recorded on a boombox in the middle of the room" of the El Cerrito sessions. He recalls Cliff telling him the bass swells on the intro to "Damage, Inc." were based on a classical piece by Johann Sebastian Bach: "Come, Sweet Death." In fact, the whole of the "Master Of Puppets" album had "all sorts of strange influences like that." Some influences were more familiar, though, like the acoustic intro to "Battery" — an attempt at "an Ennio Morricone thing," while still retaining some of the actual chords from the subsequent track.
Recording at Sweet Silence studios in Copenhagen began Sept. 3, 1985. Unlike when Metallica recorded "Ride The Lightning" there, and slept on the floor upstairs, the band could now afford to stay at the luxury Scandinavia Hotel: Lars and James sharing one room; Kirk and Cliff another.
"For a bass player, he played a lot of guitar," Kirk recalled of his room-sharing days with Cliff. "In fact, he would drive me crazy with it. We'd come back to the hotel, like totally wasted at three in the morning. But instead of crashing out, Cliff would immediately want to set up the electric guitars and start playing."
They also played a lot of poker. "We'd go out and play poker for eight hours straight after being up for 24 hours," said Kirk. "We'd find a seafood restaurant that was open, eat raw oysters and drink beer, scream at the natives while we were drunk." They were, "some of my best memories" from that time.
James and Lars were also hanging out more again, getting stuck into the locally brewed, super-strength Elephant beer. "It's twice as strong as regular beer," laughed Lars. "Every time we went out and drank these, James would start trying to talk Danish — completely pissed out of his face!"
Once they had started work inside Sweet Silence every night though, it was all business. "I remember holding the album in my hands and thinking, 'Wow, this is a f**king great album, even if it doesn't sell anything,'" said Kirk. "I really felt that it would pass the test of time. Which it has ..."
Flemming Rasmussen was the 27-year-old producer whose work on "Ride The Lightning" the year before had made him first choice for "Master Of Puppets." "I was like, f**k, I wanna do more of this shit!" he recalls now.
During recording, Rasmussen, although fluent in English, always spoke Danish to Lars. It enabled them to "talk without people knowing what we were talking about." He got on well with all the players, though. James Hetfield, he says, was "the tightest rhythm guitar player I've ever met. I hadn't heard anybody that played [downstrokes] with that kind of precision before in my life."
Though it was always "Lars and James that were more or less in charge," in terms of pure musical vision, "From an artistic point of view, it would probably be Cliff. We were pretty pleased with 'Ride.' But with 'Master,' we really tried to make everything actually better than we were capable of. We knew we had a bunch of really good songs, so we put the bar up really high."
The band had new amps but "they sounded really crappy." So Flemming "fiddled around" until he "created that guitar sound" we now hear on the album — something that "has more or less followed Metallica for the rest of its career."
What Rasmussen noticed most was the vast improvement in their playing. "Musician-wise, they were all a million times better, because they'd been on the road for a year and a half. James was brilliant at that time. It was unbelievable. Some of the rhythm guitars, he'd do them in the first take."
Laying down two identical rhythm tracks, Hetfield would then add a third layer on top. "The thickener," he called it. Because of that, says the producer, "we could get really picky about it and make sure they were all right where they were supposed to be because James was so good at it."
Certainly there was a sense of occasion when I visited Sweet Silence just before Christmas 1985. As I listened to the title track blasting out, Cliff stood off to one side, eyes closed in concentration. Lars stood the other side of me, sneaking sideways glances as I listened to unfinished mixes of "Leper Messiah," "Battery" and others.
Clearly there was more going on here than the metal-messiah posturing of their earlier records. Tellingly, I had been asked by their record company not to use the 'thrash' word, but of course I had to.
Lars instantly shrugged it off. "If you take the extremes on our new album, which to my mind would be 'Damage, Inc.' and 'Orion' — the amount of ground we cover is so big, so vast, it really pisses me off that anybody would want to stick us with one label. Yes, we do a few thrash songs, but we're not afraid to play a little slower sometimes, to throw in melody or harmony.

"I accept that we had a lot to do with the way that whole scene took off. We were the first band to sound like that. But we never thought of ourselves as a 'thrash band'. We were always an American band with British and European metal influences."
At that stage, Metallica was also still an American band with a bigger audience in Britain and Europe than at home in the USA. The morning "Master of Puppets" was released in the U.K., in March 1986, the queue outside London's famed metal record store, Shades, stretched for several hundred yards down the street. Inside the shop the overworked staff had copies already bagged up, piled floor-to-ceiling.
Sure enough, "Master Of Puppets" brought Metallica fully into the mainstream for the first time. As with Iron Maiden and the NWOBHM or Nirvana with grunge, everybody knew what thrash was now, what it looked and sounded like.
One of the two best albums Metallica would make, it remains the symbol of everything that continues to make Metallica interesting and exciting. The fact that the band later moved so far away from its look and sound it might have become another band entirely only further enhanced its occult appeal through the generations, an utterly unrepeatable chapter in both the band's story and that of rock itself.
Gary Holt of Exodus, one of the bands Metallica would now be unfavorably compared to by hardcore thrash fans, describes "MOP" as "probably the greatest metal album of all time. Metallica had a jump-start, and they ran — and succeeded."
Indeed, Metallica had. By the end of its first major U.S. tour — opening for Ozzy — "Master" had sold more than 500,000 copies, giving Metallica its first gold record, and taking the band into the U.S. Top 30 for the first time. It has now sold more than seven million copies in America, and almost as many more around the rest of the world.
"I never expected it to be the success it turned out to be," said Kirk. He recalled being on the tour bus when they found out it'd gone gold. "The first thing Cliff said was, 'I wanna buy a house where I can shoot my gun that shoots knives!' That was a typical Cliff thing to say."
As we now know, Cliff would never get to buy that house — or that knife-shooting gun. Instead, the next five years would find Metallica scaling commercial heights that would have been unthinkable during their time with Cliff, culminating in not just Metallica's best-selling album, but one of the biggest-selling albums in rock: the self-titled commercial behemoth better known now as The Black Album.
Released in the summer of 1991, the Black Album delivered on paper everything the Cliff-era Metallica had refused to: multiple hit singles, followed by multiple hit videos; songs of mostly conventional rock-format length. Even — whisper it — a power ballad.
"Master Of Puppets II" this most definitely was not. None of this was accidental, either. Already the winners of two Grammys (for "One" in 1990 and their cover of Queen's "Stone Cold Crazy" in '91), the band no longer saw itself as competing with Slayer or Anthrax but with bigger chart guns, like Guns N' Roses and Bon Jovi. Yet Metallica had not sold even half as many records.
The solution was to bring in a proven commercial master to produce Metallica's next album. Enter Canadian producer Bob Rock, best-known then for working platinum acts like with Motley Crüe, Kingdom Come and The Cult.
Metallica was criticized for working with Rock by the mainstream rock press — accusations of 'selling-out' also rang loud among sections of the thrash community — but, as Lars said, "I've heard that shit from 'Ride the Lightning' on. People were already going, 'Boo! Sell out!' even back then."
He later added: "Me, James and [Metallica co-manager] Cliff Burnstein sat down, and Cliff said, 'If we want to really go for it, we can take this to a lot more people. But that will mean we have to do certain things that on the surface seem like the same games other people play.' But we were the ones playing that game, which makes it us, Metallica, just doing something else ... The idea was to cram Metallica down everybody's f**king throat all over the f**king world."
Or as Kirk Hammett would tell me: "We said, OK, we're gonna put a lot of shorter songs on it, get these f**king songs on the radio, and we're just gonna indoctrinate the entire universe with Metallica. That was our goal, and that's what we did! And it took everyone as a big surprise."
It certainly did. It was also, Lars said, "Us getting pretty bored with the direction of the last three albums — long songs, longer songs, even longer songs ... It was time to take a sharp turn. I don't need to tell you again how I feel about being pigeonholed with the whole thrash-metal thing. But the new shit's just got a whole new vibe and feel that I never knew Metallica were capable of."
According to Lars, "We thought, if the guy's name is Rock, how bad can he be?" The feeling, it turned out, was entirely mutual. At their first meeting the producer said: "When I saw you guys live and then heard your record I thought that you hadn't come close to capturing what you do in a live situation."
Bob's thing, he explained, was "about really concentrating on the performance end of it rather than a perfectionism kind of thing. I really try to facilitate musicians to be comfortable and really fill in the blanks when it comes to their needs, to get what they want accomplished."
At Bob's insistence, a special practice room was set up at One On One studio in L.A. nicknamed Lars' Closet. "My drumming hero had always been Neil Peart," Lars said when I visited him there. "Now it's Phil Rudd." Bob also taught James to break down the chorus of "Enter Sandman" into single words, using the syllables to tease the melody out. En... ter... night... / Ex... it... light...
And it was Rock who added orchestral arrangements to the mix — a move James initially fought. "I used to call James Dr. No," Rock recalled. "Whenever I was about to make a suggestion that seemed even a little off the wall, he'd say no before I'd even finished the first sentence."
Other times the producer simply had them play live in the studio, as on the rhythm track to "Sad But True." Afterward, Bob told them proudly, "we could take this track right here off the floor and put it straight on the album because all you guys played your asses off."
The Black Album would be built around these three key tracks: "Enter Sandman," its cartwheeling riff and catchy-as-a-cold chorus making it the "All Right Now" of the thrash generation; the monumental "Sad But True," which Rock told them he saw as "a Kashmir for the '90s"; and "Nothing Else Matters" — a song James had written while on the road and missing his then-girlfriend Kristen, the key line 'Never opened myself this way' summing up a musical moment unlike any one might have expected from Hetfield or Metallica, even as the band strived for a hit. Everyteen had suddenly turned into Everyman.
Speaking of it nearly 20 years later, James admitted that at first he "didn't even want to play it for the guys. It was so heartfelt, so personal to me. I thought that Metallica could only be these songs about destroying things, headbanging, bleeding for the crowd ... I certainly did not think it was a Metallica song. When the guys heard it, they were amazed at how much they related to it. It turned out to be a pretty big song on that record [that] touched a lot of people."
In fact, "Nothing Else Matters" became a huge worldwide hit when it was released as a single, as did "Enter Sandman" before, the record company now issuing Metallica singles in as many formats as it could devise – 7-inch and 12-inch vinyl; different CD versions; cassette-tape version; box sets; limited-edition 12-inch folders.
For Rock, it was "the hardest album I ever made." By the end of August, however, the hard work had all paid off when The Black Album sat at No. 1 in America. It also topped the charts in the U.K., Canada, Australia, New Zealand, Germany, Switzerland and Norway.
The band was on tour in Europe when it got the news. For one of the only times in his life, Lars was speechless. "You think one day some f**ker's gonna tell you, 'You have a No. 1 record' and the whole world will ejaculate. I stood there in my hotel room [and] it was, like, 'Well, OK.'
It was, said Lars, simply one of those once-in-a-lifetime albums: good for Metallica, who was now considered one of the most important bands of the coming decade. But beneficial also for the music scene in general, helping thrust open the door for alternative, underground rock to be accepted as a staple of U.S. radio and TV, something then unknown new names like Nirvana, Pearl Jam and Soundgarden would take full advantage of over the coming years.
The backdraft was that Metallica was no longer be considered cutting edge. But that, Lars pointed out astutely, was because "the mainstream has moved a lot closer to the new left edge than they were five years ago." To the jocks and straights, "Metallica's still the most f**king extreme thing they could get into." As Megadeth's David Ellefson says now, "The Black Album, sonically, is just one of the best-sounding records ever made in the history of multi-track recording."
Even Flemming Rasmussen, frozen out after carrying the can for the production nightmare of their previous album, "... And Justice For All," "absolutely loved" The Black Album.
"I thought it was brilliant. They were doing a lot of the stuff I wanted them to do on 'Justice,' in terms of sounds. And the fact that James had started taking an interest in singing pleased me very much."
The question hard-core fans continue to ask to this day is: What would Cliff Burton have thought of it? Prophetically, however, in what proved to be his final interview, less than 48 hours before his death, Cliff told Swedish writer Jorgen Holmstedt he thought Metallica would become more "mellow and melodic" as time went by, speculating that they would work with "some big-name producer." Adding, "If we get our wish, we'll probably record in Los Angeles."
Cliff's musical tastes were certainly broad enough to encompass the 360-degree turn The Black Album had made. As Kirk told me, "If we'd made another album with Cliff, I think it would have been extremely melodic." Cliff had begun listening to the Eagles, R.E.M and Kate Bush. "Cliff was the most open-minded musically of us all," said Kirk. "He'd have dug it."