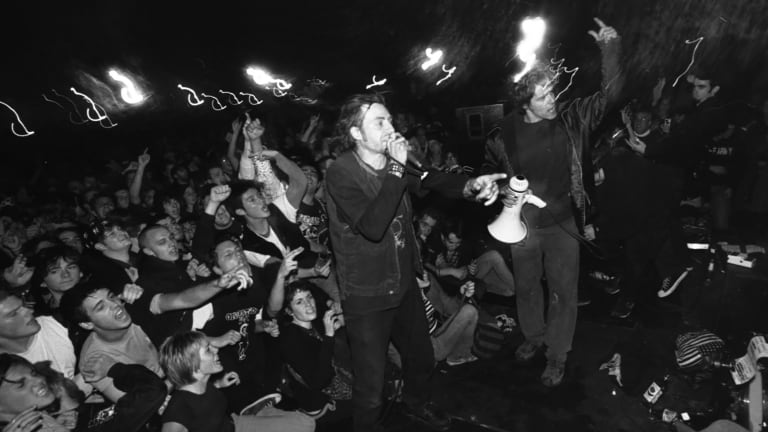 Author describes "The Oral History of Leftover Crack"
A Q&A with John Gentile, the author of the new punk rock book "Architects of Self-Destruction, The Oral History of Leftover Crack."
By Alan Brostoff
Being honest, I did not know what to expect when I dove into the new book about Leftover Crack, Architects of Self-Destruction, The Oral History of Leftover Crack. While I knew some music by Leftover Crack, I knew very little about the inner workings of the band. After reading this book, any and all questions I might have had about this band have been answered. John Gentile, co-author of the book, sat down with me to dive in a little more about this book, which I highly recommend, not only because it is a very easy read, but because it is a story that even though likely shared by others, it's rarely told.
Goldmine: What made you decide to take on this endeavor and write this book with (LOC guitarist) Brad Logan? 
John Gentile: I had done several interviews with Brad, and he actually reached out to me and asked if I would want to work with him on a book about Leftover Crack and I said, "Sure." We did not want to do book that said, rah rah rah, Leftover Crack is the greatest band in the world and everyone in the band was super nice. But we did not want to do Motley Crue The Dirt, where everything focused on the misery and the bad things that happened. We really wanted to do a book that looked at the positive and the negative and provided a whole view of Leftover Crack, because I think the members and the band are incredibly complex. I think they don't always get their credit for what they do artistically and philosophically, but that sometimes they can also just be dicks. The main purpose of the book is that art is very complex and it's not always good or bad. It's much more deep than that, much more complex, more intriguing and it changes. So that was the idea behind the book.
Goldmine: How long did it take you to write Architects of Self-Destruction? 
John: We started four years ago, but honestly, we have been working in earnest for two years.
Goldmine: Anything that just completely surprised you as you were working on the book? 
John: Yeah, a lot of things. We interviewed everybody for the book, Brad, (vocalist) Scott Sturgeon, Alec (Baillie, bass), Ara (Babjian, drums), Ezra (Kire), Joe Jack Talcum (The Dead Milkmen). We interviewed people with Alternative Tentacles, Fat Records (aka Fat Wreck Chords), people at Hellcat Records — and one of the cool things is that there is this famous part in the book where they're battling over the title of Mediocre Generica. The band wanted to call it Shooting Kids at School and they label wanted to call it Mediocre Generica because they thought the Shooting title was too touchy, and in the book we detail that battle. We actually got to interview people that really were in the boardroom making that decision at that time, which was crazy. Probably what surprised me the most about Leftover Crack is that they have songs about "We smoke crack, we do drugs, you know I'm suicidal, you know I'm insane," and I always thought that was a bit of a put on. I was sure that the guys did drugs and that the band is extremely dysfunctional at an extremely explosive level. I knew they were not The Beatles, but they were not some band playing some guy's basement. They are without question, the most self-destructive, most disorganized band operating at the level that they are at, that are able to sustain that level and be able to stay together. This band is so chaotic and so self-destructive, yet they stay together because the music is so complex and good. They don't hate each other. They just have a complex relationship between all of them and their communication and organization is terrible, but their art is so powerful.
Goldmine: As I was reading the book I felt that Sturgeon was the anti-hero. I so wanted to like him, but his actions made it so difficult. I keep wondering what is he going to do next to destroy this thing. 
John: Well, that is one of the big themes of the book. Could the band hypothetically been like The Bouncing Souls? I like The Bouncing Souls. They are a band of four guys who get along, make good music and it's kind of what you expect — and they are coo. Sturgeon is the exact opposite. He is an artistic genius, but with that genius you also get the madness. However, if you take out the element of danger, self-destruction and not seeing the forest for the trees you would not get the art that is Leftover Crack. Sturgeon is a pain in the ass and he can be incredibly exhausting; you can want to strangle him sometimes, but on the other hand through the book you realize that he is not all bad and that in fact there is a lost of good and creative genius in him.
Goldmine: The book is a very easy read having very short chapters that each stand on their own, additionally there are three interludes. Why create the book in this style? 
John: Brad and I did not want the book to be an easy read. There are some great music books out there, like People Funny Boy, the story of Scratch Perry. You have to really sit down and focus on that book when you read it. The bible of the oral history books for music is Please Kill Me; quick, easy to read chapters, and we went that way. We wanted to give everyone we interviewed their own say in the book. You get to hear the same story from several different perspectives. Then we added the three intermissions, because all the Leftover Crack albums have intermissions. We have three interludes: C-Squat, Brad's drugs and mental health.
Goldmine: So what are you doing to promote the upcoming release of the book? 
John: We have some really cool plans in the works, we may even do something around Punk Rock Bowling, like a book signing, but we might do something else there but nothing is bolted down yet. 
Goldmine: Can't wait to see the book version on the big screen. 
John: Yeah, me too.