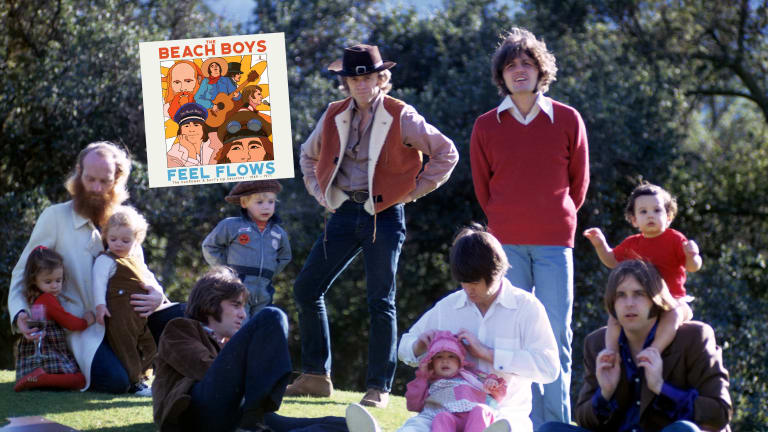 Beach Boys feel the flow
A new box set explores an underappreciated period in The Beach Boys' history: "Feel Flows: The Sunflower & Surf's Up Sessions 1969-1971."
By Gillian G. Gaar
For the first time in years, The Beach Boys were hopeful about the future. It was a new decade, and they had both a new record label and a strong new album to release. "Sunflower is the truest group effort we'd ever had," Carl Wilson told U.K. music weekly Sounds. "Each of us was deeply involved in the creation of almost all the cuts." But when the album was released, on August 31, 1970, the response was underwhelming. Sunflower rose no higher than No. 151 on the Billboard 200 chart and sales were just as disappointing. None of the accompanying singles made much of an impression either. Sunflower was meant to jumpstart the band's career. Now it appeared the relaunch had fizzled.
As it turned out, they wouldn't have to wait too long for things to improve. Surf's Up, released the following year, made it into the Top 30 and reestablished the group's relevance as a rock act. And over the years, Sunflower's merits have been reappraised as well. Now, a new box set explores this underappreciated period in the group's history: Feel Flows: The Sunflower & Surf's Up Sessions 1969-1971.
"It's not like Sunflower and Surf's Up just came out of nowhere," says Alan Boyd, who compiled, mixed and produced the set along with Mark Linett, each of whom have worked on Beach Boys projects for decades. "You can certainly trace the progression from Smiley Smile on. The Beach Boys reinvented themselves in some ways, but in a lot of ways they just kept doing what they had always done and progressed." Feel Flows is designed to more fully illuminate that progression.
In 1966, The Beach Boys had been on top of the world. Their landmark single "Good Vibrations" had been a sensation and seemingly positioned the group to reach even greater heights. Instead, they faltered. The planned follow up to Pet Sounds (1966), the star-crossed Smile was abandoned, replaced by a repurposed version, Smiley Smile (1967), which became their first album to fail to reach the Top 40, and was memorably described by Carl Wilson as "a bunt instead of a grand slam." Wild Honey (1967), Friends (1968) and 20/20 (1969) also fared poorly. The band were in a slump.
"The Beach Boys had a real fallow period," says Mark Linett. "They were making good albums; Friends in particular is an album that I just love. But they're being made in a period where the industry has moved into artist-driven albums, as opposed to singles. And while The Beach Boys never really made records that were like, 'Here's our single and here's 16 versions of "Louie Louie" to fill it out,' the public still perceived them as a singles band. And when the shift to free-form FM radio came along, they kind of got lost in the shuffle."
The band were also unhappy with their label, Capitol, having filed a lawsuit against the company for unpaid royalties (ultimately settled). They were interested in finding a new home, but their sagging sales made it hard to drum up interest, and potential deals with CBS, MGM, Polydor and Deutsche-Gramophone all failed to pan out. Then Van Dyke Parks stepped in. Parks had been Brian Wilson's lyricist on the then-unreleased Smile project, and was now working in the audio-visual department at Reprise Records (a division of Warner Bros. Records). He urged the label's president, Mo Ostin, to sign the band, and after some consideration, Ostin agreed. The Beach Boys signed with Reprise on November 18, 1969, the label planning to jointly release the band's records on their own Brother Records label.
By then, the band had recorded a stockpile of songs. And in contrast to their earlier days, when Brian had been the dominant creative force, recording was more of a group effort. "When they did 20/20, that's kind of the first time that Brian is stepping aside and the other members are really starting to display their talents," says Boyd, "which turned out to be pretty considerable. And they recorded an enormous amount of really good material."
In February 1970, the band presented the tracks they considered the best to Reprise for an album provisionally titled Add Some Music: (side one) "Susie Cincinnati," "Good Time," "Our Sweet Love," "Tears in the Morning," "When Girls Get Together," "Slip on Through"; (side two): "Add Some Music to Your Day," "Take a Load Off Your Feet," "This Whole World," "I Just Got My Pay," "At My Window," "Feelin' in Love."
To their disappointment, Reprise rejected the album, though they did release "Add Some Music to Your Day" as a single later in the month. Unfortunately, this paean to the power of melody, featuring The Beach Boys' trademark harmonies, peaked at No. 64. Subsequent singles "Slip on Through" and "Cool, Cool Water" fared even worse.
Undeterred, the band went back to work. "They were collaborating really well," says Boyd. "They were very much united; they got themselves together, and they realized they had something to prove. Bruce Johnston has talked about that, that Sunflower is his favorite album, not just because of the music on it, but because of the way they all came together. It was a true group effort.
"It was also really helped by the fact that Carl Wilson turned out to be kind of the producer on these albums, because he's the one who would make sure that all the parts got done. And he personally was producing almost all of the mixes with (engineer) Stephen Desper. Carl had great attention to detail, and he also had this kind of personality that knew how to work with everybody; he's often been called the peacemaker in the group. I don't think he's got nearly the credit that he should get as a producer of these early '70s Beach Boys albums."
"Susie Cincinnati," "Good Time," "When Girls Get Together," "Take a Load Off Your Feet," "I Just Got My Pay" and "Feelin' in Love" were all dropped, replaced by "Got to Know the Woman," "Forever," "Deirdre" and "All I Wanna Do." Reprise wanted more participation from Brian, and when Warner A&R executive Lenny Waronker heard Brian playing "Cool, Cool Water" on the piano during a visit, he encouraged the band to finish the song and include it. Brian had written the number in March 1967, incorporating some elements of the Smile-era track "I Love to Say Dada," but The Beach Boys had never finished recording it. Now, with new lyrics by Mike Love, the song was finally completed.
The band also credited engineer Stephen Desper with giving Sunflower its superior sound (Desper also designed a studio for Brian's home, which the group used for recording). "I'm fairly certain I was the only eight-year-old on my block who got Sunflower the week it came out," Boyd jokes. "And the first time I put it on, I was blown away, because I'd never heard stereo quite like that. There's stuff all over the stereo spectrum. It had delayed reverbs, and voices coming out of here, and voices coming from behind — it was like that moment in The Wizard of Oz, when you go from sepia to technicolor."
"It's much harder to accomplish (what Desper did) with analog equipment and tape and no automation, really," says Linett. "Nowadays, you can just throw down a million tracks and try to stuff it all together at the end; I call it 'layer-cake records.' But then, you had to be more forward-thinking when you made records, to conceptualize what the record was eventually going to sound like, even though you weren't presented with the whole palette at the beginning, because you were still relatively limited in terms of the number of things you could record. You had to, both as a producer and as an engineer, have a much clearer concept of where it was going to end up in order to make the record sound the way you wanted it."
But ultimately, none of that mattered to record buyers in 1970. "Everyone who actually heard Sunflower loved it and was blown away by it," Boyd contends. "But the problem was, not a lot of people gave it that first chance at the time. Over in England, the rock critics were calling it 'The Beach Boys' Sgt. Pepper,' and really, really hailed it. But over here, it still tanked, and I think that had to do with a perception that The Beach Boys were old hat. They simply were not hip at all at that time. Particularly in their live presentations, they were still doing an act that was about five years past, with short hits-oriented set lists. They'd ditched the striped shirts, but replaced them with white suits and silk scarves. And it really didn't jive with where the rock mainstream was going. But they weren't bubblegum pop either."
"Even our name, The Beach Boys, sounded like we were mementos from a bygone era," Mike Love observed in his memoir Good Vibrations: My Life as a Beach Boy.
In recrafting their image, The Beach Boys relied on the advice of Jack Rieley, who had interviewed the band for KPFK Pacifica Radio, and subsequently offered to be their publicist, later going on to manage the group. "He was very important," says Boyd. "He wanted to see them become more relevant to the new audience, and it was under his influence that the live presentation changed. They got rid of the suits. They started focusing more on current material."
A turning point came when Parks, on the board of the Big Sur Folk Festival, encouraged The Beach Boys to play the event. Their appearance on October 3 won them some much-needed credibility; Rolling Stone even called them "the best act of the day." They followed that up with a four-night stand at the Whisky A Go Go in November, drawing sellout crowds for their first L.A.-area shows in four years; even the reclusive Brian appeared onstage for the first night, and part of the second.
The Whisky shows led to an invitation to appear at Carnegie Hall on February 24, 1971. Two months later, they made an unexpected appearance at the Grateful Dead's April 27 performance at the Fillmore East. After "Dire Wolf," Jerry Garcia surprised the crowd by announcing, "We've got another famous California group here — it's The Beach Boys!" to delighted cheers. The band played seven songs, five with the Dead, and "Good Vibrations" and "I Get Around" on their own. Four days later, they played "The Peace Treaty Celebration Rock Show" at the Washington Monument, in Washington, D.C.
The band were also working on their next album, initially titled Landlocked. At Rieley's urging, a number of the songs addressed topical subjects. "We decided to be political in different ways," said Brian in his memoir I Am Brian Wilson. "Our concerns were more about the earth and what people were doing to it."
Thus the album would open with "Don't Go Near the Water," a Mike Love/Al Jardine composition about pollution. Love's "Student Demonstration Time" reworked Jerry Leiber and Mike Stoller's "Riot in Cell Block #9" into a song about campus unrest. Jardine's "Lookin' at Tomorrow (A Welfare Song)" was a gentle number about itinerant workers.
Brian wrote of his own ecological concerns in "A Day in the Life of a Tree," co-written with Rieley. Narrated by the tree itself, its lifespan shortened due to environmental degradation, Brian referred to it as "a big song because it's about how people treat the earth, but it's also a small song because it's about how one living thing can feel stripped down and wrong for the world." When Brian felt his own lead vocal wasn't working, he persuaded Rieley to record what he was assured would only be a "guide vocal"; it nonetheless became the released version of the song.
Two of Brian's older songs ended up being highlights of the album. The inspiration for "Til I Die" came when Brian had driven to the beach one night and sat looking at the expansive dark ocean and the infinite sweep of the starry sky, which made humanity's place in the universe seem infinitesimal. He wanted to write a song that captured the same feeling and began with the lyric "I'm a cork on the ocean…." He called it "perhaps the most personal song I ever wrote for The Beach Boys."
The band were initially less receptive, finding the song too much of a "downer." Brian reluctantly put the song away, though the group eventually returned to it when some newer, more positive lyrics were written. But even the band had to concede that they didn't have the same emotional power, and the song was ultimately recorded with its original lyrics.
The Wilson/Parks number "Surf's Up" was also rescued from Smile. Carl had discovered tapes of the song, and was working on them with Stephen Desper. One problem was that the song was unfinished, and Brian wasn't interested in completing it. Nor did he want the song on the album at all. "Brian was afraid of it and refused to work on the song," said Desper.
Carl and Desper nonetheless pushed on, recording new vocal, keyboard and percussion parts. Then, while recording at Brian's home, Brian suddenly came downstairs and joined the session, saying he had some lyrics he wanted to add and was ready to record them. With that, "Surf's Up" was finally finished.
Parks then suggested that the album itself be named Surf's Up, saying that if they did so, the band could presell a quarter of a million copies. "I think the fact that they chose that title in an ironic sense, and especially pictured with that dark, very dark and compelling 'End of the Trail' image (the album's striking cover illustration is based on James Earle Fraser's classic sculpture named 'End of the Trail'), really struck a note at a time when things were kind of dark and cynical," says Boyd. "We're still dealing with the war and protests and all that kind of stuff. I think that hit a note with the audience, and made it suddenly really interesting."
The first single from the album, Carl's "Long Promised Road," released in May 1971, followed the pattern of previous single releases and failed to chart. But everything came together when Surf's Up was released on August 30. Sales were up, reviews were largely positive, and it became the first Beach Boys album to reach the U.S. Top 30 in four years. On September 24, the band returned to Carnegie Hall. On the previous visit, they'd played a single show; now, the demand was such that they ended up playing two.
"Surf's Up' just really hit the bullseye, Sonically, it's a great record. And it had the kind of lyrical relevance that was really to the fore in those days. I mean, Crosby, Stills and Nash and 'Ohio,' and Jefferson Airplane and all that politically motivated stuff. Even Bruce's contribution, 'Disney Girls,' it's 100 percent nostalgia, but it's just done so well." says Linett. "
"I think if Sunflower had followed Surf's Up, it would have would have done much better," he adds, "because they then had that audience. I suspect a lot of people did that; they went back and got Sunflower after the success of Surf's Up."
Now, packaging the two albums together, along with bonus tracks recorded at the same that didn't make the final cut, reveals how prolific the band were during this period. Boyd and Linett, both longtime fans of the albums, remain impressed by the group's achievements. "The arrangements were so inventive," says Boyd. "You know, the thing that still blows me away about these albums, and I got this again even listening to the mixes again before we started mastering, was just the amazing little details, the little counterpoints, the little under-the-melody lines that are happening."
"It was the pinnacle of a period of time when all six of us were working together to make music as a unit," is Al Jardine's assessment. "And at the time we didn't realize how important this work would be all these years later, when you listen back to it and you go, 'Wow.'"
RELATED ARTICLES: The 5 essential Surf albums