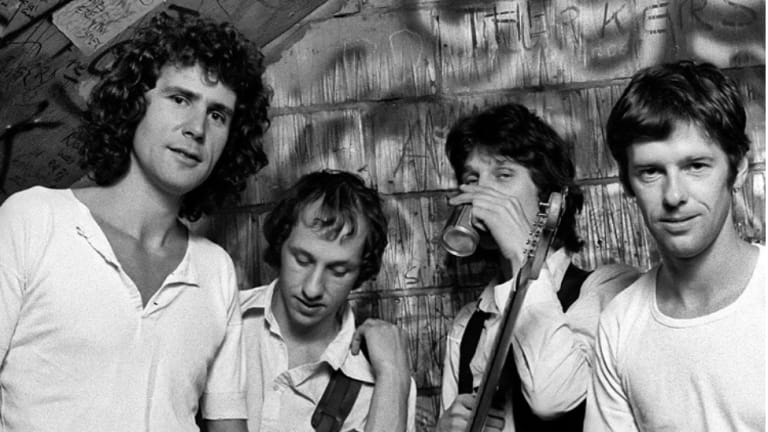 Excerpt: "Mr. Knopfler, I presume?"
In a chapter excerpt from John Illsley's new memoir, "My Life in Dire Straits," he is living in a flat in Deptford with David Knopfler, trying to get through school and make ends meet, IIllsley meets an unexpected guest passed out on the floor – Mark Knopfler.
The following is an excerpt from John Illsley's new memoir, My Life in Dire Straits, from Chapter 6: "Mr. Knopfler, I Presume?"
Living in a flat in Deptford with David Knopfler, trying to get through school and make ends meet, John Illsley meets an unexpected guest passed out on the floor – Mark Knopfler.
---
It was July 1976, at the height of the heat wave. I had just finished my finals and woken up in bed with the manageress of the pizza restaurant down the road in Greenwich. I was hungover like a dog, but it had been a fun night out and life felt pretty good, knowing I hadn't screwed up the biggest academic challenge ever asked of me.
Heading back the one subway stop to Farrer House, the train rattled on to the rusty old lifting bridge, my head ringing in rhythm with every jerk of the carriage. Low tide on Deptford Creek revealed its carpet of oily mud patterned with bottles, fuel drums, and shopping carts. Beyond the bridge, all the way to the sharp bend before the Thames, were rotten wharves, crumbling warehouses, and idle cranes. We slowed into the station and, high on the viaduct, through my reflection in the filthy train window, I could make out that the curtains in our apartment were still drawn. David must have had a late one too.
I ground out my cig in the ashtray of the armrest, rubbed some blood back into my face, cursing those last few pointless drinks. I trotted down the steps and dashed on to the 53 bus. So, another day dawns in Deptford—what to do with this one? Practice some chords, I guess, hit the greasy spoon mid-afternoon, kill all three meals in one sitting, then back down the Oxford Arms with some friends for a few beers and—fat chance—to watch a half-decent band.
Thoughts of how I was going to spend my day, as ever, expanded into how I was going to spend my life, as I made my way through St. Paul's Churchyard and into Crossfields. That old question kept coming back to haunt me: what now? What to do with a sociology degree in a global recession? I was almost twenty-six, for God's sake.
Whenever I was away from it, I always pictured Crossfields as black and white and grainy. But we hadn't seen a gray sky for weeks. It had been hot, hot, hot. I tramped over the browning grass, swung past the burnt-out Ford Anglia, ducked down the alley, its walls strewn with anarchic imperatives and banalities: Eat the Rich! . . . Sorry About Your Wall . . . I Fought
the Law . . . Bang Head Here . . . All Property is Theft . . . Who Needs Skool? . . . And now a fresh one that had appeared overnight, in dripping white: NF OUT! It was a corridor of anarchic philosophy—"punk" was going to be the big new thing, so everyone reckoned.
Ernie was stretched out on his bench in the little square, an open toilet for Crossfield dogs and passing vagrants, a litter bin for everyone else. His mouth was ajar, face to the heavens, arm swung over the bottle of VAT 69 on the ground. I pulled out a couple of cigarettes and dropped them into his coat pocket. I liked Ernie. Everyone liked Ernie. One of the friendliest tramps from the Salvation Army hostel on the High Street, he enjoyed the occasional day or night out in our "park." The residents were good to him and, having nothing to steal, he had nothing to fear. None of the students or assorted artists on the estate resented the fact that, thanks to the social, he probably had more money than we did. But we had a roof over our heads, we had our youth, we had our dreams. Ernie had his VAT 69 and his cigarettes.
On the forecourt, a kid weaved in among the cars on his Raleigh Chopper wheelie bike—stolen, no doubt. If you farted on the Crossfields estate, someone would steal it. All property was theft, just as the graffiti said. Your Chopper is my Chopper, your car is my car—that was the prevailing outlook in inner southeast London. As an aimless middle-class, lapsed-Marxist sociology student, dressed by Oxfam and victualled by the Oxford Arms, hanging out in our spit-and-sawdust sitting room, I didn't have much of a problem with that.
Number one Farrer House was on the ground floor of the five-story council block, and I made my way through a tunnel of washing, bootsteps echoing beneath the walkway. I wiggled the key in the faulty lock, finally finding some purchase, and shouldered it open.
Parched, I turned straight into the galley kitchen, filled the kettle, and fired up the gas ring. The sink was piled with dishes and mugs, theIn order to view this proof accurately, the
sideboard showcasing the remnants of a late-night feast: half a loaf of Mother's Pride bread, a jar of sandwich spread, a box of TUC crackers, a can of Fine Fare baked beans with a fork stuck in the crusted mass.
I clicked on the radio, turning the volume right down so as not to wake up Dave. Brotherhood of Man's "Save Your Kisses for Me" . . . Do me a favor. I nudged the dial . . . The Wurzels' "The Combine Harvester" . . . I twisted the tuning knob a tad further . . . The Stones' "Fool to Cry" . . . That was better, and I left it.
I lobbed the teabag into the trash, stirred in some sugar, and took one step across the hall into the living room—and recoiled sharply, sloshing my tea.
"What the . . .?"
There was a man lying on the cement floor fast asleep—the promised carpet had never materialized—and his head, propped against the only chair, was at right angles to his body. The guy had an electric guitar across his chest. To one side of him, the giant square ashtray spilled over with a thousand butts; on the other sat a couple of empty bottles of Newcastle Brown Ale. His face, sheet-white, revealed a hint of David. This must have been the brother he had mentioned. He stirred and groaned, and an eyelid unstuck itself.
"Cup of tea?" I asked.
When I came back, he had cleared up the cigarettes and the beer bottles
and I heard him splashing his face in the bathroom. I picked up his
guitar, a Gibson Les Paul Junior. Nice.
He came back in and I handed the tea to him. He held out his hand and, in a mellow Geordie accent, he said, "Mark, by the way. Mark Knopfler, David's brother."
"I guessed as much. Heard a lot about you. John—John Illsley. Nice one."
He sat down on the only chair and I perched on the old sofa bed I had found in a builder's skip a few weeks earlier. We fell into an easy chat about this and that. I took to him at once. There was a natural air and softness about him, and you could see him thinking hard before he answered a question. The conversation drifted toward music and he picked up his
Gibson and started playing.
He plucked a few strings and twisted the tuning pegs. Then he really started playing, messing around with riffs and snatches of tunes. He had a curious finger-picking style. I had never seen anyone play a guitar like that, but even just fooling around, it was a great sound—a bit country, a bit rock—but fresh and original. Dave was right—his brother could play.
After a while, I asked, "Fancy a fry-up?"
"Sure."
We went up to the greasy spoon on the High Street and had the Full English breakfast with a side of liver.
---
 In My Life in Dire Straits: The Inside Story of One of the Biggest Bands in Rock History (Diversion Books; November 9, 2021; $30.00 Hardcover; ISBN 978-163-576-9159), bassist and founding member John Illsley goes behind the music with never-before-told stories tracing Dire Straits' rise from the spit-and-sawdust pubs of London to the best-known venues and concerts in the world, and inside the studio recording some of the greatest rock albums of all time.
With wry humor and soulful reflection, Illsley captures a phenomenal musical legacy, the shattering demands of global tours and life in the spotlight, and his friendship with Mark Knopfler, the band's lead singer, songwriter and remarkable guitarist.
"This book above all is about passion and pursuing your dreams – taking the unpredictable path, not the easy option," Illsey says. "It charts the journey from my innocent teens strumming a few chords, to playing on the biggest stages in the world; a chance meeting in 1976 with Mark Knopfler that created a musical partnership that lasted 20 years, and a strong friendship that continues to this day. Dire Straits was an idea that created a phenomenal musical legacy, an extraordinary journey of joy, fun, companionship and surprises. I am immensely proud of my contribution to this journey."
With a foreword by Mark Knopfler himself, this the first, and only, inside story of one of the greatest bands in rock history.
"For us, it was a huge adventure and a hell of a ride, with all its comedy, absurdity, exhaustion, madness, and sadness…."Knopfler writes in the foreword. "This ride is not for everyone, not for those who can't take the pressures and the pace…. It was a different world. And John has remembered a pretty big chunk of it."
There was, quite simply, no bigger band on the planet throughout the eighties. Brothers in Arms was one of the best-selling albums of the decade and songs like "Sultans of Swing," "Money for Nothing" and "Romeo and Juliet" remain rock classics. But the Dire Straits rags-to-riches story has never been told by one of their own until now.
Illsley rose to fame as the bass guitarist for the critically acclaimed band and has received multiple Grammy Awards. As a founding member and – along with Knopfler - one of two band members to stay the 15-year distance, Illsley played a major role in the development of the band's sound. Since the band's last tour in 1993 he has earned a reputation as a painter, with solo exhibitions in London, New York, Sydney and across Europe. Illsley also has eight solo albums to his name, and he now owns a pub in the New Forest, United Kingdom.
"A forensic and uplifting journey through the sheer hard work, pitfalls, and thrills of navigating a great rock and roll band to the pinnacle of success. I so enjoyed the ride! Onwards, John!" - Roger Taylor, drummer, songwriter and founding member of Queen
For additional information, please visit https://diversionbooks.com